We've compiled a list of the best Valentine's Day ideas in Saratoga Springs, including unique gifts, overnight stays, and romantic dinners for you and your loved one this holiday.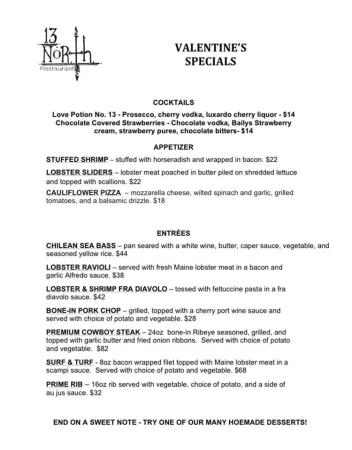 13 North Restaurant is accepting reservations for Valentines Day! They will be offering their full menu along with Valentine's Day specials. Call (518)400-1746 for reservations.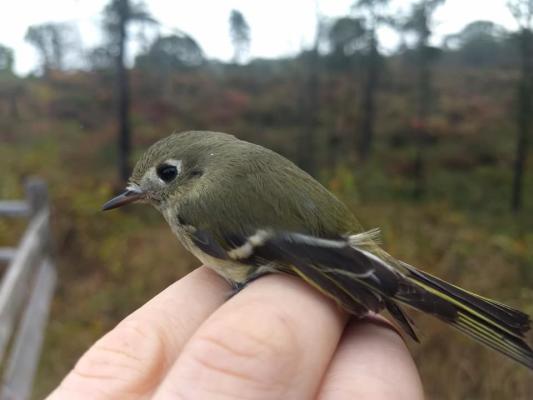 Fluff up your feathers and come explore birds in winter! You will learn who sticks around through the coldest months of the year and how these birds survive in challenging conditions. You'll also practice listening for and recognizing bird calls. During this walk, you will be hiking 0.6 miles, pausing frequently to listen for birds and observe their activities. Reservation required. Please call (518) 456-0655 or visit www.albanypinebush.org/events.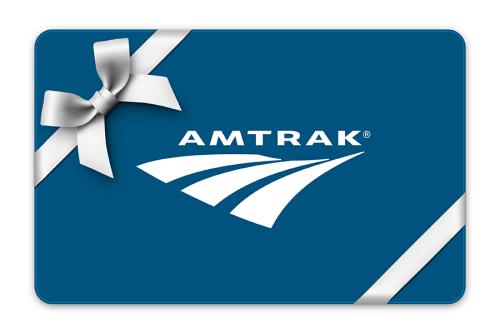 Your loved ones are just a gift card away. Amtrak gift cards don't expire and are valid on all Amtrak routes. Visit www.amtrak.com/giftcards for more information.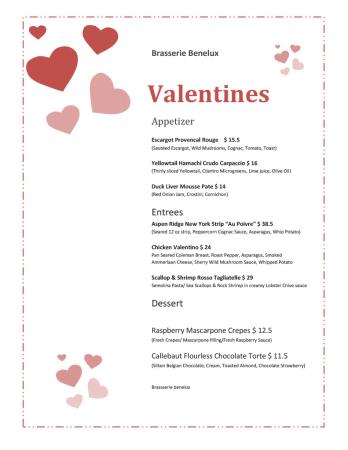 Celebrate Valentine's Day with dinner at Brasserie Benelux! This Valentine's menu will be available Saturday, February 12 from 12pm-10pm, Sunday, February 13 from 12pm-9pm and Monday, February 14 from 4pm-10pm. Call (518) 682-6950 for reservations.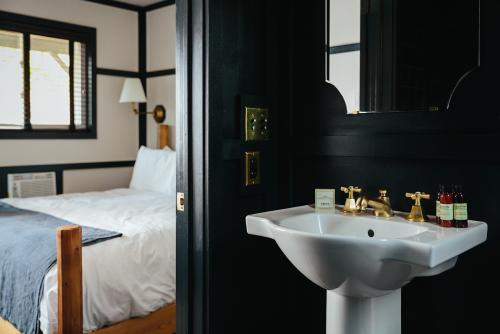 Plan something special for Valentine's Day with a night away in Saratoga — intimate dinner downtown, chilly walk through Congress Park, and a round at the fire upon your return to the Brentwood Hotel. Pick your pleasure with local wine and chocolates, upgrade to a locally sourced charcuterie box, or reach out to the hotel directly if you've got something extra special in mind. Add a "Date Night Package" to your reservation at the time of booking Visit www.brentwood-hotel.com to start planning your getaway today.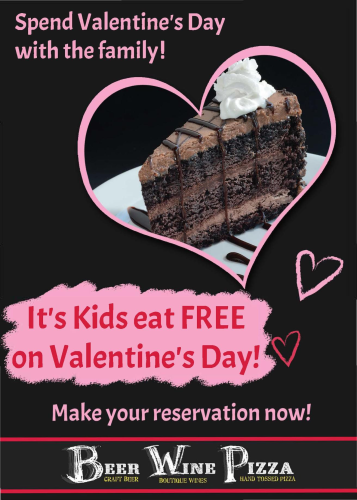 Treat the family to dinner at BWP Your Local Bar & Grille on Valentine's Day! Kids eat FREE! Make your reservation now at https://beerwinepizza.com.
Enjoy a romantic dinner for two at Chez Pierre on February 14th or 15th. Dinner will begin at 5:00 p.m. For reservations, please call (518) 793-3350.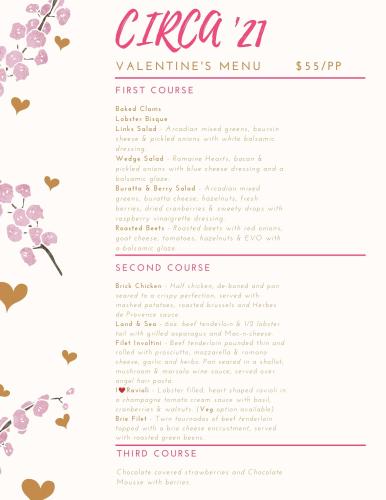 Celebrate Valentine's Day at Circa '21 at McGregor Links! Open for sit down or takeout on February 11th, 12th, and 14th. Reservations required. Call (518) 450-7941 or email info@circa21atmcgregor.com to make your reservation now.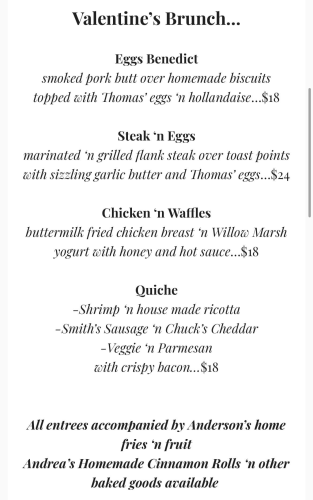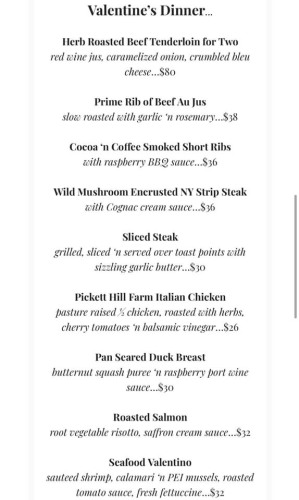 Two ways to say I love you this Valentine's Day: Valentine's Jazz Brunch with Keith Pray Trio from 10:00 a.m. - 1:00 p.m. on Sunday, February 13th and/or Valentine's Day Dinner available Saturday, Sunday, and Monday (February 12-14th). Call (518) 882-6962 for reservations.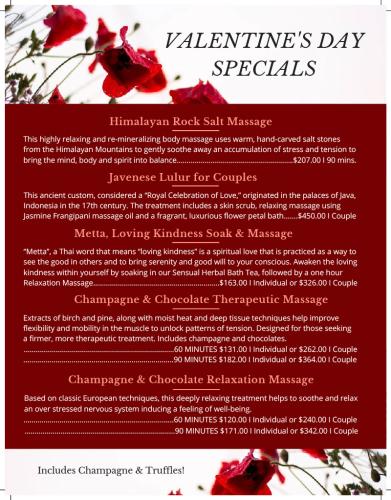 This Valentine's Day, spoil your sweetheart with one of the many rejuvenating spa treatments from Complexions Spa for Beauty & Wellness. Each Valentine's Day special includes champagne and truffles! Call (518) 306-5502 to make your reservation today.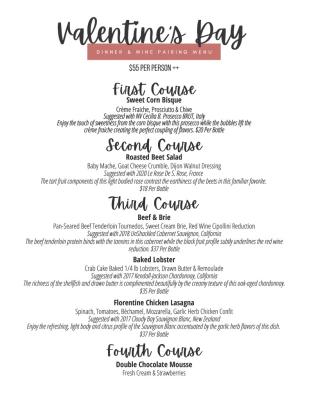 Treat your special someone to dinner at Diamond Club Restaurant this Valentine's Day! Enjoy this dinner and wine pairing menu for only $55 per person. For reservations, call (518) 886-1111.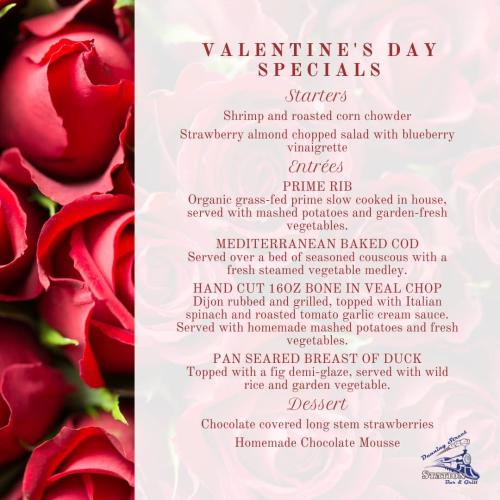 Celebrate Valentine's Day at Dunning Street Station! Call (518) 587-2000 for reservations.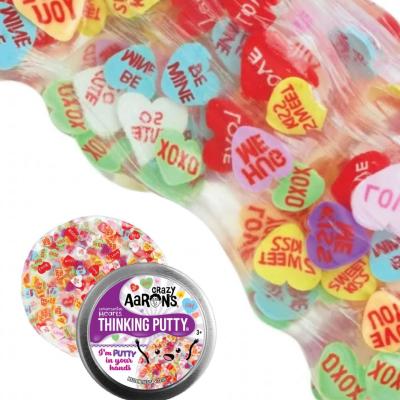 The sweetest Valentine's treat is now Thinking Putty! Find everything you need for your littlest Valentine at G. Willikers. Open Monday - Saturday 10:00 a.m. to 6:00 p.m. and Sunday 11:00 a.m. to 5:00 p.m.
Celebrate Valentine's Day with a romantic getaway for two to the Holiday Inn Saratoga Springs. Your Romantic Escape package includes:
Three-course dinner for two
Overnight accommodations
Breakfast for two
This package is available from Friday, February 11th through Monday, February 14th. To book, call (518) 584-4550 or visit https://bit.ly/3H3jFZm.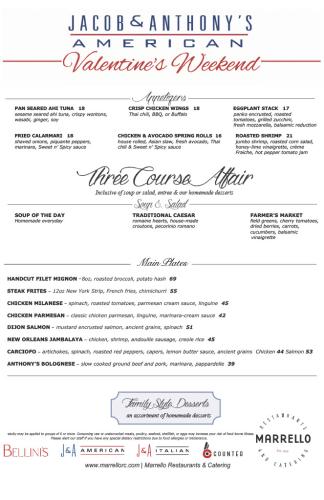 Jacob & Anthony's American Grille will be featuring this Valentine's Weekend menu Friday 2/11, Saturday 2/12 and Monday 2/14. The restaurant open at 4pm for dinner service. Please call (518) 871-1600 for reservations.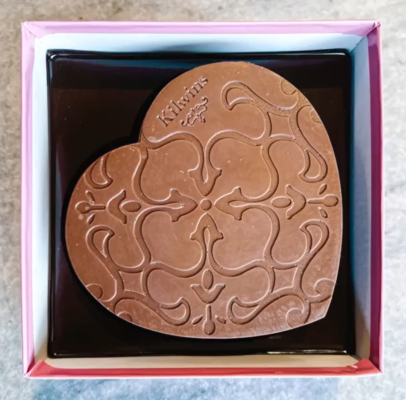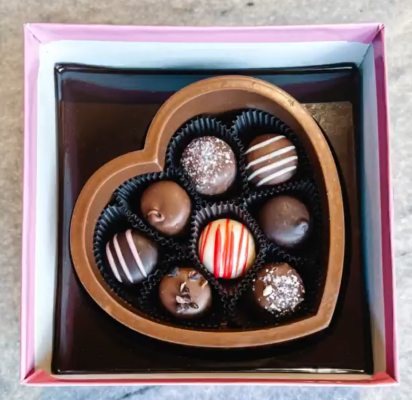 A chocolate heart box from Kilwins is truly one of a kind! These gorgeous boxes are intricately designed and made with their creamy chocolate you know and love. A perfect gift for Valentine's Day! To order yours, call (518) 682-3500 or visit www.kilwins.com/stores/kilwins-saratoga-springs.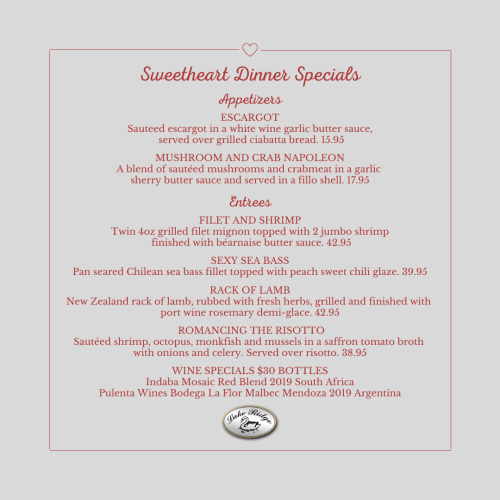 Treat your sweetheart to a romantic evening! Lake Ridge Restaurant is serving this Valentine's menu all week long. Call (518) 899-6000 for reservations.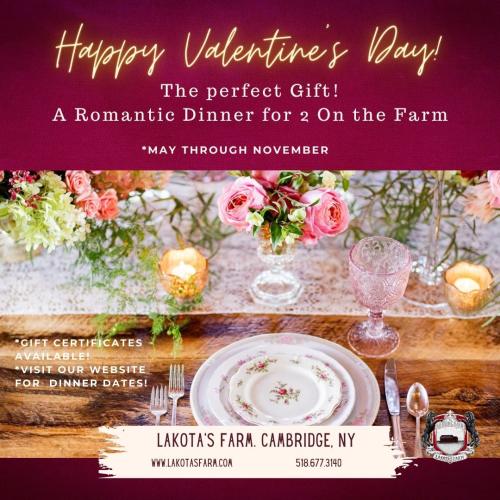 Looking for a romantic Valentine's Day gift? A Farm-to-Table Dinner for two at Lakota's Farm is the perfect choice! To purchase gift certificates, call (518) 677-3140.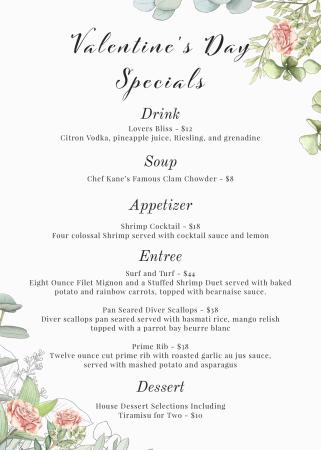 Valentine's Day is right around the corner and Longfellows has a great option for you to celebrate the holiday of love! The Longfellows Romance Package includes an overnight stay at their Inn and a voucher to their four-star restaurant. This package will be available throughout the weekend as well as Sunday and Monday night! Please call (518) 587-0108 for a reservation.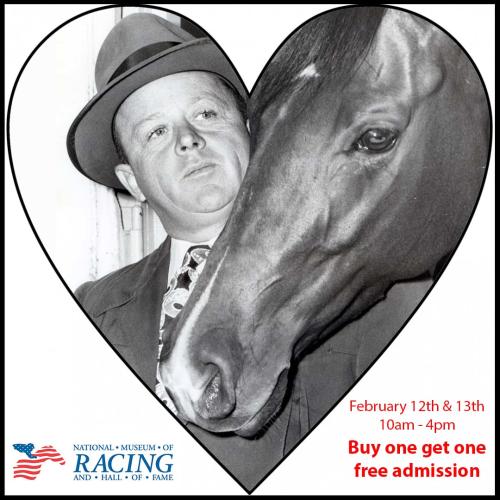 Take the family to the National Museum of Racing and Hall of Fame on Saturday, February 12 or Sunday, February 13 between 10am-4pm and buy one get one FREE admission!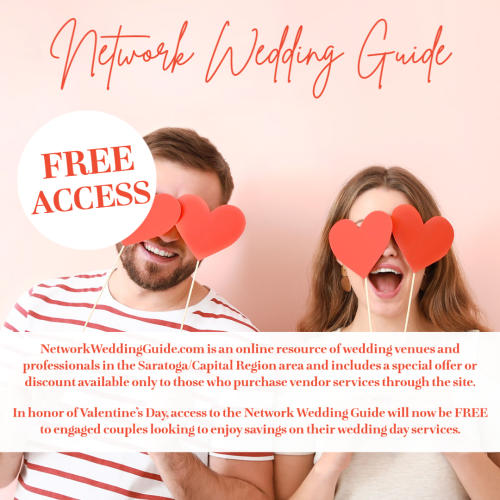 NetworkWeddingGuide.com is an online resource of wedding venues and professionals in the Saratoga/Capital Region area. Each listing includes a special offer or discount which is available to those who purchase vendor services through the site. In honor of Valentine's Day, from Friday, February 11, through Tuesday, March 1, access to the Network Wedding Guide is free to engaged couples looking to enjoy savings on their wedding day services. Visit NetworkWeddingGuide.com.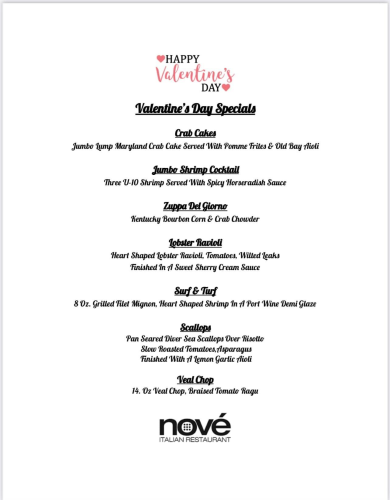 Nove Italian Restaurant will be offering Valentine's Day specials all weekend long - Friday February, 11th through Monday, February 14th. Please call (518) 583-8877 to make reservations.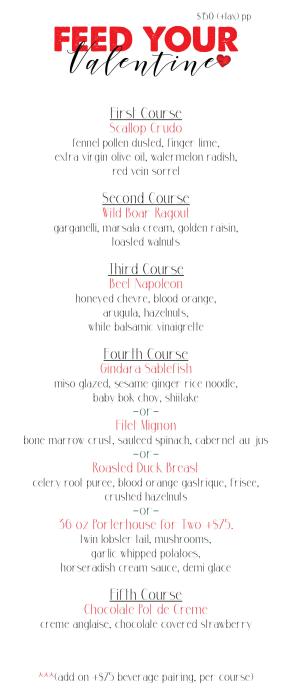 Prime at Saratoga National is offering this Valentine's Day pre-fixe menu! Open Friday 2/11, Saturday 2/12, and Monday 2/14 (dinner only). For reservations, call (518) 583-4653 ext. 2.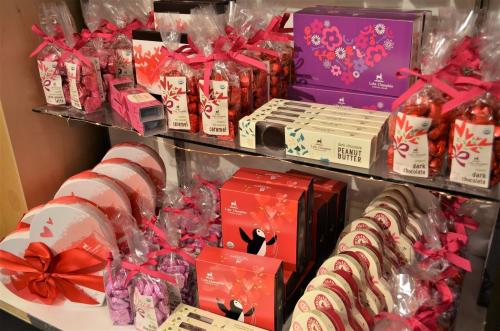 Visit Putnam Market for all your Valentine's Day goodies! Open Monday through Saturday 10:00 a.m. to 6:00 p.m. and Sunday 10:00 a.m. to 5:00 p.m.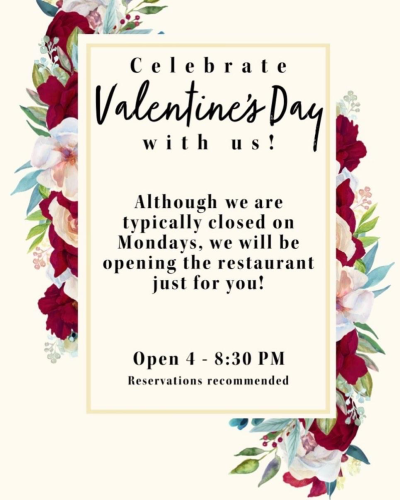 This Valentine's Day treat your loved one to dinner at the Olde Bryan Inn! Call (518) 587-2990 for reservations.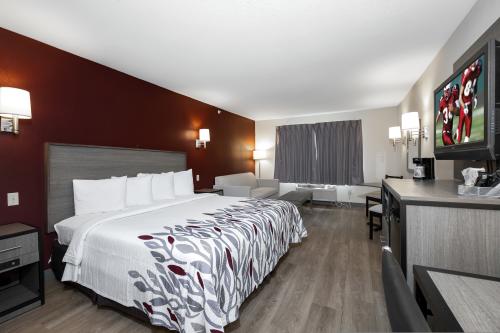 Treat your loved one to an overnight stay at the Red Roof Inn in Clifton Park! You will receive a beautifully appointed guest room with a small box of chocolates and flowers for just $95.00 per night! Valid February 11-15th, 2022. Hot Tub room available for just $25.00 more!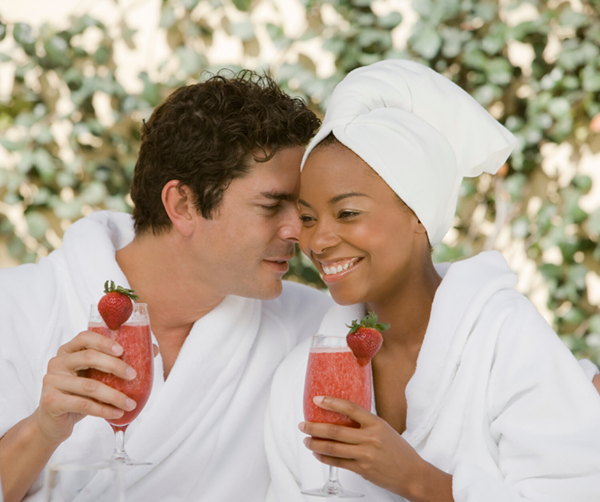 Plan a day filled with relaxation for you and your significant other at Roosevelt Baths & Spa! Mention this ad to receive 20% off these February treatments:
Muscle Therapy Massage
Our full body Muscle Therapy massage is a deeper pressure massage that integrates warm bamboo sticks for the neck, back, and legs. This will help enhance relaxation so we can work deeper into the myofascial tissue. Our Muscle Relief blend of peppermint, clove, wintergreen, and helichrysum will help calm muscular tension and increase flexibility. This is a great service for athletes or weekend warriors of all levels. (60 minutes)
Triple Shot Caramel Coffee Whipped Shea Butter Body Polish
Skin is smoothed, polished and caressed with hydrating Shea butter, while caffeine increases microcirculation, for a temporary tightening effect. The result is a nourished, beautiful glow. The creamy, delicious scent and caramel coffee notes are a real pick me up that never lets you down.
Rasmopolitan® Liquor Infused Body Polish
The naturally high vitamin-rich raspberry extract and vitamin E content in our rice bran oil hydrate skin, while the course salt and sugar grains slough away dead skin cells. Leaves a glistening, non-greasy finish that keeps winter dullness away!
10% Off All Retail Items for The Month of February
Stop in and get some of your Valentine's favorite take home spa items from The Roosevelt Baths and Spa.
No restrictions. Open daily from 8:30am - 5:00pm. To book, call 800-452-7275 or visit https://www.gideonputnam.com/roosevelt-baths-and-spa.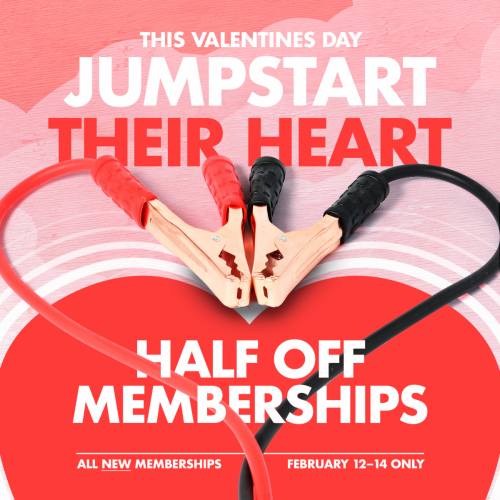 The Auto Museum will be offering 50% off new memberships from Saturday, February 12 to Monday, February 14. Visit their website and use the discount code: HEART.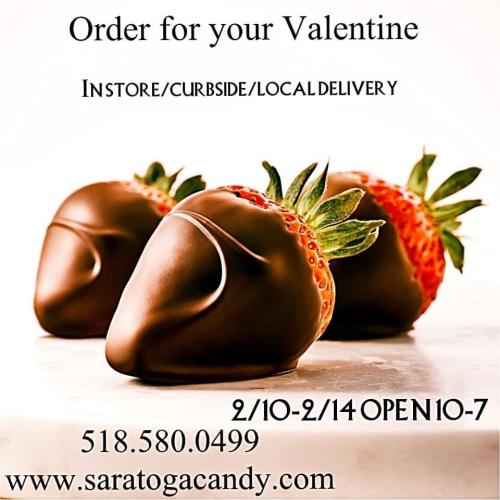 Saratoga Candy Co. has all the goodies to make your Valentine feel loved! Chocolate covered strawberries are their specialty. Open 10:00 a.m. - 7:00 p.m. February 10-14th. Visit their new spot at 353 Broadway! Local delivery available as well as in-store and curbside pickup. Call (518) 580-0499 to place your order now.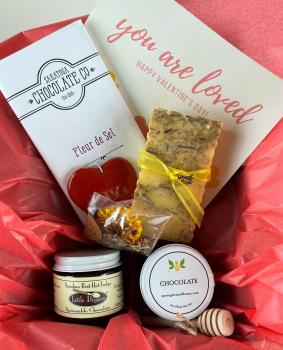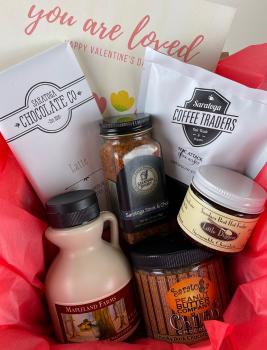 Celebrate Valentine's Day with a gift box of Saratoga specialties created by local food entrepreneurs and curated by Saratoga Food Tours. There are 2 versions available—one for him and one for her.
The gift box for her includes local honey with a dipper from Saratoga Tea & Honey Co., fudge sauce from Sundae's Best, chocolate candy from Saratoga Chocolate, a rose and jasmine blend packet from Big Breath Wellness, soap from Honey Bee Rich Body Care, and a ceramic heart ornament from Adirondack Adornments.
The gift box for him includes fudge sauce from Sundae's Best,  chocolate candy from Saratoga Chocolate, spice rub from Saratoga Spicery, maple syrup from Mapleland Farms, chocolate peanut butter from Saratoga Peanut Butter, fair trade coffee from Saratoga Coffee Traders.
Also included in both is a beautiful Valentine's Card. The cost is $49 with free shipping—less than the retail price of items sold separately—and you are supporting the specialty food entrepreneurs that contribute to the vibrant culture of Saratoga. 
Find out more and order at https://www.etsy.com/shop/funinsaratoga.
Saratoga Paint & Sip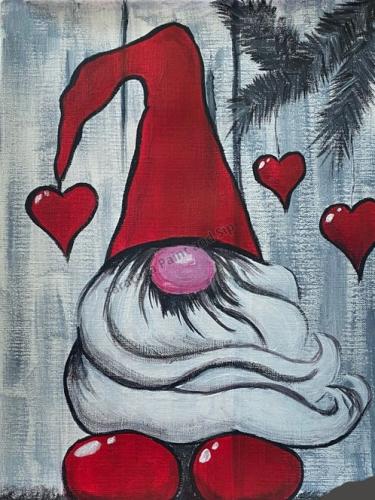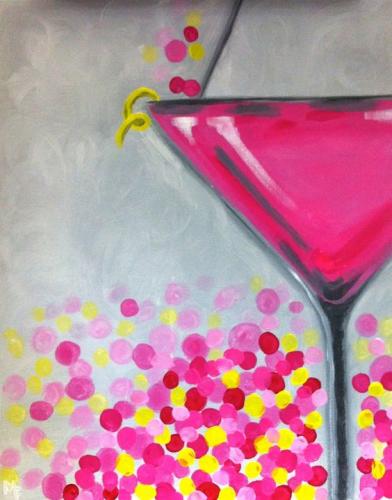 Celebrate Valentine's Day Weekend at Saratoga Paint & Sip:
Sunday, February 13th 1:00pm - 3:00pm 
Sunday, February 13th 4:00pm - 6:00pm 

Happy Galentine's Day "Cheers"
Register now at www.paintandsipstudios.com.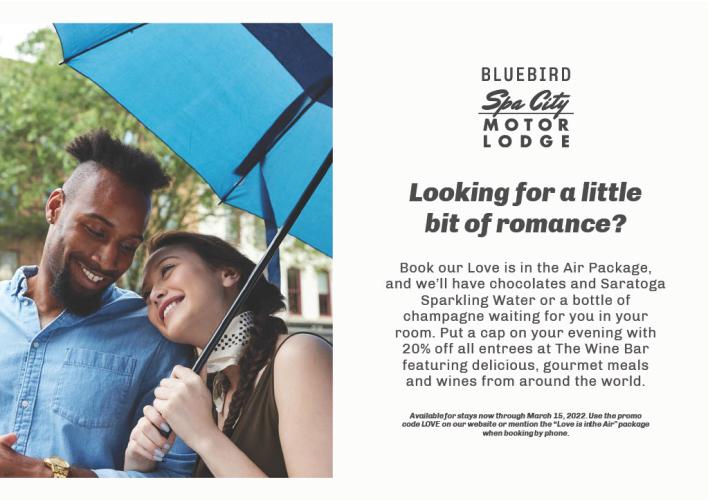 This Valentine's Day, book an overnight stay at the Spa City Motor Lodge! They will have chocolates and Saratoga Sparkling Water or a bottle of champagne waiting for you upon arrival. You will also receive 20% off all entrees at The Wine Bar. To book your stay, please call (518) 306-4063 and mention the "Love is in the Air" package.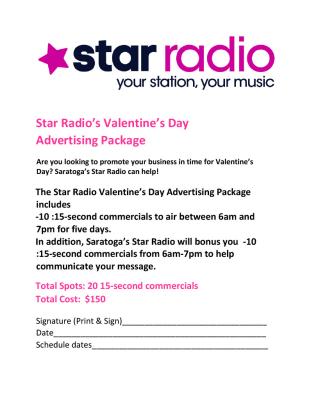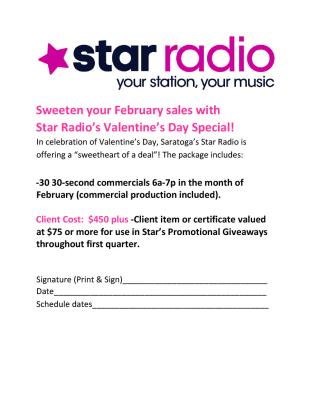 Are you looking to promote your business in time for Valentine's Day? Saratoga's Star Radio can help! Here are two great advertising packages:
(20) 15-second commercials for $150
(30) 30-second commercials for $450
For more information, please contact Fran Dingeman at fran@loudmedia.com.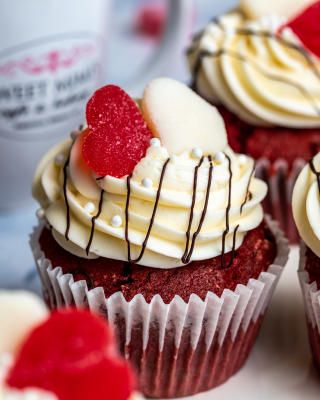 Get your Valentine a decadent treat from Sweet Mimi's Café! Open Thursday – Monday from 8:00 a.m. to 2:00 p.m.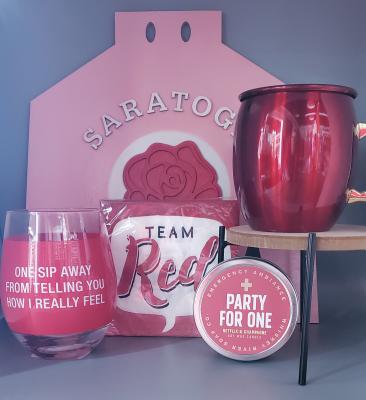 Tailgate and Party Shop will help you with a fun and different Valentine's Day gift! Find a funny wine glass, crazy candle or practical drinking supplies that are unique to this store. On February 13th and 14th they will offer a 10% discount on anything in the store that has red on it! Visit them at 33 Phila Street – diagonal to Ben and Jerry's.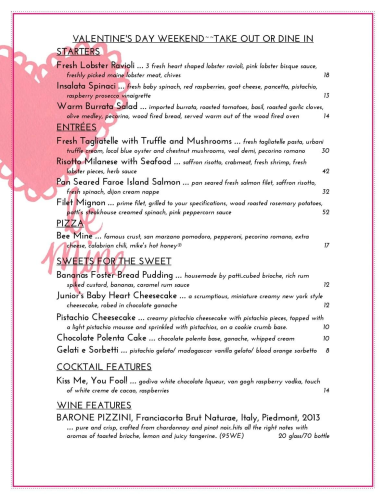 Celebrate Valentine's Day with authentic Italian plates and wood-fired cuisine at Taverna Novo! This Valentine's menu is available for dine-in or takeout. Please call (518) 886-1680 for reservations.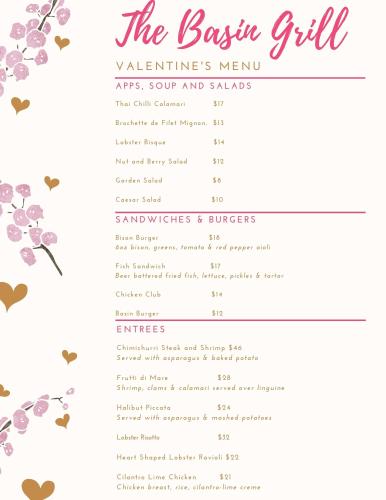 Take your loved ones to The Basin Grill February 11-14th. Kids eat FREE all weekend! Call (518) 695-2073 for reservations.
The Cellar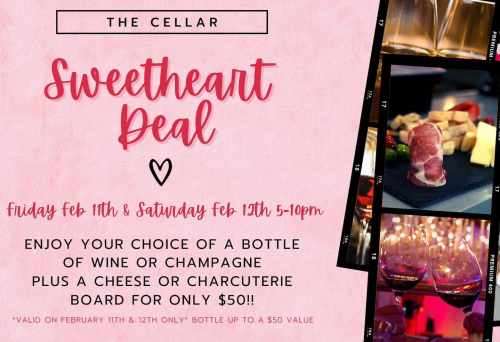 What a sweet deal! Treat your loved one to a bottle of wine or champagne plus a cheese or charcuterie board for only $50! Valid on February 11 & 12 only.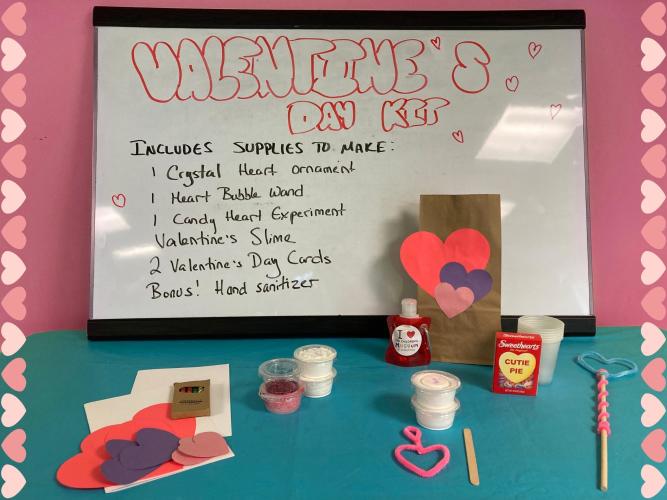 Help make Valentine's Day special for the little ones in your life. The Children's Museum at Saratoga is selling kits full of goodies for your child to create, conduct holiday themed science experiments, and make Valentine's Day cards to give to the special people in their life. They're also hosting a special Facebook live event on February 14th with Valentine's stories and a follow along for one of the experiments! Kits are $5 each and are good for one child. Email education@cmssny.org to register for a kit. Pickup date is February, 11th between 10:00 a.m. and 2:00 p.m. at 69 Caroline Street in Saratoga Springs.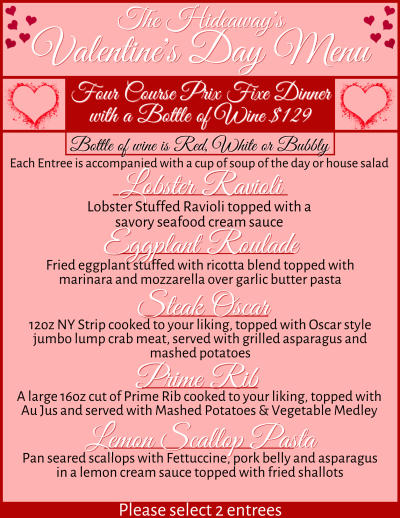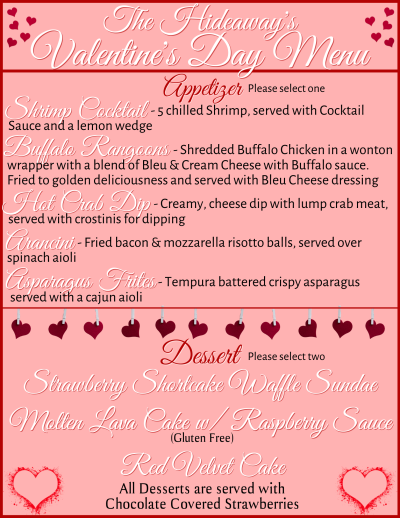 The Hideaway is offering a Valentine's Day prix fixe menu February 11th-14th.That means there will be plenty of time to enjoy a great meal with your love. For the great price of $129, you will receive:
2 soups or salads to start
1 appetizer to split
2 entrees
2 delicious desserts
A bottle of wine or Prosecco, or upgrade to a bottle of Chandon or Moet for $50 more
To make a reservation, please call at (518) 306-1900, spots are sure to fill up quickly.
Spoil your loved one with dinner at Thirsty Owl this Valentine's Day! Call (518) 587-9694 for reservations.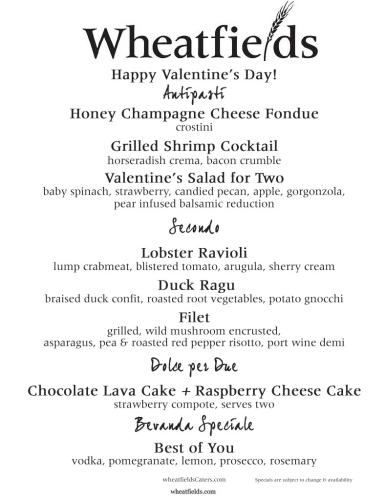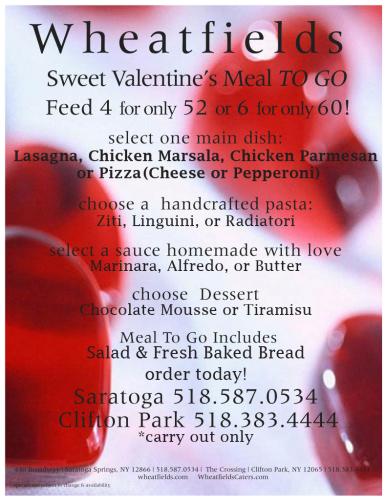 Enjoy a delicious Valentine's Day dinner at Wheatfields Restaurant & Bar in Saratoga or Wheatfields Bistro in Clifton Park! Open 11:30 a.m. to 9:00 p.m. Call for reservations. Wheatfields is also offering this sweet Valentine's meal to-go! Feed 4 for only $52 or 6 for $60. Available for carry out only. Call to order today.