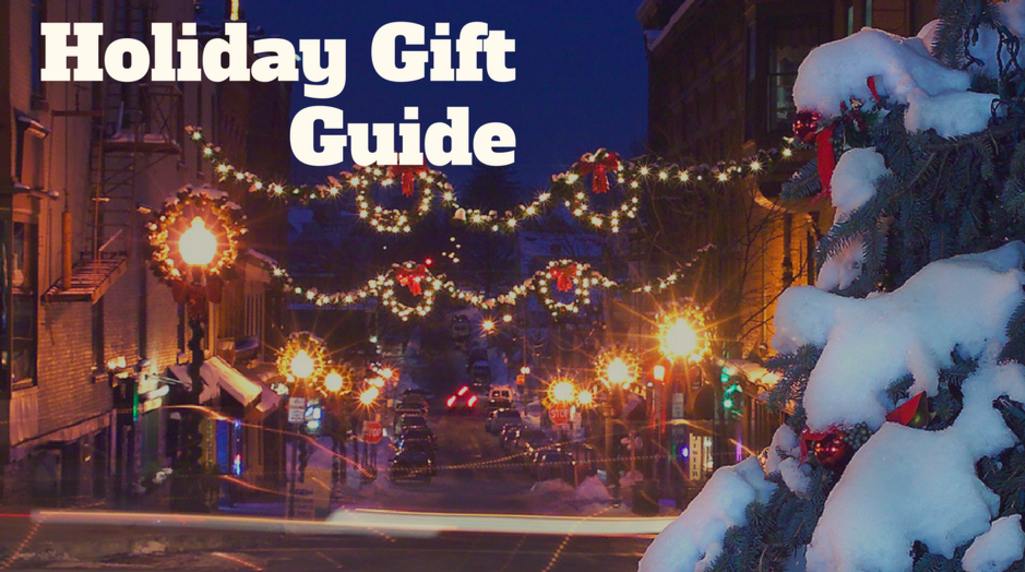 The Ultimate Guide to Holiday Shopping in Saratoga Springs, New York!
Snow is falling, Christmas classics are playing on repeat and festive decorations are everywhere you turn. It is indeed the holiday season in Saratoga Springs! With all the excitement of the holidays comes the inevitable stress of gift giving.  Between numerous holiday parties, decorating and traveling around this time of year, finding the perfect presents for all the special people on your list can seem daunting to say the least.
There's good news—you can get all your holiday shopping done right in Saratoga, New York! Whether you're in town for a meeting or are traveling for leisure, Spa City's boutique shops and unique products offers endless opportunities to wow your friends and family. Plus—who doesn't prefer to #shoplocal and support small businesses?
We've created a guide to the best gifts in Saratoga for every type of person on your list.
Gifts for horse lovers
Nothing says Saratoga like thoroughbred horse racing—so naturally you'll find the best horse-themed gifts in the heart of Saratoga Springs. From clothing and jewelry to collectables and gag gifts, there's no shortage of horse-inspired offerings.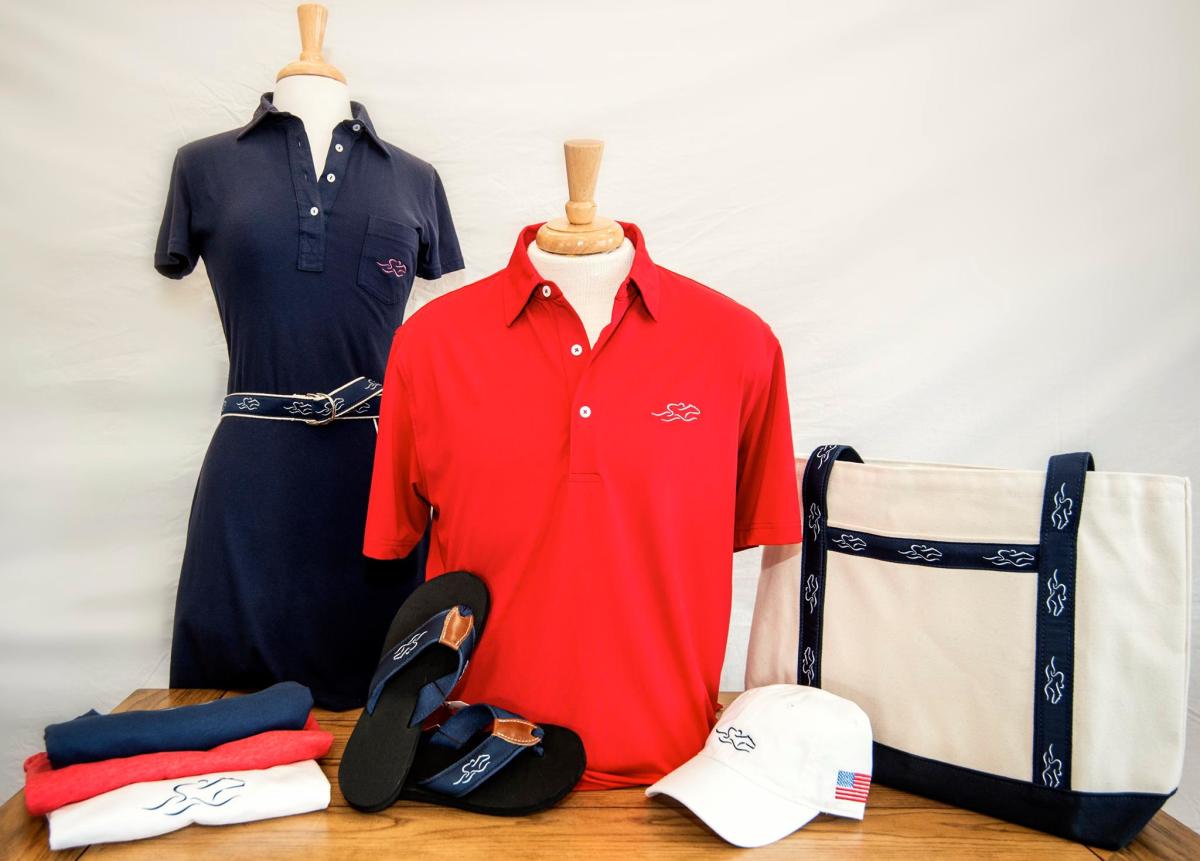 Whether the person you're shopping for is a horseback rider or just a fan of the Saratoga Race Course, EMBRACE THE RACE ® offers equestrian themed clothing and accessories that can be used for any occasion. Their universal symbol embodies the magical connection between the power, speed and majesty of equine athletes and the humans who celebrate them.  Visit their store on 12 Circular Street in Saratoga Springs, or shop online. 
The culture and history behind horse racing runs deep in Saratoga. A gift for a horse lover wouldn't be complete without the opportunity to learn this history first-hand at The National Museum of Racing and Hall of Fame. Admission is only $10, and gets you access to all exhibits plus the Hall of Fame. Stop in their gift shop for even more present ideas, or browse on their website.
Impressions of Saratoga, located right in the heart of downtown Saratoga Springs, sells anything from decorative home goods, horse imprinted pajamas and scarves to Saratoga Race Course memorabilia. Not to mention Impressions is the perfect place to pick up horse-themed gag gifts for your friends with a sense of humor. Anyone on your list also loves dogs? Get it all at Impressions! 
Gifts for the chef in your life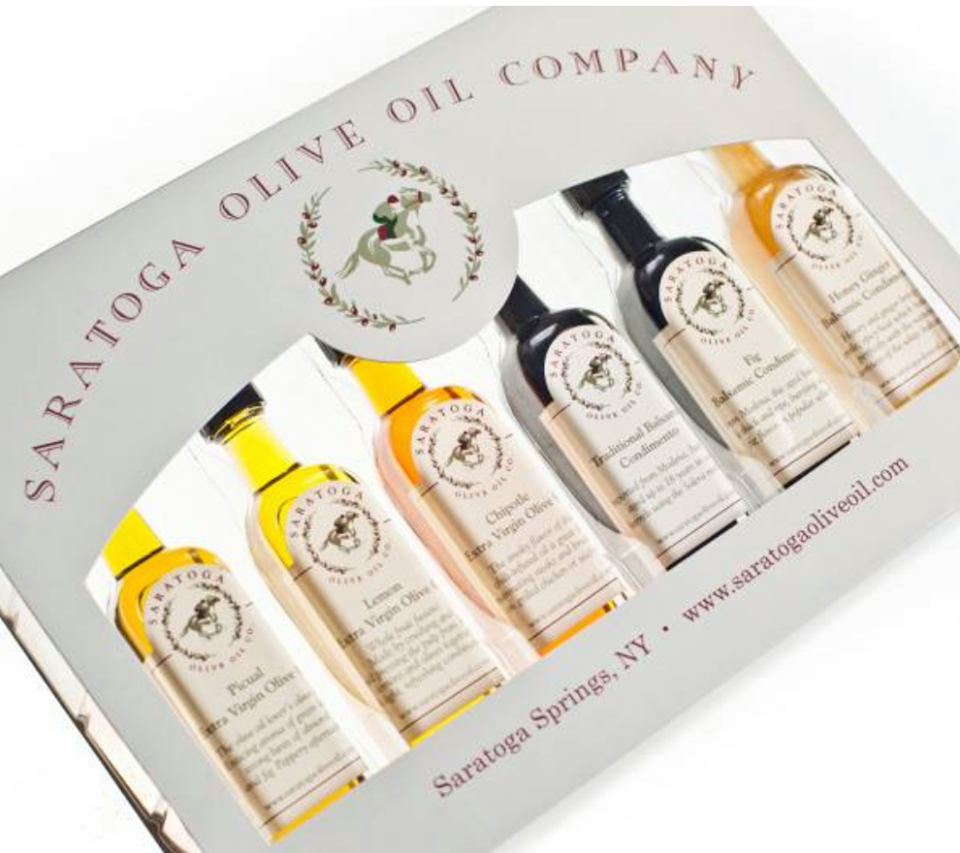 Who couldn't use more things to cook with? Whether it's cooking utensils, unique spices or cook books—we've got you covered. Saratoga Olive Oil sells over 60 extra virgin olive oils, aged balsamic vinegars and exotic sea salt flavors. In the store at 484 Broadway, you'll get to sample each flavor before you buy. Saratoga Olive Oil is also offering pre-packaged gift sets that your gift recipient will love. 
 Find anything from specialty food products and spices to cocktail-making kits at The Savory Pantry. (Keep reading for additional craft beverage-themed gifts!) Stop in their store for samples, or visit their gift guide for more ideas.
Looking for locally grown products or hand-made crafts? Stop by the Saratoga Farmers' Market each Saturday from 9:00 am to 1:00 pm in the Lincoln Baths Building at 65 South Broadway.
Satisfy someone's sweet tooth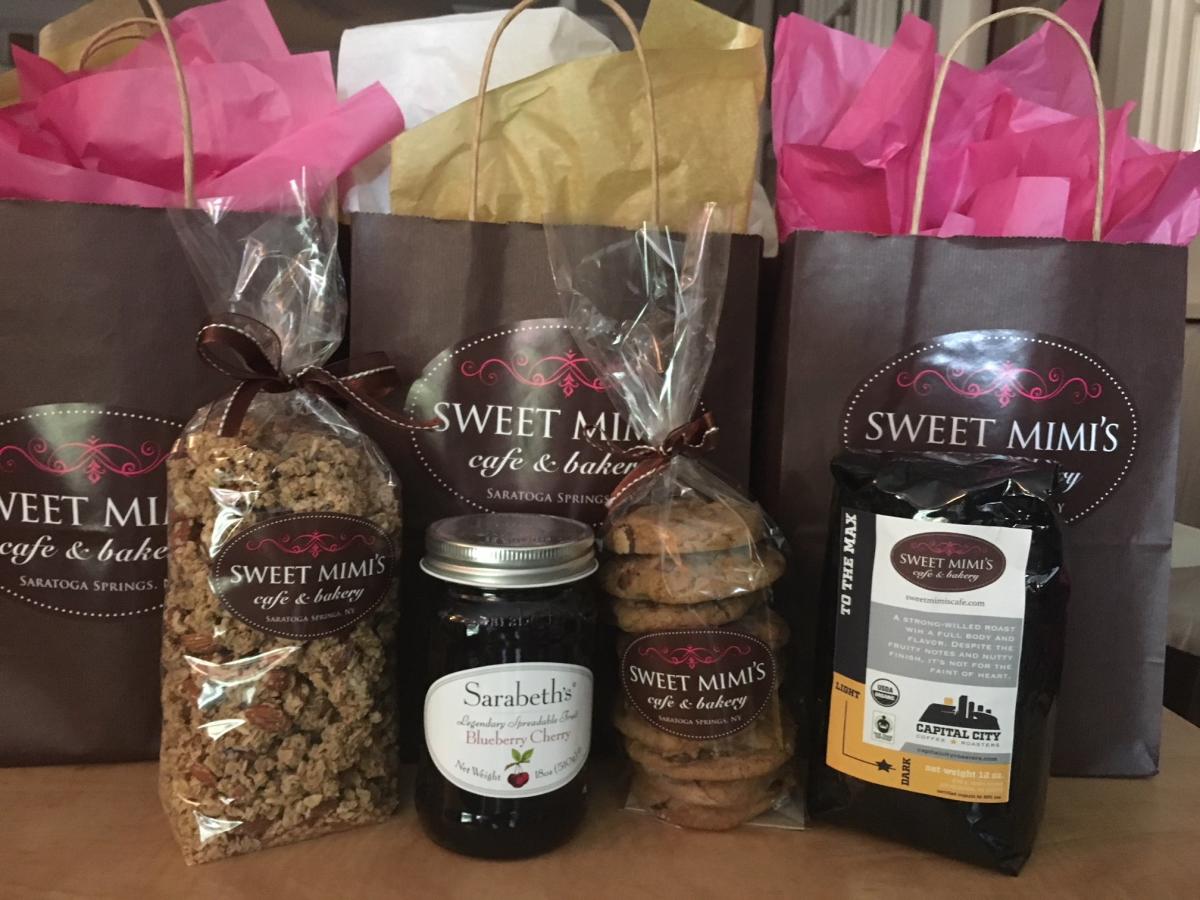 When all else fails, give them something sweet! Find gift sets and pairings from Sweet Mimi's Cafe. You'll get to choose from locally roasted coffee paired with granola for $18, two sleeves of oversized cookies for $25 or tailor-made gift boxes! Get them in the café at 47 Phila Street. 
Find additional treats and gourmet confections at Saratoga Sweets Candy Company (which is home of the famous Peppermint Pig!) and Kilwins Saratoga Springs. WARNING: you might be tempted to bring something home for yourself! 
Pro tip: Bring baked goods from Park Side Eatery, Putnam Market, Mrs. London's or Bread Basket Bakery to your next holiday party. You and your party host will not be disappointed!
Is fruit and honey more of their go-to? Look no further than Saratoga Tea & Honey.  Purchase anything from loose teas and accessories to mango infused honey, honey scented soaps and beeswax candles. Stop in their store at 348 Broadway to sample teas, browse products and even drink a cup of your own. Products are also available on their website with gift ideas based on your budget! 
Pamper someone special
Whether you're shopping for your significant other or someone that just deserves a break, spa packages are always a good idea. What better place to relax in than the city known for its natural mineral springs and healing properties?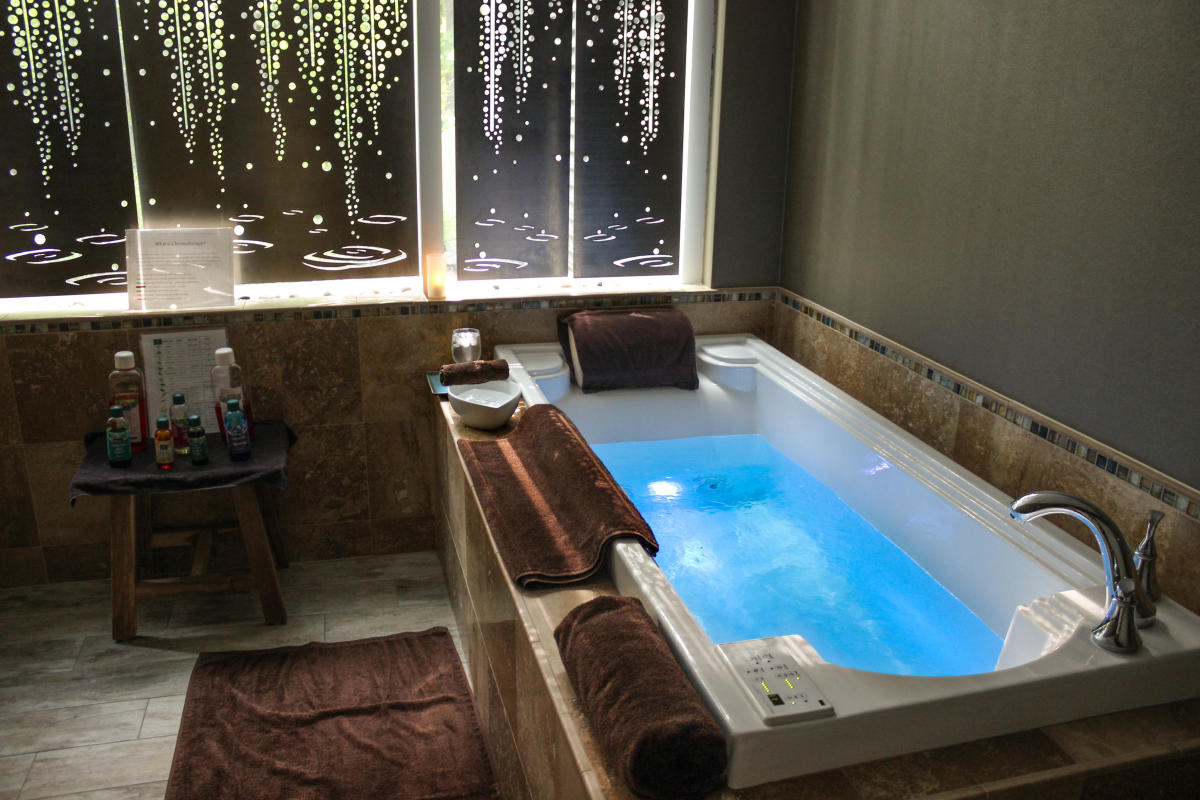 Photo via Sarah Funky 
Complexions Spa for Beauty and Wellness, located on 268 Broadway, offers a range of treatments from massages and rejuvenating facials to manicures, pedicures and more. In honor of their 30th anniversary, the purchase of a holiday gift card will enter you in a raffle toward winning a stunning Mikimoto Diamond & Pearl necklace with matching earrings, which is valued at more than $10,000!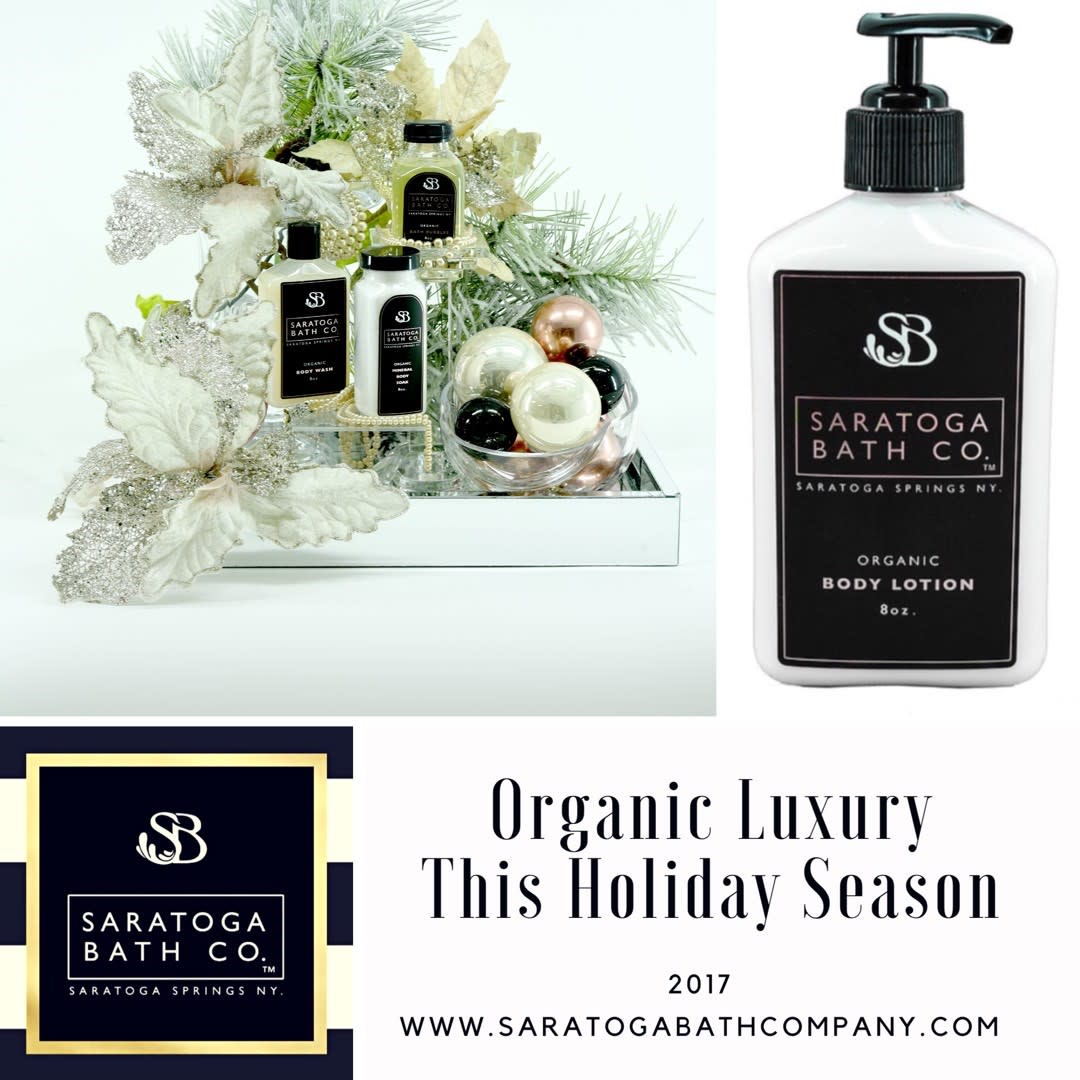 Who said you can't treat yourself at home? Give your special someone lavish organic bath and beauty products made with essential oils and botanicals from Saratoga Bath Co. Shop gift sets on their website, or exclusively at FIND Boutique at 454 Broadway. 
Simply Sidney Floral Design and Home Accents is also offering gemstone soap and candle gift sets to add a sense of hidden treasure to anyone's bathroom or powder room. Stop in their store at 268 Broadway to choose from true gardenia, hedges, lavender, pacific grapefruit and fig geranium. $25 gift certificates are also available!
Gifts for adventure-seekers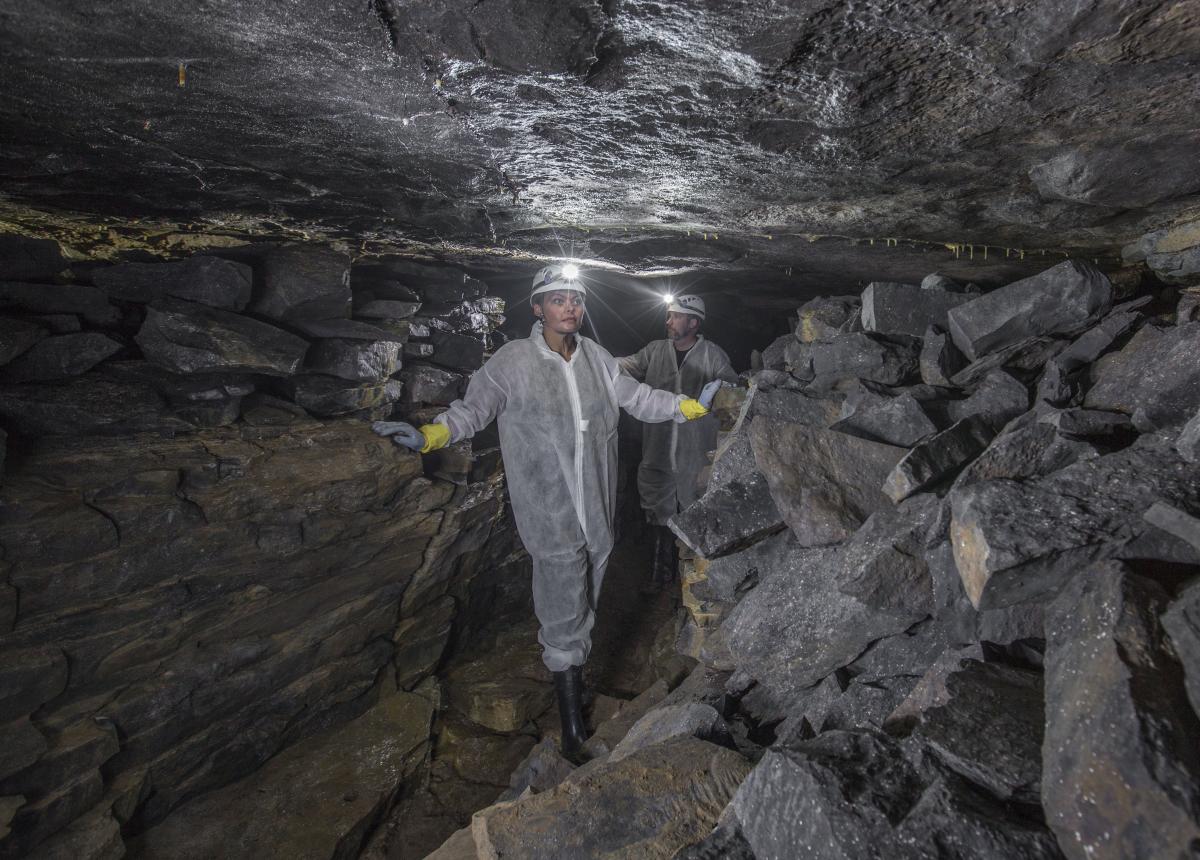 Give the gift of adventure and exploration! Howe Caverns, approximately an hour drive from Saratoga Springs, is offering gift packages to one of New York State's most visited natural attractions. Some packages even include a visit to the HC Mining Company to dig deeper into science, search for gems and even make jewelry. 
The gift of the lake is perfect for those who are difficult to shop for! Adirondack Cruise & Charter Co. is selling gift certificates and custom-made gift baskets on request, which you can find on their website. Additional boat cruises can be conducted by Lake George Steamboat Co. and Lake George Shoreline Cruise.  
Gifts for craft beverage and wine enthusiasts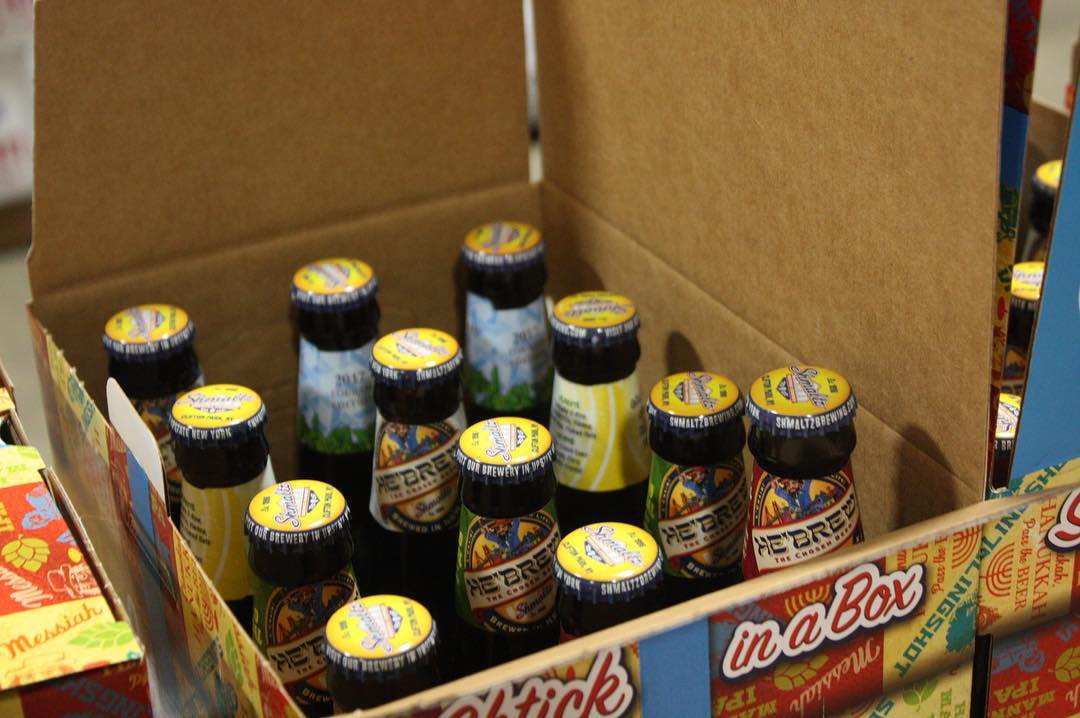 Whether you're attending a holiday party, or handing out gifts, bringing locally-produced craft beverages is sure to be a hit. Shmaltz Brewing Company, home of the award-winning HE'BREW, is offering their $ 20 holiday variety pack, Shtick in a Box, which is perfect for any beer or comedy lover. Pick it up in their tasting room at 6 Fairchild Square in Clifton Park, or Minogues, Save More Beverage and select Market 32's. 
You can also stop by Saratoga Brewing Company at 131 Excelsior Avenue for a growler of their new Peppermint Pig Oatmeal Stout.
Find more breweries, wineries and pubs here >>
More of a wine-o? You could take your special someone to a wine tasting at one of Saratoga's local wineries. Even better—bring them to wine dinner at Prime at Saratoga National Golf Club.  Holiday Wine Dinner packages are now available at Prime, and include reservations for 3 different wine dinners in 2018. You and a guest will enjoy a delectable 5-course dinner paired with wines from Cakebread Cellars on January 17, Masi on February 22 and Stag's Leap on March 29. You'll also receive a bonus $150 Prime/Saratoga National gift card with your purchase!
Give the gift of music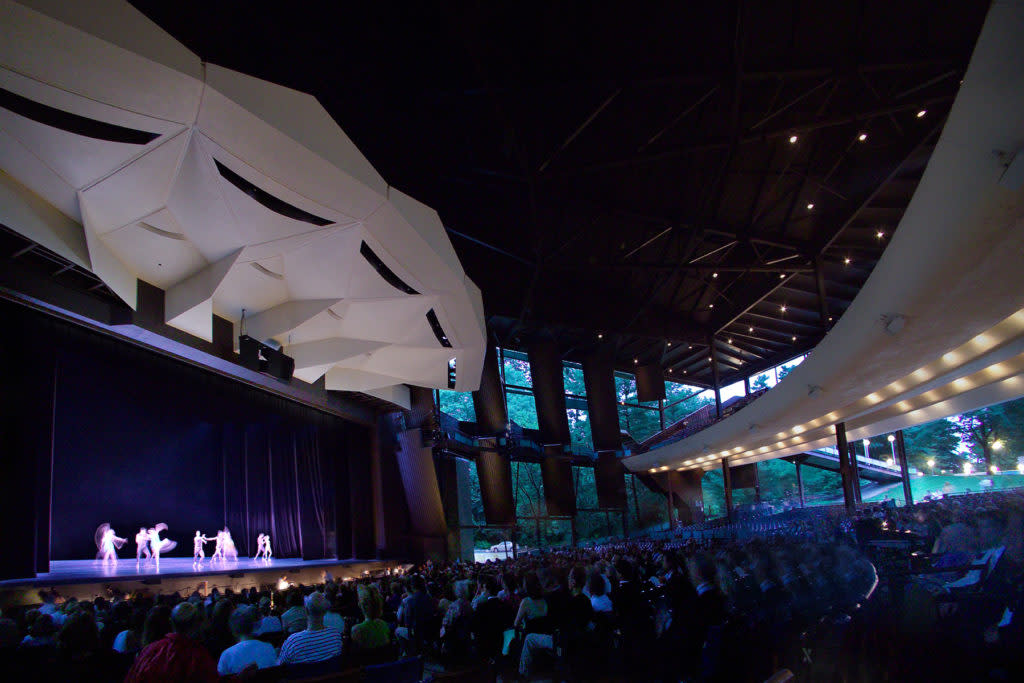 Saratoga Performing Arts Center is offering customizable gifts for every classical music connoisseur, pop diva, rock n' roll fan, or wine enthusiast on your list.
The 2017 Holiday Collection includes the Trustco Bank Ultimate Classical Season Lawn Pass, which features a lawn seat for all performances of New York City Ballet and The Philadelphia Orchestra and the opportunity to upgrade to the best available amphitheater seat for $5 for any performance, up to five times ($165 now through 12/31); gift certificates which can be redeemed for tickets to any SPAC performance, Live Nation show or the Saratoga Wine & Food Festival; the flex ticket option for the Freihofer's Saratoga Jazz Festival ($56 now through 12/31); and Holiday Gift Subscriptions to Chamber Music Society of Lincoln Center at SPAC and Opera Saratoga.
Gifts for avid readers
Not only can you find specific books from Northshire Bookstore's large selection, but you can also choose from a variety gifts inspired by famous literature. Their store even has a small vinyl collection, so you can knock multiple people off your shopping list. 
Local author, Ray O'Conor, is exclusively selling signed copies of She Called Him Raymond at Northshire. When ordering, include the name of the gift recipient and the message you'd like inscribed. Another local author, Greg Veitch, also sells his book All the Law in the World Won't Stop at Impressions. This fascinating story is about gambling, crime and corruption in Saratoga. 
Lyrical Ballad Bookstore is also a great option for your reading needs. Find a full list of book and gift stores here >>
Saratoga-inspired gifts
Bring Saratoga home with you with these gifts inspired by the scenery and culture of our beautiful city. TOGA HERITAGE, a Saratoga Springs lifestyle company and purveyor of accessories and fine goods for home and office, is popping up on Saturday's and Sunday's through the holiday season at Silverwood Home & Gallery (398 Broadway). 
If you're seeking an assortment of products that are produced locally, Saratoga In a Box can create a gift box for you. You can build your own box on their website.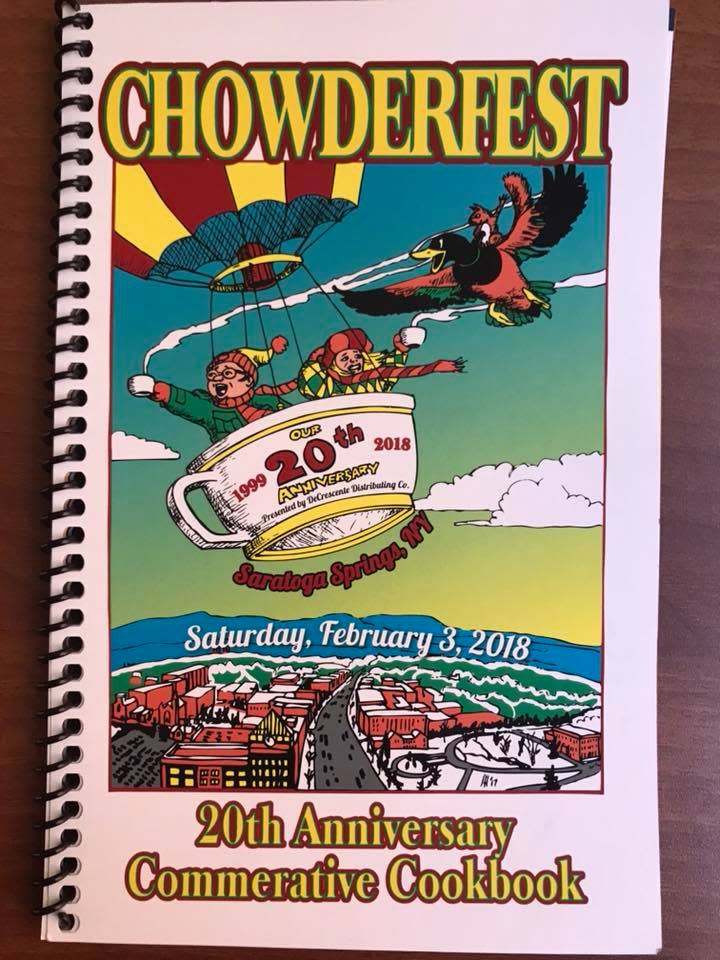 Does your gift recipient love Saratoga's Annual Chowderfest? In honor of the event's 20th anniversary, Discover Saratoga is selling commemorative Chowderfest Recipe Books for just $10. Try recipes from your favorite Saratoga restaurants, look back at past event winners and more. Pick your copy up at Impressions of Saratoga or the Saratoga Springs Heritage Area Visitor Center.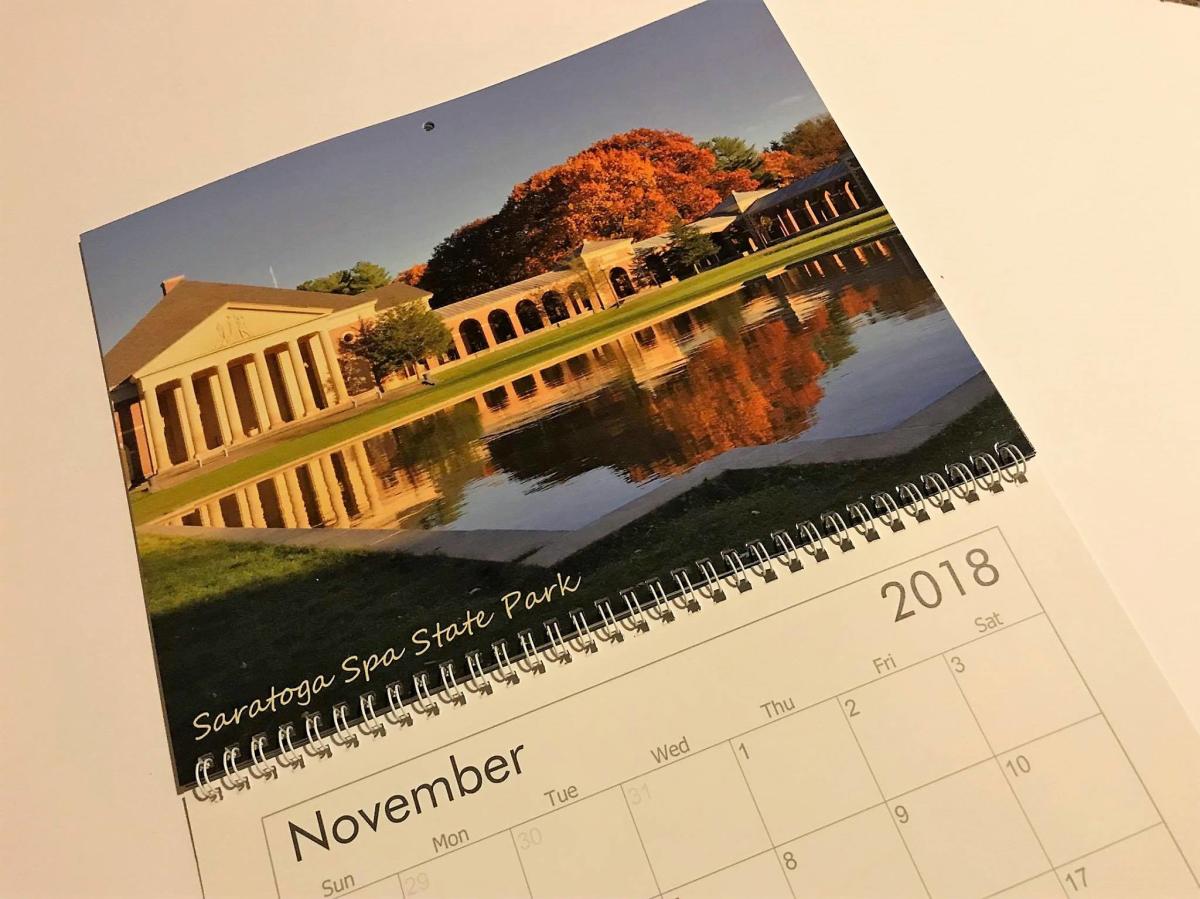 Christmas is the perfect time to give friends yearly calendars for their home or office. Saratoga-based photographer from Frozen Moments in and Around Saratoga is selling 2018 calendars filled with photos of iconic Saratoga landscapes, attractions and more. Get one now at Impressions of Saratoga or Plum Dandy Frozen Yogurt. 
If posters are more of their thing, Saratoga neighborhood prints are available from MW Neighborhoods. Shop for Saratoga posters and gear on their Etsy site. They also design Upstate New York, Hudson Valley, Troy, Albany and Schenectady prints!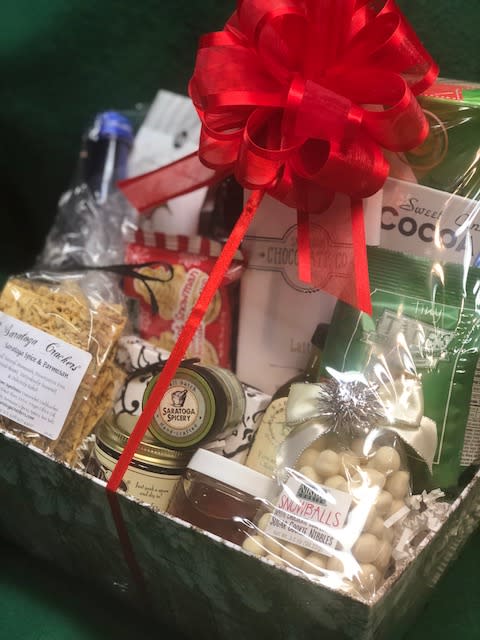 Satisfy the foodie on your list with a Taste of Saratoga Holiday Basket from On The Go Concierge. Each basket carries quality Saratoga products with an array of festive holiday goodies. Baskets are made to order, and can be delivered locally!
Find more Saratoga-themed clothing, trinkets and souvenirs at shops such as Crafters Gallery, Impressions of Saratoga and more. Or find a shop in our business directory.
Give them a getaway to remember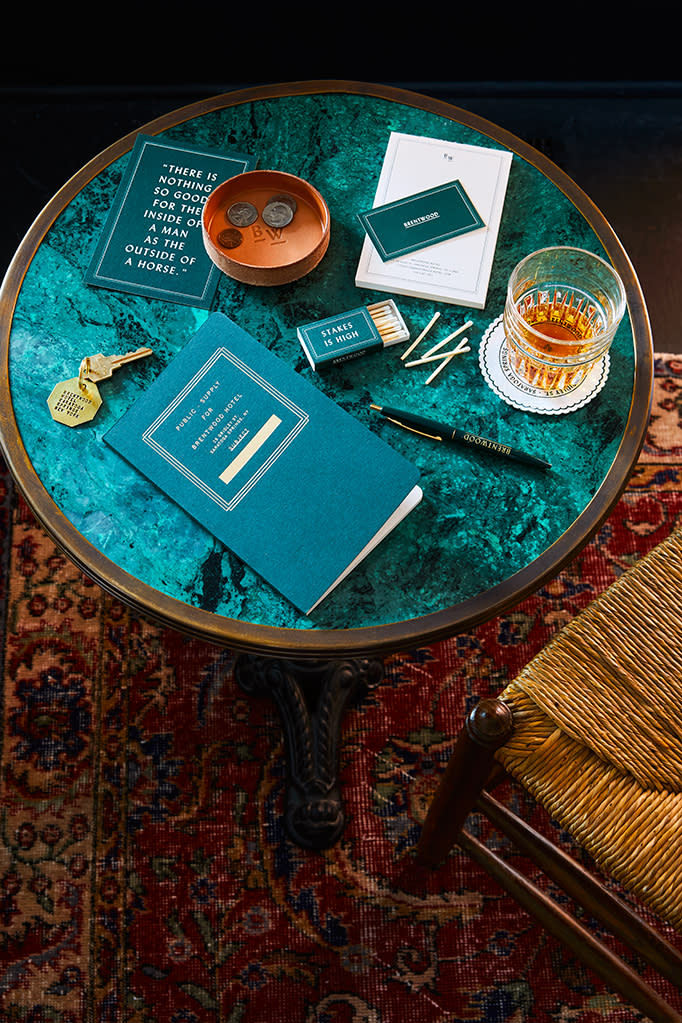 Top off your Saratoga-themed gift with an overnight at one of our unique hotels! For the month of December, Brentwood Hotel is offering gift certificates along with 20% off sharktooth blankets, leather catchalls, public supply notebooks, horse tail tassels and Fairends hats. Perfect for stocking stuffers! Purchases can be made by calling 518-450-7861, or onsite at 15 Gridley Street.
Find a full list of Saratoga hotels & lodging >>
Want to see more articles like this?
Sign up for our newsletter to stay up-to-date on all things Saratoga, NY! We promise we won't spam you.
Related Articles: