We've compiled a list of the best Father's Day gift ideas in Saratoga Springs, including a well-cooked meal, fun activities, and other unique gifts for one of the most important men in your life!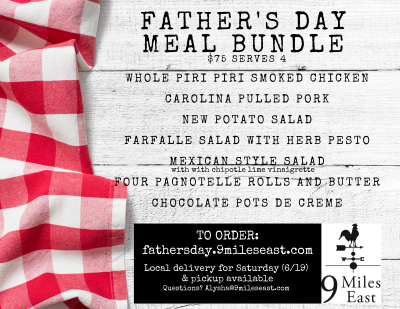 Treat Dad to a Father's Day Picnic Box from 9 Miles East in Saratoga Springs. Order online at fathersday.9mileseast.com. $75, serves 4. Mention code "Discover Saratoga" and receive beer on the house when you pick up!
Take Dad out to a Surf & Turf dinner at 30 Lake!  Call (518) 539-3474 to make your reservation today!
Adirondack Experience, The Museum on Blue Mountain Lake
Come celebrate Dad in the heart of the Adirondacks for a truly unique experience! With more than 20 buildings nestled across 120 acres overlooking Blue Mountain Lake, their open-air campus offers everyone something to do. Step into the rich history of this region as you row an authentic guideboat, break up a logjam, climb a classic ADK fire tower, or enjoy a family-friendly hike to Minnow Pond. Learn more and plan your visit today at www.THEADKX.org.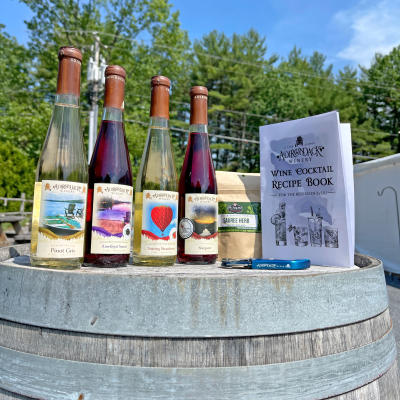 Order Dad's Wine Cocktail Kit, which includes four 375 ML bottles of our most popular wines, plus cocktail peanuts, a logo corkscrew, and a wine cocktail recipe book! Only $54.99 and includes FREE shipping.
Their free recurring Summer Naturalist Walks will take place on Father's Day weekend. They are entirely outside and are open to one individual, household or party. Enjoy your own private guided walk as you discover Pine Bush natural history and explore seasonal surprises along the way. Visit www.AlbanyPineBush.org/events for additional details and to make a reservation.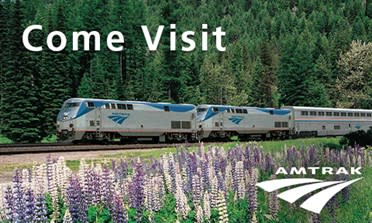 This Father's Day, give the gift of travel with an Amtrak gift card. This perfect gift idea can help your dad get on his way to visiting friends or family, his favorite city, or his ideal weekend getaway destination. Amtrak gift cards can be conveniently purchased online with values from $25 to $500, and there are no fees or expiration dates. Email an electronic card or send a physical card through the mail and redeem for travel online, on the Amtrak app, by phone, or at a ticket window. For Father's Day this year, let Dad choose from over 500 destinations. Purchase at https://www.amtrak.com/giftcards.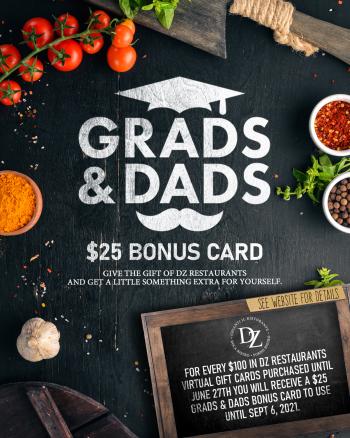 Congratulations Grads & Dads! But what do you get a high school graduate and a Dad who has everything? A gift card to DZ Restaurants is a good start. Plus, for every $100 in DZ Restaurants Virtual Gift Cards purchased until June 27th you will receive a $25 Grads & Dads Bonus Card for yourself to use until Sept 6, 2021! Order now: dzrestaurants.com/gift-cards.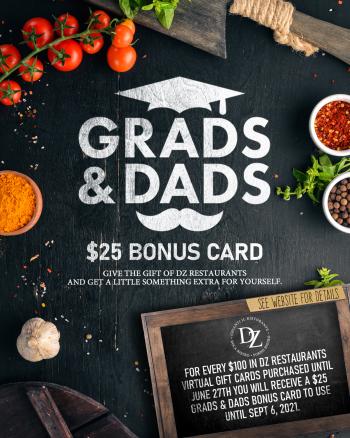 Congratulations Grads & Dads! But what do you get a high school graduate and a Dad who has everything? A gift card to DZ Restaurants is a good start. Plus, for every $100 in DZ Restaurants Virtual Gift Cards purchased until June 27th you will receive a $25 Grads & Dads Bonus Card for yourself to use until Sept 6, 2021! Order now: dzrestaurants.com/gift-cards.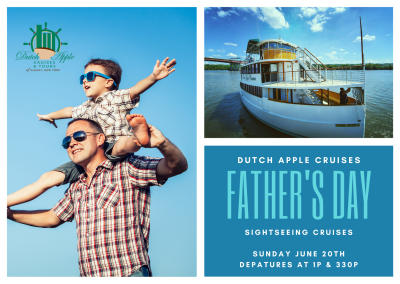 Treat Dad to a scenic cruise on the Hudson River this Father's Day! There are two cruise options:
1st Cruise Boards at 12:30p, departs at 1:00p and returns at 230p.
2nd Cruise Boards at 3:00p, departs at 3:30p and returns at 5:00p.
Cruises have general admission tickets, with an open seating policy. Seating is selected on a first come, first serve basis. Guests will be allowed entry to the boat 30 minutes prior to departure time. Failure to arrive before scheduled departure time will cancel your ticket. There are no cruise refunds. No exceptions. This is a rain or shine event. 
Get your tickets now at https://tickets.dutchapplecruises.com/#/event-details/fathers-day-sightseeing-cruise.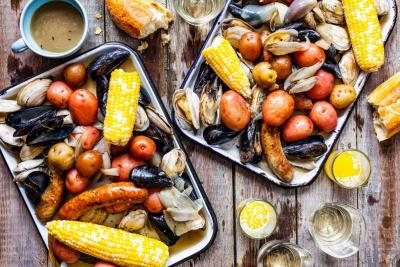 Get your Father's Day Clam Bake Package from Forno Bistro and feed up to 6 guests for only $95! Order now at fornobistro.com/fathersdayclambake. Must be pre-ordered by Thursday, June 17.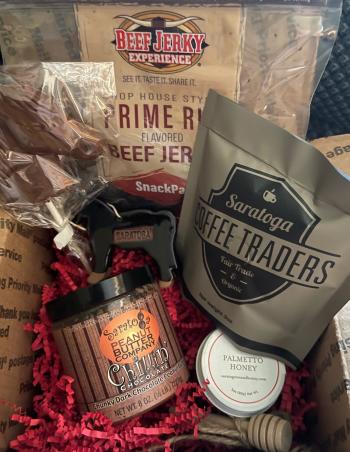 Celebrate Dad with a gift box of Saratoga specialties from locally owned businesses curated by Saratoga Springs Food Tours! 
The gift box includes local honey and dipper from Saratoga Tea & Honey Co., Chillin' Chocolate Peanut Butter from Saratoga Peanut Butter Company, chocolate horse pop from Saratoga Candy Co., fair trade organic coffee from Saratoga Coffee Traders, beef jerky from Beef Jerky Experience Saratoga Springs, and a ceramic horse from Kim Repscha of Adirondack Adornments.
Learn more and order at www.etsy.com/listing/1020766712/dads-gift-box.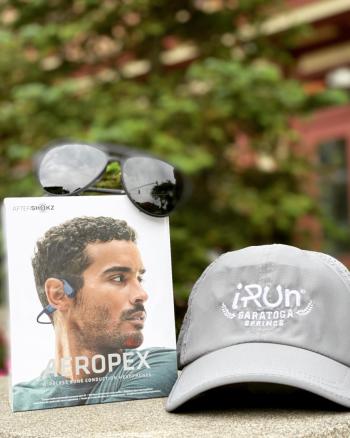 Celebrate Dad's at iRun LOCAL with a deal for everyone! 
Enjoy $30 OFF Aftershokz Aeropex wireless headphones and receive a FREE gift with purchase through Sunday 6/20.
They also offer gift cards in any amount to make Dad's day extra special! Visit them IN STORE or on their new website today: www.irunlocal.com.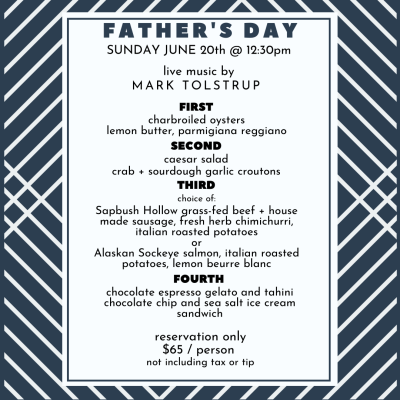 Enjoy a 4 course prix fixe lunch for Father's Day.  Reservations required. One seating at 12:30. Featuring live music by Mark Tolstrup.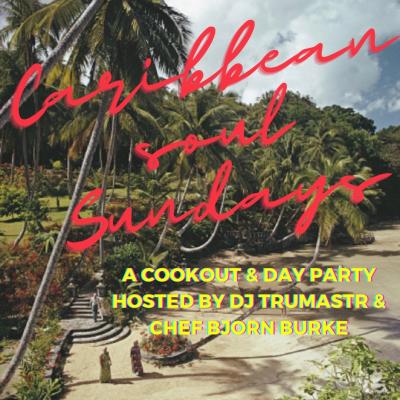 Bring Dad to Caribbean Soul Sundays at the Night Owl! Dad can enjoy a cookout & day party hosted by DJ Trumastr & food by Chef Bjorn Burke!
Prime at Saratoga National Golf Club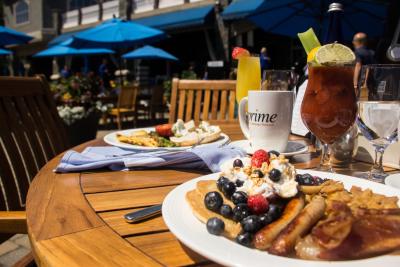 Treat dad to a wonderful meal at Prime at Saratoga National on Father's Day!
11am - 8pm | Lite Fare Menu
11am - 2pm | Father's Day Brunch Features
5pm - close | Dinner Menu
For reservations, please call (518) 583-4653 x2.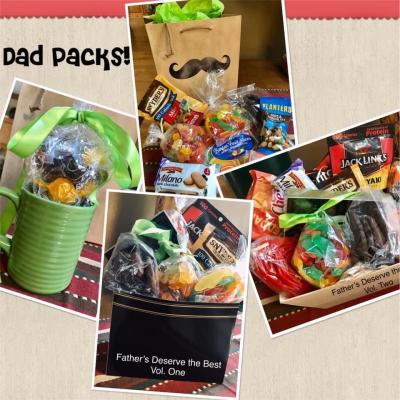 All the goodies for DAD!! In store/delivery/curbside. Order now at saratogasweets.com/dad-grad-packs.
Saratoga Paint and Sip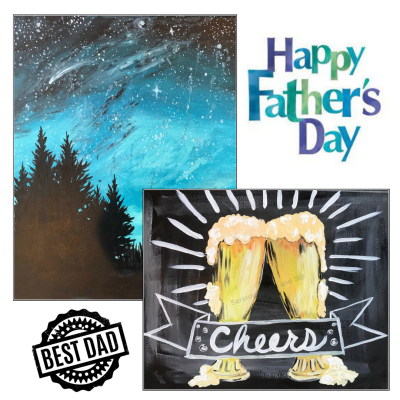 Father's Day is almost here and Saratoga Paint and Sip is offering some great paintings that Dad would love to create! A painting and sipping class is such a fun way to spend time with anyone you love!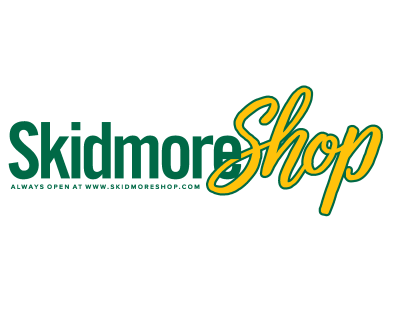 Did your father attend Skidmore? Do you know a recent Skidmore grad? Do you know an incoming first year student? The month of June is full of opportunities to gift someone you love with Skidmore gear! They have new items and some classics. Check out the Skidmore College shop at skidmorehshop.com and use the offer code FreeShip2021 to enjoy FREE (standard) shipping on your Skidmore branded order. Don't forget about their Apple program! They have discounted Apple devices from years' past as well as the latest and greatest (please note that the free shipping promo does not apply to their tech products). Contact Doug Chang (518-580-5491) at the Skidmore Shop to schedule a consult today!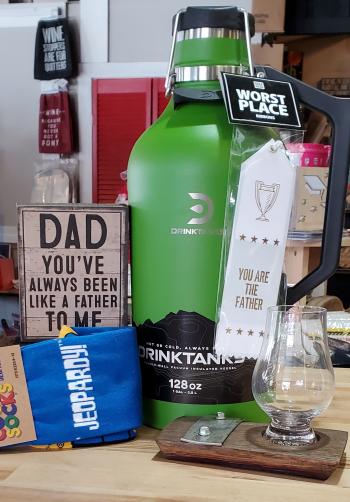 Every day is Father's Day at Tailgate and Party! From the famous 128 Ounce Growler to the "You are the Father" Ribbon, they've got you covered.  Coolers, sporting goods, and bar supplies fill half the store with great Father's Day gift ideas. Come visit them at their new location at 33 Phila Street!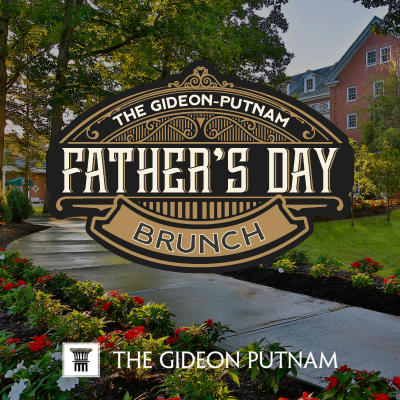 Enjoy a Father's Day Brunch at The Gideon Putnam, Sunday, June 20 from 11am-3pm. Treat Dad to Saratoga's premier brunch buffet at The Gideon Putnam, complete with prime rib, beer and bourbon specials and gorgeous views. All dads will receive a complimentary sleeve of golf balls and be entered in a drawing for a chance to win golf for four at Saratoga Spa Golf Course. Register now: gideonputnam.com/fathers-day-brunch.
Let Dad be king of the grill, but make it easy for him by getting a Grill Box To Go from The Wishing Well. The box includes meat, baked potato, seasoned grilling vegetables, and signature steak seasonings. Call (518) 584-7640 to reserve yours now!