Mark your calendars: Mother's Day is Sunday, May 9. To help you find the best Mother's Day gift, we've rounded up a collection of local gifts that any mother would love.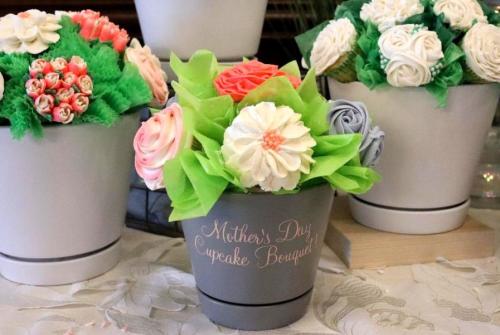 Treat mom to something sweet this holiday! Bring home a homemade cupcake bouquet this Mother's Day for a gift, unlike any other! Cupcake bouquets include your choice of 6 or 12 homemade cupcakes with pink, white & lavender frosting flowers, inside a reusable spring planter. Order now theadelphihotel.com/retail/.
6 Cupcakes $39.99 | 12 Cupcakes $79.99
*72-hours notice required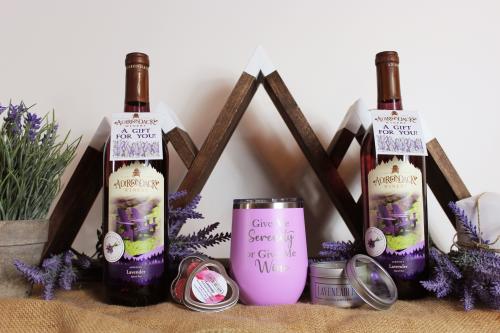 Just in time for Mother's Day, Adirondack Winery is releasing their 'Give Mom Serenity' Kit that is filled with lavender infused goodies, including their limited-edition lavender infused rosé Serenity! This kit features TWO bottles of Serenity, TWO bottle neck gift tags, a 'Give Me Serenity or Give Me Wine' stainless steel sippy, Lavenlair Farm Lotion Candle and Lavendo! You can get this kit for only $89.99 including FREE shipping! The 'Give Mom Serenity' Kit will be sure to bring mom relaxation and love on not only Mother's Day but every day! You can purchase this kit at adkwinery.com/serenitykit.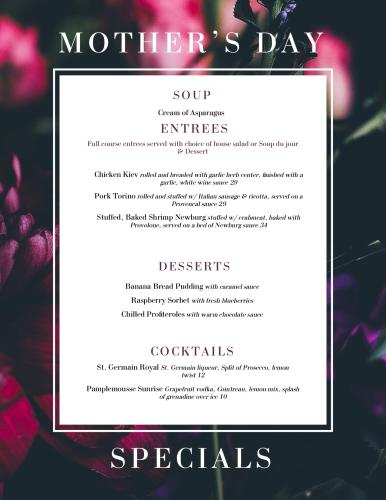 Chez Pierre is serving Mother's Day in-house from 3pm-8pm; Takeout pick-up 2pm-3pm (please place takeout order by 5/8). Regular dinner menu also available.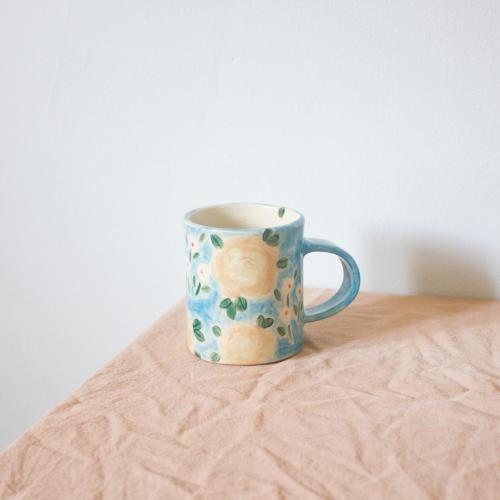 Find your perfect Mother's Day gift at Collective 131, including original art and home goods. Collective 131 is a female-founded gallery promoting all female artists! Located in the historic Beekman Street Arts District! Hours of operation: Tuesday-Friday from 12-6pm and Saturday 12-4pm.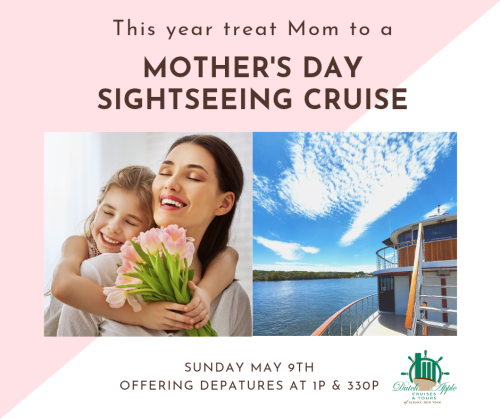 Treat mom this Mother's Day to a scenic cruise on the Hudson River! Dutch Apple Cruises is offering two cruises on Mother's Day:
    1st Cruise Boards at 12:30pm, departs at 1:00pm and returns at 230pm
    2nd Cruise Boards at 3:00pm, departs at 3:30pm and returns at 5:00pm
Round trip cruise departs from Intersection of Broadway & Quay St (1 Quay St) Albany, NY 12202 and heads South to Castleton, NY, before returning back to Albany. The first 45 mins of the cruise, their Hudson River Historian will narrate live about Albany and point out sights along the river. The second 45 mins of the cruise, passengers are able to relax, listen to music and enjoy the sights. Don't forget to bring your binoculars for possible bald eagle sightings! All cruises are rain or shine events.
*Please note that due to COVID-19, all passengers are required to wear a face mask whenever they are not seated.*
This cruise has general admission tickets with an open seating policy. Seating is selected on a first come, first serve basis. Guests will be allowed entry to the boat 30 minutes prior to departure time. 
Space is limited, please visit dutchapplecruises.com to register today! 
DZ Restaurants (Boca Bistro, Forno Bistro & Chianti Ristorante)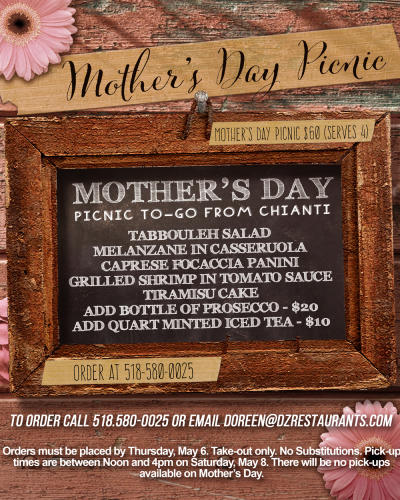 What better way to celebrate Mother's Day than with brunch at Boca Bistro or dinner at Forno Bistro or Chianti Il Ristorante? Their regular menus will be available, but all locations will be featuring Mother's Day specials. Reservations are recommended at all three locations.
Boca Bistro - Brunch seating begins at 10:00am
Forno Bistro - Dinner seating begins at 5:00pm
Chianti Il Ristorante - Dinner seating begins at 5:00pm
Fun In Saratoga Tours/Saratoga Food Tours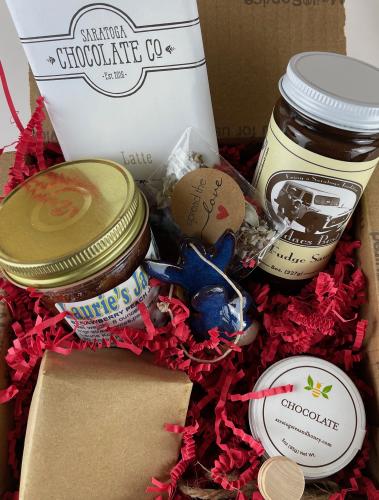 You can celebrate Mother's Day with a gift box of Saratoga specialties created by area women-owned businesses and curated by Saratoga Food Tours. The gift box includes local honey with a dipper from Hayley Stevens of Saratoga Tea & Honey and fudge sauce from Katie Camarro of Sundae's Best. Also, enclosed is chocolate from Allison Rose of Saratoga Chocolate, a rose and jasmine blend packet from Yadira Marie of Big Breath Wellness, soap from Sue of Honey Bee Rich Body Care, jam from Laurie's Jams, and a ceramic mother and child ornament from Kim Repscha of Adirondack Adornments. Boxes are shipped via Priority Mail and will arrive anywhere in the U.S. in 2-3 days. Find out more and order at https://www.etsy.com/listing/1001798555/mothers-day-gift-box.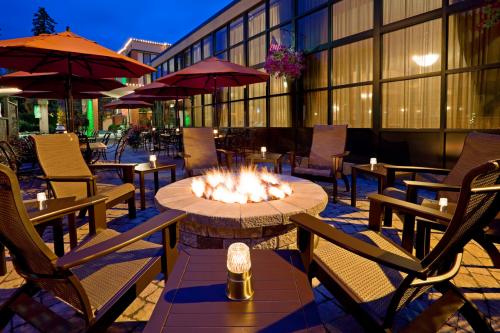 Celebrate mom this Mother's Day with a special getaway! Surprise her with a trip to Saratoga Springs and spend time with your family at the Holiday Inn Saratoga Springs. Your Mother's Day getaway will include:
Overnight accommodations
$50 gift card per night to the Saratoga Springs Downtown shops
Hot breakfast daily in Bookmakers restaurant
Plus, a special chocolate surprise for mom
Reserve your Mother's Day Getaway today. Book now!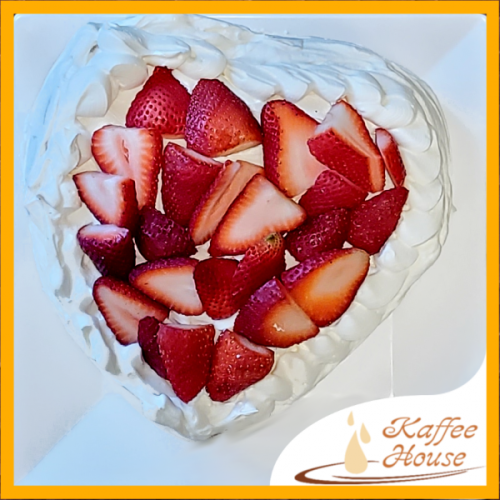 Moms like cake! Don't forget to pre-order your custom cake from KaffeeHouse. Call (518) 729-8480 today!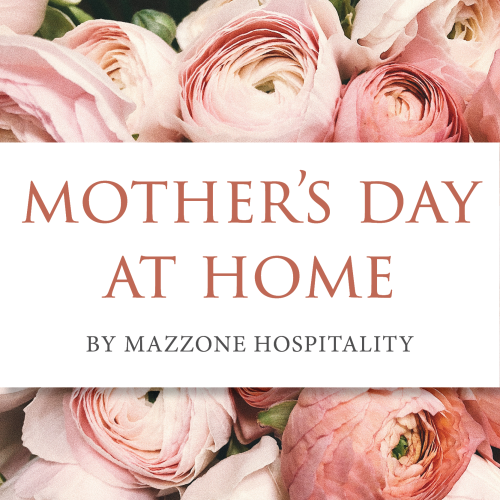 Celebrate Mother's Day with a Mazzone Hospitality dinner! Choose from their three delicious packages: roasted tenderloin of beef, pork loin roast, and land and sea grill kit (plus add-ons)! Online ordering available through May 5th. Available for pickup May 8 - May 9. Delivery available within a 30 mile radius for a $75 fee. Order now: mazzonehospitality.com/ordermazzone/.
Treat mom to a wonderful meal at Prime at Saratoga National on May 9!
11am - 8pm | Lite Fare Menu
11am - 2pm | Mother's Day Brunch Features
4pm - close | Dinner Menu
For reservations, please call (518) 583-4653 x2.
Happy Mother's Day! Receive 15% off your stay when you mention this post.
Momma always said life is like a box of chocolates...get them at Saratoga Candy Co.! $18.99 for a beautiful pound ribboned box. Choose assorted or pick your favorites. Local delivery available too! Order now: https://www.saratogasweets.com/loving-our-locals/.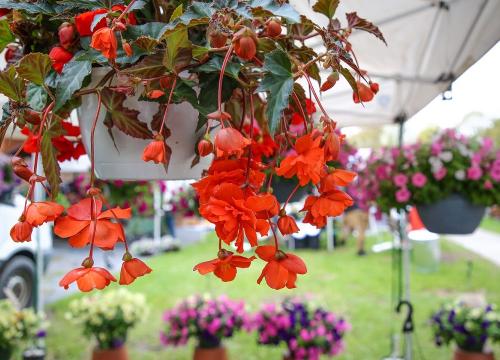 Stop by the Saratoga Farmers' Market on Saturday, May 8 to pick up the perfect gift for any type of mom! Whether she loves chocolates, flowers, or jewelry, show your mom you care by picking a locally produced item. Or think outside of the box and get her a farmshare she can enjoy all summer long. The Saratoga Farmers' Market is open 9am-1pm at the Wilton Mall (Bon-Ton parking lot)! For more info visit saratogafarmersmarket.org.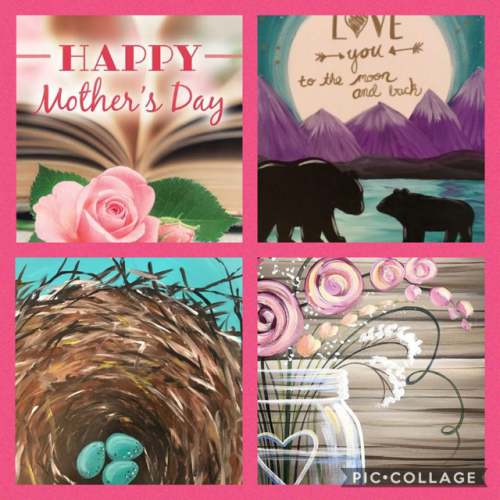 Forget brunch! Make reservations to sip and paint with mom at Saratoga Paint and Sip. You and your mama will make forever memories while you laugh, drink, and paint together. Reserve your table soon, seating is limited for social distancing. For more information, visit www.paintandsipstudios.com.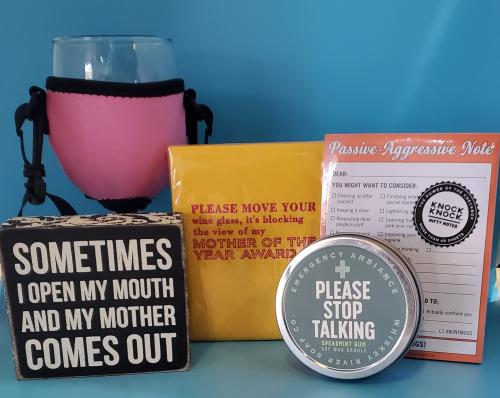 Tailgate and Party has opened up in their new location on 33 Phila Street, just in time to help out with those mother's day gifts. They have signs, candles, and their usual goofy items. And of course, they have the essential wine glass on a lanyard a.k.a in Saratoga as the "wine feedbag" that Mom might seriously need.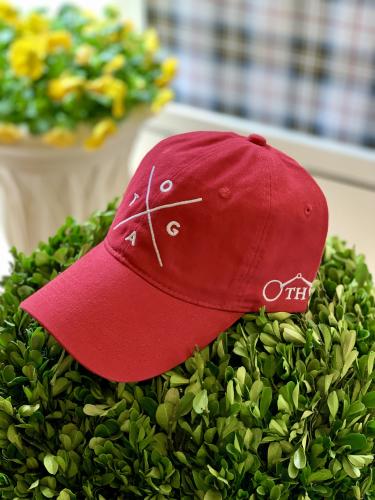 Monogram it for Mother's Day! Get ready for a SPA CITY summer with a personalized TOGA HERITAGE signature Saratoga red hat. Stop in Mother's Day weekend and receive a special gift with purchase.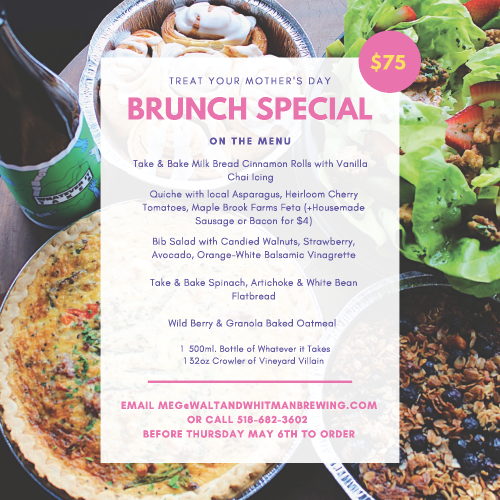 Treat your mom to a Mother's Day Brunch at Whitman brewing! To place your order, email meg@waltandwhitmanbrewing.com or call (518) 682-3602. Orders must be placed by May 6.