Mark your calendars: Mother's Day is Sunday, May 9. To help you find the best Mother's Day gift, we've rounded up a collection of local gifts that any mother would love.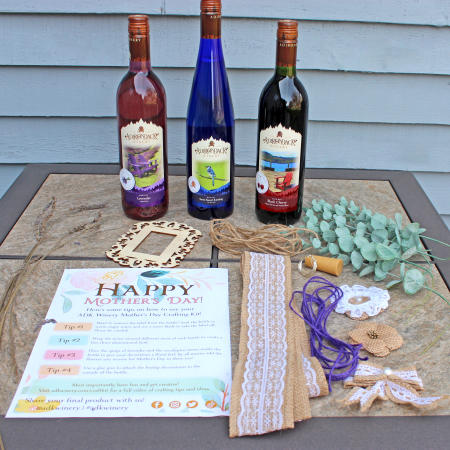 Adirondack Winery has released a new crafting kit just for Mother's Day! The kit includes three bottles of wine and crafting supplies that you can use to create a beautiful table centerpiece with your wine bottles! Available for pickup at their Lake George or Queensbury locations, and they ship to 36 states if you'd rather it arrive on Mom's doorstep! Learn more and watch a video preview at adkwinery.com/craftkit.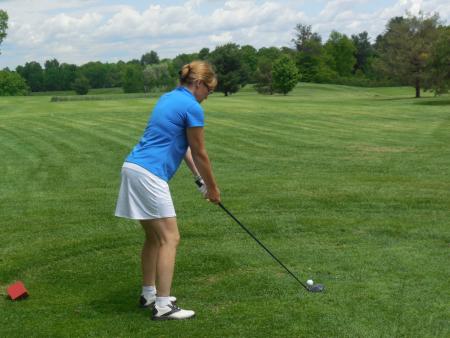 On Mother's Day, Sunday May 8th, moms golf FREE when playing with a paying adult family member!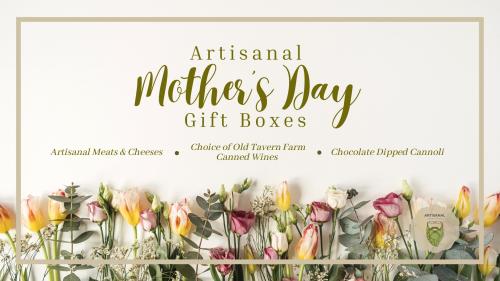 Celebrate Mother's Day weekend with an Artisanal Brew Works to-go gift box. Filled with wine, savory and sweet treats, this gift box is a great way to celebrate these special women in our lives. Each gift box is $35 + tax. Pre-Order your gift box now through Thursday, May 5th. Pick-up times are Saturday, May 7th,12pm-9pm and Sunday, May 8th, 12pm-5pm. Must be 21+ years of age to order and pick up. For more information and to purchase, visit https://commerce.arryved.com/location/BHv8gndS.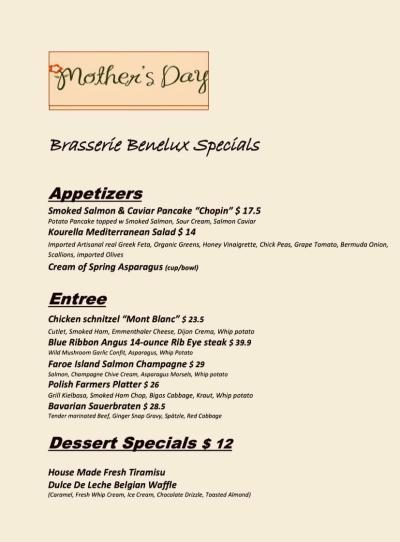 Brasserie Benelux will be open on Mother's Day! In addition to their regular menu, they will have specials such as Rib Eye, Sauerbraten and Salmon Champagne. Call (518) 682-6850 for reservations or visit wwwbeneluxny.com.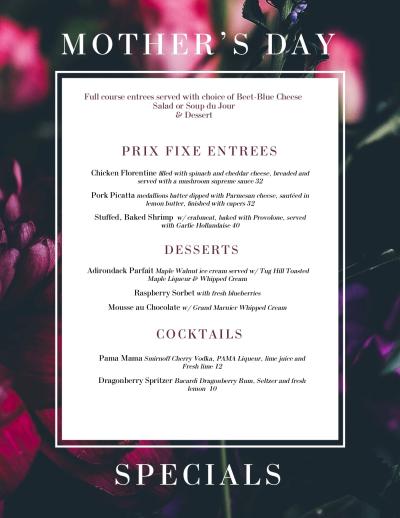 Chez Pierre is serving Mother's Day in-house from 4pm-9pm; Regular dinner menu also available. 
Circa '21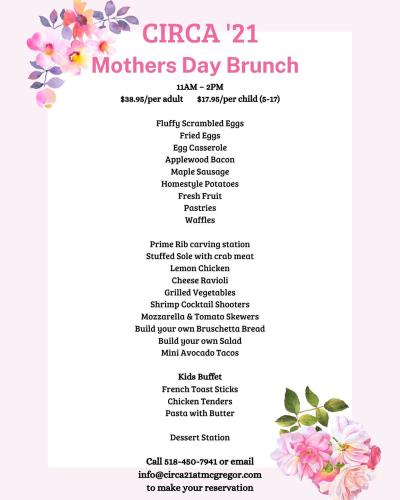 Bring Mom to Circa '21 for brunch from 11am-2pm. For reservations call (518) 450-7941 or email infor@circa21atmcgregor.com.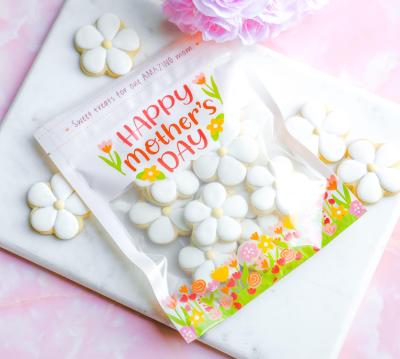 Looking for a delicious way to show Mom you're thinking of her? Ladylily's got you covered. Check out this cute package of cookie mini's with a lovely message just for mom, on the resealable pouch. Mom can enjoy a few cookies now and save some for later too!
Each bag holds 12-16 mini cookies (approx 1.5" each)
Pre-Order ONLY
Price is: $16.95 per bag 
Order MUST be in by Tuesday, May 3, 2022
Call (518) 322-9876 to place your order
Pick up available in store May 6 & 7 between 2-6:30pm
Ladylily's Place: 4300 Rte 50 - Suite 106, Saratoga Springs, NY 12866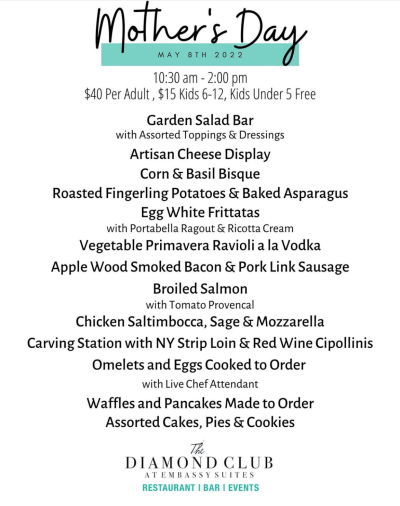 Treat Mom with a delicious Mother's Day Brunch at Diamond Club Restaurant! Seating is Sunday, May 8th, 10:30am - 2:00pm. Call (518) 886-1133 for reservations today!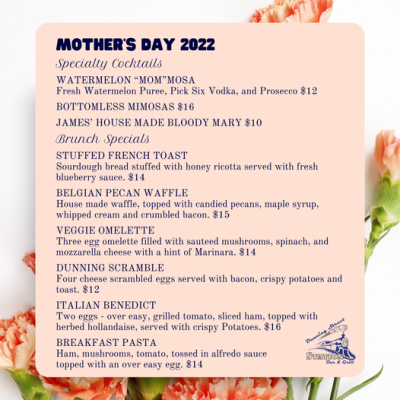 Dunning Street Station has put together an awesome brunch menu to celebrate all the moms out there! For reservations, call (518) 587-2000.
DZ Restaurants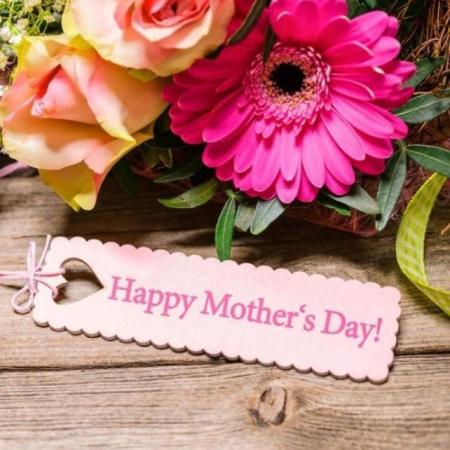 Mother's Day is almost here and our reservations are booking up quickly! Click below to book your reservation now at any DZ Restaurant.
Boca Bistro 
Brunch begins at 10:00am
Forno Bistro
Dinner begins at 5:00pm
Chianti Il Ristorante
Dinner begins at 5:00pm
The Fairways of Halfmoon will be serving Mother's Day Brunch from 10am-1:30pm on Sunday, May 8th. Reservations are required. Please call 518-664-1578 ext. 2 or email Julie at fairwaysjmz@gmail.com to make your reservation.
Fun In Saratoga Tours/Saratoga Food Tours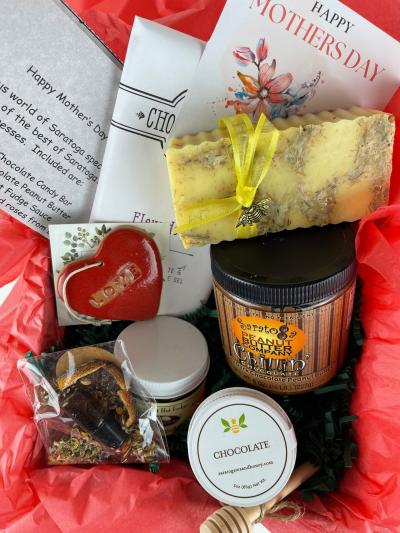 You can celebrate Mother's Day with a gift box of Saratoga specialties created by area women-owned businesses and curated by Saratoga Food Tours. The gift box includes Chillin Chocolate Peanut Butter from Jessica Arceri of Saratoga Peanut Butter,  local chocolate honey with a dipper from Hayley Stevens of Saratoga Tea & Honey, fudge sauce from Katie Camarro of Sundae's Best, ginger lemon butter soap by Honey Bee Rich and a chocolate bar from Allison Rose of Saratoga Chocolate. There is also a ceramic heart from Kim Repscha of Adirondack Adornments and a Mother's Day card. The cost is only $49 with free shipping—less than the retail price of items sold separately—and you are supporting the entrepreneurs that contribute to the vibrant food culture of Saratoga. Find out more and see other gift ideas at https://www.etsy.com/shop/funinsaratoga.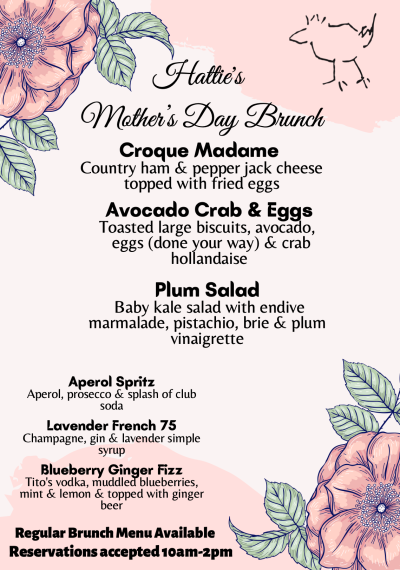 Hattie's Restaurant will be serving Mother's Day Brunch on Sunday, May 8th from 10am-2pm. Call (518) 584-4790 for reservations for all size parties.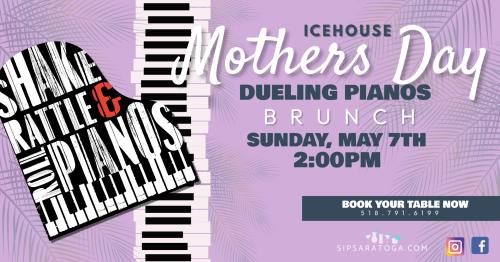 Book your table now for the Ice House Mother's Day Dueling Pianos Brunch on Sunday, May 8th. Call (518) 791-6199 for reservations!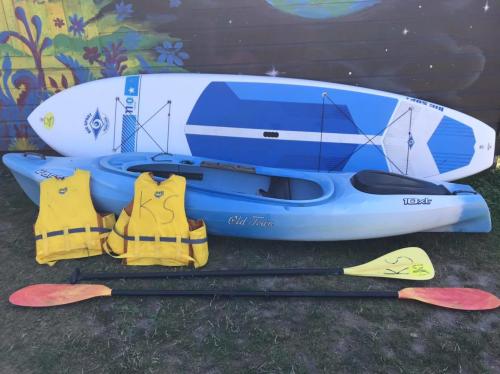 Bring Mom out for some fresh air on the water!  No charge for a kayak or paddleboard rental for Mom. Visit www.kayakshak.com or call (518) 587-9788 for more information.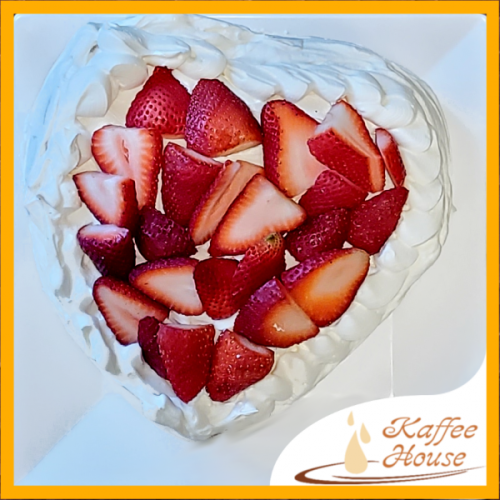 Order Mom two heart shaped layers of yellow cake separated by chocolate chip induced Bavarian cream topped with icing and strawberry decoration. Also available as a GLUTEN FREE option. Pick up is Saturday 5/7 from 9:00am-2:00pm. Call (518) 729-8480 to place your order.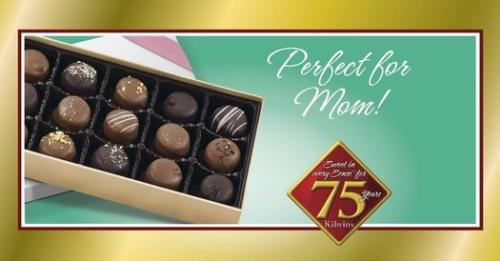 Don't forget to stop by Kilwins for a box of chocolate for Mom!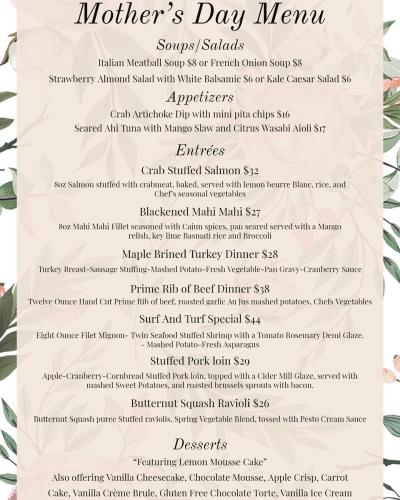 Take mom to Longfellows Restaurant this Mother's Day! Reservations recommended. Please call (518) 587-0108 to reserve your table.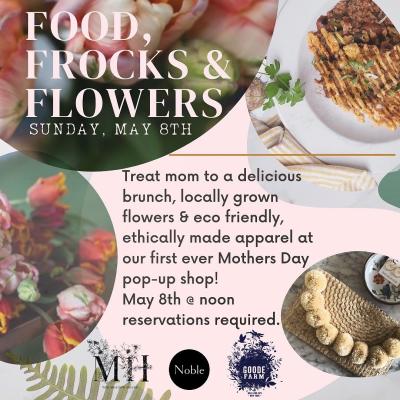 Treat Mom to Mouzon House's first ever brunch and pop-up shop! Visit https://mouzonhouse.net for reservations.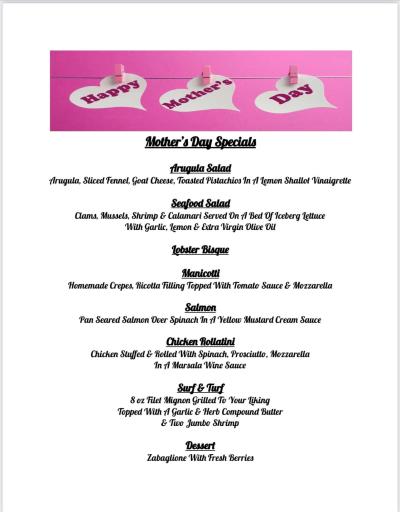 Nove will be offering our mother's day specials & our regular dinner menu from 12-9pm on Sunday, May 8th. Please call (518) 583-8877 to make reservations.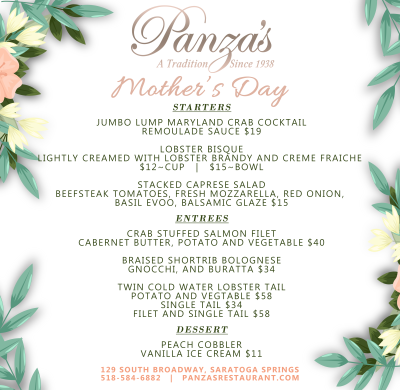 Panza's is serving Mother's Day dinner from 3-7pm. Regular menu also available. Reservations requested. Please call (518) 584-6882 to reserve your table.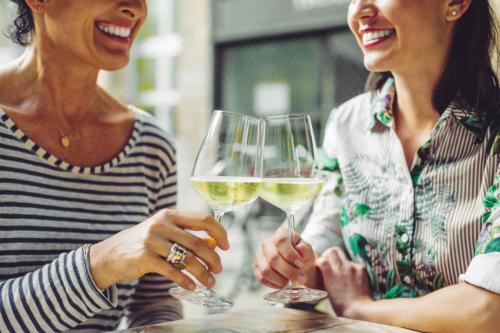 Come celebrate Mother's Day with a meal at Pasta Pane! Reserve your table today: https://bit.ly/3MIoHwx.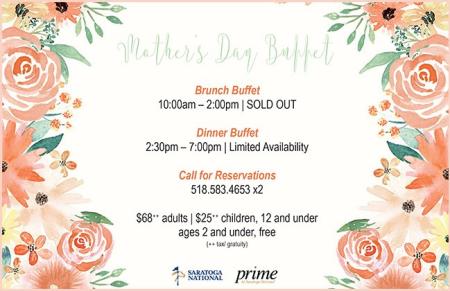 Our Mother's Day Brunch Buffet may be sold out, but there is still some availability for our Mother's Day Dinner Buffet, from 2:30pm - 7:00pm on Sunday, May 8. Call (518) 583-4653 extension 2 to book your table today!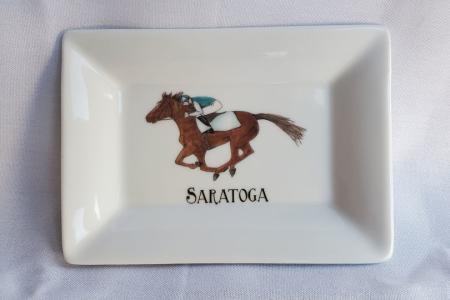 Did you know that Mother's Day and the Kentucky Derby are on the same weekend this year? Don't forget Saratoga Arms if you are scrambling for a gift for that special mom in your life - our gift shop has unique options, even ones that are on theme for the big horse race or get her a gift certificate for an overnight stay!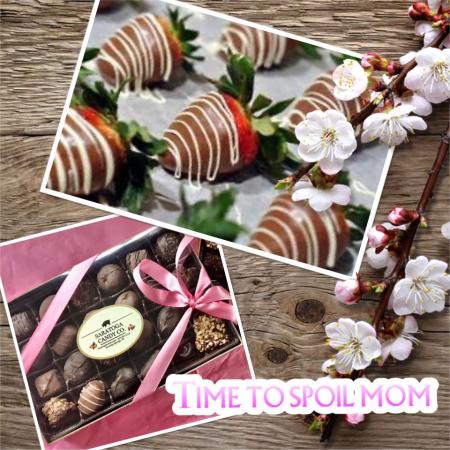 Mom deserves sweets from Saratoga Candy Co. this Mother's Day! Boxes of chocolates, gift baskets & chocolate covered strawberries. Local delivery free with $35 purchase. Order now: www.saratogasweets.com.
Saratoga Paint and Sip
Give mom the gift of quality time with you this year for Mother's Day with a little paint, wine (or mimosas!) and fun. 
Happy Mother's Day – Van Gogh Poppies
Sunday, May 8, 11:00 am - 1:00 pm
Register now
Happy Mother's Day – Spring Stroll
Sunday, May 8, 2:00 pm - 4:00 pm
Register now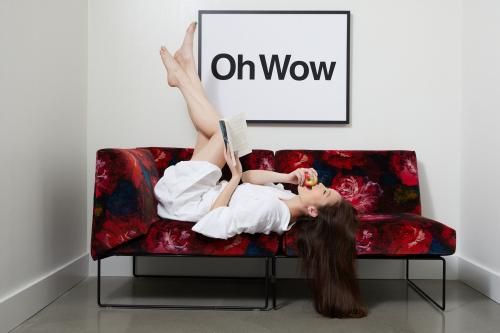 Celebrate Mother's Day at Bluebird Spa City Motor Lodge! Plan a heartfelt getaway anytime during the month of May with our exclusive "Mother's May" promotion and celebrate with 10% off our Best Available Rate. After checking in, surprise mom with a thoughtful amenity that will make her feel relaxed, pampered and well taken care of, creating an experience she'll absolutely love.

Available for stays taking place between May 2–May 31, 2022. Blackout dates apply. Subject to availability and minimum night requirements. Not valid with any other offer. New reservations only. Must book directly with the hotel. Use the promo MOM22 when booking on our website or simply mention the Mother's May promo when booking by phone.
Saratoga Performing Arts Center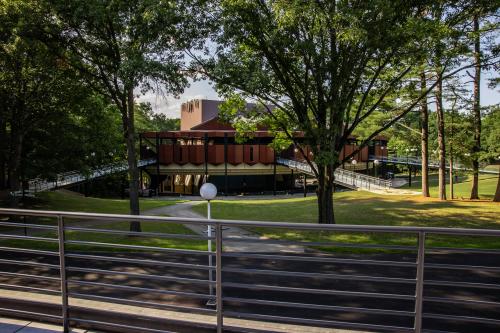 Get a jump on Mother's Day and treat Mom to "The Kitchen Garden: Spring!" on Sunday, May 1. The event features edible garden workshops by Pitney Meadows Community Farm and Balet Flowers and a three-course lunch by Chef Dan Spitz with tea pairings by Saratoga Tea and Honey Company (and wine). The event is presented as part of "CulinaryArts@SPAC". Visit spac.org for tickets or more details.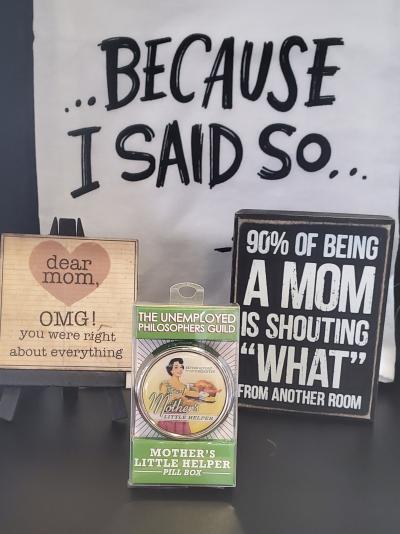 Celebrate Mother's Day with a different spin from Tailgate and Party. Check out their quirky gifts, unique barware, and party-themed world from 10am-6pm daily and 10am-4pm Sundays.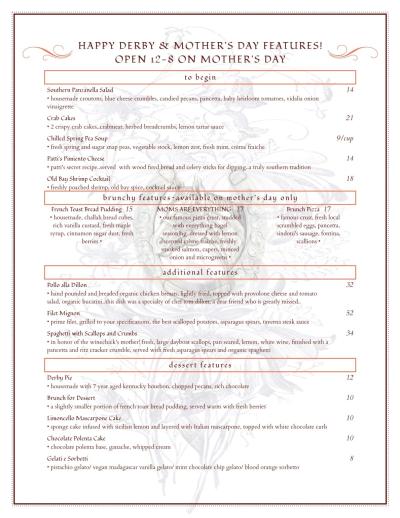 Enjoy a delicious dinner for Mother's Day at Taverna Novo. Open 12pm-8pm on Mother's Day. Call (518) 886-1680 for reservations.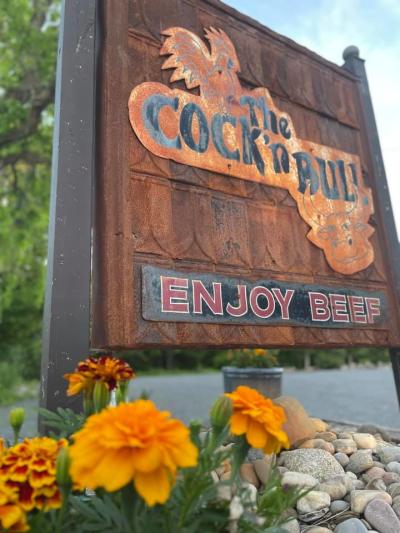 The Cock 'n Bull Restaurant is holding Mother's Day Brunch 11am-1pm and Dinner served 12-6pm. Reservations recommended. Call (518) 882-6962 to reserve your table.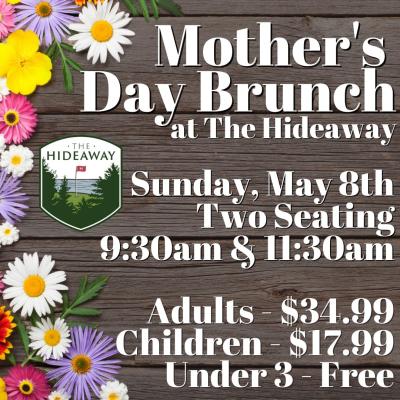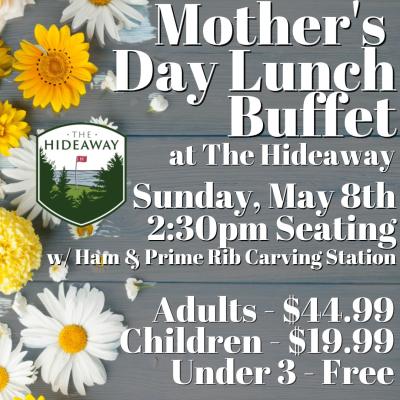 The Hideaway is having Mother's Day brunch at 9:30am and 11:30am. They will have all your breakfast favorites, as well as a ham carving station. Prices will be $34.99 for adults and $17.99 for children. They will also have 2:30pm seating for lunch or early dinner. Not only will this include great dinner options, but it will include a ham and prime rib carving station as well. The price will be $44.99 for adults and $19.99 for children. To purchase tickets, visit www.hideawaysaratoga.com.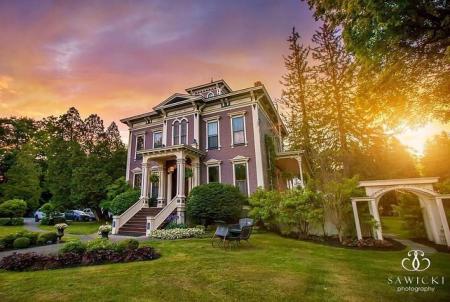 Bring your mom to enjoy our special Mother's Day menu at The Mansion of Saratoga. Serving 9am-4:30pm. Reservations ONLY on OpenTable: https://bit.ly/3ks5nri.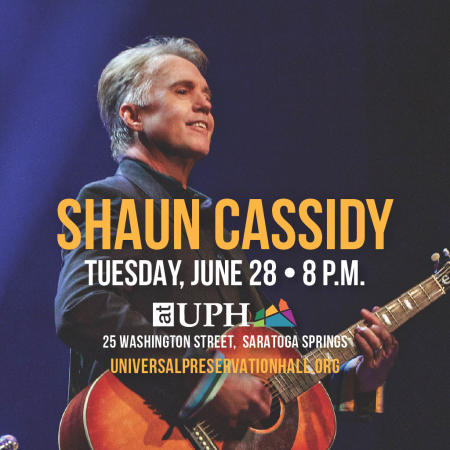 Looking for the perfect Mother's Day gift? Give Mom concert tickets! 1970's heartthrob, Shaun Cassidy, is bringing The Magic of a Midnight Sky tour to Universal Preservation Hall! Join us Tuesday, June 28th at 8:00 p.m. for an unforgettable night! Tickets on sale now at www.universalpreservationhall.org.