Whether you're searching for a fun Easter activity for the whole family or looking to order a Seder meal to-go, we've got just the thing for you! Here is your 2021 guide to Easter and Passover specials around Saratoga Springs, NY.
Passover - March 27
Celebrate Passover with a Mazzone Hospitality dinner! Choose from one of their four Passover packages: Braised Beef Brisket, Roasted Chicken, NY Strip Roast, or Roast Turkey (plus add-ons)! Online ordering available through March 24. Available for pickup March 27-April 3. Delivery available on select dates for a $75 fee. *Meals are not Kosher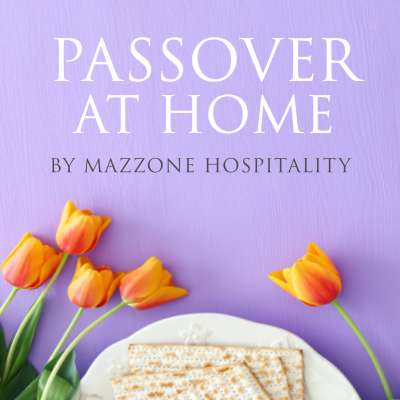 Passover catering menu and baked goods available!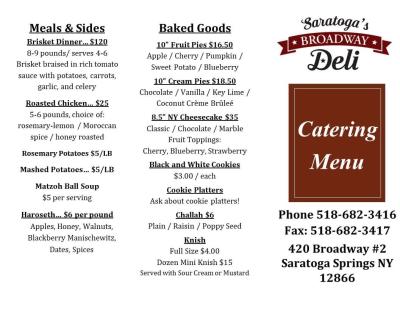 Easter - April 4
Celebrate Easter with a homemade cupcake bouquet! Small bouquets include 6 cupcakes in a reusable planter, large bouquets include 12 cupcakes in a reusable planter. Orders may be placed online or over the phone, 72-hours notice required.
Order this Easter cookie decorating kit for family fun at home! Easter cookie kits include pre-frosted homemade sugar cookies with Easter designs, edible cookie paint palette & cookie paint brush. Orders may be placed online or over the phone, 48-hours in advance.
To order, call (518) 678-6000 or visit https://theadelphihotel.com/retail/.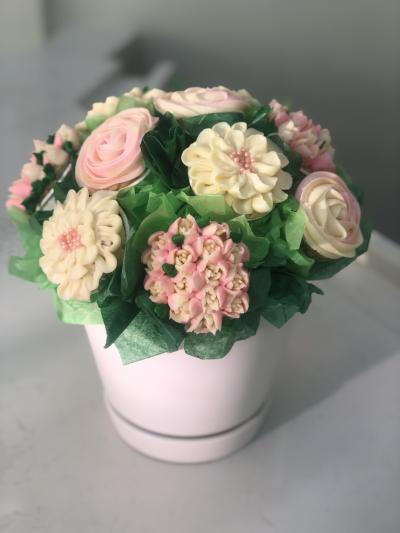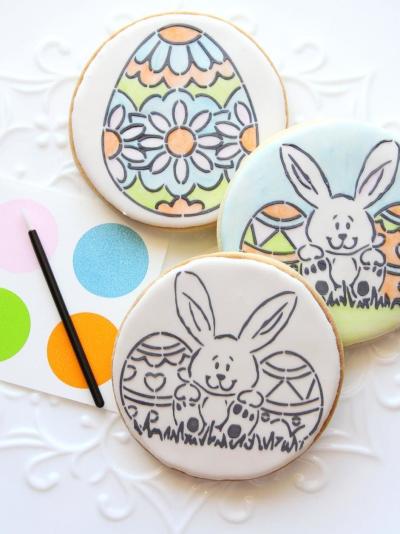 Chez Pierre will be offering takeout on Easter Sunday from noon-2pm; in house dining will begin at 2pm.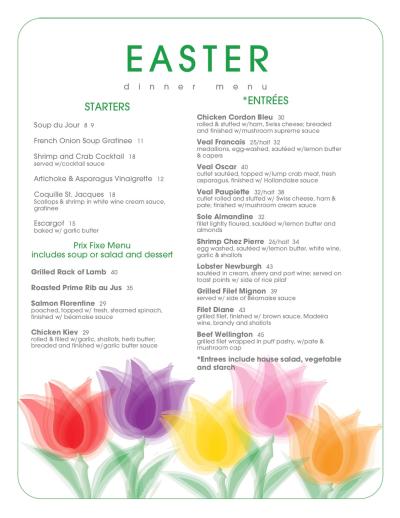 Enjoy the spring mat sale at Crafters Gallery! Free mat with a purchase of frame! (Exclusions apply: Up to 11x14 to qualify for free mat. Must select free mat from what is available. $5 charge if no frame purchased.)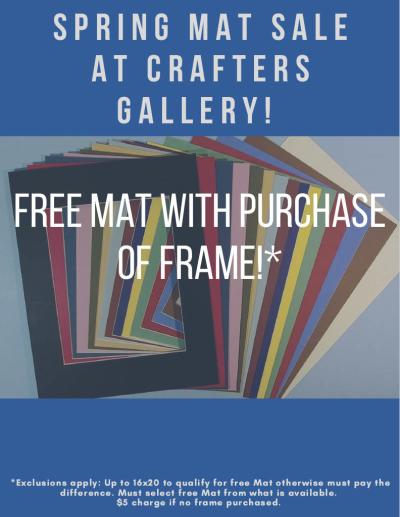 Get your Easter Dinner at Forno Bistro! Orders must be placed by Wednesday, March 31. Take out only. No substitutions. Pick up between noon and 4pm on Saturday, April 3.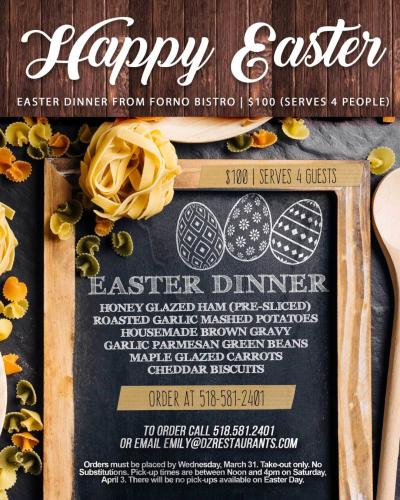 Celebrate Easter with a gift box of Saratoga sweets created by area women-owned businesses and curated by Saratoga Food Tours! Gift yourself or someone you've missed seeing during the lockdown with a delicious assortment of unique Saratoga specialties. The cost is $50 with free shipping—less than the retail price of items sold separately—and you are supporting the women entrepreneurs that contribute to the vibrant food culture of Saratoga. Find out more and order at https://www.etsy.com/listing/984122849/easter-gift-box. 
Boxes are shipped Priority Mail and will arrive anywhere in the U.S. in 2-3 days.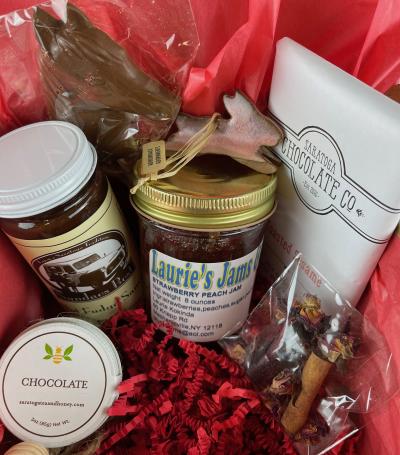 Easter is right around the corner, have you placed your pre-order yet? Call (518) 729-8480 to reserve your pastries now.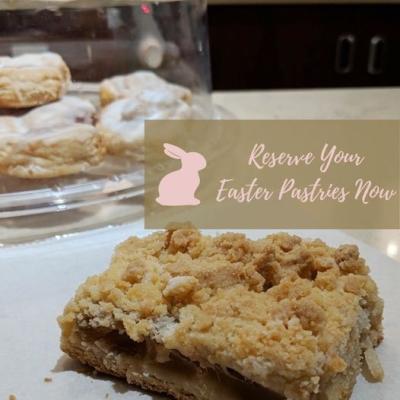 Now taking reservations for Easter indoor dining, which will start at noon! Take-out will also be available. Menu to come, but expect delicious specials like ham, lamb, and seafood! Chef Scott never disappoints! Call (518) 899-6000 for more information.
The Easter menu has arrived! Due to social distancing, Longfellows will not be doing their traditional buffet. Good news is, they are still offering some great dinner options for dine-in or takeout! Seating is limited, so make your reservation in today! Visit www.longfellows.com for more details.
Celebrate Easter with a Mazzone Hospitality dinner! Choose from our three Easter packages: Glazed Spiral Cut Ham, Pork Loin Roast, and Roasted Prime Rib (plus add-ons)! Online ordering available through March 31. Available for pickup April 3- April 4. Delivery available on select dates for a $75 fee.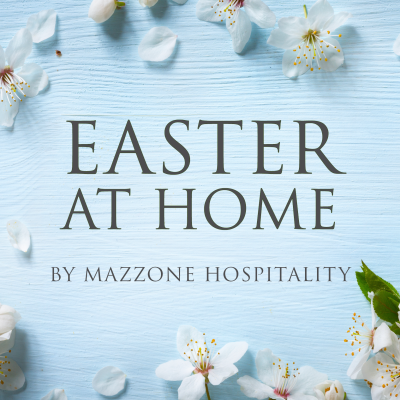 Now is the time to book your pre-Easter grooming! The Easter bunny comes to visit and he is always looking his best, so your pooch should too! Give them a call to book an appointment at (518) 587-6673!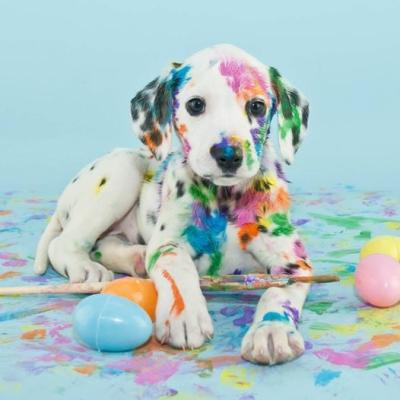 Make your reservations now for Easter at Morton's The Steakhouse located inside the Saratoga Casino Hotel. Easter special available Thursday, April 2 - Sunday, April 4. To-go Easter package available as well. Learn more at https://rb.gy/gdzdka.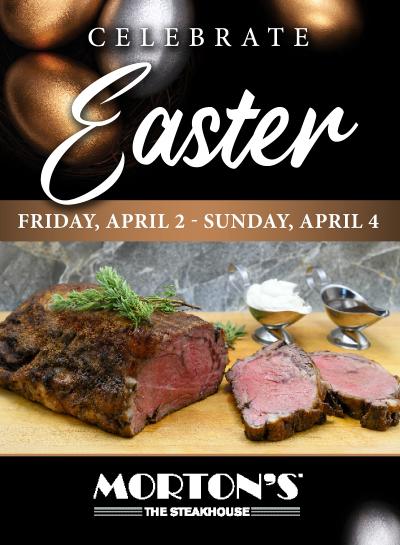 Mountainman Outdoor Supply Co.
Get an extra 10% off of all discounted items, savings of 30-60% through April 11th.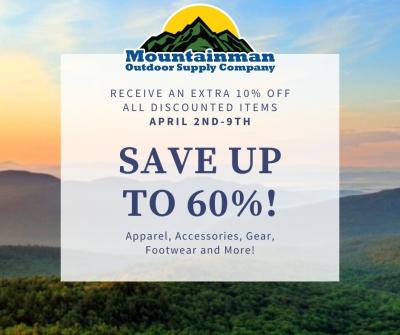 Make your Easter brunch complete with Palette's unforgettable take-and-bake scones, biscuits or cinnamon rolls (with cream cheese frosting, of course). Order on their website at thepalettecafe.com or by calling their Saratoga cafe at (518) 450-1529. Order deadline is Friday, April 2 at 12pm. Pickup deadline is Saturday, April 3 at 3pm.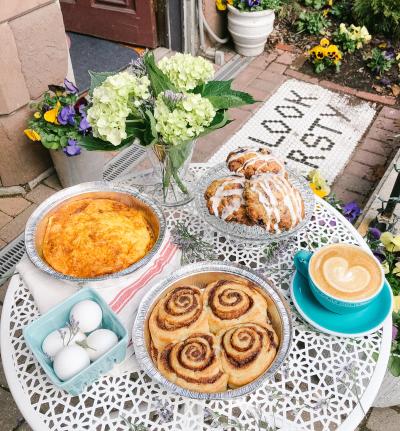 PJ's BAR-B-QSA is preparing their signature smoked Easter hams again! Ham orders are requested by Wednesday, March 31. Ham pick-ups are anytime on Friday, April 2 or Saturday, April 3. They are closed on Easter Sunday.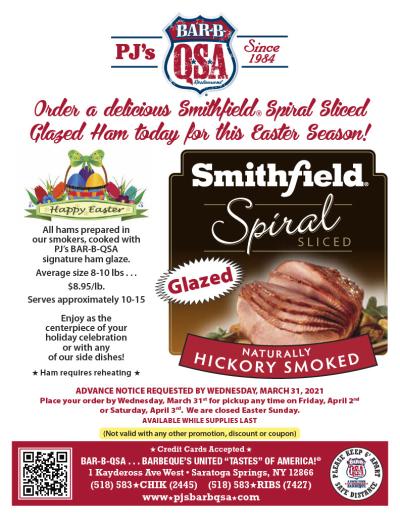 Happy Easter! Receive 15% off when you mention this post.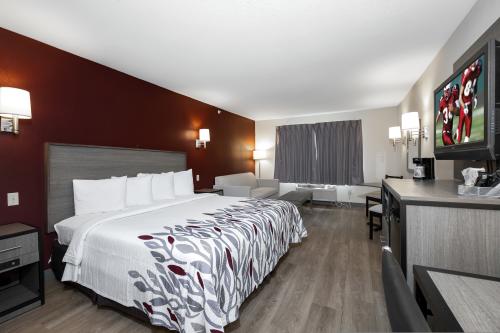 Looking to give the kids something besides candy this Easter? How about an art experience they will love? Art Break Sessions are designed to give young artists a project to spark creativity while they are stuck at home. A pass entitles you to 5 sessions of your choice. We will offer 10 sessions, each with a different project so you can pick the ones that are exciting to you. You will learn skills in each session that you can use for years to come. If you want to take more than 5 sessions you can add them one by one. 
Saratoga Arts is also offering the week long Morning Studio: Wake Up and Create. Each day during this camp we will explore different techniques in paper art! The opportunities for creativity are endless as they explore origami, collage, cut-outs, silhouettes, and more. Throughout the week, they will look at different artists for inspiration, including Robert Rauschenberg, Li Hongbo, Maude White, and more.
Last, but not least, Saratoga Arts has a new addition in their Theatre Art Break Sessions. Inspired by our Art Break Sessions, students can select from 10 hour long sessions to focus different aspects of performance. No two sessions are the same, even when they explore similar topics so if you love the first one you'll have a blast at the second.
Learn more at www.saratoga-arts.org.
Grab the bunny and run gable box for $29.99! Full of all Easter treats and can be picked up, delivered locally or shipped out of the area. Order now www.saratogacandy.com. Order now through Saturday, April 3. No deliveries on Easter Sunday.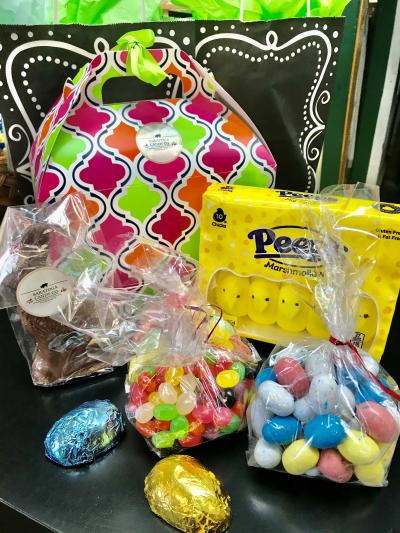 Grab fresh and local Easter treats on Saturday, April 3 at the Saratoga Farmers' Market! Their farms and producers will bring lots of eggs, meats, holiday breads and pastries, chocolate bunnies, and more. Stop by between 9:30am and 1:30pm at the Wilton Mall food court, or pre-order online for curbside pickup (link on our website)!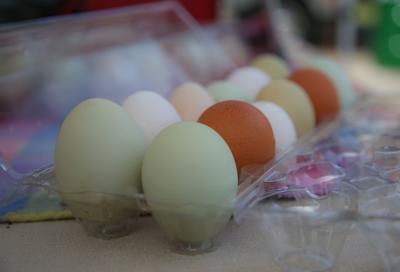 Enjoy the Farm Fresh Tulips Paint and Sip Event on Sunday, April 4th 2:00-4:00pm! Reserve your seat now at www.paintandsipstudios.com/event/farm-fresh-tulips.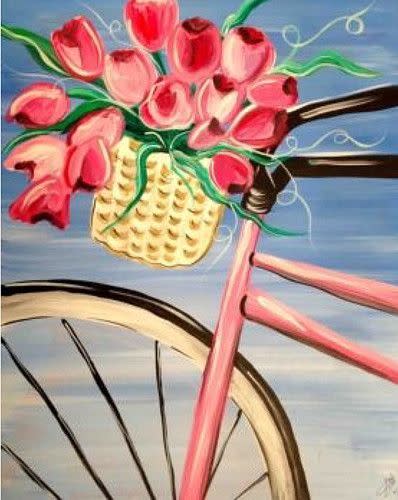 You're sure to see a smile on Easter morning when you give this charming Bunny Love Tote nested with springtime treats! Janis & Melanie lemon tea cookies, Marich jellybeans, a colorful sleeve of festively wrapped chocolate filled eggs and a chocolate bunny from Lake Champlain Chocolates will get this special day off to a hopping start.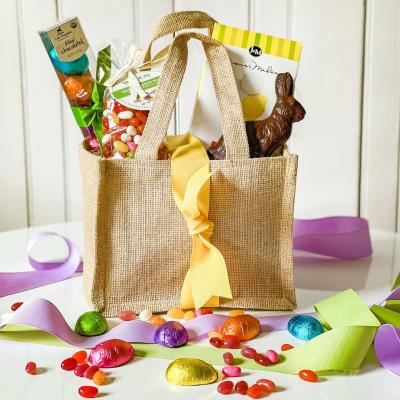 Simply Food by Maura is so happy to offer take-home Easter brunch options this year, as they will be closed on Easter Sunday. They have 2 different sizes and flavors of breakfast casseroles to choose from (bacon, scallion, & cheddar or vegetarian mushroom, spinach, & swiss) and one of their in-house bakers will make a beautiful poppy seed strudel, perfect to suit any brunch table! They ask that all orders be picked up Saturday, April 3 between 10am-2pm. Please call (518) 584-1000 or order online at www.simplyfoodbymaura.com.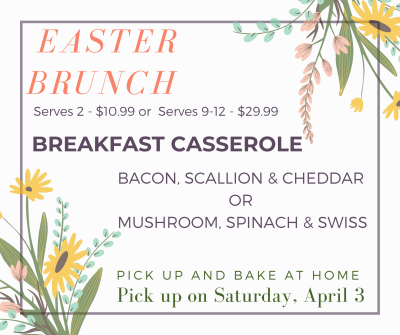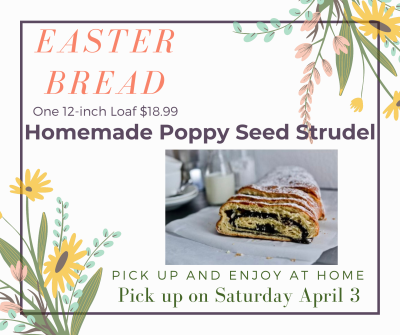 Tailgate and Party Shop is moving to 33 Phila Street! Help them lighten the load because they have a lot to move! 10% off everything (except food and beverage products) during Easter week from April 4-April 10. Remember to grab your Derby party supplies then too!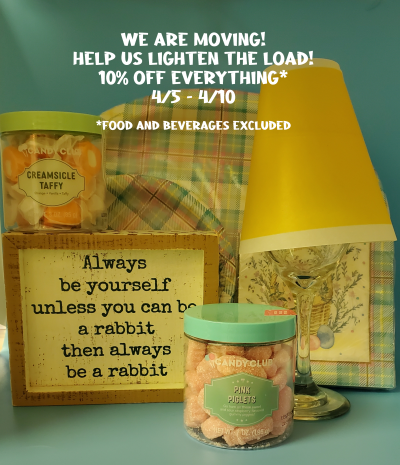 Taverna Novo will be open for dinner on Easter Sunday from 12-3pm only and reservations are required. They are also offering these Easter specials. Pre-orders must be placed and paid for by Friday, April 2nd at noon. Pick up will be on Eater Sunday between 11am-1pm. Pizzas will not be available for dine-in or takeout on Easter Sunday.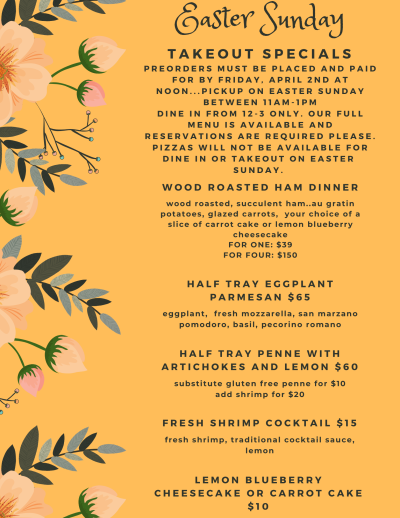 Prepare at home baked ham dinner including all the fixings and ready to bake sugar cookies! Must be ordered by Thursday, April 1 for pickup Saturday, April 3 or Sunday, April 4 (before noon). For more information or to place your order, please call (518) 584-7640.