Meaningful Vows Can Be a Wedding Highlight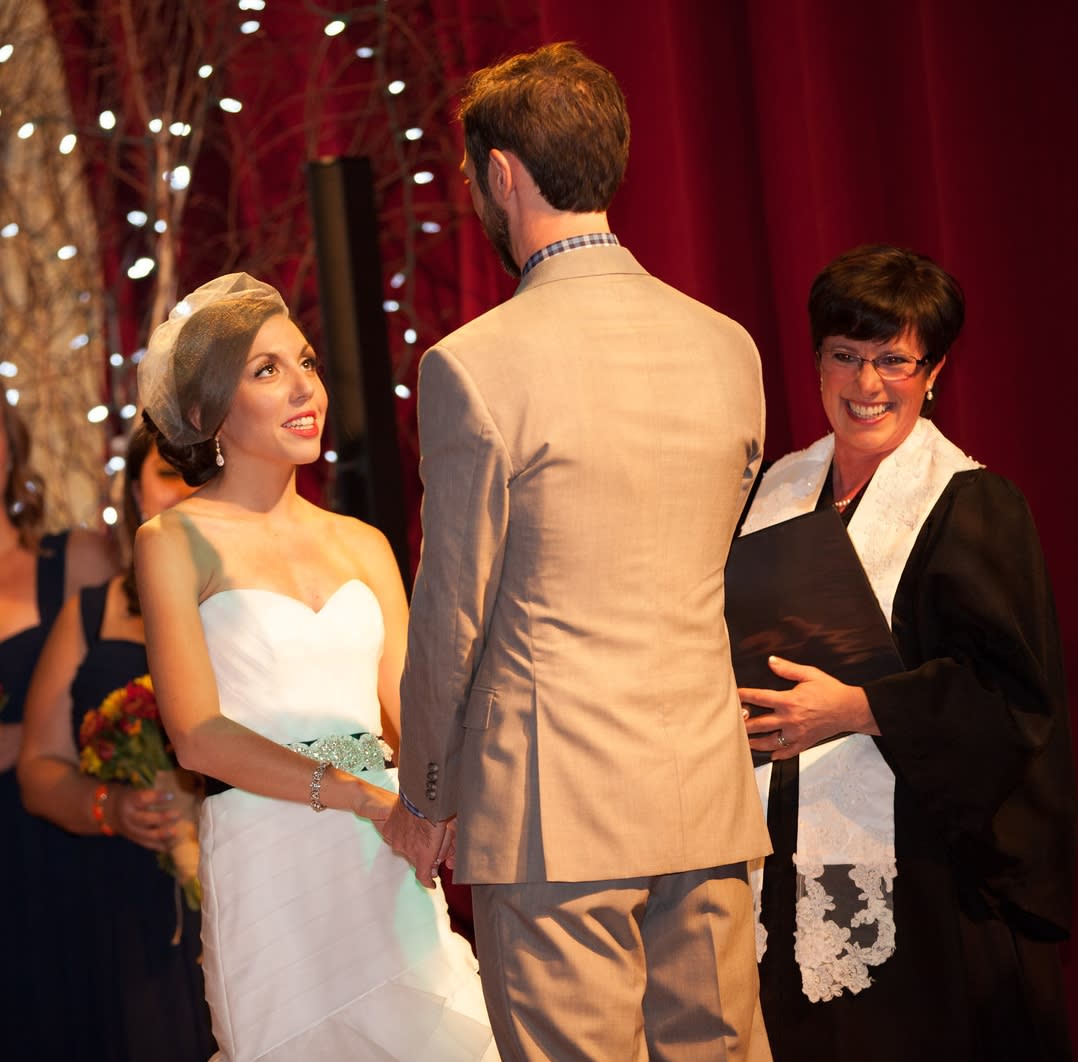 Of all the elements of a wedding ceremony, the high point - the most potentially heartfelt and meaningful part – can be the exchange of vows.  Your vows are that one time in the ceremony when YOU speak your highest aspirations and commitment in marriage.  There are many ways a couple can go about approaching vows. A professional wedding officiant, like Sacred Celebrations, can help you create vows from your heart, vows that can serve to inspire your married life for years to come.
For some couples, stating traditional vows, like "for better, for worse; for richer, for poorer…" can be an important way to maintain the solemnity of the occasion.  Many of us have heard these vows so often that they feel like an expression of comfort and warmth. Other couples prefer to write their own vows to try and capture the uniqueness of who they are as individuals and a couple.  Should you wish to write your own vows, there are a number of things to consider:
Do you wish to exchange the same vow or two unique vows.
Do you want to share the vow ahead of time or save it as a surprise for the wedding?
Do you want to expand the vow to express your feelings for your partner and let the whole world know how terrific your partner is?
Once you and your partner decide the parameters of your vows, the next step is creating them. There are many, many ways to approach this creative process.  For some couples it is helpful to start getting ideas for writing their own by looking over samples, which a professional officiant will often provide.  Sometimes a couple might find one that is just right for them or they may mix and match, choosing a line or two from different samples.  Brainstorming can also be part of the process. Here are two examples that might inspire your writing:
"______, I love you. You are my best friend. Today I give myself to you in marriage. I promise to encourage and inspire you, to laugh with you, and to comfort you in times of sorrow and struggle. I promise to love you when life seems easy and when it seems hard, when our love is simple, and when it is an effort. I promise to cherish you, and to always hold you in highest regard. These things I give to you today and each day of our life together."
"My ______, I love you with all of my heart and I promise to give you the best of myself each and every day as your husband/wife. I will respect and honor you and I promise to encourage you to develop and share those gifts that are uniquely yours. I promise to always listen to you and to respond with all of the love that I can. And when challenges and conflicts arise, as they inevitably will, I promise to believe in you and our love enough to learn and grow through them. I will hold your dreams as my own. I am so happy to whole-heartedly commit myself to being your loving and devoted wife/husband -today, tomorrow, and always."
When I work with a couple who is choosing to write their own vows, I ask to review the vows at least one month before the wedding to ensure that if they choose to tell the story of the relationship and express feelings, ("David, since the first day I met you…You are the most amazing man…), they also state what each person promises to do in marriage (I promise, as your wife…).  When the vows are being kept as a surprise for the ceremony, it can be important that they are of comparable length and that they mirror each other where appropriate.  For example, if it is a second marriage and both partners have children, it would be inappropriate for one person to promise to "care for your children," if the other person did not do the same.
Often one person finds it more difficult to write than the other.  When this is the case, I am able to ask leading questions to help complete the vows.  Most times, you will know once you've hit that magic "aha" moment and the vows are just right, like these sections from the personally written vows of John and Cassie Rooney:
"Cassie, I love you. I still remember seeing your smile for the first time, and thinking about how beautiful you were. Now, all this time later, I have grown to love so much more about you. You are strong and passionate, intelligent and driven, a little silly and even more beautiful. And to this day, nothing makes me happier than making you smile, except maybe making you laugh.
You are my best friend, my true love, and I cannot imagine my life without you. You stood by me through difficult times, and have always seen the good person in me, even when I had trouble seeing that person myself. I will never forget this.
I promise to be honest, faithful, and loyal to you, and to support you in anything you want to do. I promise to love you not only when it is easy, but also when it is difficult, and I will stand by you when times are bad just as I will when they are good.
I promise to make you laugh every day, or at least to try to, just so I can see that beautiful smile. I am so happy to commit myself to being your loving and devoted husband, today, tomorrow, and always."
* * * * * * *
"John, you've had my heart since we smiled at each other from across the bar and these past five years together have been the happiest and most exciting of my life.
I am thankful for every moment I get to spend with you. You are my best friend, the love of my life, and my partner. And as much as I hate to admit this, even when you irritate me by hanging your smelly hockey gear around our apartment, I'm head over heels in love with you.
I feel so fortunate that today I officially become your wife, and regardless of where life takes us, I will work with you to make decisions and to raise a family of our own, and I'll try to remind myself from time to time that I'm not always right. I'll have impromptu dance parties in the kitchen when life gets too tough, and I'll take time each day to appreciate the love we have for one another.
John Rooney, I love you with everything I have and I want you to know that ever since we sat on the floor of our first apartment eating Little Bear take-out, home is wherever you are."
Finally, your vows are a living document.  In the week prior to the wedding, I encourage couples to recite the vows before bedtime.  Doing so will bring the words into your heart and will enable those words to flow when you state them publically.  Reciting your vows before the wedding can become a spiritual practice of preparation for your marriage.  After the wedding, you might consider framing the vows and keeping them in a place of honor to help guide your daily life as a married couple.  On your anniversary or if you ever face a challenging time in the relationship, reciting or even renewing your vows can inspire you to keep creating the marriage of your dreams.