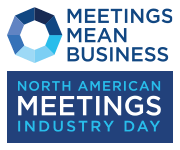 North American Meeting Industry Day (NAMID)
Please join us on Thursday, April 16, 2015. Two press conferences will be held; one at 10:00 AM at the Albany Airport Observation Deck on 3rd level of terminal and another at 1:00 PM at the Saratoga Springs City Center. Public Invited!
"Saratoga Springs and Saratoga County have long been known as a summer tourist destination. Over the last several years, we have grown into a year round destination, thanks in large part to the robust meetings & convention business that takes place at our City Center, our hotels and unique venues throughout the City & County. We are fortunate to have such a strong offering, so many assets to serve this year round economic driver which generates and protects nearly 9,000 tourism related jobs in Saratoga County", said Todd Garofano, President of the Saratoga Convention & Tourism Bureau.
What is NAMID Day? Leaders from across the meetings and events industry come together to support the first annual North American Meetings Industry Day (NAMID) on Thursday, April 16, 2015.
U.S.-based events are led by the Meetings Mean Business (MMB) coalition, which represents leaders from across the meetings, conferences, conventions, incentive travel, trade shows and exhibitions industries, who have united behind a common goal: to showcase the real impact meetings and events have on businesses, economies and communities.