Oh, December. It comes with the promise of Christmas and holiday giving. Shop windows are decorated for the season, colorful wreaths are hung high on lampposts that line all of Broadway and it sure feels like you just stepped seamlessly into the pages of yesteryear. I love this time of year and Saratoga just makes me feel nostalgic! This wintry month, restaurant week begins it's 10th year in the Spa City and, let me tell you, everyone is excited for the opening night of Saratoga's food fest. Beginning December 5th and running through the 11th, people can visit many participating restaurants that offer delicious lunches from 5 and 10 bucks and scrumptious, three course dinners priced at 10, 20 and 30.
Restaurant week brings visitors from local areas, as well as Boston, Rhode Island, New York City and other neighboring states. People flock here,ready to try local fare, from the fancy establishments, to the hidden 'hole in the wall' gems, to everything in between that they might not get to otherwise.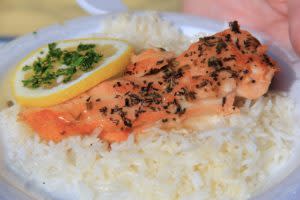 Who doesn't want to try fish tacos,offered at lunchtime,or eggplant stacks, offered at dinner,under the roof of Jacob and Anthony's fine dining restaurant? Are you adventurous?What about whipped goat cheese and spiced beets, as the first course, offered at The Wine Bar? You will find anything from steaks or salmon, French onion soups or Apple Cheddar Bisque, Sticky Chicken or savory pumpkin ravioli, listed as a few tempting dishes on holiday menus throughout Saratoga.
This year, I'll actually have company here, flying in from Portland,Oregon during Restaurant Week. Charlie is in for a treat while visiting. I don't know if his neck of the woods has anything like our Christmas celebrations, but I am looking forward to showing him around the area. I am supposed to choose a place to go on the night of December 9th.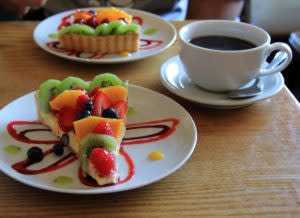 I'm not sure though.......Homemade shots of Limoncello after dinner and an opportunity to meet the new Maitre d' Maurizio at Limoncello restaurant sounds delightful, right?  But, man, so do the dry rubbed Denver bbq lamb ribs, offered as an appetizer that week, at Prime.......
If you've never enjoyed Restaurant week and low, celebratory prices over the holidays in Saratoga, you don't know what you are missing. Make sure you bundle up for later, when you're full and happy and want to walk around downtown, under twinkling lights that help draw you into the magic of Christmas.
You can find a full listing of participating eateries on the website, www.discoversaratoga.org/restaurantweek
Reservations are suggested. Stay tuned, I'll be writing about where Charlie and I ended up eating that night. I'm sure it will be a hit, though right now I can't make up my mind.