The Wall Street Journal says the exhibition showcases "several wonders" by an underappreciated artist.
The Albany Times Union says, "The joyful power of Thomas's artistic impact is on full display."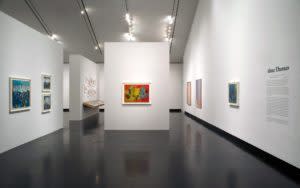 Thomas focused on her artistic career after retiring as a school teacher at the age of 69. She charted her own course as an African-American woman within Washington D.C.'s largely white and male mid-20th-century artistic community. Her own highly personal style expanded upon traditional Abstract Expressionist or Washington Color School practices, and was developed through experimentation with abstraction, color, line, and pattern. She often cited natural elements as inspiration, and her signature style reflects the influences of Henri Matisse, Josef Albers, and Wassily Kandinsky—featuring loosely painted yet meticulously constructed canvases, filled with latticework of bright color creating patterns from negative space.
The exhibition Alma Thomas examines the artistic evolution of Alma Thomas (1891-1978) with work from every period in her career, including rarely exhibited watercolors and early abstractions, as well as her signature canvases drawn from a variety of private and public collections. The exhibition is organized by the Tang Teaching Museum and The Studio Museum in Harlem.
Alma Thomas joins other presentations at the Tang Museum that explore the practice of modern and contemporary artists whose work defies conventional categorization. Most recently, the Tang organized exhibitions on artists Nicholas Krushenick, Corita Kent, Terry Adkins, and Nancy Grossman.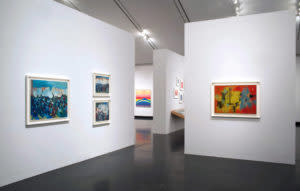 Read more about Alma Thomas on the exhibition page at https://tang.skidmore.edu/exhibitions/133-alma-thomas.
Read more news coverage of the exhibition on the exhibition's press page at https://tang.skidmore.edu/press/releases/11-tang-teaching-museum-premieres-alma-thomas.
The Frances Young Tang Teaching Museum and Art Gallery at Skidmore College in Saratoga Springs, N.Y., has become a model for university art museums across the country. The Tang hosts some 40,000 visitors annually, ranging from local students who visit through school programs to museum-goers from around the globe. The Museum is open noon – 5 p.m., Tuesday – Sunday, with extended hours through 9 p.m. on Thursdays during the academic year, and is closed on Mondays and major holidays. For more information call 518-580-8080 or visit http://skidmore.edu/tang.