The cold Winter days conjure up thoughts and memories of the holiday season. I was one of the lucky ones. My dad worked two and even three jobs sometimes, just to keep the house running and food on the table for our family of seven.
I remember making a Christmas wish list with my four sisters. Looking back, there really wasn't much on it. We did not ask for elaborate or expensive gifts. I think we worried about Santa and all of the other kids he had to take care of. Christmas was a magical time, though. When we woke in the morning, to a small gift at the end of our beds, the five of us would giggle together in the darkness, tip-toe over to the wall switch and blink for a few minutes, getting used to the light. We'd rip open that present and then play for awhile, too excited to fall back to sleep, before we were finally allowed to get up and rush into the living room to see family, our decorated tree and any surprises that might be under it.
Not every child is fortunate enough to have memories like mine. Not every child has a tree or colorfully wrapped presents beneath those fragrant, decorated branches. That's what Toys For Toga is all about. Giving a child a warm memory, helping families in need, taking some pressure off the parents who just can't do it alone and making sure kids get something special.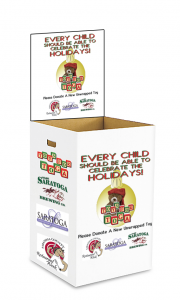 In its 2nd year, Toys For Toga is working hard to collect new, unwrapped gifts that will be distributed to three local charities: Franklin Community Center, CAPTAIN Youth and Family Services and Mechanicville Area Community Services Center.  The Toys For Toga campaign runs in conjunction with the Saratoga County Winter Restaurant Week December 5-11, 2014.  There is a complete list of drop-off locations on the website.
Saratoga County is known for its generosity and willingness to give to those in need. There are fund-raisers that take place all year and contribute to many worthy causes. December is all about children.  Making sure each child has a fond memory and something new and special to open is the mission of Toys For Toga.  With the support of the kind folks in Saratoga County no child will be without a present to open for the holidays!
You can visit www.discoversaratoga.org/restaurantweek or call (518) 584-1531 for answers to any questions you might have.