It's Thursday. 5pm. Everyone has been waiting for it. Broadway closes to anything but foot traffic and no matter where you look, there are plenty of feet! This year is The Victorian Streetwalk's 28th celebration of the cherished holiday season in Saratoga.
If you have never been - you have no idea what you are missing. Thousands come to help usher in the spirit of Christmas and the sounds and sights delight us all. From tree lighting, to carolers at the town hall, to the arrival of Santa and his elves, there is something for everyone to applaud.
This year, come and enjoy the step back in time, where the streets are filled with strollers in period dress, stores are open and several host musical venues during the night. There are live reindeer near Santa's cottage, where children and their families whisper in his ear once they've finally earned the front spot in the long line waiting to talk to him.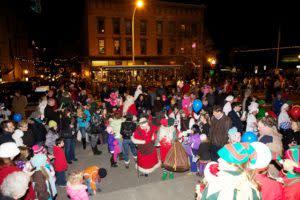 Gingerbread house displays, dancers in the street or storefront windows, Ice sculptures, jugglers and magicians, are only some of the attractions that will help make up the evening's festivities.
I bring a girlfriend every year. It might be months between our visits, but on the first Thursday after Thanksgiving, we get together here, downtown Saratoga. We have dinner, near a window and then walk around in celebration of her birthday. We wouldn't miss it for the world. We listen to music and singing, wander in and out of shops, accept a free cider or buy a small treat from people walking the length of Broadway, dressed from head to toe in the fashion of yesteryear, totally immersing ourselves in the magic of the holidays.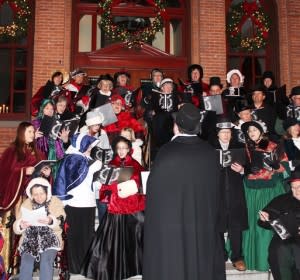 Saratoga does an amazing job in pulling this together every year. It cements my love for the city, my joy in living here year round, my firm belief that there are good people, who want to help keep the gift in giving and the joyful traditions surrounding the holidays, alive.
Seriously, clear your calendar. Take a leisurely trip downtown. Your heart will be bursting, just like a child in wide-eyed wonder, when you leave at the end of the night  and go home. Promise.