If you have an extra $5 bucks in your wallet and want to see something both interesting and different while wandering around the city, you need only walk into Saratoga Springs Historical Museum and Casino, located downtown,in Congress Park. A much talked about landmark, it is steeped in both history and rumors of hauntings. Once the heavy wood doors open and you step foot inside, say goodbye to the year 2014. You aren't in the present era anymore, instead surrounded by gorgeous fashion of the late 1800's, interesting memorabilia displayed in the Historical Museum and views of the impressive high stakes gaming room where it was men and men only who were invited to play, way back when.
Built by John Morrissey, a famed boxer and member of the notorious Tammany Hall crew, the Casino was first known as the Saratoga Club House and there were three rules strictly adhered to while it was in business. No ladies, only cash transactions and no locals allowed. Catering only to the very rich and very famous drew the most elite from all over the world, men who might gamble what could be hundreds of thousands of dollars a night in this exquisite Spa City establishment. Women could gather together in the library over their love of music and gossip, while the men wagered throughout the long hours of the night.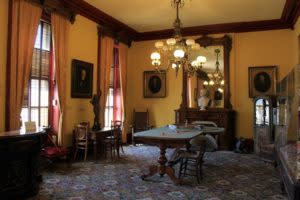 Today, men and woman alike can wander through sections of the museum, where original furniture from those years are arranged in it's many rooms. Audio recordings greet you in every doorway of the Walworth Memorial Museum which is found on the third floor, educating guests on the wealthy and tragic families who lived in the area, as well as the vibrant political history of the time. Glass - encased items define the chronological order of the birth of Saratoga Springs, from the 1800's to present day. Mannequins are dressed impeccably in stylish clothes and coveted furs of days gone by. High stakes gaming tables stand amongst heavy sculptures and dark wood fireplaces. Long,heavy brocade drapes hang from windows that let natural light seep in,lending an air of mystery to the parlor.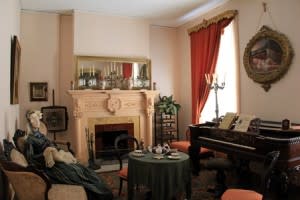 Throughout the museum, but especially on the third floor, it's been said there have been hauntings and paranormal activity. Of who? Of what? Depends on who you talk to. Beginning in the mid 90's, when a woman in Victorian dress suddenly appeared in front of a visitor, to unexpected drops in the temperature of several rooms, to physical hair-pulling and shoulder-tapping of guests who come and walk through the hallways, it is hard to deny the spine-tingling accounts of the occult. Even SyFy channel had their 'Ghost Hunters' cast visit the museum, with ghostly voices and paranormal activities making themselves known during the time the crew was there.
Who knows, for $5 dollars, you could get lucky and go home with a story of your own. With or without a visit from a ghost, though, you will have left with a bit of rich history that the Spa City is known and loved for.
Today, the museum opens daily to the public 10:00am - 4:00pm $5 for adults $4 for seniors and students Members and under 12 free. (518) 584- 6920 It can also be rented for elaborate weddings and other functions.