Give a gift that captures the best of Saratoga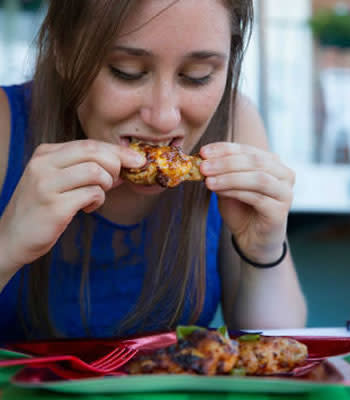 Ashley Dingeman, Saratoga Food Fanatic
With a close friend and co-worker of mine leaving to start a new job and new life in North Carolina, I've contemplated what might be the best way to send her off with a piece of Saratoga so she can always remember her hometown.
Then it dawned on me – why should I choose just one thing for her to enjoy once she moves down south? Why not give her a little bit of the many reasons why we all love Saratoga Springs in the form of a gift basket!
The basket started off with two blue bottles of Saratoga water, one sparkling and one regular. Saratoga water is such a big part of what makes Saratoga Springs the famous destination it is today, so how can you not include that as part of a gift basket. Plus, how can you turn down one of those blue Saratoga Water bottles? They're a great item to hold on to and even decorate with!
Next up, I decided to throw in there a big box of Saratoga Chips. Not only are the Saratoga brand potato chips delicious, but being able to tell all of your new friends that you're from the place where the potato chip was invented is kind of a big deal and in my opinion, definitely worth bragging about.
Saratoga salsa from Saratoga Salsa and Spice is a fresh and local way to enjoy your traditional chips and salsa practically anywhere. Packed with just enough punch to give your taste buds something to work with, the salsa has a lot of great flavors and will blow any big name salsa out of the water!
Saratoga Candy Co. truffles were a must in this gift basket, especially since these truffles are to die for. Even coming from a girl who doesn't really indulge in many sweets, when I'm around the Saratoga Candy Co. truffles, I pretty much lose all self-control. Whether you get just a couple or a whole box, this is a fantastic treat to pack in a gift basket.
And then there's Saratoga peanut butter, the local peanut butter with so much flavor and so many varieties that simply cannot be ignored. From almond butter to white chocolate peanut butter, this company is not afraid to think outside of the box and make some pretty incredible butters. The best part? These butters have low to no sodium, no Trans Fats, and no added sugars! Jackpot!
Finally, you can't put together a Saratoga gift basket without adding in a bottle of Saratoga Olive Oil! The Saratoga Olive Oil Co. is well known in the area, and it's no shocker that people travel from all over to visit their store and sample from their wide variety of olive oils and balsamic vinaigrettes! Buy one or two bottles of this olive oil and this gift basket will be complete!