The Spa State Park is one of Saratoga's best assets. No matter what time of year it happens to be, there is never a lack of sporting excitement. The park boasts 2,500 acres of land. There is 18 miles of both paved roads and nature trails. This makes the park ideal for a variety of biking and running sports, or even a casual stroll. Take advantage of the trails that the park has to offer during the summer and fall! There's always something new to explore whether you are running or biking. The park also hosts many 5K races every year. Runners from within the community and the surrounding areas gather to run for a cause. It's always great to see members of the community uniting together. If running isn't really your style, don't worry, there are plenty of other things to do!
Nestled nicely inside the park is the Saratoga Spa Golf Course. There is an 18-hole championship course and a 9-hole par 3 course. Anyone who loves the game of golf should definitely check out this golf course, it is a must see when visiting Saratoga! The park also offers tennis courts.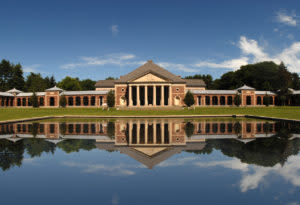 We've established that there's plenty to do at the park when it's warm out. You may be wondering, is there anything to do in the winter time? The answer is yes, there are plenty of sports to choose from! My favorite thing about winter is snowshoeing in the park. There are great trails to choose from and snowshoeing is a great way to get out of the house and avoid cabin fever. There are cross-country skiing trails as well if that is your sport of choice. Every winter the park freezes two ice rinks outside. One is strictly used for ice skating and the other allows ice hockey to be played on it. This is a great opportunity for some family fun or a game of pond hockey.
The Spa State Park is definitely not lacking in variety, there is something for everyone!