Honoring and Including Your Family In Your Wedding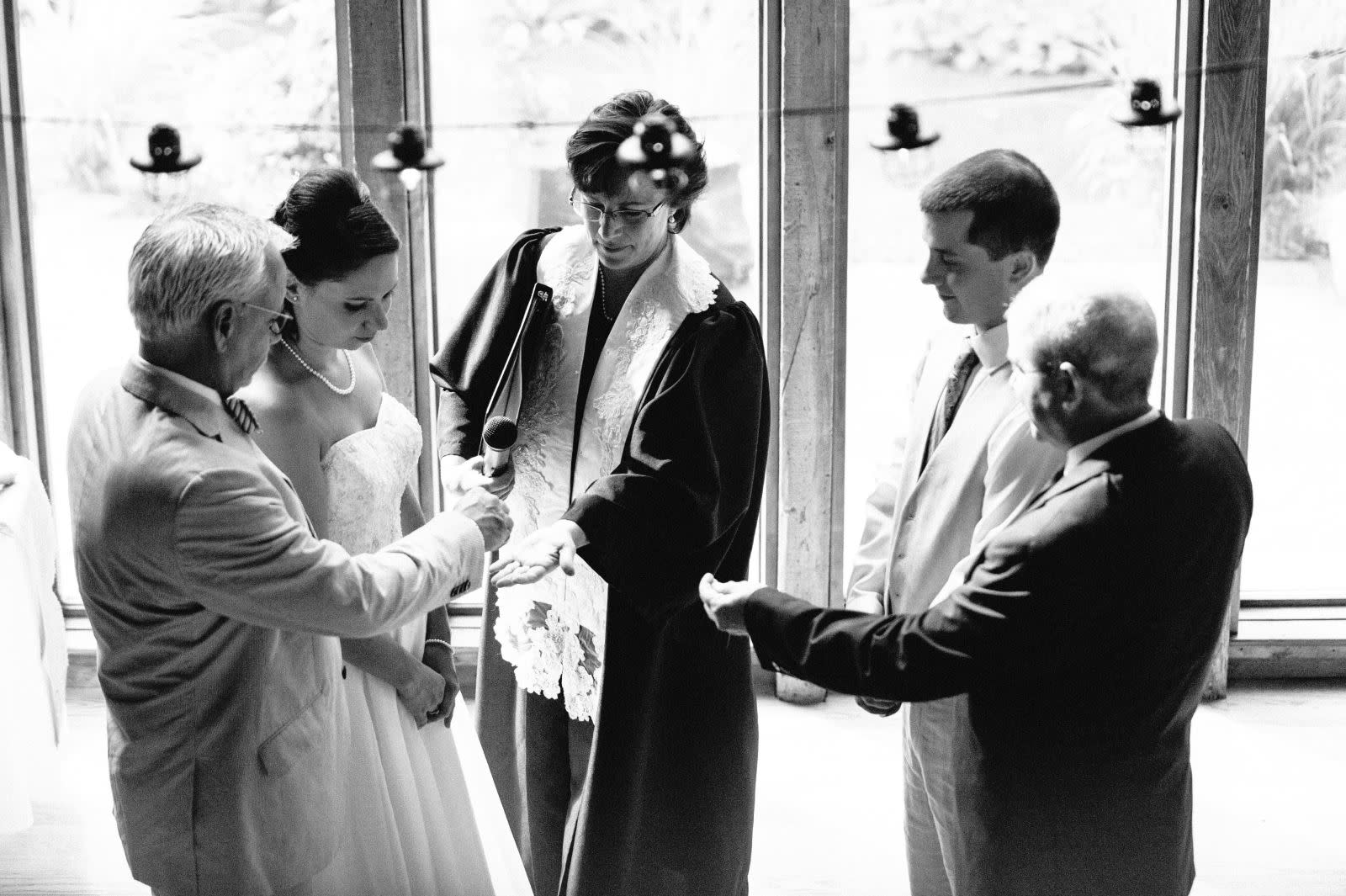 Unity ritual with mothers (Cindi Quinn and Anita Blair) with Erin and Jason Blair,
photo courtesy of Jon and Carrie Christopher
Your wedding ceremony is not only about uniting two lives, it is about uniting two families.  Are you eager to find a way to honor and involve family members in your wedding ceremony? Certain family members already have a traditional role -- like the bride's father, who often escorts the bride down the aisle.  Considering how other equally important family members (especially the bride's mother and the groom's parents) might have a special role in your big day can make your day even more personal and special – and it can score you a few points with your future in-laws!  Involving a professional wedding officiant, like Sacred Celebrations, can help you create just the right way to incorporate your family. Here are a few ideas:
*The Seating of Honored Guests – Before the Wedding Party processes, this simple gesture is an opportunity to highlight the importance of your family to you.  Unless you are having a very small ceremony or are in significant conflict with some members of the family, seating honored guests is a way to say "thank you" for all they have done to help you achieve your dreams.
*Readings and Prayers - Other than to pronounce you as legally married, your officiant does not need to be the person who leads each part of the ceremony.  Readings and prayers can all be done by family members. As long as family members are comfortable taking on a speaking role, experience is secondary.  Words offered in heartfelt love will shine. (Just be careful with very long readings that your chosen speaker is energetic.)
*Words of Reflection - The most dynamic ceremonies often involve those who know and love the couple best- especially parents - offering words of affirmation and wisdom.  At one recent ceremony, the bride's and groom's mothers had everyone laughing and crying as they shared what it meant to them to see their children, high school sweethearts, marry after dating for ten years.  At another ceremony the bride's and groom's fathers, each of whom were happily married for over thirty years, spoke eloquently about how to create a lasting marriage.  If your parents or other family members want to offer words of reflection, give them the microphone to create a truly magical moment.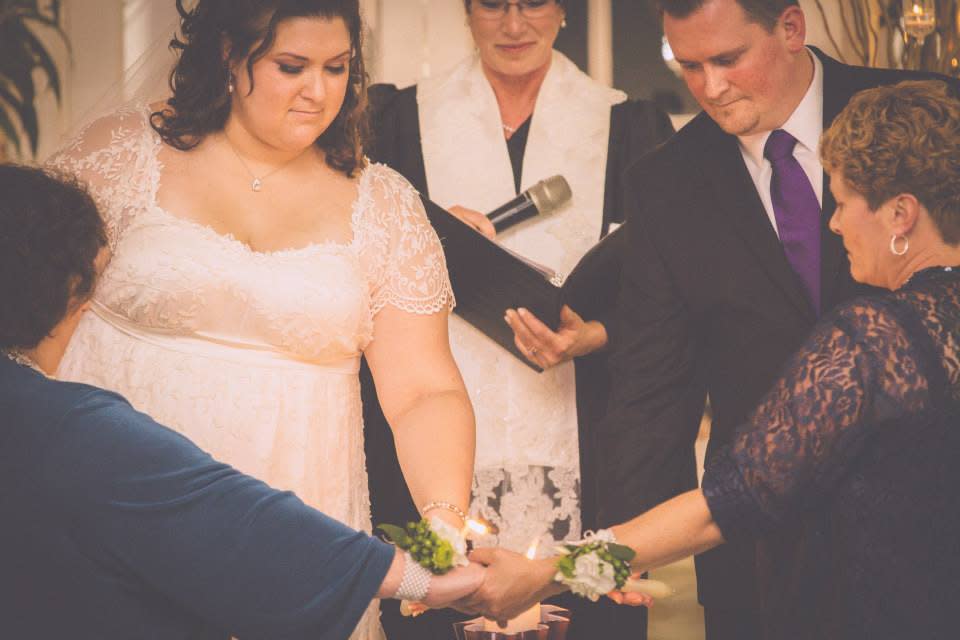 Presentation of rings - Maigen and CJ Beaulieu with fathers
photo courtesy of Janelle Rodriguez
*Unity Rituals and Memorials – Another wonderful way to involve family – especially those who are reluctant to take on a speaking role – is participation in a unity ritual and/or memorial. Using candles, sand, flowers or other symbolic items, these rituals can express not only the strong connection between the couple, but also the wider connection to family, including treasured family members who have died. Naming deceased loved ones near the beginning of a ceremony can powerfully demonstrate your awareness of the ways you will continue to be strengthened and inspired by the enduring gifts of love you have received from family.
*The Question of Intent – After Bride and Groom say "I do" in a Protestant ceremony, it is traditional for the officiant to ask the guests for their promise of support. Whether or not you are having a religious ceremony, asking your guests for support is a way to actively involve them in the ceremony and to encourage them to be an important part of your lives in the future. When you hear your guests affirm, "We do!" you will feel their love and happiness for you.
*The Exchange of Rings – The Best Man traditionally presents the rings, but this is not a "hard and fast" rule.  You can invite two family members (one from "each side") to come forward with the rings. At a recent ceremony, the bride and groom asked their fathers to present the rings, acknowledging the importance of their relationships.
Your wedding ceremony will mean even more to you and your family if you create novel ways for them to participate.  Involving your family is a way to say "thank you" for everything they've done for you and can help make your ceremony even more personal and touching, something to be remembered for the rest of your lives.