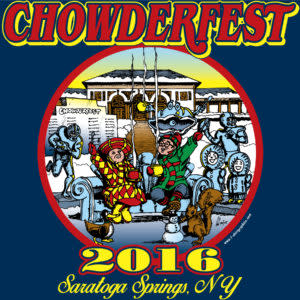 January 21, 2016
18TH ANNUAL CHOWDERFEST TO BE HELD IN SARATOGA COUNTY, NY
SARATOGA SPRINGS, N.Y. – Enjoy some winter fun and some great food at the 18th Annual Chowderfest (part of the 19th annual Winterfest) held in Saratoga Springs, NY on Saturday, February 6, 2016 from 11:00 a.m. to 4:00 p.m. – the event is coordinated by the Saratoga Convention and Tourism Bureau and presented by Driscoll Foods.  Special hotel rates are available at DiscoverSaratoga.org/Chowderfest.
Visitors can pick up a ballot from any participating business and taste chowders from over 80 participating establishments and vote for their favorite.  Each sample of chowder is $1, and is paid directly to the establishment.  Valid ballots can be turned in to the Saratoga Springs Visitor Center (11-4 p.m) or the lobby of The Saratoga Hilton (11-4 p.m) or you can vote online at DiscoverSaratoga.org!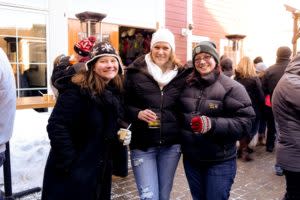 For $10 each, Chowderfest attendees can take home an official long-sleeve T-shirt (2XL shirts are $12).  Winners will be announced inside the Saratoga Springs Visitor Center at 6:30 p.m. on the day of the event.
FREE Park & Ride Shuttles available that run back & forth from 10:00 a.m.-6:00 p.m. Upstate Transit Shuttles will run from the Wilton Mall at Saratoga at the park & ride near Dick's Sporting Goods store to the post office downtown. Shuttles will also run from the Saratoga Casino and Raceway at the Crescent Ave. entrance at the CDTA/MegaBus parking area (look for signs) to Congress Park.
Visitors can also bring their four-legged family members as there are participants serving dog chowder.  The popular Dog Chow Down will take place at 1:00 p.m. at the Saratoga Downtowner Motel. Mayor Yepsen's dog, Sasha, will be on hand to pick the winning chowder!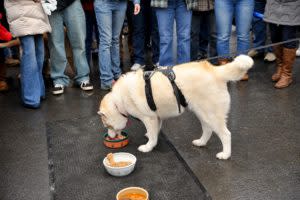 Family-friendly events will be happening around town, including the Kid Zone activities at The Saratoga Hilton, free admission! Check out the Ice Sculptures on the lawn of the Visitor Center, sponsored by The Ice Man and Prestwick Chase at Saratoga.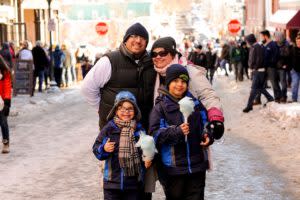 Enjoy music from The Jockey 101.3 at the top of Caroline Street from 11-2 p.m., WEQX 102.7 at the top of Caroline Street from 2-4 p.m., then WGNA 107.7 at the Saratoga Downtowner Motel Parking Lot from 11-4 p.m., Fly 92.3 on Henry Street from 11-4 p.m., Q 103.5 from 11-4 p.m. outside the Saratoga Springs City Center, Rewind 105.7 inside the Saratoga Hilton at the T-shirt distribution area from 11-4 p.m., and the always entertaining DJ Tim from Capital Disc Jockeys at the Visitor Center from 10-7 p.m. with a photobooth! Additional entertainment, live music and event information is available on the website.
Thank you to all our sponsors! Chowderfest is presented by Driscoll Foods and made possible by the Saratoga Convention & Tourism Bureau, Clipper Magazine, DeCrescente Distributing Co., The Ice Man, The Jockey 101.3, Narragansett, Prestwick Chase at Saratoga, The Saratoga Hilton, Saratoga.com, Saratoga Springs City Center, Saratoga Publishing, Saratogian, Townsquare Media Albany, Westminster Crackers, Adirondack Trust Company, Amtrak, Courtyard by Marriott. Fingerpaint, Lia Auto Group, Market 32 by Price Chopper, Residence Inn Saratoga Springs, Saratoga Casino & Raceway, Stat Staff Professionals, Stewart's Shops, Upstate Transit of Saratoga, Wesley Community, Wilton Mall, Yelp, Amsterdam Printing, Bonacio Construction, NY Army National Guard and Saratoga's Community Federal Credit Union.
Chowderfest is a signature winter event that takes place during the 19th Annual Winterfest, February 5-14, 2016. Over 30,000 people enjoyed Chowderfest last year and more than 115,000 samples of chowder were served.  For a list of participating chowder outlets, Winterfest events and further details, visit DiscoverSaratoga.org/Chowderfest or call 518-584-1531.
Contact: Todd Garofano President, Saratoga Convention & Tourism Bureau 60 Railroad Place, Suite 301, Saratoga Springs, NY 12866 518-584-1531 todd@discoversaratoga.org
# # #
The mission of the Saratoga Convention and Tourism Bureau is to market and promote Saratoga Springs and Saratoga County as a world-class destination for meetings, conventions and special events.  For information on how to schedule or plan a meeting, conference, convention, wedding, sports tournament of special event in Saratoga, visit the Saratoga Convention and Tourism Bureau's website at www.DiscoverSaratoga.org.