Kick off your New Year's Eve celebration in Saratoga Springs! Although the annual First Night event won't be taking place this year, there are still many fun ways to ring in 2022. For instance, you could indulge in good food or attend a spectacular event. Here is a list of activities taking place in Saratoga on New Year's Eve.
Enjoy New Year's Eve dinner at 30 Lake, open for Happy Hour 4:00 - 6:00 p.m. and 5:00 - 9:00 p.m. Call (518) 539-3474 to make your reservation now.
"Land & Sea" - $54 
12 oz. Prime NY Strip | 6 oz. Lobster Tail | Herb-Roasted Fingerlings | Baby Heirloom Carrots | Bordelaise | Yuzu - Tarragon Beurre Blanc
Restrictions:
Dish contains the following potential allergens: Dairy, sulfites
    *Gluten Free*
Circa '21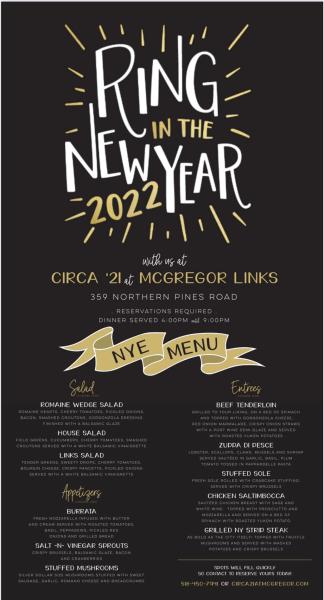 Ring in the New Year with Circa '21!  Reservations only, so call (518) 450-7941to secure your spot, $55 per person.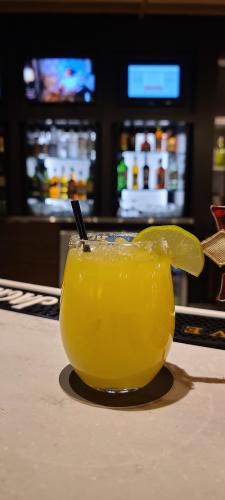 Book your New Year's Eve stay at the Courtyard by Marriott in Clifton Park and receive a FREE margarita after check-in. Book here: https://bit.ly/3maoYh2.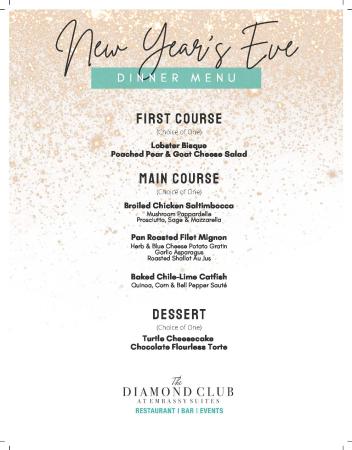 Make your New Year's Eve reservation at Diamond Club Restaurant! Enjoy live music from 9:30pm-12:30am, and a complimentary champagne toast at midnight! For reservations, call (518) 886-1111.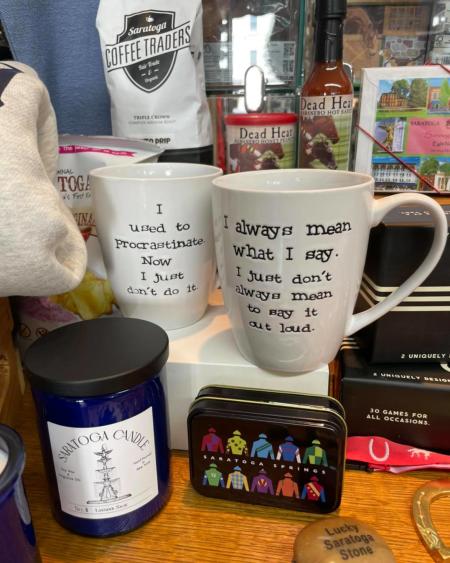 Visit Impressions of Saratoga! Open New Year's Eve 10:00 a.m. to 5:00 p.m. and New Year's Day 10:00 a.m. to 6:00 p.m.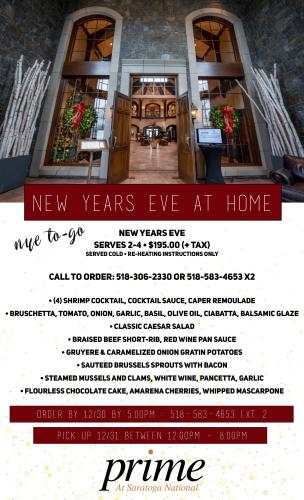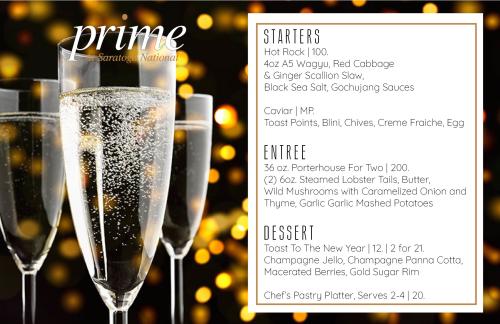 Celebrate New Year's Eve at Prime at Saratoga National! 

Lunch: 11:30 p.m. – 3:30 p.m.
Happy Hour: 4:00 p.m. – 6:00 p.m.
Dinner: 5:30 p.m. to close

Order your New Year's Eve dinner to-go! Call (518) 583-4653 ext. 2 to order. Must order by 12/30 at noon. Pick up will be 12/31 between 12:00 p.m. and 8:00 p.m.
Opera Saratoga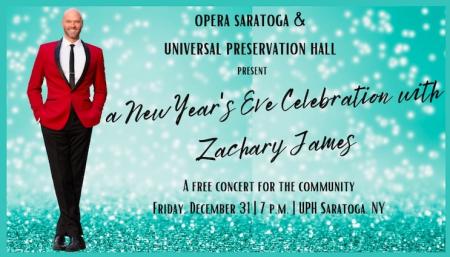 Opera Saratoga and Proctors Collaborative join forces to bring you a New Year's Eve concert at Universal Preservation Hall, featuring Broadway and Opera Star Zachary James with pianist Laurie Rogers! The festive concert will feature a variety of popular, Broadway and classical favorites; and will build up to Opera Saratoga's much anticipated announcement of its 2022 Summer Festival Programming. For more information,visit https://proctorscollaborative.org.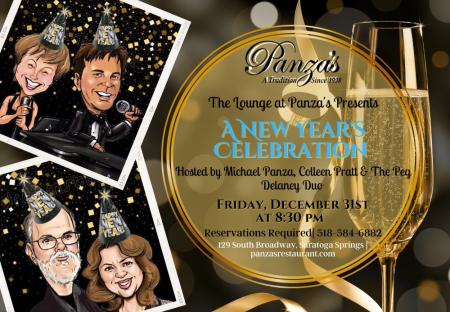 Enjoy dinner and music at Panza's Restaurant this New Year's Eve! Doors open at 5:00 p.m. with the last seating at 8:30 p.m. Live music will start at 8:30 p.m. Please call (518) 584-6882 for reservations.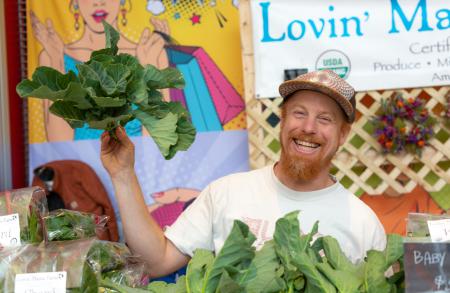 Kick off 2022 at the Saratoga Farmers' Market! The market will run on Saturday, January 1st from 9:30 a.m. to 1:30 p.m. at the Wilton Mall food court with lots of healthy, local offerings to help you achieve those healthy New Year's resolutions.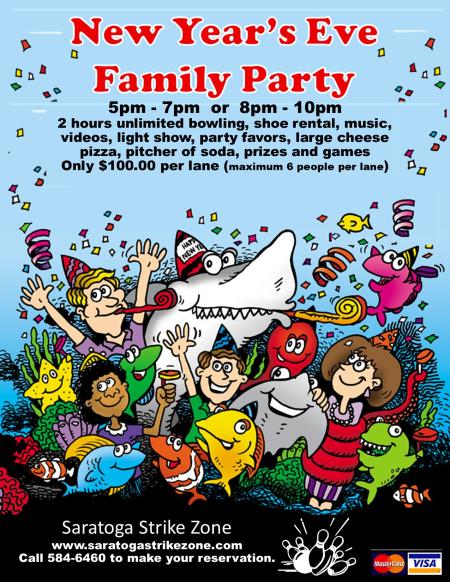 Celebrate New Year's Eve with the whole family at Saratoga Strike Zone! Enjoy two hours of unlimited bowling, shoe rental, music, pizza, soda, and more. Call (518) 584-6460 to reserve your lane today.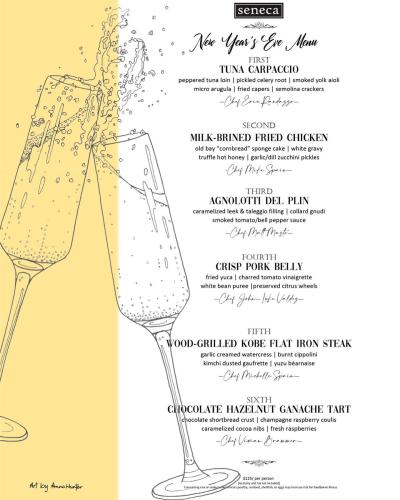 Check out this New Year's Eve menu from Seneca Restaurant! Call (518) 430-2045 to make your reservation.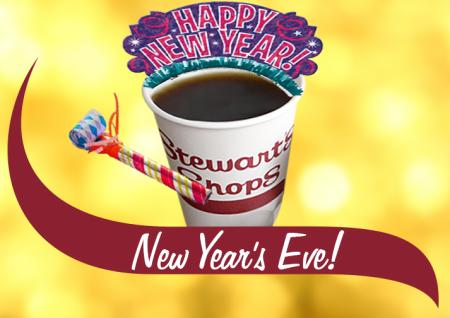 New Year's Eve may look a little different this year, but you can warm up with a free cup of hot coffee at Stewart's Shops! The tradition continues from 6 p.m. until close at all Stewart's locations on Friday, December 31. Your free cup of hot coffee can be any size, any flavor! Choose from House blend, Decaf, Richer roast, French Vanilla, Hazelnut, Maple French Toast, Blueberry Crumble, and Limited Edition Gingerbread Cookie.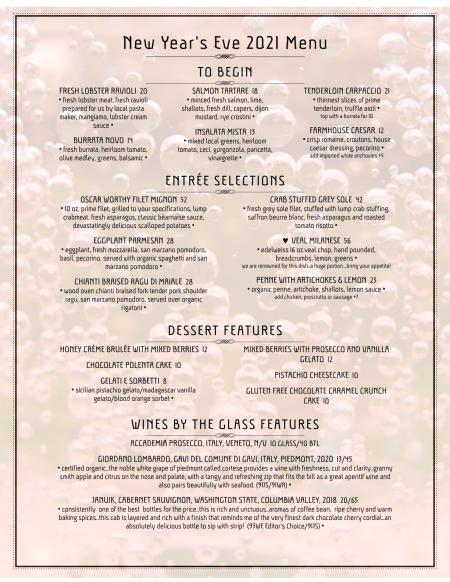 Make your New Year's Eve dinner reservation at Taverna Novo! Open for dinner 4:00 p.m. to midnight. Last seating at 9:00 p.m. Takeout also available from 4:00 p.m. to 8:00 p.m. Call (518) 886-1680 for reservations.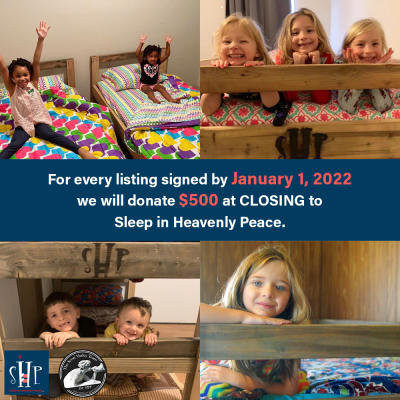 The Scott Varley Team is donating $500 to Sleep in Heavenly Peace for every sales listing they take through 1/1, which will be donated upon the closing of the listing. Sleep in Heavenly Peace is a not-for-profit organization that builds and donates beds to children that currently do not have one. The Scott Varley Team office hours are daily from 9:00 a.m. - 6:00 p.m.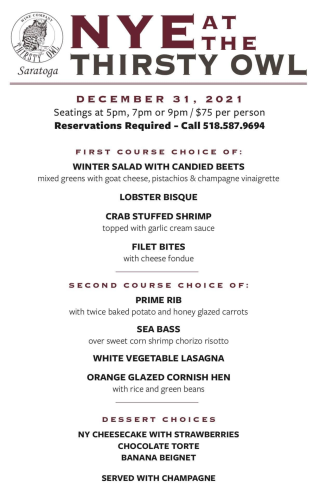 Celebrate New Year's Eve at Thirsty Owl Bistro! Seatings will be at 5:00 p.m., 7:00 p.m., and 9:00 p.m. Cost is $75 per person. Call (518) 587-9694 to make your reservation today.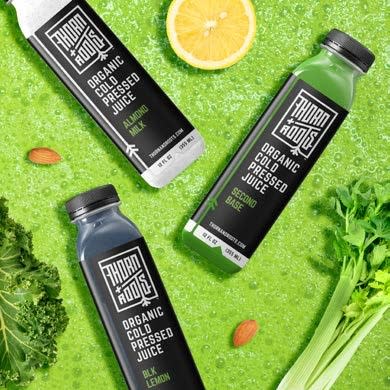 New Year, same you. Start the New Year off in all the right ways, with THORN + ROOTS. From juices cleanses to just a killer healthy meal, they've got you covered. Open 7 days a week from 7:00 a.m. to 8:00 p.m.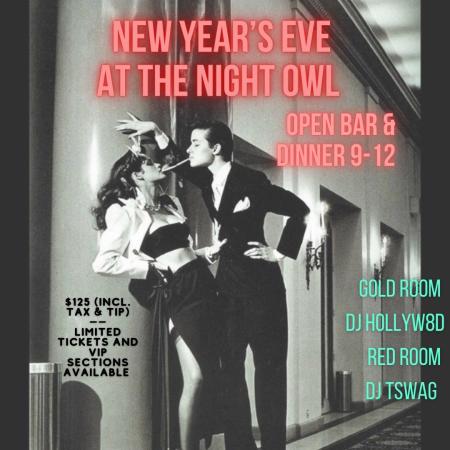 Ring in the New Year at The Night Owl! Open bar and lite bites from 9:00 p.m. until midnight. Party until 3:00 a.m. Purchase your tickets now!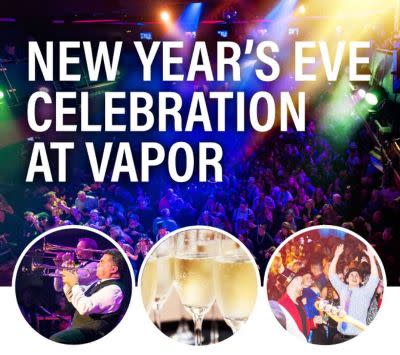 Don't miss the return of Vapor Nightclub's annual New Year's Eve Celebration! Live music by Ten Most Wanted plus guest DJ Deejay Element. Watch the countdown to 2022 on their 16 foot HD screen. Doors open at 8:00pm. Get your tickets now: https://bit.ly/33nwjDm.