What began in 1999 as a few restaurants serving chowder from crockpots quickly became one of the largest events in Upstate New York! Family-friendly, fun, and utterly delicious, Discover Saratoga's Annual Chowderfest is one of the area's most highly anticipated events of the year. It's that extraordinary time when Saratoga County's best bars and restaurants cast open their doors and serve up delicious samples of chowder to a zealous throng of event goers.
In its 21st year, Chowderfest 2019 broke all records for attendance and restaurant participation resulting in a total of 138,000 cups of chowder served to an estimated 40,000 people from all over the country—with a record 96 vendors offering $1 cups of steamy chowder to an appreciative crowd on a chilly Saturday in February.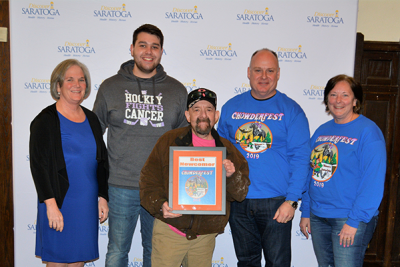 But the true magic behind Chowderfest can be found within its participants. One glowing example is repeat Chowderfest winner, Kevin Meyers, whose inspiring story will warm your heart as well as your belly. Chef Kevin Meyers opened Ribbon Cafe in 2018 in honor of his late wife Jennifer who passed away from breast cancer. Kevin has made giving back his life's mission. He prepares meals for homebound cancer patients, and he donates a portion of his monthly proceeds to the Mollie Wilmot Radiation Oncology Center where his wife was treated. Kevin is loved by this community, and his restaurant offers a welcoming environment for all people. And, of course, you will always find his award-winning Southwest Shrimp Corn Chowder on the menu!
Chowderfest has changed and evolved tremendously over the years. From small gatherings on Caroline Street to citywide street closures complete with flash mobs, Chowderfest quickly became a large event attracting thousands of attendees each year, until the unthinkable happened. A global pandemic shut down the world. Discover Saratoga had to creatively rethink their biggest event and significant revenue generator for the city, which resulted in the inception of Chowder Tour; this eight-day tour offered patrons the opportunity to enjoy cups and bowls of chowder for dine-in or pints and quarts to-go.
Now in its 23rd year, Saratoga Chowder Fest 'N Tour is a hybrid event. Chowder lovers can dine-in and purchase chowder to-go at participating restaurants Saturday, March 19 through Saturday, March 26, with the traditional Chowderfest celebration taking place on Saturday, March 26 from 11:00 a.m. to 4:00 p.m. So, get ready to enjoy as much chowder as you can handle because Saratoga Chowder Fest 'N Tour is one week away!