While enjoying a summertime walk along Broadway or through Congress Park, or even as you drive along Union Avenue on your way to the track, it is impossible not to notice and appreciate the abundant flowers flourishing along our streets and hanging from lamp posts at every turn.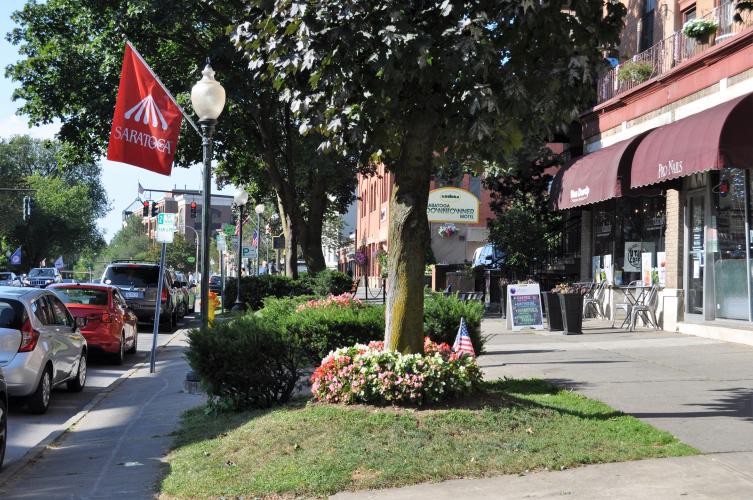 I have long been completely cognizant of the amount of work that goes into the spring/summer planting season, having worked for Capital InteriorScapes, a company in Malta, NY, that specializes in interior plantscaping as well as many outdoor seasonal plant jobs. As a result, I've watched the crew work along Broadway for hours on end, either planting beds of flowers, hanging beautiful flowering baskets, or watering and maintaining the plants...and decided to look further into the planning and people who make this happen. With that in mind, I reached out to the Saratoga Springs Department of Public Works (DPW) for more information.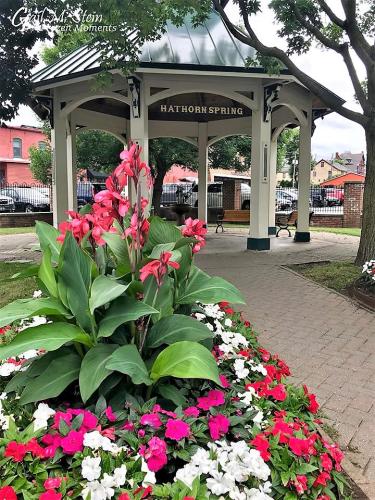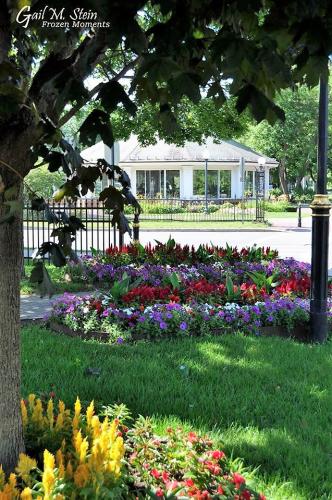 I sat down and chatted with both Skip Scirocco, Commissioner of Public Works; and Rob Wheelock, Working Supervisor of the Beautification Crew; and learned about the hard-working crew that so diligently strives to keep our downtown looking as beautiful as it does.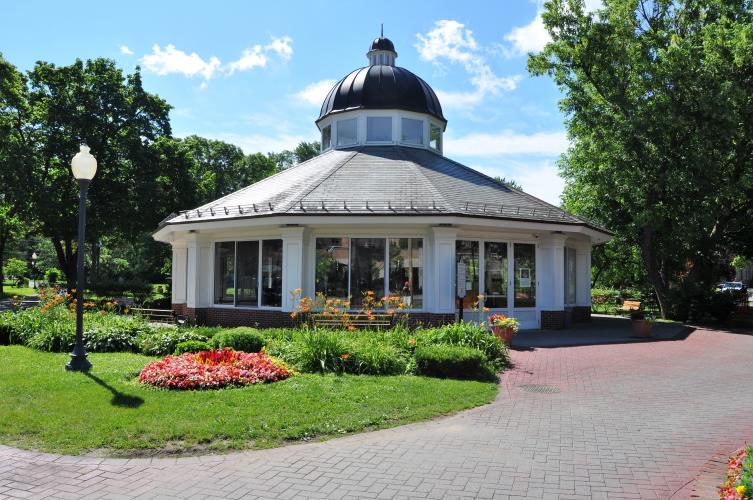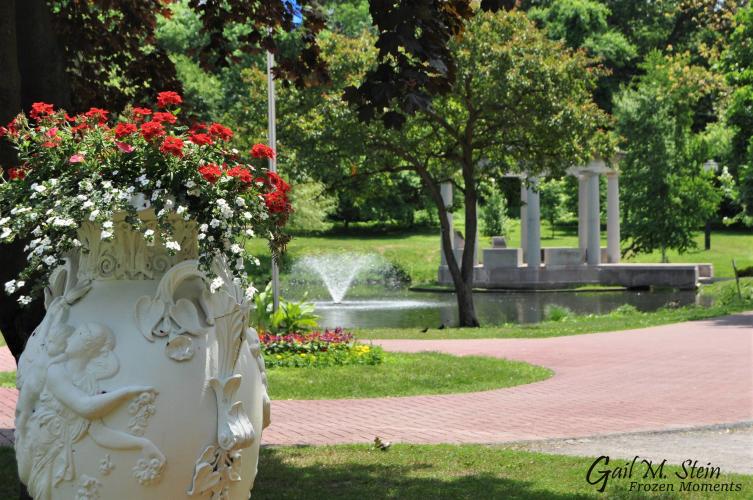 Here is a small portion of what I learned. (The images in this article are, obviously, not from this year as it is still early, but are photos that I have taken over the past 2-3 years.)
The DPW is responsible for the majority of the flower beds and baskets along Broadway, down the center of Union Avenue from Nelson Ave. heading east to the track, down the center of S. Broadway from West Fenlon heading south to the entrance of the State Park, at the intersection of N. Broadway and Route 50, the Visitor Center, throughout Congress Park, at the Hathorn Spring, and at the three parking garages downtown!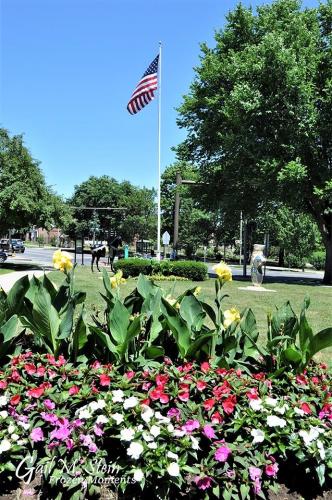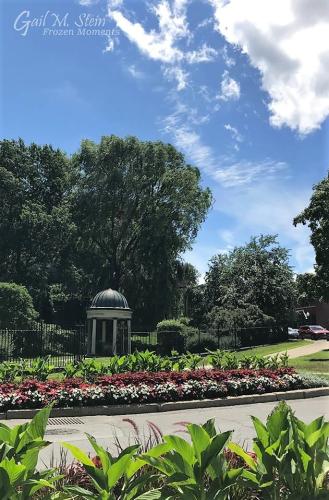 They plant approximately FIFTY THOUSAND flowers annually and hang sixty large flowering baskets, at a cost of about $26,000 (not including labor). The contract for the flowers goes out to bid and this year was awarded to Dehn's Flowers in Saratoga.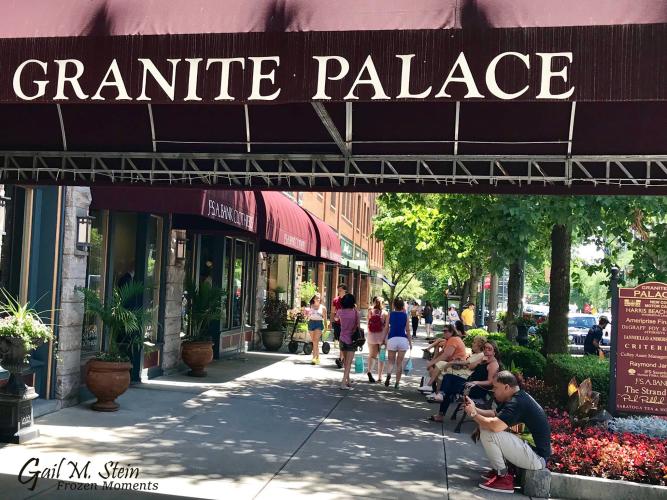 Four full-time employees go to work early in the season, tilling the beds, adding dirt where needed and working around tree roots. Two additional employees work on other areas of maintenance such as mowing, maintaining the cleanliness of the three City-owned garages, parking lots, the sidewalks/curbs of Broadway and all of its trash receptacles throughout town. An additional crew of four full-time employees to include Lou Flanders (Working Supervisor) plant, mow and maintain the beautiful and historic (Frederick Olmsted designed) Congress Park. As soon as weather permits, they begin the arduous task of planting all those flowers (red, white and pink begonias along Broadway) and hanging the baskets throughout town, with the goal of having at least Broadway and Congress Park completely planted prior to the Flag Day Parade (held this year on 6/8). Parts of Congress Park and Broadway will be planted prior to the Memorial Day Parade on 5/23.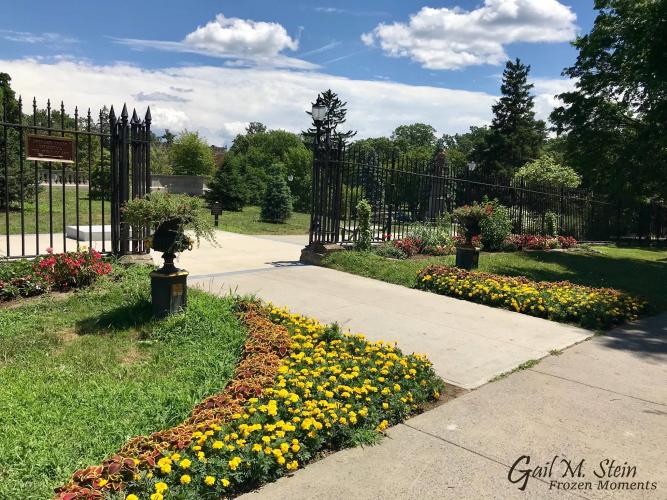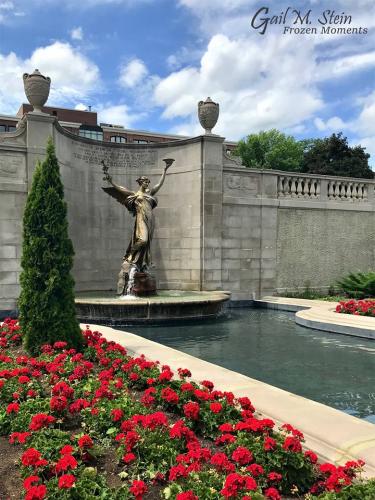 A good deal of thought and preparation goes into these plantings. Rob Wheelock and Lou Flanders are constantly reviewing and examining each year's beds and making notes as to how to improve them aesthetically and, in some cases, noting changes that need to be made for safety reasons (i.e. the beds at the Broadway entrance to Congress Park cannot contain flowers that grow too high and consequently create possible visual obstructions to pedestrians trying to cross the road). Modifications are taken into consideration and improvements are made.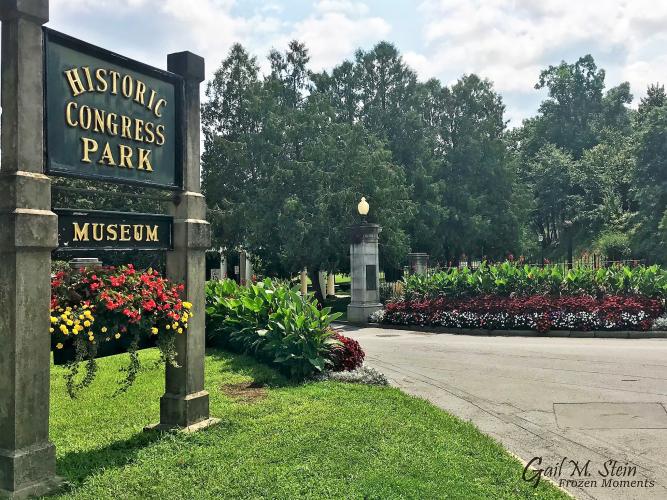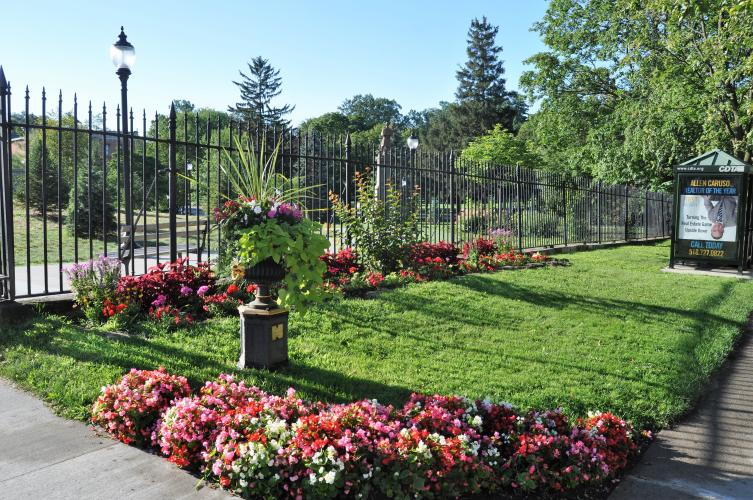 Once everything is planted, maintenance becomes the primary focus. The crew spends 4-5 hours in the early morning every day watering, repairing and grooming where needed. They have 4 trucks they use to water, with each truck holding a 250 gallon water tank.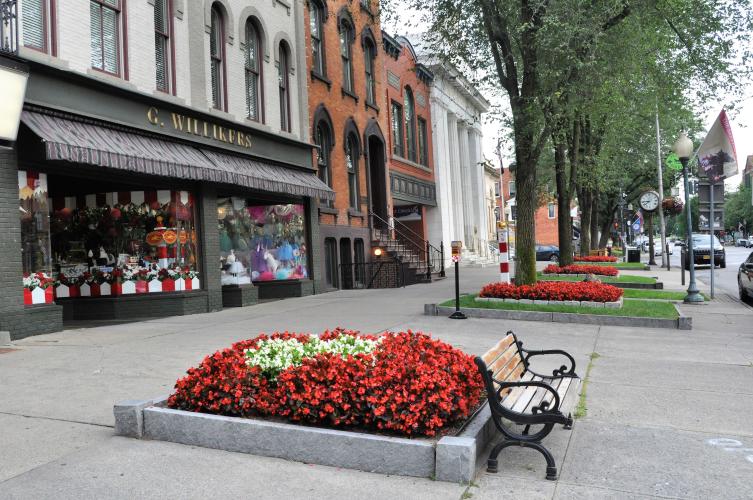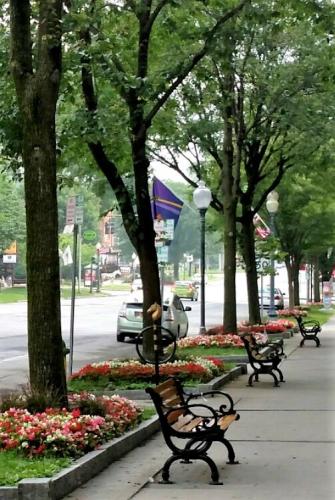 It is important to note that the DPW receives welcome assistance from the Special Assessment District, chaired by Harvey Fox. The Special Assessment District actually pays for the 60 large hanging baskets hung throughout town. They additionally pay for concrete replacement when the sidewalks buckle or are in any need of repair and, later in the year, they help pay for the holiday decorations downtown. Additionally, they partnered with the City for the Way-Finding Program (the signs that were installed a couple of years ago which clearly indicate points of interest and guide visitors to them).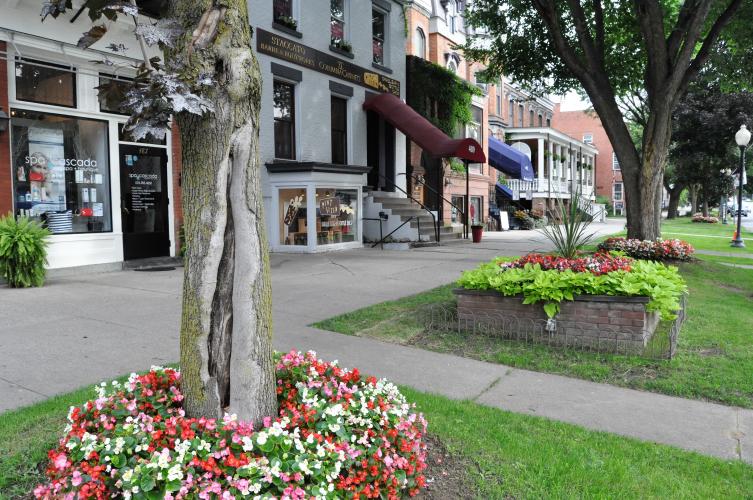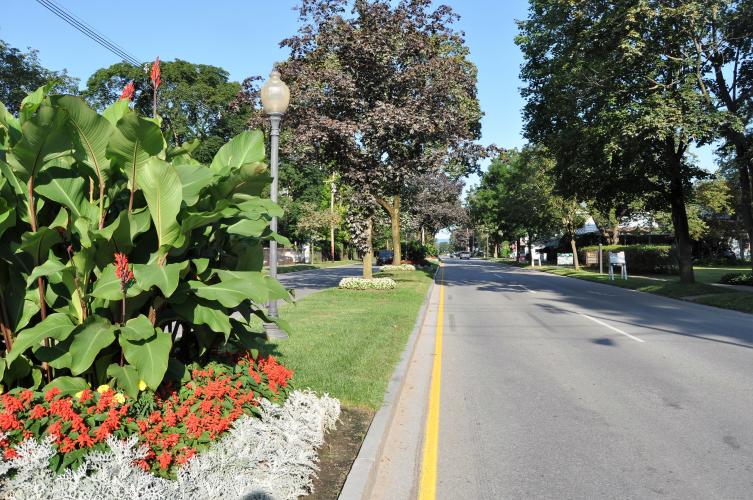 As our interview was ending, I asked one more question that I have been asked repeatedly over the past year. Most everyone will remember the beautiful tree (pictured below) that needed to be cut down in Congress Park last spring. I happened to have been in the park as the tree was being removed. I saw firsthand how thoroughly rotted it was, and I completely understood the danger it presented and the need to have it removed. However, that tree was so beautiful and a bit iconic in the park and many were saddened to see it go.
I asked Skip Scirocco what would happen to the unique stump that remains. Some had hoped it would be used as a giant planter for flowers, while others hoped it would remain as is for kids to enjoy as they play in the park. The good news is that the stump will remain and children in the park will be allowed to enjoy it. Additionally, a new willow tree has been planted nearby.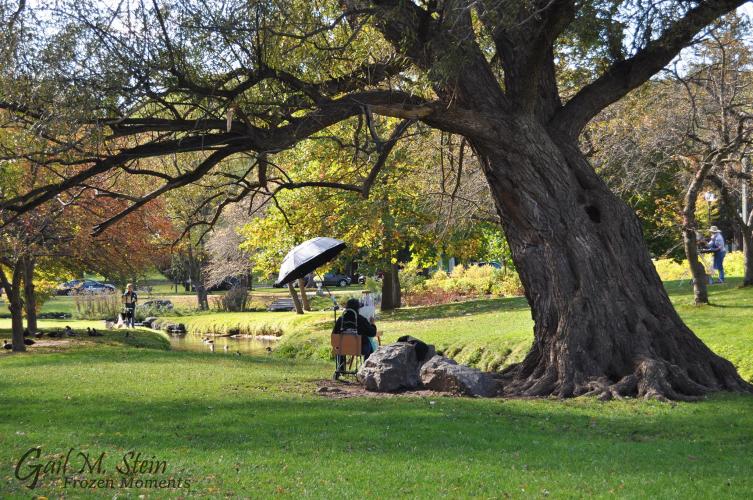 I think it is important and appropriate to give a huge shoutout to Skip Scirocco, Rob Wheelock, Lou Flanders and their crews, and the Dept. of Public Works for the beautiful job they do to keep our downtown, Congress Park and the surrounding areas as beautiful as they do. It is not a small feat by any stretch of the imagination. So, thank you, DPW for a job well done! 
As a post-script: I happily came upon the crew hanging the baskets as I came out of Uncommon Grounds on Tuesday afternoon so, of course, I asked them pose for some photos!
Pictured above are (L-R) Mike Konkel, Rob Wheelock and Greg Benton.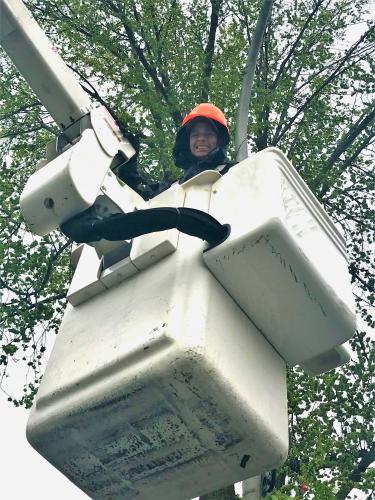 Picture above and high in the trees hanging baskets is Shaun Birrell.
Stay informed with Discover Saratoga! No spam—just information about Saratoga you want to read. Sign up for our Discover Saratoga newsletter for all latest events and things to do in Saratoga, NY.