Pavilion Grand Hotel; a partnership with Saratoga Springs and the Convention Bureau of Saratoga Springs
Pavilion Grand Hotel, an independent luxury boutique hotel, embodies a philosophy of exceptional guest service, not only with the hotel but with Saratoga Springs as a destination. We greatly value our partnership and position with the Saratoga community as well as with the Saratoga Convention & Tourism Bureau.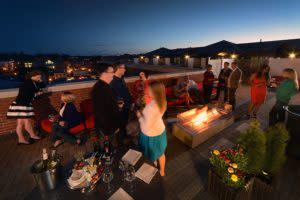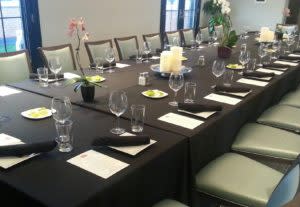 Embracing the allure of yesteryear and the elegance of today, Pavilion Grand gives tribute to its namesake, The Pavilion Hotel (1819 – 1840) which was known to be the abode of fashion and elegance of its time. Today, the newly built Pavilion Grand Hotel pays homage to its vintage Saratoga roots, embracing the rich culture, thoroughbred racing and healing Springs, including the Pavilion Spring which was once located within footsteps of the new property. Pavilion Grand Hotel has brought a European elegance and style to its full apartment style suites and full-service offerings available to guests and community alike. The property features a full-service spa, authentic French bakery and eatery, along with unique dining and bar elements all located on the corner of Pavilion Place and Lake Avenue.
"Pavilion Grand was designed as a lifestyle hotel to deliver the highest level of guest experience and service," said General Manager Susanne Simpson. "We value our partnership with the Saratoga Convention Bureau and Saratoga Springs itself to help bring the awareness and most impact to groups coming to Saratoga Springs"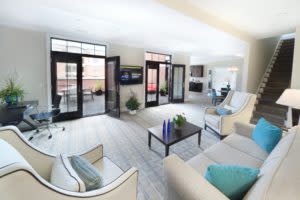 The property is designed to meet the needs of destination weddings, high-level corporate incentives and associations that desire a hotel location where attendees can entertain, enjoy and be productive when they attend or plan meetings and events in the international destination of Saratoga Springs. Pavilion Grand Hotel has made an impact in the hotel industry for the entire region with its state-of-the-art lifestyle concept, featuring unique Penthouse Loft Suites with outdoor landscaped rooftop gardens and terraces, a meeting and event space located on the rooftop level of the hotel that includes two outdoor terraces, one with fire-pit & barbeque as well as guest amenities built to the desires of meeting planners and photographers alike! The partnership between Saratoga Convention & Tourism Bureau and Pavilion Grand offers both individuals and meeting planners a different choice in the market place of Saratoga Springs.
"Helping Saratoga Springs become the most unique city offering for the Convention Bureau is part of our relationship with those that promote this beautiful and distinguished destination," said Susanne Simpson. "We look forward to what the future brings for those that visit Pavilion Grand and Saratoga!"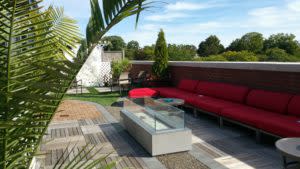 Pavilion Grand Hotel: Innovative design, amenities included from meeting planner requests, rooftop and architectural features, all coming together with exceptional guest service to help bring groups of all sizes and statures to Saratoga Springs.
For more information on Pavilion Grand please contact Laura Simiele at 518.583.2727 or by email at lsimiele@paviliongrandhotel.com and we look forward to working with you soon.