"Save the Date:" Saratoga Performing Arts Center Announces 50th Anniversary Season Schedule of Engagements
Iconic Alvin Ailey American Dance Theater Brings Exceptional Artistry to 2016 Season
50th Anniversary New York City Ballet Gala to be Chaired by Founding Families
SPAC Projected to Break Even for 2015
Saratoga Springs, NY – Saratoga Performing Arts Center (SPAC) announces its 50th Anniversary Classical Season Schedule for the summer of 2016. SPAC's Golden Anniversary will be celebrated with innovative programming, once-in-a-lifetime special events, and honorary world-premieres by New York City Ballet Resident Choreographer Justin Peck and internationally acclaimed composer Michael Torke with The Philadelphia Orchestra.  In addition, Alvin Ailey American Dance Theatre and Doug Varone and Dancers will kick-off the 2016 season in special anniversary engagements.
"SPAC's 2016 season will be a season of many 'firsts,'" White said.  "As we look to our golden anniversary, we remember that the dreams of the future are as important as the history of the past. There is no better way to celebrate SPAC's visionary founders and unprecedented history as America's summer home for the classical arts than to raise the curtain on our future."
The Alvin Ailey American Dance Theatre will present a two-day, three-performance engagement on July 8th and 9th at Saratoga Performing Arts Center.  The company, recognized by the United States Congress as a vital American "Cultural Ambassador to the World," has performed for over 23 million people in 48 states and in 71 countries on 6 continents, celebrating the African-American cultural experience and the American modern dance tradition.
The company's Artistic Director, Robert Battle, has local connections to SPAC and Skidmore College. For many years, Battle has been a guest artist and master class instructor of the New York State Summer School of the Arts (NYSSSA), a collaboration between New York State, Skidmore College, the National Museum of Dance, and SPAC.  Furthermore, prior to his role at Alvin Ailey, Battle founded his own dance company, Battleworks, which has twice participated in residencies at Skidmore College.
In addition, as part of a historic partnership with Skidmore College, SPAC will present critically-acclaimed Doug Varone and Dancers modern dance company to kick-off the 2016 season.  Celebrating its 30th anniversary in 2016, the company resides at the 92nd Street Y in New York City and has performed on all of the major stages and festivals across the country, as well as in Europe, Asia, Canada, and South America.
"As we welcome back our cherished resident company and partner for five decades, New York City Ballet, we are very proud to present special anniversary engagements with world-class modern dance companies Alvin Ailey American Dance Theater and Doug Varone and Dancers," said White. "Known for its dancers' remarkable power, athleticism, and precision, Alvin Ailey is truly peerless - the only dance company of its kind in the world."
"Doug Varone and Dancers is widely celebrated for emotive and expressive performances," White added. "The Chicago Tribune praised the company, saying, 'Many choreographers can create interesting movement; few can make it mean so much.'"
The full schedule of programs for the summer season will be as follows:
Doug Varone Dance Company                                                  June 17
Freihofer's Saratoga Jazz Festival                                            June 25-26
Alvin Ailey American Dance Theater                                       July 8-9
New York City Ballet                                                                    July 20-30
New York City Ballet Gala                                                           July 23
The Philadelphia Orchestra                                                        August 3-20
The Chamber Music Society of Lincoln Center                      August 7-23
Saratoga Wine and Food Festival                                              September 9-11
"We will welcome back New York City Ballet for two weeks in late July as they return from an engagement in Paris. City Ballet will open their residency with A Mid Summer Night's Dream as they did on SPAC's opening night in 1966.  The residency will also include the world premiere of a ballet choreographed by the company's celebrated Resident Choreographer, Justin Peck, commissioned by Ron & Michele Riggi and Vincent & Patty Riggi in celebration of SPAC's 50th anniversary," White said.
New York City Ballet Gala
On July 23, 2016, SPAC's 50th Anniversary New York City Ballet Gala will be chaired by three of SPAC's founding families whose vision, dedication, and generous support brought the venue to life.  SPAC's founders included Cornelius Vanderbilt Whitney & Marylou Whitney; Newman (Pete) & Jane Wait; and Charlie & Philly Dake.  Their families have since provided the leadership and support to both sustain and expand SPAC's mission over five decades.  Co-Chairs of the 2016 50th Anniversary New York City Ballet Gala from SPAC's founding families will be:
The Whitney Family:
Marylou Whitney (Honorary Chairwoman of SPAC's Board of Directors) and John Hendrickson;
The Wait Family:
Jane Wait, Charles Wait Sr. (Former Chairman of SPAC's Board of Directors), Candace Wait (who with husband Charles Wait Sr. commissioned Michael Torke to create a world-premiere for SPAC and The Philadelphia Orchestra ), Charles Wait Jr. (current member of SPAC's Board of Directors), Natalie Wait, and Charles Wait III;
And The Dake Family:
Susan Dake (current member of SPAC's Board of Directors) and Bill Dake (former SPAC Chairman).
"We couldn't be more proud that three of SPAC's founding families will lead our major fundraiser and social event, the annual New York City Ballet Gala. The Whitneys, the Waits, and the Dakes each brought the vision, the passion, and the dedication to see SPAC grow from a dream into an unprecedented reality for our community.  We now eagerly anticipate their visionary leadership of the social highlight of the Anniversary Season, the annual New York City Ballet Gala.  Proceeds from the gala will support New York City Ballet's historic SPAC residency," said White.
"John and I are really looking forward to co-chairing SPAC's 50th Anniversary New York City Ballet Gala," said Marylou Whitney, who also serves as Honorary Chairwoman of SPAC's Board of Directors.  "I cherish my memories of The Midsummer Night's Dream Opening Night Gala here at SPAC fifty years ago.  It was a magical night: the start of something new and exciting for Saratoga Springs. Now, I look back on those early days, remembering the planning, the fundraising, and the optimism of my friends George Balanchine, Pete & Jane Wait, Charlie & Philly Dake, and many others, and I feel that SPAC has far exceeded any of our expectations.  I can say without a doubt that Mr. Balanchine would have been delighted to see his vision flourish at SPAC fifty years later.  John and I will strive to bring to life the same magic and excitement of fifty years ago once again this summer."
"It will be a true honor and delight to co-chair SPAC's 50th Anniversary New York City Ballet Gala," said Jane Wait. "My husband, Newman (Pete) Wait, and I had so much hope and enthusiasm for SPAC's founding and the cultural legacy established here in Saratoga. This year, my great grandson, Charles Wait III, will be joining the Gala festivities.  Pete would have been so proud to see four generations of the Wait family here at SPAC to celebrate this remarkable milestone accomplishment not only for SPAC, but for Saratoga Springs and our wider community" said Mrs. Jane Wait.
"Bill's brother, Charlie Dake, was one of SPAC's visionary founders.  His wife Philly became instrumental in carrying on Charlie's dedicated support of SPAC after his passing, and later, encouraged Bill and his former wife, A.C., to become involved in SPAC's incredible legacy.  Since then, Bill and his wife Susan Dake have been deeply immersed in the spectacular offerings of this remarkable organization for over 30 years.  SPAC's 50th Anniversary is a true milestone accomplishment and we are very proud to take part in the 50th Anniversary Gala alongside of SPAC's other founding families, the Whitneys and the Waits.  We look forward to the July festivities, as the community comes together in celebration of the next chapter of SPAC's ongoing story" said Susan and Bill Dake.
New Anniversary Branding Strategy
Preparations for the milestone celebration are underway, with new branding, new programming, a new lawn, and new opportunities for the community to celebrate their favorite SPAC memories.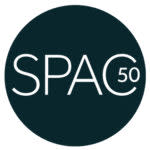 SPAC 50 Logo
Saratoga Performing Arts Center has also unveiled a new organizational logo.  The logo was designed by Fingerpaint Marketing Agency and was donated to SPAC in commemoration of the 2016 anniversary.
"Our new logo offers a unique, multi-purpose branding agent," said White.  "It functions like an art piece that we are able to recontextualize with varying backgrounds, colors, and purposes to suit our varying needs. I would like to thank SPAC Board member, Ed Mitzen, and his team at Fingerpaint Marketing Agency for generously donating their time and talents to create such an exciting logo."
SPAC50.ORG Micro-site
In honor of the 50th Anniversary, SPAC has created a micro-site accessible through spac.org. The Anniversary micro-site offers details on SPAC's rich history, plans for the anniversary celebration, ways that audiences can become involved, and an opportunity to share favorite SPAC memories.
The first community story that SPAC received through the micro-site came from David A. Wasser, who contributed to the building of the SPAC amphitheater. Mr. Wasser was a member of SPAC's first audience at an honorary performance for the workers who built the venue.  He wrote:
"In July 1966, just before NYCB began its first season, original contributors to SPAC & the people involved in the actual construction of the Center were treated to an invitation-only preview performance of A Midsummer Night's Dream.  It was a magical night – a literal midsummer night's dream come true!  I remember wondering what it would be like for a stranger to Saratoga wandering through the park that night to come upon this scene."
"SPAC's 50th Anniversary micro-site is the perfect avenue for all SPAC audiences to become involved in the celebration and raise the curtain on SPAC's future.  We hope that many community members will contribute their favorite SPAC stories at www.spac50.org/stories before the 2016 season.  SPAC was founded as a community organization and we hope to hear from as many people as possible with their cherished SPAC memories," White said. "Additionally, we invite the community to donate memorabilia, photographs, and more to the SPAC archives."
Lawn Update
On September 23, 2015 SPAC announced a new lawn restoration program that included a sod installation of over 75,000 square feet of sod.  The installation was made possible by SPAC, Live Nation, and members of SPAC's Facilities Committee, I. Norman Massry, Ron Riggi, and Committee Chair John J. Nigro.  SPAC's facilities committee announced an update on the condition of the lawn at the October 8th Board Meeting.
"The sod renovation was successfully executed in mid-September by the Brickman Group with the sod provided by Saratoga Sod Farm. The newly installed lawn will be maintained over the next several weeks by the Brickman Group as the sod root structure integrates into the soil and then enters a dormant state for the winter months. By installing sod instead of implementing a seeding renovation, grass with a mature root structure has been installed onto previously conditioned soil. A well maintained, mature lawn and root structure that has had time to fully integrate into the existing soil is the best case scenario in standing up to the heavy event foot traffic that is expected during SPAC's 50th Anniversary Season in 2016," the Facilities Committee reported.
Membership Rates Will Not Increase in Anniversary Year
SPAC's Board of Directors announced that in lieu of raising membership rates for the 50th Anniversary Season, the venue has initiated a "$50 for 50" fundraiser to engage the wider SPAC community.  The fundraiser asks SPAC friends and audiences to donate a suggested fifty dollar contribution to the organization's education initiatives.  With each fifty dollar contribution, participants will receive a 50th anniversary commemorative pin, name recognition in the venue's 2016 annual report, and on the SPAC website.
"We feel strongly that as an organization that thrives on the support of local partnerships and local supporters, SPAC's fiftieth anniversary should involve the community at large.  The $50 for 50 fundraiser enables us to honor our continued commitment to accessible ticket and membership pricing and provides an ideal opportunity for new supporters to become engaged in our 50th Anniversary programming.  We hope to see many of our audiences take part and wear their commemorative pins to our performances proudly!"
SPAC Projected to Break Even Again for 2015 Fiscal Year
Also reported was the news that SPAC is projected to finish the 2015 fiscal year by operationally breaking even. Ms. White credited audience enthusiasm for the exceptional and dynamic programming of the 2015 "Kick-off to 50 Season" and beautiful August weather. The Kick-off programming included: the Mormon Tabernacle Choir's special engagement performance, the National Ballet of China's SPAC debut performances, a highly successful second residency of the Chamber Music Society of Lincoln Center, new choreography debuted by New York City Ballet, and diversification of The Philadelphia Orchestra's programs, including concerts with classical luminaries Yo-Yo Ma and Joshua Bell, Broadway stars Bernadette Peters and Megan Hilty, and a "Pixar in Concert" event.
"We are very grateful to the audiences, friends, and members who supported our Kick-Off to 50 Season," said Ms. White. "We are excited to present our 50th Anniversary Season in 2016 with world premieres, innovative programming, and unforgettable events," White added.
"Next year, SPAC will raise the curtain on a season of "firsts."  We will commemorate SPAC's past by celebrating its future. That SPAC has reached this benchmark with such strength and purpose is a tribute to the foresight of its founders, the endurance of its partnerships and the unyielding power of live, world-class music and dance."