By Charlie Kuenzel
Ghost stories and discussions of paranormal activity are not just for the Halloween season. These haunting activities are an integral part of the fabric of Saratoga Springs throughout the year!
As a destination, Saratoga Springs is a wonderful, fun-filled location for visitors any season of the year. Known widely for its famous mineral springs, world class thoroughbred horse racing, great dining, stellar museums, and community events, Saratoga Springs has consistently grown as a destination for paranormal investigations. This charming Victorian community with a very vibrant and treasured history also has numerous documented accounts of paranormal activity that are worthy of personal investigation.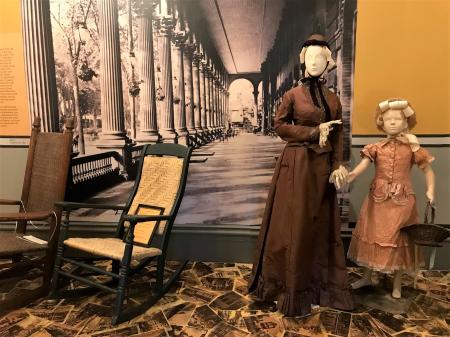 The epicenter of many of these paranormal investigations is found in the historic Canfield Casino in Congress Park. Located in the center of the city, and home to the Saratoga Springs History Museum, this building has many documented and highly investigated occurrences of ghostly activity. Almost 13 years ago, members of the staff and Board of Directors noticed repeated daily events that revealed a very active paranormal environment. After much discussion, a decision was made to contact the television show "Ghost Hunters" that aired on the SYFI Channel to see if it would generate a possible investigation.
In the summer of 2010, "Ghost Hunters" conducted an overnight investigation that is now the documented episode #618 of the television show that can be viewed on YouTube. Ghost tours of the Canfield Casino are held every Monday, Wednesday, and Friday at 11:00 a.m. in July and August. These 90-minute tours reveal all the latest information gathered in subsequent paranormal investigations as well as the initial "Ghost Hunter" episode.
During the month of October, ghost tours of the Canfield Casino were again scheduled as well as a very exciting new tour offering called Ghosts of Saratoga Guided Trolley Tours. These 90-minute trolley tours left from the Saratoga Springs Heritage Area Visitor Center and took guests to numerous sites of haunted activity throughout the city, concluding with a tour of the Canfield Casino. Visitors who would like to participate in these fun-filled events next year can contact the Saratoga Springs Heritage Area Visitor Center or the Saratoga Springs History Museum for information and tickets for each event.
Saratoga Springs also has many ghostly walking tours, cemetery tours and paranormal events throughout the year. Come visit our great city and don't forget to check out all the "things that go bump in the night."