Book your stay at the Headquarter Hotel now! Cut off date: 3/4/22
AGENDA
Wednesday, March 23: 
Arrivals
6pm Happy Hour (heavy apps) Embassy Bar/Diamond Club – Skidmore Room

Thursday, March 24:
8-9am Breakfast – Embassy provides many options for breakfast made to order (located near the lobby)
9am-5pm Breakout sessions (4 rooms – see below chart for your location)
12-1pm Lunch – Skidmore Room 
3pm Afternoon break snacks to each conference room
7:30-10pm Off site bowling/dinner – shuttle service is provided to those who signed up
Saratoga Strike Zone Bowling: 32 Ballston Ave, Saratoga Springs, NY 12866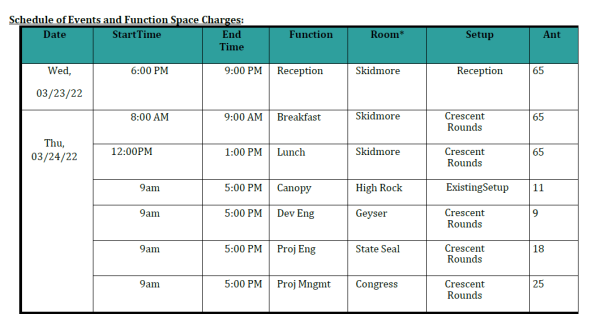 Friday, March 25:
Departures – grab breakfast on your way out
*Event is causal attire.
*Early spring weather in Upstate NY can be variable. Please see the weather widget in the top right corner of the page.
*For added fun, check out Saratoga Chowder Fest 'N Tour! Chowder lovers will have the ability to dine-in or purchase pints and quarts to-go at participating restaurants Saturday, March 19th through Saturday, March 26th. Discover Saratoga will end the week with the traditional Chowderfest celebration on Saturday, March 26th from 11am to 4pm. There will be live entertainment and family-friendly activities throughout downtown Saratoga Springs. Event goers can try $2 samples of chowder and vote for their favorite.
Explore Saratoga Springs!
Let us be your guide to everything Saratoga Springs during your stay! No need to be stuck in a hotel room. Our walkable, friendly city is a year-round destination perfectly located in Upstate New York. Discover phenomenal dining, entertainment and unique shopping after your meeting for a true Saratoga experience. We recommend making your dining reservations in advance!
Make your stay even more exciting with a self-guided tour of our historical mineral springs, or visit one of our many cultural attractions. For even more resources and information, stop by the Saratoga Springs Heritage Area Visitor Center, which is located directly across from local favorite Congress Park!