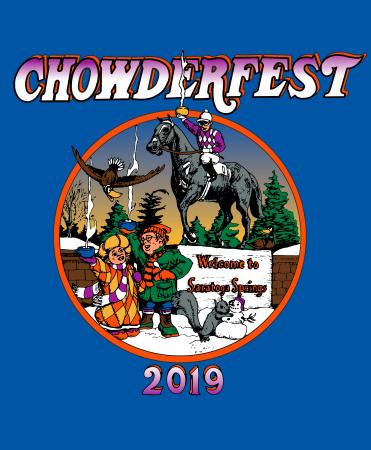 SARATOGA SPRINGS, NY—Saratoga's most anticipated event is back for its 21st year on Saturday, February 2, 2019. Saratoga Chowderfest takes place from 11 am to 4 pm and features chowder samples (3 oz.) for $1 each at participating establishments, music and family-friendly activities. The event is coordinated by Discover Saratoga and presented by DeCrescente Distributing Company.
Event-goers can pick up a ballot from any participating restaurant, taste over 80 different chowder samples and vote for their favorite. Valid ballots can be turned in to the Saratoga Springs Heritage Area Visitor Center or the Saratoga Springs City Center or vote online at DiscoverSaratoga.org/chowderfest. Winners are to be announced inside the Visitor Center at 6:30 pm on the day of the event.
"A long-standing Saratoga Springs festival, now in its 21st year, Chowderfest helps to create demand for our local restaurants and bars during what would normally be a quieter time of the year.  With over 80 restaurants participating and more than 40,000 attendees, this is something you don't want to miss," says Discover Saratoga President Darryl Leggieri. "You can even make a weekend of it with special hotel rates being offered at participating hotels in Saratoga Springs. People travel from all over the region for the taste of chowder done right, and to experience the excitement of Saratoga Springs."
Free shuttles to downtown Saratoga Springs will be available from 10 to 6 pm at the Wilton Mall park & ride near Dick's Sporting Goods and the Saratoga Casino Hotel. Visitors are encouraged to extend their Chowderfest experience by utilizing select hotel's discounted rates, which can be found on DiscoverSaratoga.org/chowderfest. Stay warm during the event with an official Chowderfest beanie ($7) and long-sleeve shirt ($10 or $12 for 2XL), which will be sold at the City Center and Visitor Center.
21st Annual Chowderfest is made possible by our sponsors: Westminster Cracker Co.,  Saratoga.com, Saratoga Springs City Center, DA Collins, T-Shirt Graphics, DePaula Auto Group, Albany Broadcasting, iHeartMedia, Townsquare Media, Leaf Filter Gutter Protection, Stewarts Shops, Residence Inn by Marriott, Lia Auto Group, Green Mountain Energy, Sysco Albany, Saratoga Today, Courtyard by Marriott, Saratoga County Chamber of Commerce, John Ray & Sons, Adirondack Trust Company, Clipper Magazine, Wilton Mall, Saratoga Casino Hotel, Amsterdam Printing, Saratogian, Metabolic Meltdown, Julie & Co., Social Static, Impressions of Saratoga, M & M Printing, Hyde Collection, Daily Gazette and Two Buttons Deep.
Over 40,000 people enjoyed Chowderfest last year and more than 137,000 samples of chowder were served.  For a list of participating chowder vendors and further details, visit DiscoverSaratoga.org/Chowderfest or call 518-584-1531.
###
Discover Saratoga (Saratoga Convention & Tourism Bureau) is a key economic development engine for this community, whose mission is to contribute a positive impact on the local economy by promoting and marketing Saratoga Springs and Saratoga County as a world-class destination for meetings, conventions, groups and visitors.