FOR IMMEDIATE RELEASE June 20, 2016
Contact: Heather McElhiney, Director Karen Vaccaro, Assistant Director Saratoga Heritage Area Visitor Center 518-587-3241 heather@discoversaratoga.org karen@discoversaratoga.org
Saratoga Summer Concert Series Kicks Off July 3rd!
Saratoga Springs, NY: The Saratoga Summer Concert Series returns to Congress Park for the 2016 season, kicking off on July 3rd. Gather your friends and family, bring your blankets and chairs, find a spot on the lawn and enjoy some of our areas favorite performers. This FREE Saratoga Summer Concert Series is program of the Saratoga Heritage Area Visitor Center in cooperation with the Saratoga Convention and Tourism Bureau and the City of Saratoga Springs. Shows begin at 7:00PM at the War Memorial in beautiful Congress Park and each concert will be approximately 90 minutes. New this year – the Saratoga Heritage Area Visitor Center, at 297 Broadway, will be the concert rain location.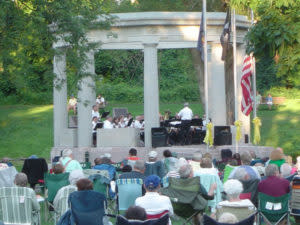 2016 Dates and Performers are:
July 3-Keller & Cannon - Dynamic Duo ranging from modern and classic country, rock and Americana. Keller & Cannon bring rock-style modern and classic country and pure rock to audiences of all sizes and all ages, featuring recognizable, danceable, high energy tunes that reflect the good-time feeling of Americana music.
July 10-Hot Club of Saratoga-The Capital Region's premier gypsy swing ensemble. The driving rhythms under dynamic soloing give the music a life and vibrancy sure to bring a smile and often an irresistible desire to move.
July 17-Marc Berger & RIDE-Marc Berger & Ride bring a well-choreographed mix of deep country folk songs with touches of bluegrass, roots, Americana, a little spicy cajun, and even a little indie with an effects laced lead acoustic guitar.
July 24-Sonny and Perley-The exciting duo of Sonny Daye and Perley Rousseau achieves arare musical symbiosis. The husband and wife team master a unique blend of Jazz, Bossa Nova, American Songbook Standards, and International Cabaret which has become their musical signature.
August 9-Rich Ortiz-Rich Ortiz's style is truly his own and his music is his soul. Richplays guitar, harmonica, and peddle bass (with his feet), and he turns heads with his vocals! As his passion for life grows stronger, so does the energy in his music; he is a truly rare, authentic talent.
August 16-Betsy & The ByeGons-Whether you lived the sixties yourself or you just dig that classic girl-group sound, there's no better way to spend some time than with Betsy and the ByeGons! Bring back those happy days when The Ronettes, The Chiffons, The Shirelles, The Shangri-las, The Supremes and so many others lit up stages and screens throughout the world!
August 23-Garland Nelson Soulist-A high energy and spirited ensemble, performing multi-genre soul music with entertaining command and spontaneous originality. Led by "soulist" Garland Nelson, Soul Session emotes supernatural passions from material by Marvin Gaye, Stevie Wonder, Bob Marley, Bill Withers, and many others.
August 30-Cryin' Out Loud-With an energizing live show that features five dynamic vocalists, a fluid rhythm section, and a hot three-piece horn section, Cryin' Out Loud will definitely make your event one to remember. During a live performance you can feel their energy inspire the crowd, taking listeners on musical journey that encompasses the greatest hits of Pop, RnB, Country, Disco, Motown and Classic Rock.
The Saratoga Heritage Area Visitor Center would like to thank our many sponsors for helping to make this series possible, with special thanks to The Courtyard by Marriott Saratoga Springs, Ben and Jerry's Saratoga Springs, CDTA, The Adirondack Trust Company, Stewart's Shops, The Masie Center, Saratoga National Bank, Clements Insurance, Price Chopper, The Saratoga Downtowner, 101.3 The Jockey and Saratoga Today.
For more information, contact the Saratoga Heritage Area Visitor Center at (518) 587-3241, www.saratogaspringsvisitorcenter.com
# # #