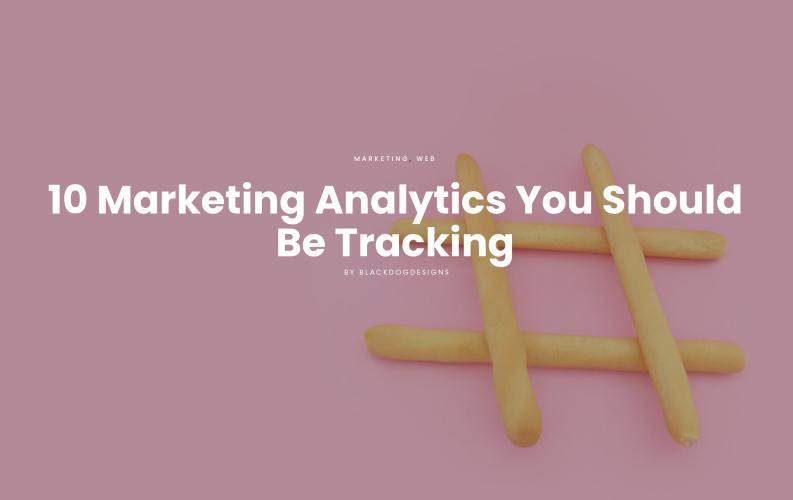 Whether you're a startup or a well-established business, there's a reason that we continuously stress the importance of digital marketing over traditional mediums. Analytics. Analytics. Analytics. While traditional mediums will leave you guessing who saw your ads, digital marketing channels such as your website, Facebook, or Instagram will tell you exactly who interacted with your content. It doesn't get more straightforward. As a result, quit guessing and start tracking. Check out our 10 suggested marketing analytics you should be tracking to improve your marketing efforts online.
1) UNIQUE WEBSITE VISITORS
This should be the starting point for your marketing analytics. Quite simply you should know how many unique (different) users are visiting your website during a specified period of time. If you published any new content check to see how this affected site traffic. In addition, be sure to look at the graphs over time to make sure progress is being made.
Read More: 6 Steps For Developing A Customer Base
2) WEBSITE PAGE VIEWS
Step two; find out which pages people are going to the most. You might find that it's not your home page, that its actually an article you wrote on your blog, a drink recipe, or an event listing. As a result, regardless of the outcomes this will help you to identify and place the most valuable content and calls to action on the landing pages that receive the most traffic from your campaigns.
3) WEBSITE BOUNCE RATES 
Now, how do you get users to really navigate through your site? Not the ways you think and want them to, but how they actually go through the flow. Analytics rescues us again! One of the best ways is to look at the bounce rates of your pages. The bounce rate is the percentage of website visitors who leave your site without navigating away from the initial landing page. You never want a user to leave your site after looking at just one page. For instance, mix in some engaging calls to action and additional content to get them cruising through your site.
4) WEBSITE REFERRAL TRAFFIC SOURCES
So you've looked at your traffic and optimized your pages to get people navigating through your site. As a result, let's connect the dots a little from other digital sources. In your Google Analytics account, it's pretty easy to see where people are coming from to find your site. Whether it's Google, social media, or direct search, this info tells you whether you need to work on certain channels or double down in places and take advantage of the traffic.
5) FACEBOOK- FOLLOWERS (AND PAGE GROWTH)
Let's face it. Social media is STILL totally underused from a business perspective, even more so when it comes to B2B. If you can generate a large following and interact with them frequently there is a high likelihood you can get them to go to your site periodically. So what's our point? In short, one of your marketing goals should always be to increase your following on Facebook (and also Instagram, Twitter, LinkedIn, etc.). For example, monitor this closely to see if your content is resulting in new followers.
6) FACEBOOK REACH & INTERACTION
So maybe your followers and page growth isn't as robust as you'd like. Chances are it isn't, and that's why you need to dig deeper to see if you are
A) reaching more people than last month, and
B) are people interacting with your content online.
7) INSTAGRAM- FOLLOWER DEMOGRAPHICS
Instagram is only going to become more and more important to B2C marketers. This is because the ages that frequently use this channel are getting older and will start to have increased purchasing power. Instagram's platform will offer some basic analytics on where your followers are from and who they are. In addition, by using a social media scheduling platform you can also receive further analytics on who your followers are.
Read More: 12 Tips For Creating Instagram Stories
8) INSTAGRAM- TOP HASHTAGS
If you're not paying to promote your content on Instagram then you need to focus on other ways that new users will follow you. Hashtags are that answer. In other words, look at the hashtags that generate the most reach, likes, and comments. Over time you'll be able to determine which hashtags to always include on all content to drive interaction and generate new followers.
9) EMAIL MARKETING- OPEN RATES 
If you don't engage in some type of email marketing program, you should. Now. Above all, this is one of the best ways to put content directly in front of a subscriber and see if they interact with it. Most times these subscribers are the most loyal followers of your brand (more so than social media followers).
10) EMAIL MARKETING- CLICK THROUGH RATES 
Yes, opening your emails is good, but that's not the goal. You want people to click through to your website to learn more. Therefore, use heat map tools in platforms such as MailChimp to see what subscribers are clicking. In addition, even check out what subscribers are clicking what content, then cross-reference these people (and any tags) with this to see if any trends develop.
Read More: 5 Automated Emails To Boost Your E-Commerce Store
THESE MARKETING ANALYTICS ARE A GREAT PLACE TO START FOR TRACKING YOUR DIGITAL EFFORTS AND MAKING IMPROVEMENTS TO YOUR CAMPAIGNS. STAY TUNED AND ONCE YOU HAVE THESE DOWN LOOK OUT FOR THE SECOND PART OF THIS SERIES: 10 MORE MARKETING ANALYTICS YOU SHOULD BE TRACKING. WE'LL GO MORE IN-DEPTH ON SOME ANALYTICS TO BUILD ON THESE.
About the author:
Our experience and close-knit team mean cohesive design work and brand development that's uniquely you. We're speedy and solution-driven, but our process is never brief: We work hard to create successful brands and campaigns and involve our clients in every step along the way. For more information, visit blackdogllc.com.