Life is unpredictable. Even under the best circumstances, life doesn't always work out as planned. Sometimes those unpredictable moments are amazing, exciting and life-changing. Meeting my husband was completely unpredictable, changing my life and showing me that there really is such a thing as a fairy-tale love. Other times, the unpredictable can turn your fairy-tale on its head, leaving you stressed, anxious and sad, ultimately forcing you to rethink everything you assume to know. 
In December of 2018, my husband, Ron, proposed to me. We had no immediate plans to get married, but we knew what we wanted this time around: a small ceremony on our property in Hartford, NY next to the waterfall of an 1800's mill that once stood there. Ron's children, my children, our siblings and our parents. A romantic Tuscan-style family dinner. One long rough-wood table, antique mismatched chairs and place settings, and overhead string lights to illuminate our magical, dusky dinner. The water would be falling behind us as we ate and toasted our good fortune. The next day, we would host a reception with our friends and our extended family. Simple, tasteful and full of love and laughter. We wanted a celebration that matched our amazing, second-chance love and our new true-to-ourselves life together. 
A couple of weeks after our engagement, we learned that Momma Le, Ron's mother, was rapidly losing her eyesight. By early January, we had planned an elopement in Sedona, just a few minutes from where Ron's parents lived. Because not all of our children could be with us, we lined everything up to include just our parents, and our good friends who lived in Phoenix. We would marry among the red rock and dine at a nearby restaurant. It was bittersweet as we saw our original plans fade away: no children; no siblings; no Tuscany-inspired set up; no romantically lit tables alongside the waterfall.  Doing what was right - eloping in Sedona before Momma Le could no longer see the event she had been waiting nearly three years for - felt difficult. It was emotional, conflicted and guilt-ridden. All along, we had agreed that this time we would do what we wanted. We were older, we knew better and we would focus on us. Yet, we found ourselves arranging our wedding around what was right for Momma Le; a complete straying from our original plan.
It was difficult to feel excited and happy. I ordered dress after dress only to return them. When I finally settled on one I loved, the weather predicted to be Northeast-cold in February in Sedona. This led me rush-order fleece-lined leggings and sneakers to add to my wedding ensemble. Four days before we were due to fly out of Albany, I was diagnosed with the flu. Two days before our departure, our wedding officiant called to say we would have to move our date due to a record snow storm that threatened to shut Sedona down. The packing, the planning and the re-planning kept us from really taking it all in. I became so wrapped up in my sacrifices, in my loss, that it was difficult to see the beauty in all of it - I was marrying the love of my life, my best friend.
Just when we had made some peace with our plan, more unpredictability was thrown our way: Momma Le was taken by ambulance to Phoenix, nearly two hours south of Sedona. Momma Le and Papa Ron, Ron's dad, would never make it to our wedding in Sedona. She was diagnosed with CJD, a rare and terminal illness, while we were there. Although she knew we were in Arizona to be married, and we were able to see her in the hospital, she was not the Momma Le I had come to love. 
Our rescheduled day turned out to be cold enough to wear a New York winter coat over my dress, but it was the brightest, bluest, most beautiful day; the best weather of our entire trip. I wish I could capture the love I felt, but words will never do it justice. The red rock of Sedona. The breeze, the sun and the love; a love as blinding as the sun. After our ceremony, in honor and in true Momma Le style, we pulled over near the Chapel of the Holy Cross, popped a bottle of Prosecco and toasted. We trekked up the road to the chapel, glasses in hand, and lit a candle for Momma Le's recovery. It was a day of awe and of wonder; one I would repeat without hesitation.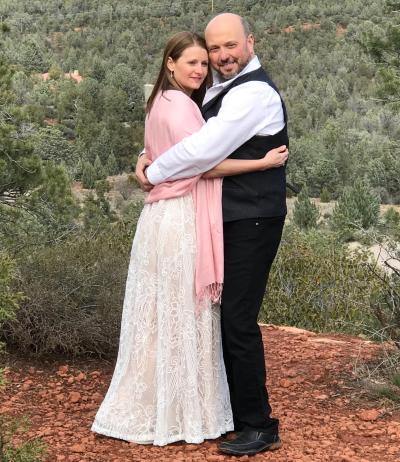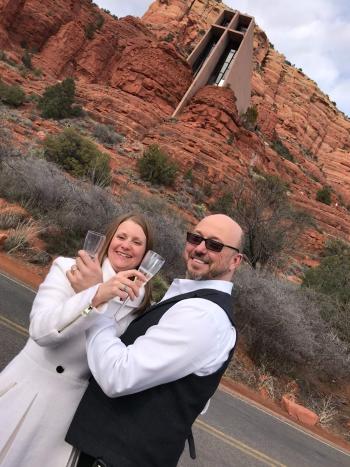 Momma Le passed away ten days after we were married. Twelve days after we were married, my new husband flew back to Arizona to be with his father. Unreliable life had made it's point. A few months later in September, when Papa Ron made an unexpected trip to the Northeast, we were able to celebrate with friends and extended family. With Stone Bridge Farm as our venue, we hosted a do-it-yourself gathering to celebrate our love, to acknowledge Momma Le and to honor our life together. It was simple, fun and full of love and laughter! Our choice to host at our venue allowed us to accommodate out of town family right on the property. It became a weekend filled with reconnecting with friends and family; a weekend of memories made. (It was also a tough lesson in the value of a wedding planner. Trust me, hire the planner! We literally forgot to cut our wedding cake until my cousin brought it to our attention!) Although I didn't get my Tuscan tables, I did get my happily ever after.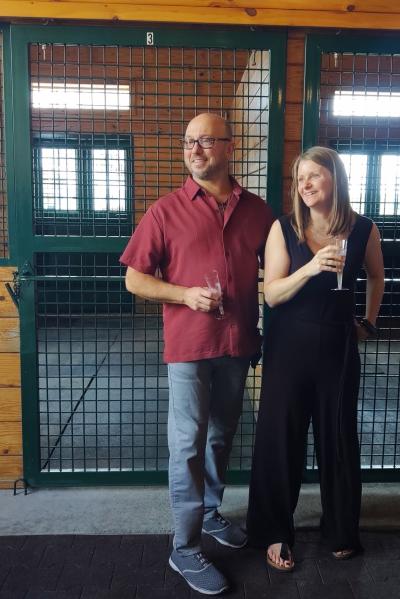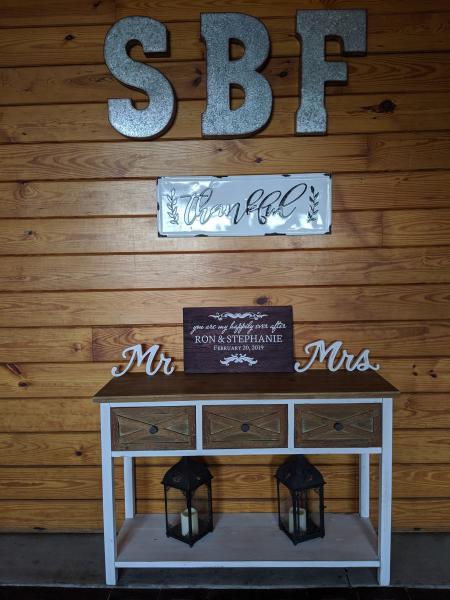 We know that for many of you, COVID-19 threatens to uproot your well-laid plans. Everything you think you know about your event is uncertain. There is stress, anxiety and fear, but there is also much to be grateful for. The love in my relationship is the rock in my life. Despite the sadness and the grief, there was (and is!) the happiness and the gratitude. We had to trade in the negatives we saw and refocus on our original mantra - "never dull." Life is a journey, not a destination. There is light in the journey called love, regardless of the unpredictability of life. Find the light and hold it close. Maybe that light will be like ours - a beautiful elopement. Maybe that light will be a postponement. Maybe that light will be a reimagined event. Whatever the outcome, remember that you have everything you need in each other. Love is a miraculous gift and your wedding, whatever it looks like, is a celebration of that gift of love.
Stephanie Mattia is the Co-Director of Hospitality at Stone Bridge Farm Hospitality, an event venue in Schuylerville, NY. Stephanie and her husband, Ron, manage all aspects of Stone Bridge Farm as a husband and wife team. She takes a hands on approach to all aspects of the business from cleaning to designing event space to client relations.