Clarence W. Dart was a decorated WWII combat pilot and an American hero.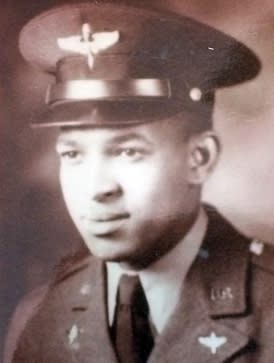 Clarence W. Dart was born in December 1920 in Elmira, NY, just nine years before the Great Depression—the worst economic downturn in U.S. history. Like many Americans at this time, Dart's family struggled to make ends meet. His father, who was fortunate enough not to lose his job, worked for the railroad making $25 dollars a week. His mother repurposed clothing from the Salvation Army for her family to wear, while Dart collected bits of hot coal from the local railroad to heat their home. Times were tough, and families did what they had to just to survive.
Dart always had a fascination with airplanes. As a child he would build model airplanes, and eventually graduated to building replicas of real airplanes. After high school, he went to Elmira Aviation Ground School for aircraft support crew training. On December 7, 1941, the day after his 21st birthday, Dart was singing with his church choir at a local radio station when he learned the news about Pearl Harbor. Like many of his fellow Americans at the time, Dart was ready to serve his country and enlisted in the U.S. Army Air Corps.
During World War II, Dart served as a Tuskegee Airman, a special group of airmen who trained at the airfield near the famed Tuskegee Institute in Alabama and became the first African American aviators in the U.S. military. Still segregated before 1940, the military previously denied young black men the opportunity to fly for their country, claiming they lacked the intellectual capacity and stamina for combat. Despite their odds, nearly a thousand men completed the Tuskegee advanced flight training program and went on to fly approximately 1,400 combat missions over war-torn Europe.
Captain Clarence W. Dart was shot down twice during his 95 missions overseas. He received two Purple Hearts and was one of ninety-six Tuskegee recipients to receive the Distinguished Flying Cross. Most importantly, Dart and his fellow Tuskegee Airmen paved the way for the civil rights movement and the eventual desegregation of the armed forces after WWII. On March 29, 2007, Dart and the surviving Tuskegee Airmen were presented with the Congressional Gold Medal by then President George W. Bush, who gave them a long overdue salute.
After the war, Dart settled in Saratoga Springs, NY, and with his wife Millie raised their family of seven daughters and two sons. He went on to serve in the New York Air National Guard, retiring with the rank of lieutenant colonel, and enjoyed a long career with General Electric. Dart passed away at age 91 in February 2012. (Want to learn more about Clarence W. Dart? Here is a video, courtesy of the New York State Military Museum.)
Earlier this month, I had the pleasure of speaking with Clarence's son, Warren Dart, and he answered the following questions about his legendary father:
Tell us about your family's history in Saratoga Springs.
My mother, Millie (Jackson) Dart, and her brother and sisters were born in Saratoga Springs, NY. They also attended school here in Saratoga Springs. My father moved here around 1949 when he started work for GE in Schenectady. My sisters, brother, and I were born, raised and attended school in Saratoga Springs. My parents had six daughters and two sons. One son, Clarence, Jr., passed away in 1977 at the age of 15.
What WWII awards/medals did your father receive?
Two Purple Hearts - Clarence was shot down twice.
Distinguished Flying Cross
Four Distinguished Service Crosses
Air Medal with a Fur Oak Leaf Cluster
NY State Conspicuous Medal
Congressional Gold Medal
Inducted into the NYS Senate Veterans Hall of Fame
What was your father most proud of?
The answer to that question is simple. I know that he would say that he is most proud that all of his children attended college.
The movie, Red Tails, was inspired by the Tuskegee Airman. What did your father think of the movie?
My dad thought the movie was okay, but he wished that more of the history was told.
Where did the title of the movie come from?
The title came from the tails of their P-51's being painted red. The different pursuit squadrons of the Army Air Corps had different tail markings to make them easily identifiable to our bombers and allied forces. My dad and the Tuskegee Airmen earned a reputation for being excellent escorts, staying with the bombers and keeping the enemy fighters at bay throughout the whole mission.
Why is your dad's story important to share?
I think that the answer to this question lies in the first sentence of the second paragraph of the Declaration of Independence. It says, "We hold these truths to be self-evident, that all men are created equal, that they are endowed by their Creator with certain unalienable Rights, that among these are life, liberty and the pursuit of happiness." For most of these men, the United States was the only country they knew. They wanted to show this country they were worthy. 
Where in Congress Park can we find the bench that was placed in your father's honor?
MLK Saratoga helped fund a memorial bench in my dad's honor, which is located near the War Memorial Pavilion in Congress Park.
Warren Dart is available for public speaking engagements. He can be reached at dartbball@nycap.rr.com.