This year, Discover Saratoga launched the voluntourism initiative, which ties volunteering and tourism together. The program supports charitable organizations in the county and provides help and security to our residents. During the first quarter of our voluntourism program, we teamed up with Code Blue by sending groups of active volunteers to their facility and aggregated donations from our partners and members.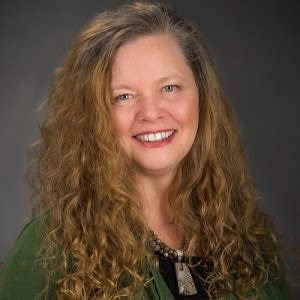 This time we're excited to support Wellspring, an organization fighting to end relationship and sexual abuse in our community in addition to providing services to help survivors. The organization is the official domestic violence agency for Saratoga County and sexual abuse agency for Saratoga and Washington Counties. We believe advocating for healthy relationships and supporting facilities like Wellspring helps make Saratoga County a great and safe place for everyone. During the second quarter of the program, we will work with hotel properties and members to aggregate donations in addition to hosting an event with our partners to assemble baskets for clients going into new homes after relationship abuse.
We sat down with Wellspring Executive Director Maggie Fronk to help spread awareness on what domestic violence and abuse looks like, how it impacts our community and ways we can support their mission.
Q: What is Wellspring and what kind of services does it provide Saratoga County?
A: Wellspring is the domestic violence and sexual assault services resource for Saratoga County residents and the sexual assault services resource for Washington County residents. Wellspring's mission is to support survivors and engage our community to end relationship and sexual abuse. Our vision is a community free of relationship and sexual abuse.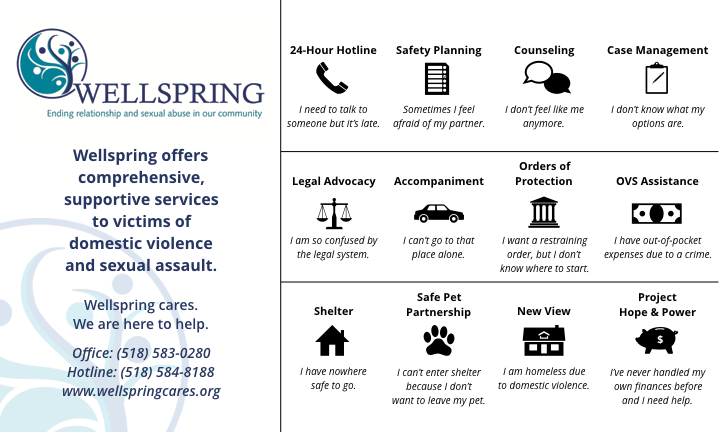 Our services include a 24-hour hotline, safety planning, counseling, legal assistance, shelter for people or pets, housing and so much more. You can find a detailed list of the services on Wellspring's website.
Q: How does domestic violence and sexual assault impact the community?
A: Domestic violence is a primary cause of family homelessness in Saratoga County. In leaving an abusive relationship, the victim often struggles to provide for basic needs for themselves and the children. In Saratoga County we fall below state and national norms for most poverty indicators—with one exception. The poverty level for single parent female head-of-household exceeds both NYS and national levels. This is a demographic that Wellspring often works with as we help women to leave abusive relationships.
Additionally, homelessness creates a vulnerability that abusers can exploit. So, someone who is experiencing housing or food instability, underemployment or other impediments to self-sufficiency, may be at increased risk of an abuser leveraging that vulnerability to perpetrate abuse.
Q: What are some of the signs of domestic violence/sexual abuse and how can we help the survivors in our lives?
A: There a many different complex signs to consider. In a potential situation of domestic abusive, ask yourself these questions.
Does your partner:
make you feel afraid much of the time?
act excessively jealous & possessive?
control where you go and what you do?
keep you from seeing your friends and/or family?
threaten to commit suicide if you leave?
threaten to take your children away?
limit your access to money or things such as the phone or the car?
In situations of sexual abuse, consider the following.
Have you ever:
been forced or manipulated into unwanted sexual contact, and been told to keep it secret?
been pressured for sex by a dating partner, or pressured for sex you're not ready for?
found signs you may have been sexually assaulted, but can't remember what happened?
told someone you were sexually assaulted, but were not believed or supported?
If this sounds like you or someone you know, call us at 518-584-8188. We are here to help.
If you are concerned about a family member or friend, it's helpful to educate yourself about domestic violence before starting the conversation.
Q: How can we support Wellspring?
A: We often think of volunteering as a thing we go to do to help and organization or social cause. Wellspring asks us to consider redefining volunteerism as a way to be. Wellspring has many programs that help community members have a more in-depth understanding of relationship and sexual abuse, be aware of resources and direct someone who may have experienced these issues. These programs aim to help create change and address the social norms that underlie abuse and allow it to proliferate.
We have a program called 'Upstanding Hospitality' that helps staff of restaurants, bars, and hotels be better aware of and responsive to these issues.  We have initiatives for parents, educators, medical personnel that increases awareness and skills, as well as programs for the general community. As you're considering your next volunteer project, consider a different model of volunteering and give us a call.
RELATED ARTCLES:
Giving back: How Discover Saratoga is bringing voluntourism to meetings
Discover Saratoga's voluntourism program kicks off at Code Blue
Want to join us in supporting Wellspring?
Voluntourism is among the many reasons meetings mean more in Saratoga Springs, NY. Reach out to Chloejean Tedford, director of convention services, to learn more about the program and get involved.
Resources
If you or a loved one is affected by sexual abuse or assault and need help, call Wellspring at 518-584-8188.