We're eager to welcome back Saratoga Shakespeare Company for their eighteenth summer season of outdoor theater in Congress Park! The 2018 Season of Transformation is composed of two summer productions: Shakespeare's As You Like it directed by Elizabeth Carlson-Guerin, and Shakespeare's Henry IV parts 1&2 (combined), directed by David Girard.
All performances will be held in Congress Park on the Alfred Z. Soloman Stage starting at 6:00 pm. Oh, and did I mention that it's FREE? Yes, that's right-- it's free so gather up family and friends, bring a picnic, and enjoy a night of entertainment in beautiful Congress Park. 
Shakespeare's As You Like It
Performances from July 17-28 at 6pm (no shows on Sunday or Monday)
Saratoga Shakespeare Company kicks off these performances on Tuesday July 17th with As You Like It, a romantic comedy, featuring the brilliant Rosalind and the gloomy Jacques. The Company is ecstatic to welcome back director Liz Carlson- Guerin who directed last year's The Winter's Tale. The Company will also be welcoming back many of their previous cast members but will also be welcoming new members like Folger Theatre's Louis Butelli (Jacques), Oliver Wadsworth  (Adam/ Corin), and Savannah Jackson (Celia).
Shakespeare's Henry IV parts 1 & 2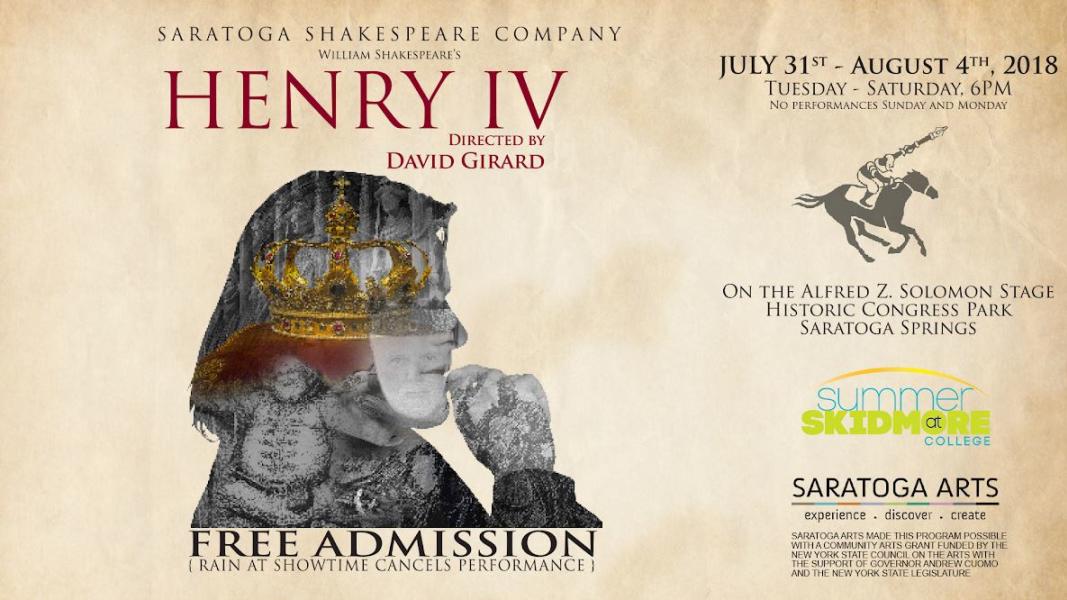 Performances  from July 31 to August 4 at 6pm
Saratoga Shakespeare Company continues their outdoor summer performance with Henry IV parts 1 &2 which opens on Tuesday July 31st and runs until August 4th.  Henry IV will be directed by the Company's Associate Artistic Director, David Girard, who has previously directed Romeo & Juliet in 2016. This performance will include many returning and new cast members like Broadway's Kevin McGuire (Henry IV) and Ed Swidey (Falstaff/ Westmerland).  Interested in seeing a little sneak peek of the play? Stop by the Saratoga Springs Public Library on Monday July 23rd from 7:00 - 8:30 pm to get an introduction to the play!
Shakespeare in the Pines
As an added attraction Saratoga Shakespeare, Saratoga Performing Arts Center (SPAC) and Saratoga ArtsFest will present Shakespeare in the Pines on the SPAC grounds, Friday July 20th. Saratoga ArtFest kicks off this event at 12:30 pm with Shall I Compare Thee to a Midsummer's Dream, which captivates and grabs the attention of both children and adults. Then at 2:00 pm, Saratoga Shakespeare's Louis Butelli will direct a one-hour musical adaptation of Romeo and Juliet to finish off the lovely afternoon.
After watching these awesome performances, don't forget to stroll through Congress Park and sip on some spring water, walk through downtown and grab a bite to eat, or sip glass of wine on Broadway!
Written by Discover Saratoga Intern, Danielle Gormley
Love Saratoga as much as we do?
Sign up for our Discover Saratoga newsletter for all latest events and things to do in Saratoga, NY.