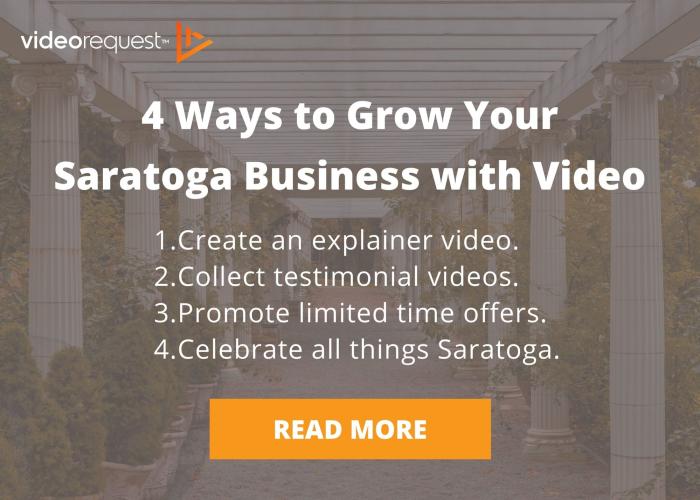 As a long-time member of the Saratoga Springs community, I know just how special of a place Saratoga is, and how Saratoga is made even more special by its businesses. From local restaurants, to specialty shops, and area-specific non-profits, the businesses in town each bring something unique and personal to the Spa City.
As your local business continues to grow, we've found that video content is essential for showcasing happy customers, capturing local events, and marketing your business. Videos are memorable, engaging, and they are a form of content that people enjoy watching. Read on for four ways that Saratoga businesses can incorporate video to grow their businesses.
1. Create an Explainer Video.
There's no better way to explain your unique organization than through video. An explainer video can help you summarize your organization's purpose in an easily digestible way. Explainer videos are typically under 2 minutes long and explain the value your organization provides to your customers. Showcase this video on your website's home page or link to it in your social media bios so new customers can easily learn about your business.
2. Collect Testimonial Videos.
Customers trust other customers. How often have you checked reviews before placing an online order? Highlight testimonial videos from your customers on social media, your website, or even in your storefront. You can easily collect video testimonials from customers on the spot by inviting them to scan a QR code to record a short video right in your store.
Your employees are also great advocates for your company. Include testimonial videos from your staff on your website or job posting sites so people looking for employment can easily find them. Learning from your employees about all the benefits your company offers is a great way to find temporary summer help or full-time staff.
3. Share Limited Time Offers or Special Deals.
Does your organization offer any specialty summer products or track season discounts? Explaining your deals in a short video to display on your website or social media can help more people learn about your offering and get excited for your summer deal or product.
4. Celebrate All Things Saratoga.
Will your company be at the track, Hats Off, the Saratoga Farmers' Market, or other local events this summer? Let your customers know you'll be there in a short video to post ahead of time or at the event. Be sure to record videos at the event of your company booth or pop-up for future event promotion.
Continue to grow your Saratoga business with video. Check out VideoRequest by Insightpath, an all-in-one platform where you can collect, create, edit, and share videos. Join our weekly Demo Day each Monday at 12pm EST for a quick product overview or get started with a free 14-day trial today.
About the author:
Terry Nawrot is the co-Founder and CEO of Insightpath, a video marketing platform (www.insightpath.io). Collect video testimonials from customers, onboard new employees with a video training gallery or send video emails to prospects to enhance your sales process. Collect, create, edit and share more videos with our all-in-one video tool.