What better way to celebrate all moms this year than with a thoughtful Saratoga-themed gift? Some of the happiest memories as my children were growing up revolve around handmade Mother's Day cards, simple gifts made in elementary school, and special adventures together.  
Whether it is an outdoor excursion, a nice meal, a meaningful memento or an eye-popping new outfit, Saratoga offers a variety of ways to show your mother how very special she is! There's no way we could ever pay our moms back for all they have done and continue to do, but we sure can try!
Activities in Saratoga to enjoy with mom
Take your mom on an adventure—trust me she will appreciate spending the time with you.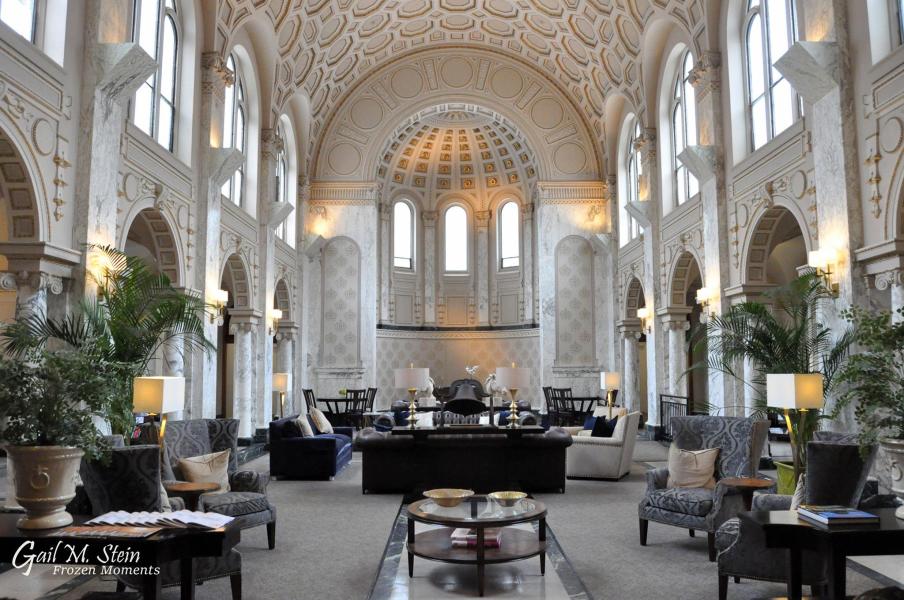 On the Saturday of Mother's Day weekend, Saratoga Springs Preservation Foundation is hosting their annual Historic Homes Tour to celebrate Saratoga's rich architectural heritage. This year's tour will feature beautiful homes of the East Side neighborhood of Saratoga Springs.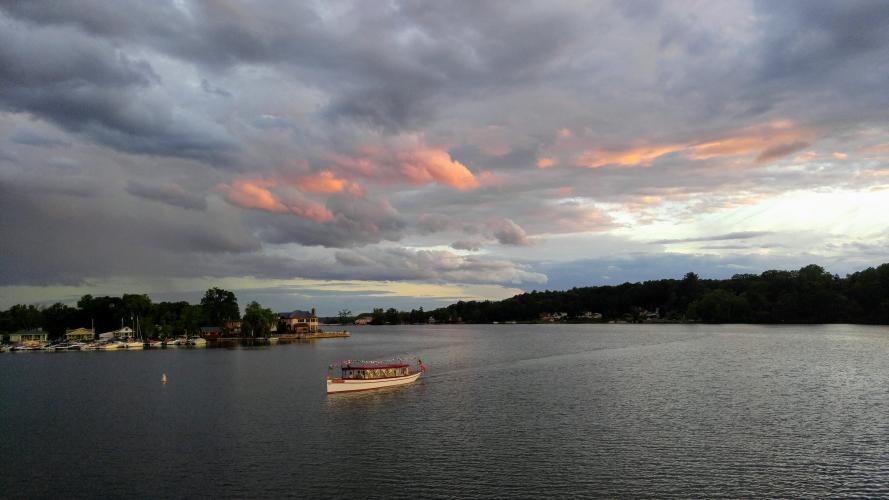 Adirondack Cruise & Charter will offer an open house aboard the General Schuyler with a tea party by Celtic Crumbs. Guests may also purchase tickets to view the regatta races. Gift certificates for cruises are perfect Mother's Day gifts and are available online at adkcruise.com!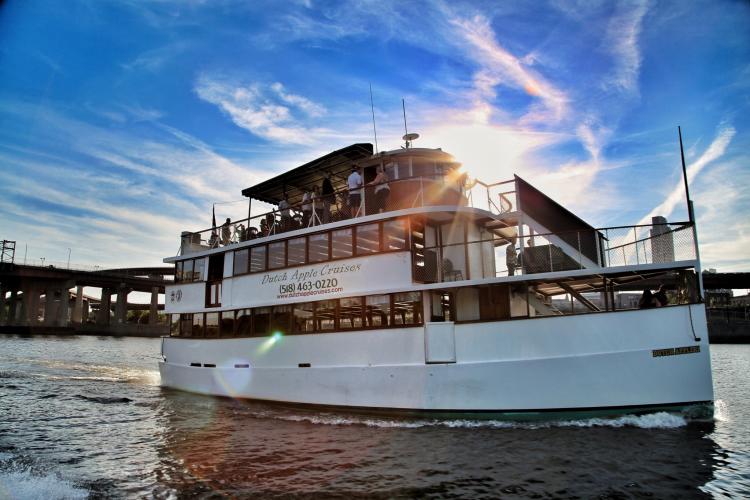 Join Dutch Apple Cruises for either a Mother's Day Brunch Cruise (11:30am-1:30pm) or Mother's Day Sightseeing Cruise (2:30pm-4:00pm) and enjoy the beautiful Hudson River. Purchase tickets on their website.
Mom can golf for FREE on Mother's Day if she plays with a family member and tees off before 3pm at Airway Meadows Golf Club. Play 9 holes or 18 holes and enjoy some fun family time! Call 518-792-4144 for a tee time.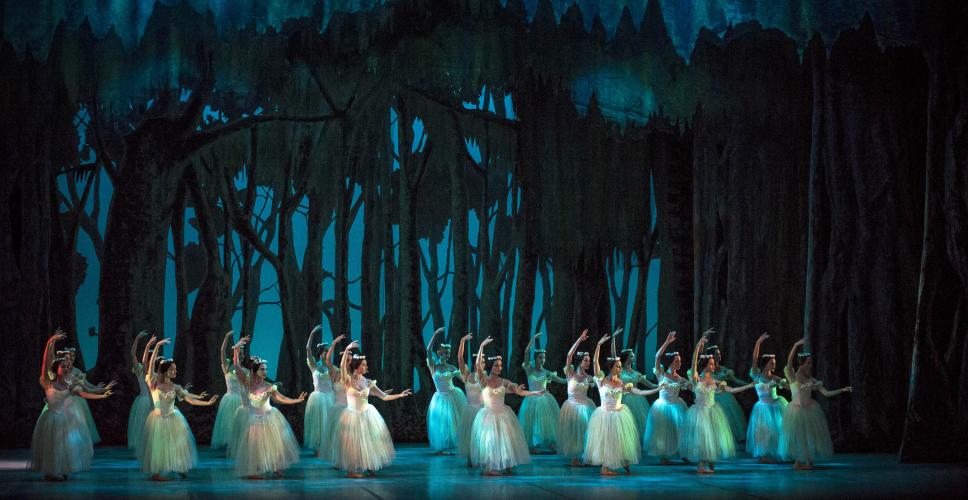 Treat the amazing moms in your life to the gift of the "SPAC Experience!" New customers can receive buy-one-get-one-free tickets for performances of the National Ballet of Cuba, the New York City Ballet, & the Philadelphia Orchestra with coupon code MOM2018. Visit their website for details.
On June 6, 7 & 8, National Ballet of Cuba -- known for its exuberant and uniquely Cuban flair -- will perform at Saratoga Performing Arts Center. Perfect for every superwoman on your list! Tickets start at just $18 for the lawn and $33 for the amphitheater.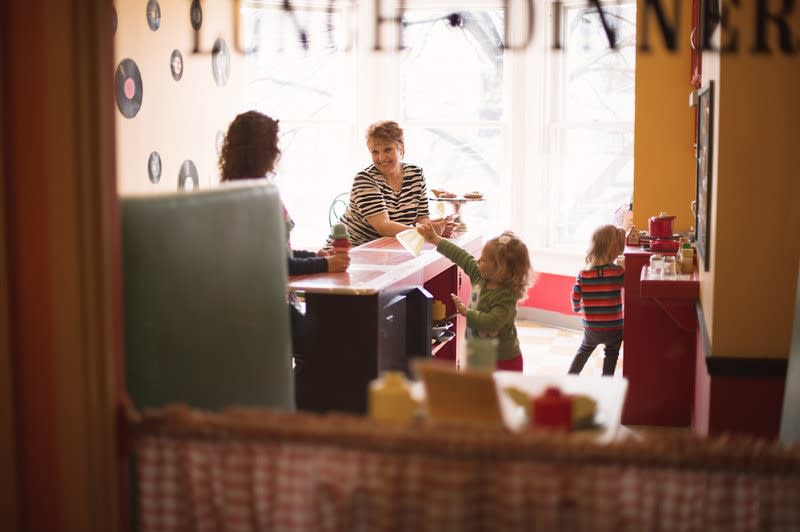 There is nothing more rewarding to Mom than seeing her child(ren) explore and discover all the wonders of this world! There is also no doubt that mothers are the busiest people on Earth and, at The Children's Museum of Saratoga, they value their mommy visitors. Free admission into the museum for all moms on Mother's Day, where they can relax while their little ones learn as they play.
Also available will be a mother-child arts and craft activity where little learners and their mothers can let their imaginations run wild as they create collective artwork and fun memories. Visit their website for more information!
Where to get Mother's Day brunch
While nothing in the world can replace those special Mother's Day breakfasts in bed lovingly prepared by small hands, and precariously carried on wobbly trays by well-intentioned children (i.e. burnt toast, cold cereal, cut up bananas and juice), there's always room for a nice brunch where mom can be spoiled with a variety of sumptuous foods.
Create memories and traditions by taking her out to a special brunch on her very special day! There is certainly no shortage of options in Saratoga, with something for everyone.
Diamond Club Grill: Mother's Day lunch buffet from 11:30am-3:30pm with live chef action stations AND a bottomless Bloody Mary and mimosa bar!  $55++/per person. Make your reservation >>
Fish at 30 Lake: brunch details TBD
Prime at Saratoga National: from 10am-3pm. $68++ for adults, $28++ for kids, and children 5 and under free. An a la carte Prime menu is available from 5pm to close.
Hall of Springs: brunch to be served from 10am-2pm, offering something for everyone. $52+tax for adults and $23 for children 5-12. Under 5 are free.
The Gideon Putnam: Mother's Day brunch is a special tradition for generations of guests, and this year will be extra special as they are reopening on May 1 after an extensive remodel! Serving from 11am–4pm, with prices at $49.95 for adults, $24.95 for children (age 12 and under). See menu >>
Here's the really cool part: every Mother who attends will receive a coupon good for 10% off at Roosevelt Baths & Spa services Monday-Thursday, and be entered to win a complete spa day at Roosevelt Baths & Spa.
Holiday Inn: enjoy brunch in the main ballroom from 10am–2pm. Prices $26.95 for adults, $23.95 for seniors (60+), children (ages 6-12) $12.95, and children under 5 free. See menu >>
Jacob & Anthony's American Grille: is featuring a special Mother's Day brunch menu, as well as dinner specials. They are currently taking reservations here.
Morton's Steakhouse: enjoy a steak and lobster special for $59. Reservations are highly recommended. Call 518-682-5999.
Fortunes: get a prime rib brunch from 10am–3pm for $28.95/person. Call 518-581-5790 for reservations.
Sweet Mimi's Café: treat Mom with a delectable brunch served from 8am-2pm.
Pro tip: Mother's Day is a great time for a Sweet Mimi's gift card paired with her favorite freshly ground coffee and granola, packaged in a gift bag!
Pamper mom with these gift ideas
Maybe you're thinking you'd like to completely spoil your mom with something a little different. Well, we've got you covered with some great ideas!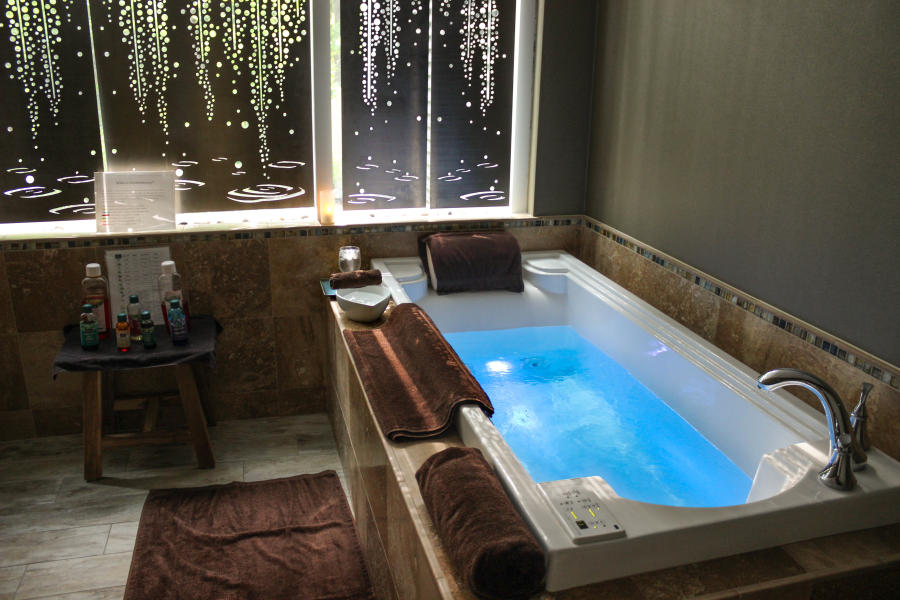 If you're really hoping to get mom relaxed and happy, here's a great deal from Tech Valley Hospitality Shuttle – a wonderful spa and wine event! She'll get to enjoy three great wineries and a spa with no worries about driving! Call 518-203-8748 for more info and reservations.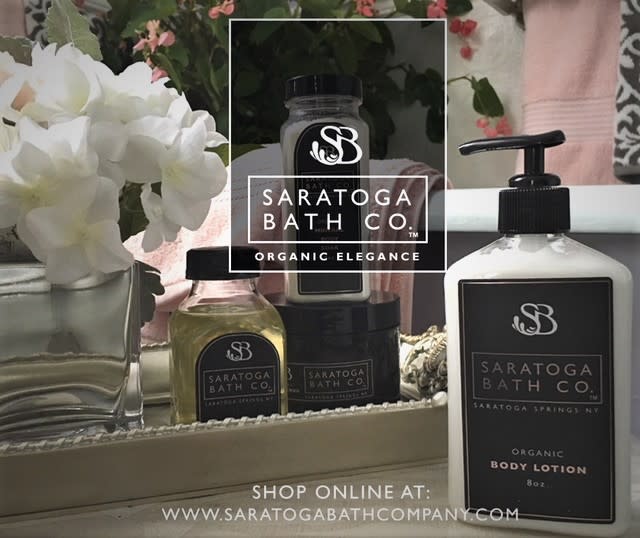 At Saratoga Bath Company, you'll find luxurious and heavenly body lotions, washes and bath bubbles. Help mom find the perfect way to rejuvenate herself with special gifts and sets that you've picked out just for her! Gifts are available online and at FINDS Boutique on 454 Broadway.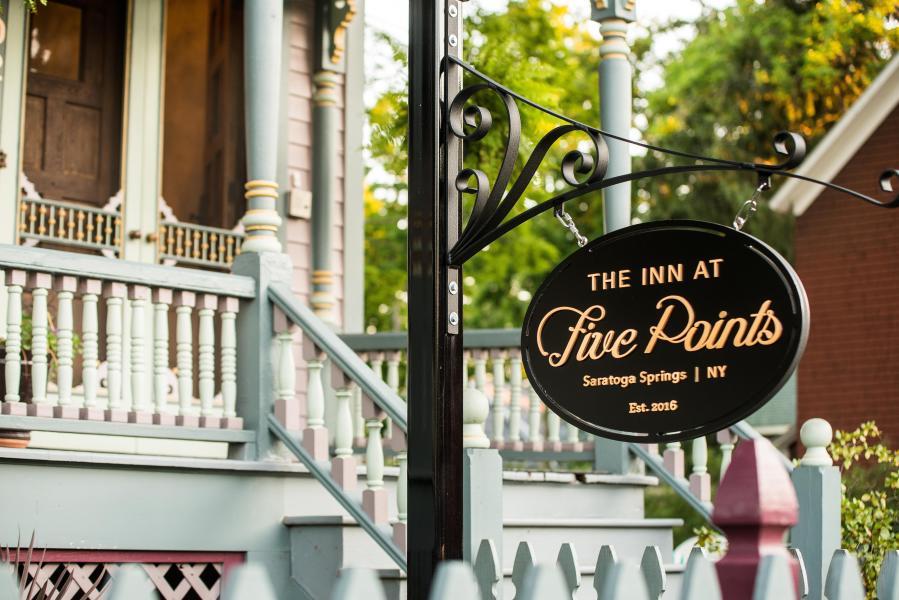 Let The Inn at Five Points be your home away from home as you experience all that Saratoga Springs has to offer.  Walk to Broadway and visit unique boutique shops, incredible dining possibilities, or pamper Mom with a revitalizing spa day.  When you return, relax in one of their cozy living rooms as they present you with a complimentary Mother's Day cake for two!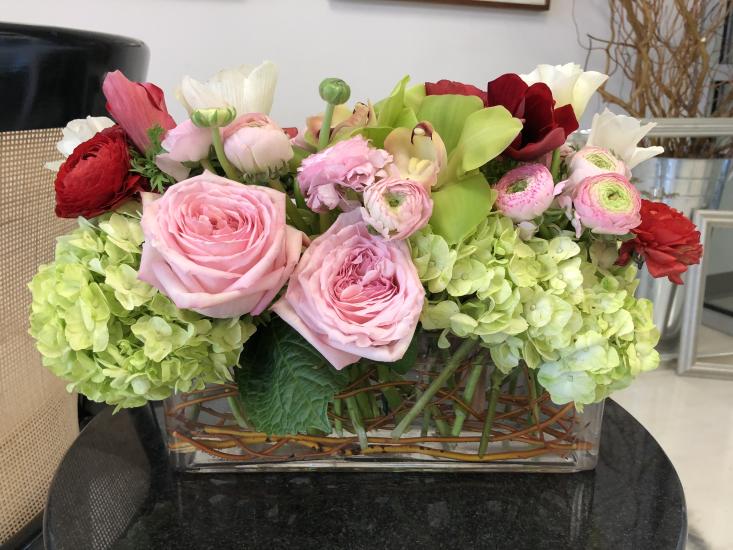 Does your mom love fresh cut flowers? How about scented candles? Simply Sidney is offering a 15% discount on all Mother's Day floral arrangements when customers call or come into the store and mention that they saw this blog post!
They're also offering the same discount on their signature selection of candles that come in 5 unique fragrances!  For customers who purchase a floral arrangement with a minimum value of $50 and a candle, a $40 value, in addition to the 15% discount, the delivery fee will be waived!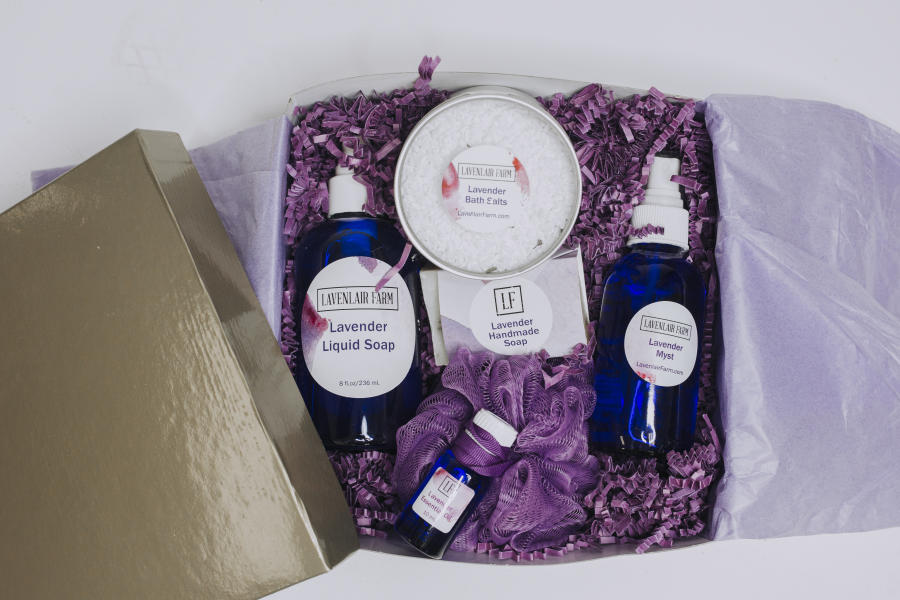 The beautiful Lavenlair Farm is offering a deluxe lavender set, which includes a 10ml bottle of their essential oil, bar of handmade soap, bottles of both their lavender myst spray and liquid soap, a lust purple bath proof and bath salts. Find it at the Spa City Farmer's Market or get it on their online shop.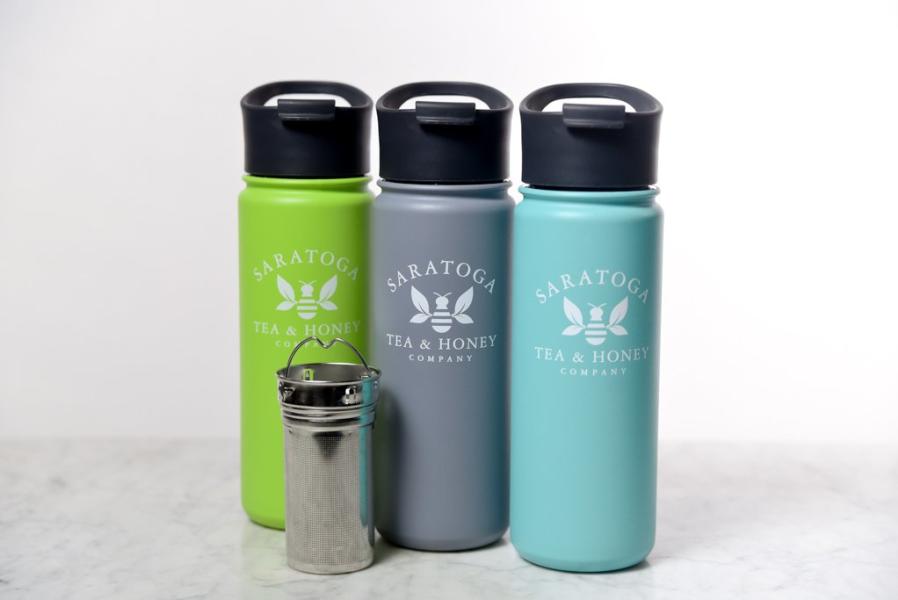 Tea lovers rejoice! Saratoga Tea & Honey has got you covered with the best way to brew, drink and carry tea on the go. This tumbler includes a tea infuser basket and a flip open cap for drinking. Their tumblers keep iced tea cool for 20 hours and hot tea warm for 10 hours. With the purchase of a tea tumbler, become a part of their local 'club' for lifetime discounts of teas to-go at the bar!  Save as much as $1- $2 off your tea, latté, kombucha or matcha.
Pro tip: try their most popular infused flavor—Mango Honey with sweet Californian sage honey married with light mango essential oil!
Saratoga-inspired gifts
Does your mom love Saratoga as much as we do? Pick through a variety of Saratoga-themed gifts sure to thrill that special Saratoga-loving mom in your life!
 We're pretty obsessed with anything TOGA HERITAGE creates—whether it's Saratoga-inspired scarves, mugs and glasses or apparel for your pup! Moms will absolutely love their TH Signature Candle line, which is perfect for a cozy home.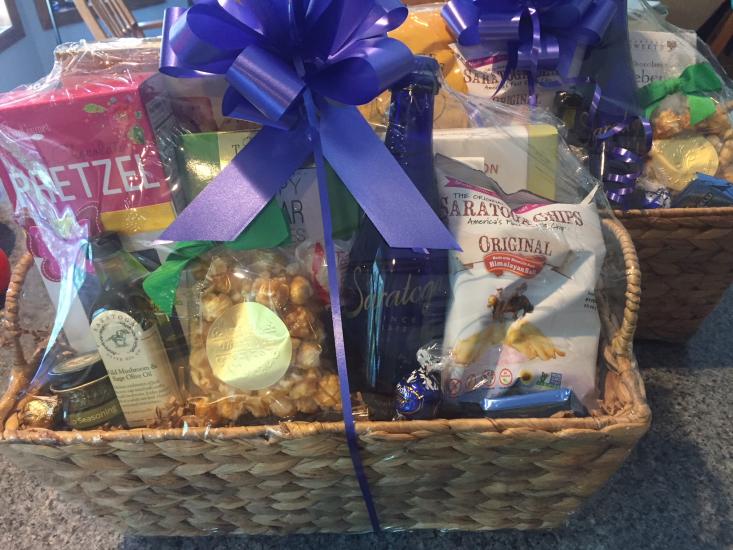 OK, seriously, what mom WOULDN'T love a basket filled to the brim with Saratoga goodies? On The Go Concierge & Events is featuring a Mother's Day tin filled with a variety of gourmet chocolates, assorted cookies, teas, honey, crackers, a chocolate rose and more!  Or choose their Taste of Saratoga food basket which comes with an array of local Saratoga products including quality chocolate, crackers, Saratoga chips, pretzels, Saratoga Spring Water, olive oil, honey, spices, and more!  Each gift is made to order, shrink wrapped and topped with a bow.  Prices range from $75 and up.  Inventory based on availability and is subject to change. Call (518) 441-2456 or go to their website to place an order!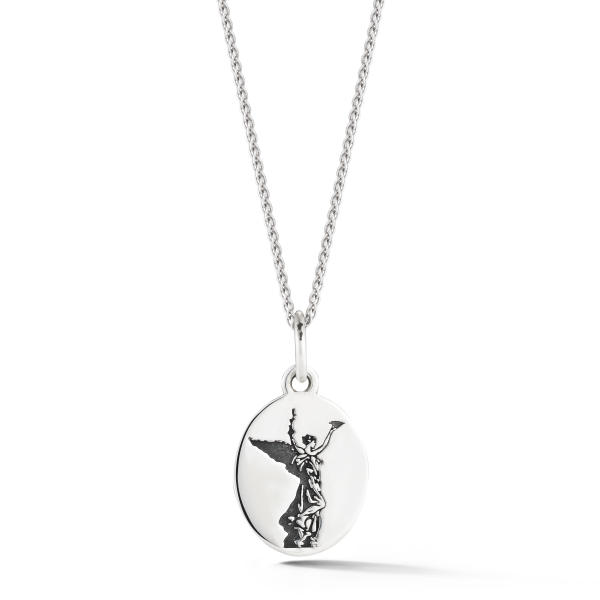 And don't think for one second that we have forgotten jewelry! We can't think of any mom who wouldn't love a beautiful pendant, bracelet or earrings. Happily, deJonghe Original Jewelry is offering 10% off any Saratoga Collection jewelry the week leading up to Mother's Day. They also offer FREE jewelry cleaning/checks anytime but encourage moms to come in the week before!
Capture the whole family
There is a quote that reads, "The family is one of nature's masterpieces." A beautiful family portrait is indeed a masterpiece that mothers throughout time have cherished. This is the best way to save those precious Mother's Day memories and let her know how much her family loves and appreciates her!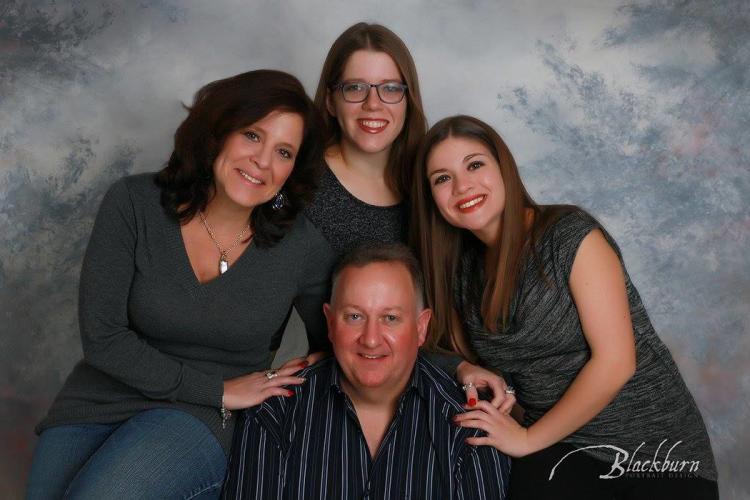 Photographer Susan Blackburn Portrait Design offers gift certificates for children and family portraits. Contact her to learn more!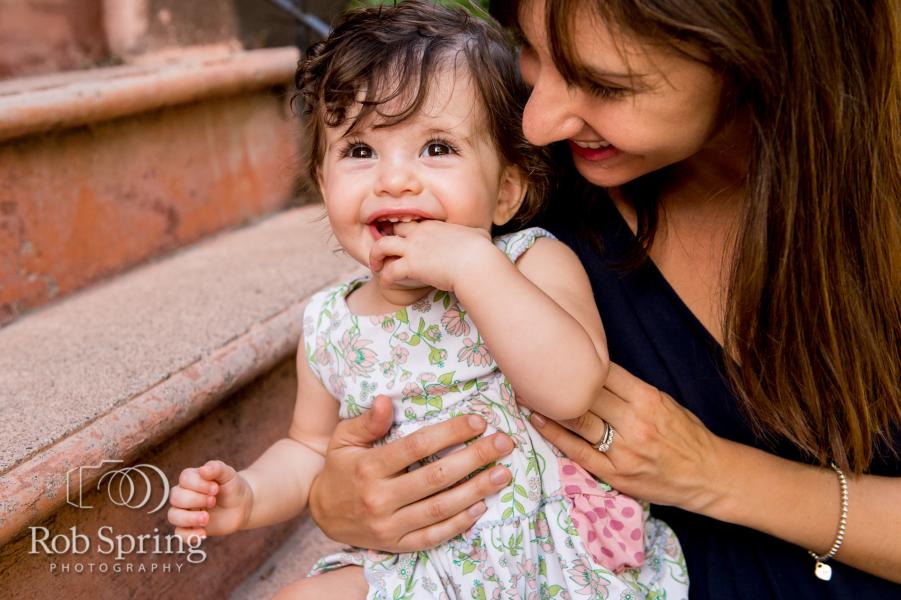 Rob Spring Photography is offering Mother's Day Portrait Sessions! They're 45 minutes in length, include an online gallery and USB, and a 5x5 album of your favorite photos. Sessions may be scheduled on a date of your choosing. For further information, contact them at  info@robspringphotography.com.
Have fun shopping for mom. With a little bit of thought and a lot of love, you can rest assured that she will know how much she is loved and appreciated!
Want to see more articles like this? Sign up for our Discover Saratoga newsletter! We promise we won't spam you.
Related Articles:
Here's Why I Love Saratoga Chowderfest