Hattie's Restaurant, located on Phila Street in downtown Saratoga Springs, is as much a local icon as the Saratoga Race Course or the Adelphi Hotel. Known far and wide for their famous fried chicken and delectable Southern cooking, the history of Hattie's goes back a long way, and centers on the African-American woman who was its founder, Hattie Moseley Austin.  
Born Hattie Gray in Saint Francisville, Louisiana, in approximately 1900, and named after the wife of a local rabbi who helped Hattie's father raise her (her mother having died during childbirth), Hattie moved to New Orleans to attend school, and later moved to Chicago. While in Chicago, she worked as a cook for A.E. Staley, who was the founder of "The Starch King," an area corn processing company. Hattie traveled with the Staleys between their homes in Chicago, Miami, and Saratoga Springs. She went back and forth with them for many years and, in 1938, decided to permanently settle in Saratoga where she opened Hattie's Chicken Shack on Federal Street, a racially mixed neighborhood, with a total investment of $33.00. In 1984, she was quoted as saying, "I didn't have but $33. I bought a stove, an icebox, table, and chairs. It was very shoestring. It still is shoestring." Hattie was known for her specialty, a simple fried chicken recipe, but the menu eventually expanded to include more New Orleans cooking such as BBQ, shrimp and scallops.
At this time, Saratoga Springs was a vibrant town with an active night life. Gambling, speakeasies and jazz clubs were abundant, with much of it centered around the Federal Street area. At one point, Hattie commented on this time, saying, "Saratoga was fast man; it was real fast. It was up all night long." Hattie's was open 24 hours a day in the summers and became a gathering place for the homeless and hungry, as well as for prominent Saratoga citizens and the wealthy tourists who visited the track during racing season.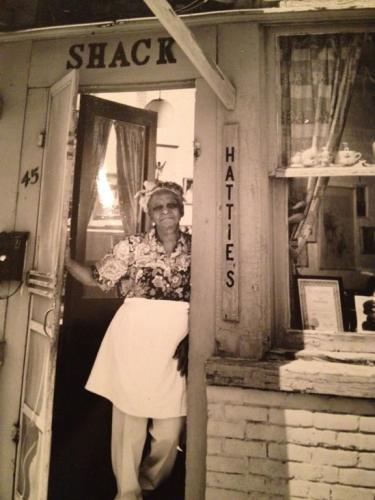 Photo Credit Michael Noonan
It wasn't just serving good food that made Hattie's Chicken Shack so well loved. It was what Hattie did for the community that truly set her apart. Hattie and her husband Bill helped countless people — giving them work when no one else would, helping them through school or difficult times, or simply just sitting them down and feeding them. Hattie's generosity had no boundaries. She treated everyone the same, from the elite to the downtrodden, and she welcomed everyone.
21 years ago Jasper and Beth Alexander bought Hattie's and committed themselves to continuing the traditions established by their matriarch.  They care deeply about the restaurant and its place as a cherished community institution, and  are blessed with a staff that truly cares and together carry on the tradition of great food, ambience and wonderful hospitality to ensure the legend of Hattie's continues to thrive.
In 2021 Jasper and Beth partnered with Ed and Lisa Mitzen and the Business for Good Foundation.  Now Miss Hattie's dream of helping others has truly come alive as all of the profits from Hattie's and Hattie's Chicken Shack go to local charities. Diners at Hattie's can now not only enjoy a wonderful meal, but can additionally feel good in the knowledge that the money they are spending on dinner is going to help someone in need. It feels good to do good!
Business for Good and Hattie's ,Giving back to move forward.
#4GOODNOTGAIN
Click here to read about The Story of Solomon Northrop and "Twelve Years a Slave"