Thousands of people travel to Saratoga Springs, NY every summer to experience the thundering thoroughbreds at the Saratoga Race Course, national live performances at Saratoga Performing Arts Center, boutique shopping on Broadway and more. However, many visitors don't realize just how much Saratoga offers in addition to these popular attractions.
Whether you plan on visiting Saratoga Springs for a day, a weekend or longer, incorporating these guided tours into your stay will allow you to experience Saratoga's history and culture like no other.
Foodie tours in Saratoga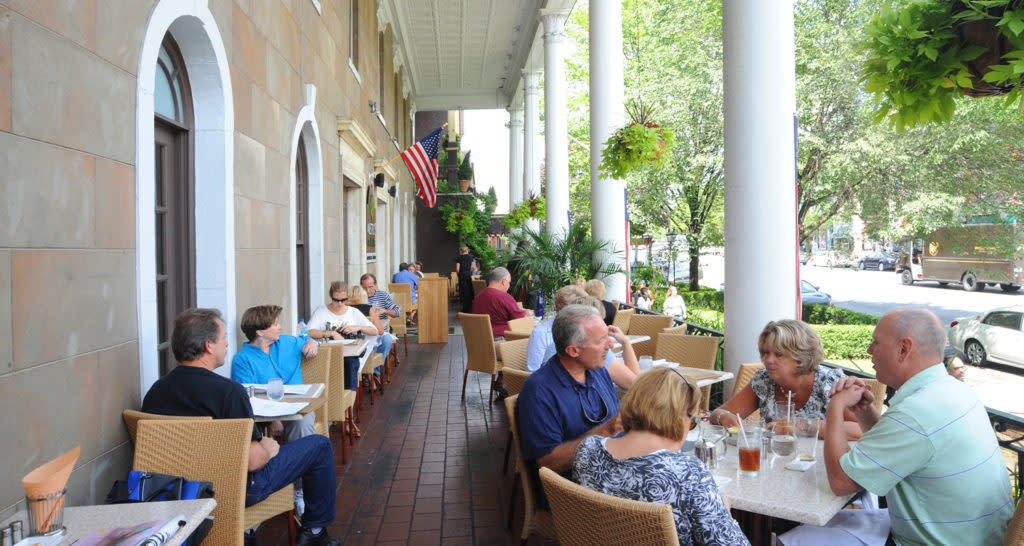 With over 100 popular restaurants, bakeries and pubs, it's nearly impossible to taste all of Saratoga's hidden goodies in just one trip. Saratoga Springs Food Tours is the perfect way for foodies to truly savor Saratoga. The 2.5-hour tour gives guests a chance to try a blend of local food while integrating some of the city's rich history.
If you have interest in trying specific kinds of food or incorporating local craft beverages, Saratoga Sightseeing Tours can design a customized tour for you. Check out number 3 for more brewery, winery and distillery tours!
Saratoga history tours
If you're more of a history buff then these are the tours for you. Discover the history of Saratoga Springs in style by taking Upstate Transit of Saratoga's guided trolley tours. This 2-hour excursion includes a view of historic sites along Broadway, Skidmore campus, the High Rock area, the Saratoga Casino, Saratoga Race Course, Union Ave and more. Tours occur twice each Tuesday through August 29.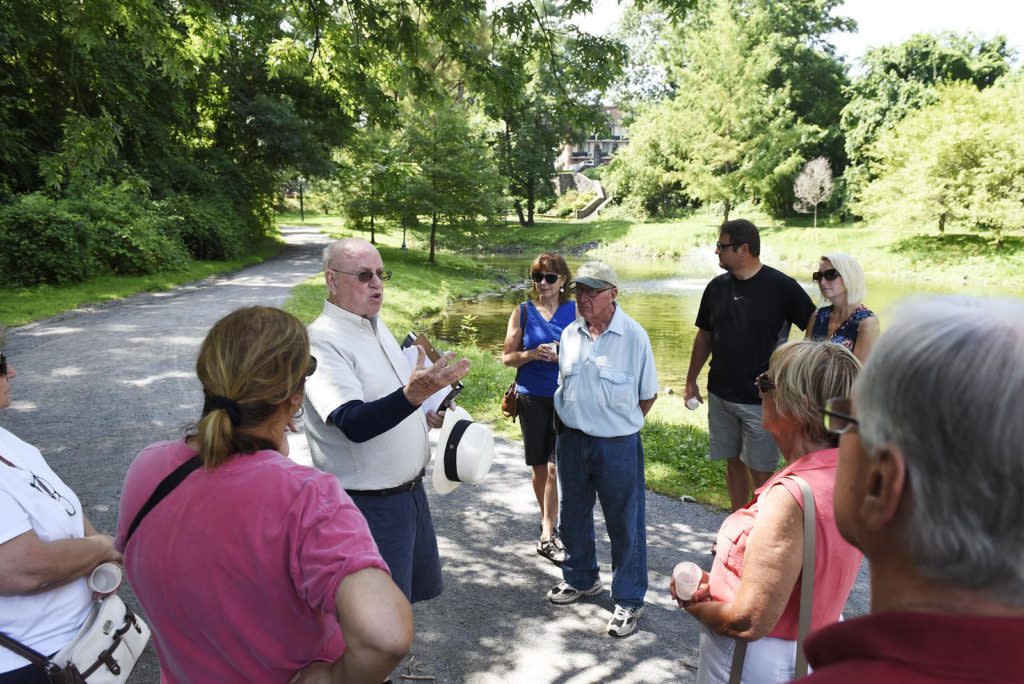 Instead of riding around the city, put on your walking shoes and take a casual stroll through town. Celebrating Saratoga's Victorian Era, "History, Legends, Lore, and More" is a 90-minute guided tour through Congress Park. It covers beloved monuments, artwork, historical facts and personal stories from a native Saratoga tour guide.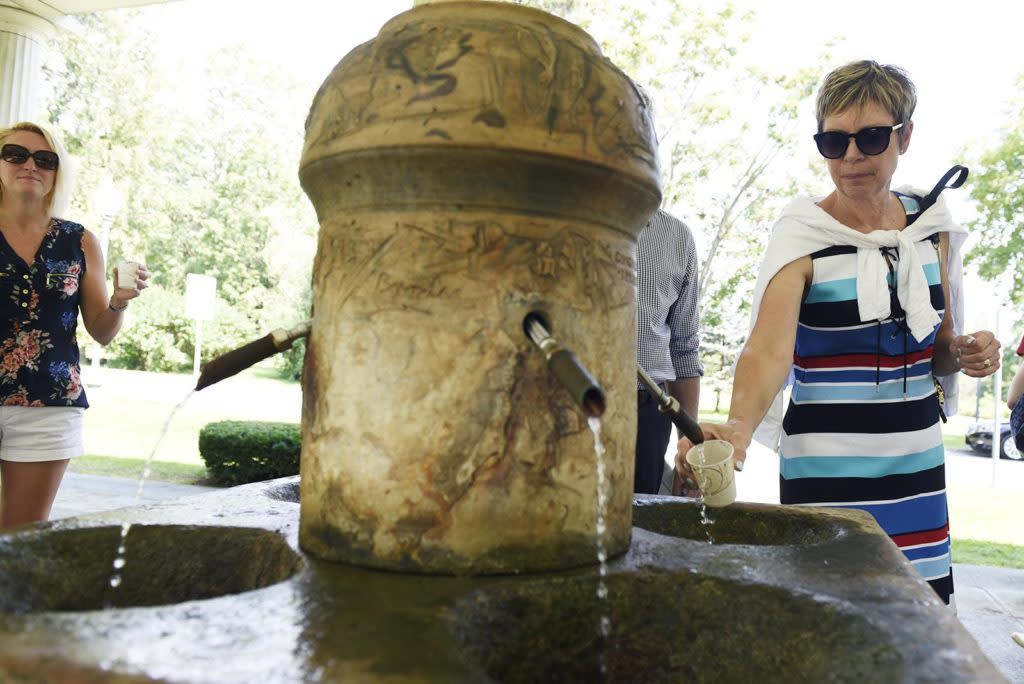 Another walking tour, Discover Historic Broadway, is an exclusive tour guided by two comical Saratogians. This tour immerses guests into the rich history of the city. The tour finishes with a famous mineral water toast in the historic Congress Park.
Derby Tours of Saratoga also offers a variety of walking or step on bus tours for history lovers—all while in costume! For walking strolls of specific Saratoga neighborhoods, check out Saratoga Springs Preservation Foundation's Sunday Summer Strolls that continue through early September.
Explore Saratoga parks and nature
It's easy to find was to be active and explore the outdoors in Saratoga with attractions like Saratoga Lake, a variety of parks and more. Yaddo, which is known for being a retreat for artists, includes a stunning rose garden with Italian and French Renaissance influences. Docent-led garden tours are offered on Saturdays and Sundays from mid-June through Labor Day. Additional tours are available on Tuesdays during track season.
The Office of Parks, Recreation and Historic Preservation and its docents also gives tours that cover general history of the Saratoga Spa State Park and the mineral waters, which is known for their medicinal purposes. Tours include history of the Hall of Springs, Roosevelt Spa area, and Saratoga Performing Arts Center (SPAC) as well.
If you're craving a lake day, but don't want to rent a boat—look no further than Adirondack Cruise & Charter Co. These cruises allow you to sit back, relax and enjoy Saratoga Lake in style. The company offers public cruises in addition to customizable private cruises to fit the needs of your group. We recommend the Saratoga Lake sunset cruise!
Craft beverage trail
Looking for the perfect date idea or friend outing? Try these Saratoga craft beverage tours to complete your ultimate getaway. Saratoga Sip N' Sail tour includes a wine tasting at the Saratoga Winery. Shortly after guests hop on the Hoppy Trails Brew Bus and head to Saratoga Lake for a 45-minute cruise with the Adirondack Cruise & Charter Co.
If you're looking to try more wineries throughout the Capital-Saratoga region, give the Upper Hudson Valley Wine Trail a shot. Their new wine trail passport allows you 1 free tasting at each winery at your leisure.
Many of our breweries, wineries and distilleries offer a behind-the-scenes look at their facilities. At Olde Saratoga Brewing Company's local brewery tour, you'll learn how craft-brewed lagers and ales are made, and get the chance to taste some too! Upstate Distilling Co. also invites guests to come by and watch the magic happen with a tour and tasting. With each tour scheduled, you'll receive a 10% discount toward your first bottle of vodka or whiskey.
A day at the races
Mornings at the Saratoga Race Course are a longstanding tradition at the historic facility. Track-goers enjoy breakfast on The Porch of the Clubhouse while the thoroughbreds prepare for future races. Many may not know that this breakfast program also offers a free walking tour of the famous stable area. We suggest you get to the track bright and early so you don't miss out on this opportunity!
The National Museum of Racing and Hall of Fame also offers exclusive tours of the Oklahoma Training Track. This behind-the-scenes opportunity provides a glimpse into why trainers such as Todd Pletcher and Nick Zito consider the historic site their favorite base. Make sure you wear sturdy walking shoes to this tour!
Haunted tours of Saratoga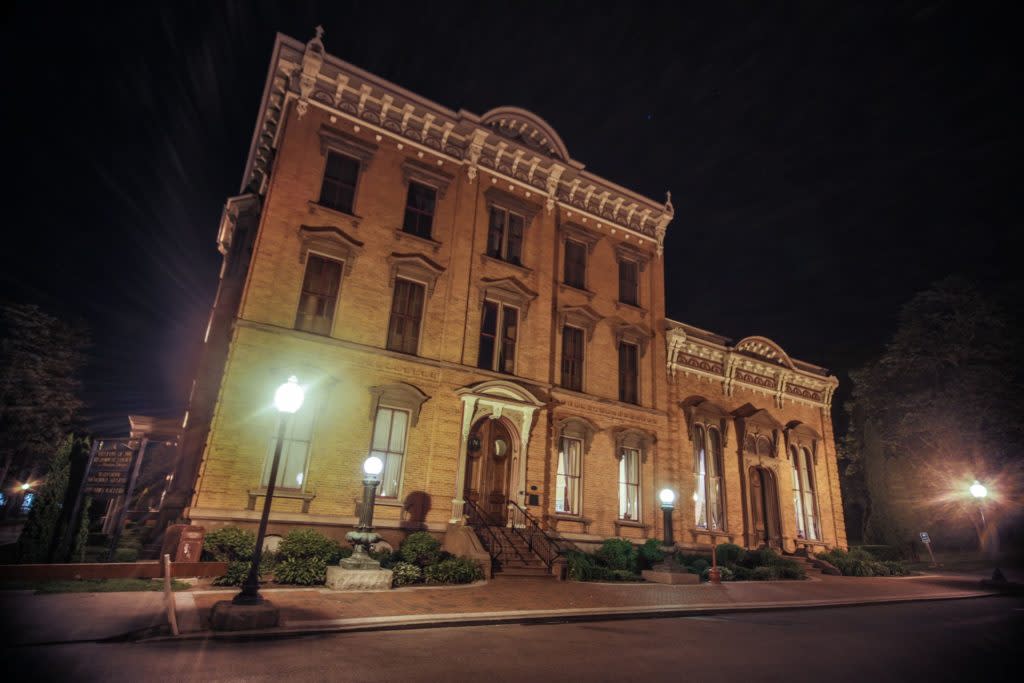 In 2010, paranormal investigators from the television show Ghost Hunters visited the Canfield Casino in hopes of finding out if the building haunted. Today, guests can experience it first-hand as staff and volunteers walk you through Canfield Casino, sharing their actual experiences while talking about what the investigators found.
Make your experience even more spooky with cemetery walking tours. This day trip program includes spirits of Saratoga, overnight packages and a ghosting hunting demonstration. Contact Saratoga Sightseeing Tours to learn more.
No matter how many tours you choose to go on, each one will help you truly understand how special the city of Saratoga Springs is. Want to make a tour of your own? Let us be your Saratoga Springs guide.
This post was written by Marketing Intern, Brittany Harran.