It is said that there is no place like home, and although I've been to over 40 countries, Saratoga has a special place in my heart. It's where I was born and raised, where I would spend endless hours admiring the racetrack fashion at boutique shops, and where I would use my gymnastics training to street perform while I was in high school to entertain myself and friends (embarrassingly true).
This town has seen many sides of me but I've seen it change through the years as well. I remember when one of my favorite coffee shops, Uncommon Grounds, was half the size it is today, when the Adelphi Hotel had a secret pool behind it and when Broadway was the only street worth visiting. It's true, Saratoga has recreated itself in new ways over the years. Today I couldn't be more proud of saying where I'm from (this was not always the case when I was a teenager and thought my hometown was "so boring").
Now I live in New York and speak with pride when asked my origins. Saratoga is chic, luxurious, and high-end. It's a place that everyone wants to visit to see the horse racing, explore the charming streets, and dine at some of New York State's best restaurants. It's considered the perfect weekend retreat, and the ideal place to experience horse racing in a unique historic setting.
Though the racetrack is a major attraction here and makes the town incredibly unique, what I think more visitors need to discover is all of the fabulous things to do during the rest of the year. Our fall foliage is unmatched, the winter season brings some of the best skiing in the Northeast, and there are tons of fun events year-round like First Night Saratoga or the Chowderfest.
Every time I come back home I have my go-to spots that are an absolute must visit. Each one has memories attached to it that I hold dear. I still remember the first time I had an almond croissant from Mrs. London's. It was so good that I shared "my discovery" all over social media. Then there is the iconic Saratoga Olive Oil and Saratoga Tea & Honey. Though they are owned by the same team, the products are different and equally fabulous. I always spend way too much time here tasting every single olive oil flavor and sampling unique honey, such as the mango or lavender infused ones.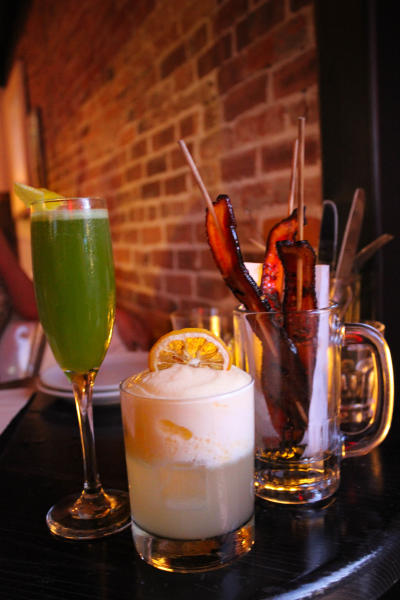 And I can't forget about the culinary and nightlife scene. After all, what would Saratoga be without a delicious meal that wasn't followed by a night out on Caroline street? One of my favorite bars recently is Hamlet and Ghost (pictured above) because their cocktails are out of this world and beautifully presented in a 1920's atmosphere. For a tasty lunch or dinner there are nearly unlimited options, but I can't live without ones like Salt & Char, Olde Bryan Inn, and Hattie's. The elegant environment tied with locally sourced ingredients and some of the best steak in the area make Salt & Char a natural choice for an upscale restaurant. For a more laid-back vibe, Olde Bryan Inn is perfect for winter thanks to its fireplace and hearty dishes. You can find a full list of restaurants here.
However, Hattie's has always been my top suggestion when I have visitors from out of town. Traditionally I'm not a fried food fan but at Hattie's I eat every morsel on my plate. Their fried chicken is so excellent that they beat Bobby Flay in his throwdown. If you haven't been here you're not fully living – it is just that good.
Saratoga is a special place to me and those that live here. It has evolved over the years but the heart of this city can never be changed. It's a place for family, friends, and more welcoming to visitors than ever. It's a town that I am proud to call my home.
Planning a trip to Saratoga?
Download the official Saratoga Destination Guide for information on shops, restaurants, things to do in Saratoga and more! Browse our website for travel tips and events you won't want to miss.
Stay informed with Discover Saratoga! No spam—just information about Saratoga you want to read. Sign up for our Discover Saratoga newsletter for all latest events and things to do in Saratoga, NY. 
* This article was originally featured in our destination guide. Download it here, or contact us for the print version.