No matter what your interests consist of, there are a variety of tours available around Saratoga Springs. Each of them offers their own unique experience that you do not want to miss out on! For contact information on each tour, browse our website.
Visitor Center Walking Tours: The Saratoga Heritage Area Visitor Center's popular "History, Legends, Lore and More" walking tour is back! This 90-minute historical walking tour strolls through Congress Park, mixing history and legend, all while sipping the famous Saratoga mineral waters.  This is a family friendly and educational tour with something for first-time visitors and Saratoga natives alike. Reservations are not required.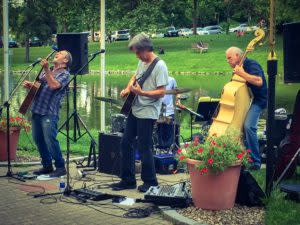 Visitor Center Concert Series: Gather your friends & family and join us in beautiful Congress Park for this FREE Summer Concert Series! Concerts will take place on Tuesday evenings in August 9, 16, 23 & 30.
Independent Helicopters: Achieve your dream of flying in a helicopter! Whether you choose to take a scenic tour or even try your hands at the controls, Independent Helicopters can guide you through the air on an amazing experience!
Saratoga Springs Preservation Foundation: Tours of historic neighborhoods and homes, various workshops and lectures are held throughout the year. Self-guided walking tours also available.
Saratoga Tours: The intent of these tours is to educate and entertain participants about the rich history of this great city. Take a trip back in time as our guides describe how Saratoga Springs evolved from a pine forest to a world class health resort. The mineral springs, the architecture, the people and the colorful stories that made Saratoga Springs the most popular tourist destination of the 19th century continue to delight tourists today.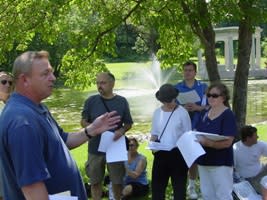 Customized Tours by James Hughto: Guided tours of the Saratoga National Historical Park as a licensed Battlefield guide. These tours can be your choice of either step on guided services for your bus, caravan tours where you follow the guide's vehicle in your vehicle, or hiking tours.
Derby Tours of Saratoga: A Derby Tour takes the participant back in time. Whether walking or on a bus, Hollis, your tour guide, takes you beyond the architecture of the houses that make Saratoga unique including the often captivating history of the families that built these "Great Ladies."
Hayfield Quality Tours-Receptive: Professional tour guides, step-ons covering Saratoga Springs, Lake George, Lake Placid, Adirondack Mountains, Albany, Hudson Valley, Finger Lakes, New England, Canada. Customized and packaged tours available.
Saratoga Sightseeing Tours: Receptive Tour Operator offering step-on Guide Service, Day Trip and Overnight Packages. Group Tour Planning for senior citizens, church groups, family reunions, black history, student safaris and conventions & military reunions. Race track packages, horse farm tours, ghost jaunts and Racino packages available. Packages available for smaller groups to include B&B's and limousine tours.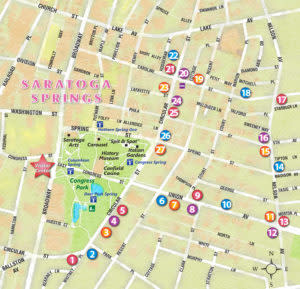 Fun in Saratoga Tours: Our cultural walking tour pairs delicious food with tales of Saratoga Springs history. This 2.5 hour tour is suitable for all age groups and fitness levels. We start with a leisurely stroll through Saratoga's famous farmer's market before walking to taste some of Broadway's finest treats. Along the way you will learn about the culture, history and architecture of one of New York State's most interesting cities. If you have a group of 4 or more, private tours are offered year round and can be custom tailored to fit your time, date and other requirements.We also provide Haunted Saratoga Tours! Come walk with us and discover the ghosts of Haunted Saratoga.
Saratoga Expeditions: Specializes in tours of the historic City of Saratoga Springs. Our tours feature Saratoga's vibrant downtown, beautiful parks, and Victorian neighborhoods, with stops beside the renowned Saratoga Racecourse and Yaddo Artists' Retreat.  While touring contemporary Saratoga, guests will also learn of its colorful history, including legal and illegal casino gambling, health spas, and the role Saratoga played in the Revolutionary War. And, intrepid guests have the option to take a sip of Saratoga's mineral water. Offers step-on guide service, Walking Tours, and individual tours for small groups.
Howe Caverns: Open all year. 90 minute guided cavern tours feature elevator entrance, smooth brick walkways, well-lit environment and underground boat ride. Gemstone mining, Geodes, gifts, souvenirs, homemade fudge & truffles, cafe, year-round AAA rated Motel. Featuring 4-Tower Zip Line, Ropes Course, Rock Wall, Air Jumper, OGO Balls.
Adir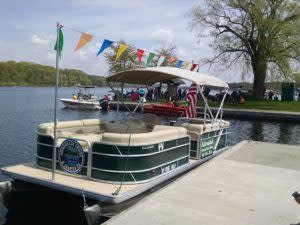 ondack Cruise & Charter Co.: Grab a group of friends and join us for the perfect afternoon on Saratoga Lake or privately cruise through the Narrows of Lake George. Have us take you to a lakeside dinner, or just cruise the lake! We can even take you fishing. Looking for a different way to celebrate a retirement or birthday? Maybe just a romantic night on the water or an engagement! We can even perform an on-board marriage. Let us help you plan a nautical themed bachelor or bachelorette party!