This is part four of a series highlighting our local wedding vendors. 
Besides the beautiful ballrooms many Saratoga properties have available for weddings, here are some additional wedding venues available. From museums to golf courses and everything in between, Saratoga is sure to have the perfect place to say "I Do"!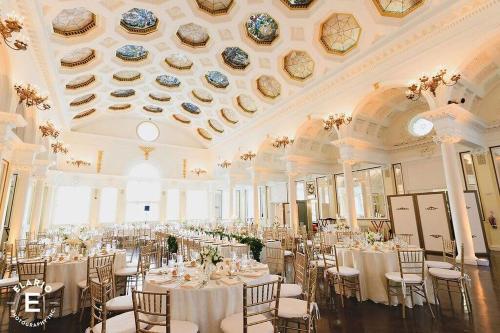 The enchanting and historic Canfield Casino is the perfect backdrop for a wedding or special event. Situated in Congress Park, in downtown Saratoga Springs, the Canfield Casino is close to everything, making it the perfect location for you and your guests. The Canfield Casino is only booked for one event per day and must be booked through the City. Interested parties should contact Mary in the Department of Public Works at (518) 587-3550 ext. 2555 or mary.castanza@saratoga-springs.org to obtain a contract or for more information.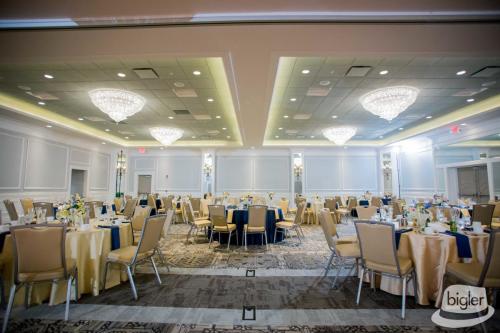 Create a memorable Saratoga wedding in style and comfort at the beautiful Excelsior Springs. Just moments from downtown Saratoga, this classically-inspired venue is superbly appointed to create the fine ambiance for your special day. Excelsior Springs is adjacent to the Courtyard Marriott Saratoga Springs. You and your guests can take advantage of the hotel's superb amenities for lodging, while enjoying a memorable event at Excelsior Springs.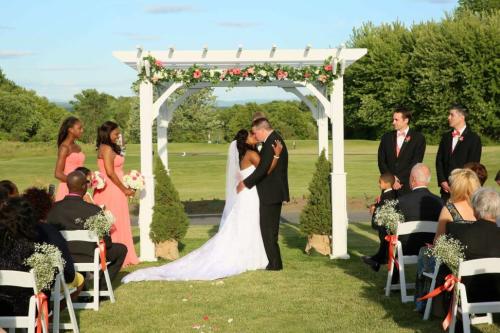 Halfmoon's picturesque setting and exceptional service will make your wedding a dream come true. Enjoy an elegant three-course dinner or a sumptuous wedding buffet with no shortage of gourmet options. Their professional and experienced wedding coordinators will make sure your wedding delights your guests and exceeds your expectations.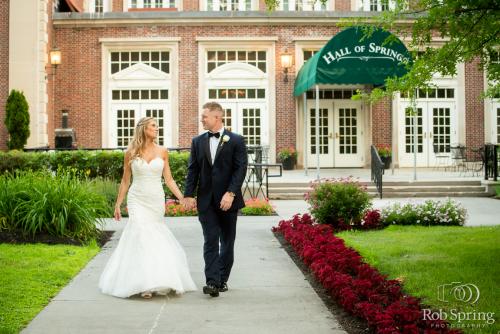 The Hall of Springs is conveniently located on the Saratoga Performing Arts Center in Saratoga Springs. Their experienced and driven staff will help to bring your dream wedding to life down to the smallest detail. From rehearsal dinners and post-wedding brunches to ceremonies and wedding receptions, the Hall of Springs is the perfect venue for all of your wedding related events. With their historic backdrop, the Hall of Springs also provides some of the most beautiful, picturesque views for capturing your happiest moments on film.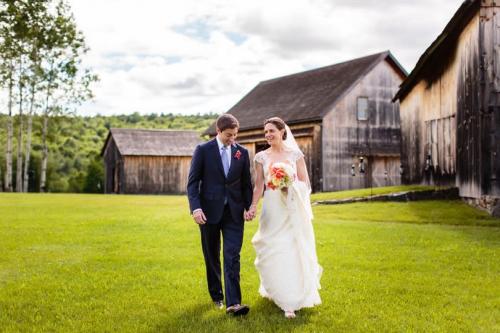 Perched on a knoll overlooking scenic farmlands of the Saratoga region, the Historic Barns of Nipmoose provide an idyllic setting for wedding receptions and ceremonies. These extraordinary barns are fully restored and stand ready to host celebrations of all sizes and styles, whether rustic, elegant, intimate, or grand.
Lakota's Farm Wedding & Events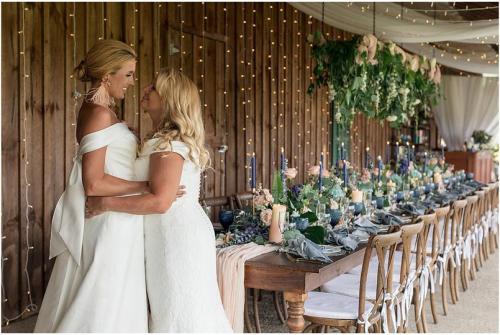 Photo: YTK Works
Nestled in the Southeastern corridor of Washington County, NY, this circa 1772 Homestead is rich in history and is home to the newly established Lakota's Farm. Experience Lakota's exquisite 1844 event barn. At just under 11,000 square feet of climate-controlled historical beauty, it offers an appointed Luxury Suite, Spa, Adirondack cabin, Cocktail Parlor, and a stone Fire-Pit with endless views.
National Museum of Dance and Hall of Fame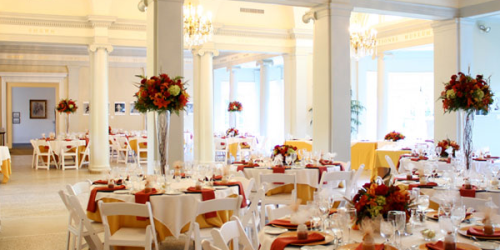 Events are an integral and welcome part of the National Museum of Dance. Several settings are available for events, including the elegant marble foyer, more casual courtyard and Southeast Gallery. The museum offers an ideal environment for your event. The museum location has easy access and a private parking lot. The Museum offers something for everyone and every occasion.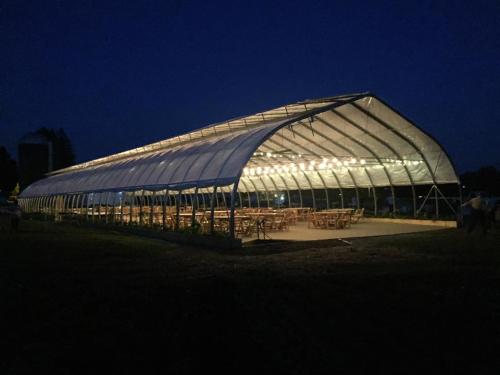 As a well-known and cherished farm landscape, with its cluster of rustic gray barns, large open farm field, and acres of woodlands and wetlands, Pitney Meadows Community Farm, founded in 2016, is taking root and promises vast opportunities for our community for years to come.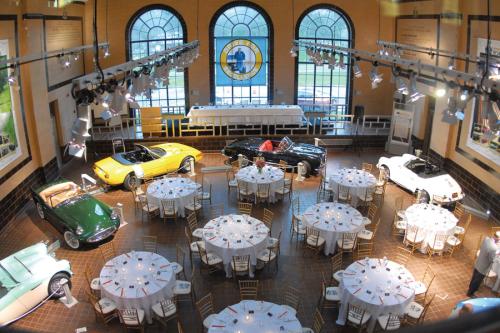 The mission of the Saratoga Automobile Museum is to display significant cars, trucks, and vehicles that not only represent the automotive heritage of New York State but the entire world of motorized transportation. The Museum is chartered by the Board of Regents of the State of New York Department of Education and in addition to organizing permanent and temporary exhibits, the Museum hosts a variety of workshops, interactive displays, lectures and outdoor shows.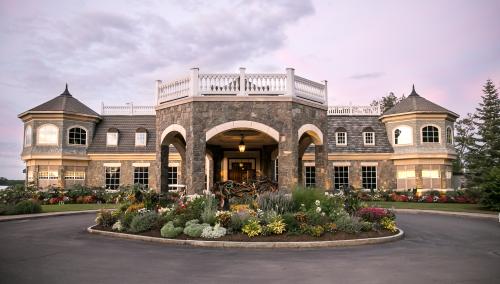 Imagine your wedding at Saratoga National Golf Club, a unique jewel in this city renowned for stunning architecture, legendary mineral springs and world-famous horse racing. Your guests are greeted with a mile-long drive that meanders past rustic wooden bridges, ponds glittering with the spray of fountains, and the freshly manicured greens and fairways of our championship golf course. Then you arrive at the clubhouse, welcomed by an oversized foyer elegantly appointed with rich woodwork, ceramic tile, and ornate chandeliers. Inside, the rooms range from grand to small and intimate. Outside, guests can relax on the covered veranda and patio terrace amid fire pits and an infinity pool, all with views of the golf course. Wedding planning and events at Saratoga National are provided exclusively by Mazzone Hospitality, boasting over 35 years of experience delivering flawless galas, weddings and social events throughout the Capital Region. Local couples, or brides and grooms from out of town looking for a unique destination, Saratoga National is the perfect place to exchange vows and create memories you'll cherish forever.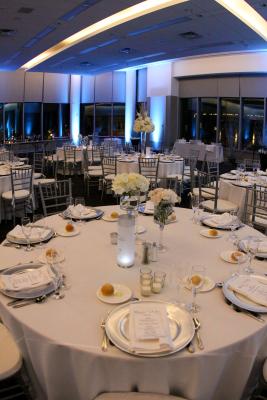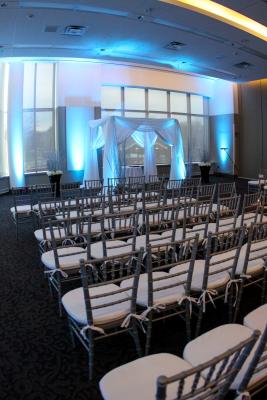 To couples who are looking for something other than the typical ballroom, the Saratoga Springs City Center is for you! Featuring almost floor to ceiling windows in their special event spaces and gorgeous views of historic Broadway. Their neutral color palette is just waiting for your wedding to provide the pop of color. The Saratoga Springs City Center can accommodate weddings of all sizes, from the minimony, which is popular currently, to your traditional 150 person affair. The Saratoga Springs City Center is perfect for on-site ceremonies as well!
Saratoga Springs Knights of Columbus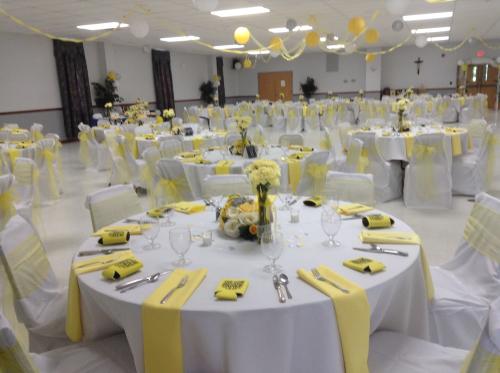 The Saratoga Springs Knights of Columbus has a beautiful banquet room for hosting weddings, parties, meetings, birthdays, showers or anniversaries! Their main banquet room accommodates up to 200 people, is air conditioned and can be set up according to your needs. They have both round and rectangular tables, a dance floor, and a projection screen. Their meeting room accommodates up to 75 people, is also air conditioned, can be set up to your specifications and offers both round and rectangular tables. Linens are available. Catering is available, or you are welcome to bring in your own caterer. Professionalism and elegance are part of the package. For more information contact Ken Davis at (518) 744-2850.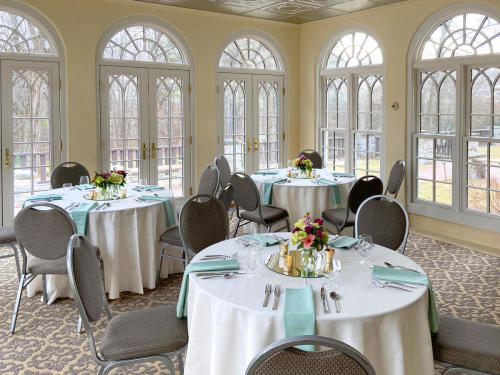 The Surrey-Williamson Inn, housed in a beautiful, century-old manor, is just steps away from Skidmore College's vibrant campus in the heart of Saratoga Springs, New York. The Surrey operates as a boutique inn and event space for College visitors, Saratoga Springs travelers, local community members, alumni and more. From weddings and corporate events to academic receptions and prospective family visits, it remains a treasure for all who experience its charming history and creative hospitality.
The Surrey offers a range of flexible event spaces for meetings or banquets with a maximum indoor capacity of 50 seated, or 100 standing guests for a cocktail-style reception. Also included in the venue are a number of charming guest rooms. These ten spaces have been recently renovated to combine vintage charm with modern amenities, so you and your party can spend time together in preparation. Private gardens offer a romantic backdrop in wedding photos or the perfect spot for a ceremony or outdoor reception.
The Hideaway at Saratoga Lake Golf Club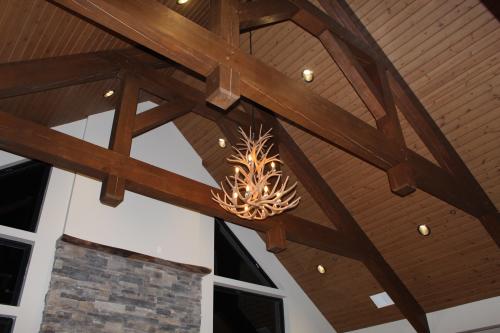 The Hideaway is the brand new restaurant, bar, and event venue located at Saratoga Lake Golf Club. The Adirondack style decor provides the perfect atmosphere for a night out, weddings, birthdays, anniversaries reunions and other special occasions. The restaurant boasts a large diverse menu that has something for everyone. Serving breakfast and brunch every Saturday and Sunday and are open for dinner 7 days a week year round unless they are hosting a private party! They may be hidden away but once you find it you'll always find your way back!
The Lodge (owned and operated by Saratoga Casino Hotel)
Look no further than The Lodge for the perfect wedding venue in Saratoga Springs. Offering elegant decor and an intimate atmosphere, The Lodge is the ideal setting to host your dream wedding. Their staff will help you plan your special day to perfection. Nestled on the corner of Nelson and Crescent Avenues, The Lodge provides guests with an unforgettable Saratoga experience. The Lodge features beautifully inlaid cedar walls, oak and pecan floors, and picturesque outdoor landscaping. Parties, weddings and events can be hosted inside, and large celebrations can be held in our outdoor tented area. For booking information, menus & packages please contact: Timothy Tyrrell, Weddings & Event Sales Manager at TTyrrell@SaratogaCasino.com or (518) 852-8661.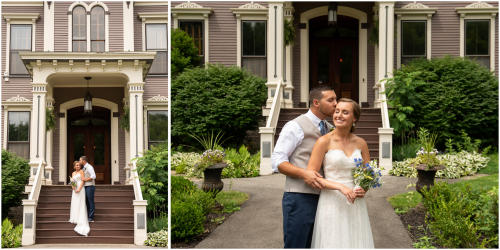 Romantic & Elegant 1860 Victorian Villa located on 4 acres with gardens and ponds, this 10-bedroom mansion features private baths, 6 fireplaces, original lighting, period furnishings and piano lounge. Perfect for weddings, business meetings, private parties, tourists or the convention attendee looking for a special retreat. The Mansion is ready to take you back to an elegant time.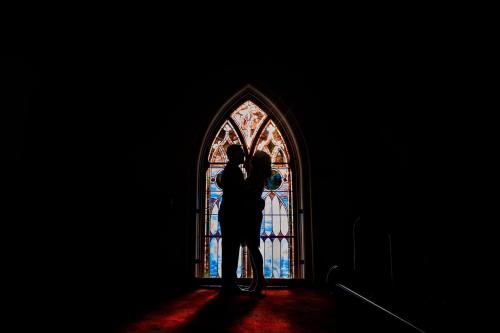 UPH is community space for arts, entertainment and community events in downtown Saratoga Springs. They are walking distance from all things downtown and are the living room of the community. In addition to being a community space, Universal Preservation Hall is available for rentals and is a truly one-of-a-kind venue that offers a memorable experience. The Chapel on the main floor provides a wonderful setting for an on-site ceremony. Able to comfortably accommodate 90 guests, the classic elegance of the space makes it a perfect location to exchange your vows. The historic pocket sliding doors open to the adjoining Community Room. The Community Room on the main floor can accommodate up to 250 guest. The 2,600 square foot room is ideal for your wedding cocktail hour or social event. The 15 foot ceilings and opulent columns amplify the beauty of this extraordinary historical room. The Great Hall on the second floor provides an exquisite atmosphere that will make you and your guests feel like royalty. As guests enter the main ballroom, they will be awed by the striking architecture. The 5,500 square foot great hall features 45 foot cathedral ceilings and Tiffany-inspired, stained glass windows. The wrap around balcony and hand carved details exude the character of this unforgettable space.
Via Aquarium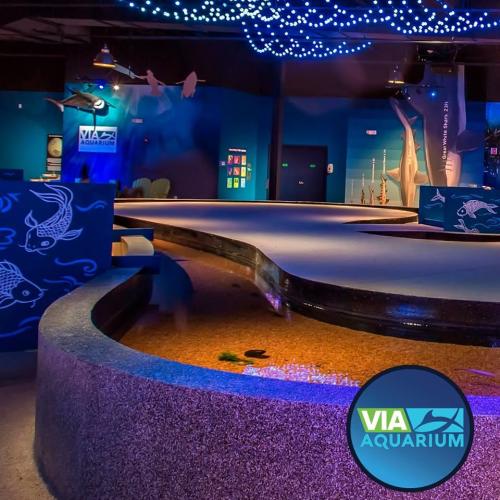 Experience the wonders of the ocean in your backyard! The Via Aquarium is the capital regions only full scale aquarium. Explore over 25,000 square feet of oceanic treasure as you and your family embark an exciting self-guided tour visiting over 2,000 creatures of the sea. The Via Aquarium celebrates aquatic biodiversity through exhibit experiences and public programs designed to connect people to the world of water.
The Vista at Van Patten Golf Club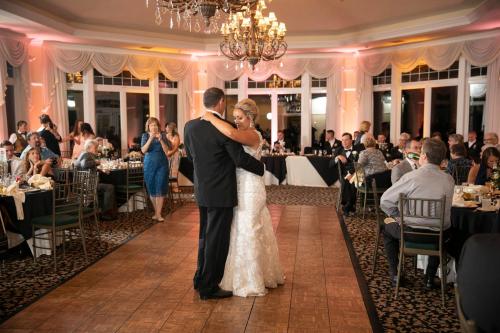 Come celebrate your wedding while enjoying the breathtaking view from atop The Vista. Let their professional catering team guide you through the planning process for this memorable day. Their caring staff will help you relax and enjoy your day with a high level of service that is sure to meet the expectations of even the most discerning guest. The Vista breathtaking view and culinary delights are sure to make this a day to remember.
West Mountain Ski Resort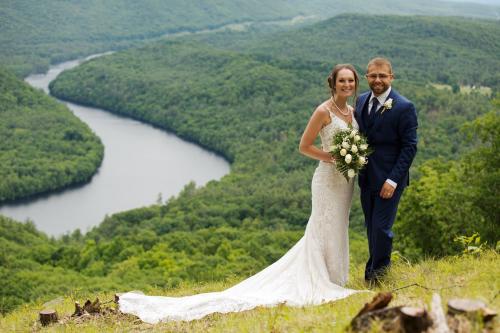 Weddings held at West Mountain are nothing short of breathtaking! They will work with you to make your wedding day everything you imagined. West Mountain is a spectacular site to gather your family and friends for the celebration of your wedding! West Mountain is also the perfect location for a holiday party, baby shower, retirement party, graduation party, birthday party, and more! Please call Group Sales at (518) 636-3699 ext. 316 to inquire about your party or shower today!