Easter Sunday is fast approaching (April 21, 2019). And if you're anything like me, you will definitely not want to prepare a meal for your entire family. I mean, isn't that what Thanksgiving, Hanukkah and Christmas are for? Instead, why not bring the family to try one of the many restaurants in Saratoga County and beyond?
Many of our favorite restaurants are offering brunch, lunch and dinner specials for Easter in Saratoga, and we've complied a list of the ones you should consider.
The Adelphi Hotel
365 Broadway, Saratoga Springs | 518-678-6000
The Blue Hen, located within The Adelphi Hotel, is serving up quite the variety for their Easter brunch special. Choose from a raw bar, classic eggs, French toast, a carving station and more for $65 each ($20 for children under 12 and free for children under 6). Make your reservation online or call 518-678-6000.
The Bread Basket Bakery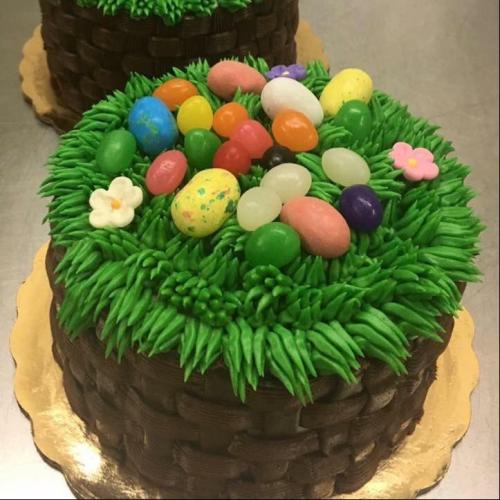 65 Spring Street, Saratoga Springs | 518-587-4233
Ok, so this might not be a full meal, but who wouldn't want to eat this Easter-inspired basket weave cake? Perfectly on-theme and undeniably delicious—get yours at The Bread Basket Bakery.
The Brook Tavern
139 Union Ave., Saratoga Springs | 518-871-1473
You won't want to miss this special brunch from 10-3 pm at The Brook Tavern. Offering a selection of classics like steak and eggs, hash, buttermilk fried chicken and more, this restaurant is a great option if you're looking for a hearty meal. Make your reservations online.
BWP Your Local Bar & Grille
74 Weibel Ave., Saratoga Springs | 518-763-2975
BWP's annual Easter egg hunt and meet & greet with the bunny himself is happening again this year on Saturday, April 20th from 11:30-1 pm.
Carson's Woodside Tavern
57 Route 9P, Malta | 518-584-9791
Starting at noon, Carson's Woodside Tavern will be offering their full menus including some specials on Easter Sunday. Although they're typically a first-come, first-serve type of restaurant, Carson's will be accepting reservations. Make yours by calling 518-584-9791.
Chez Pierre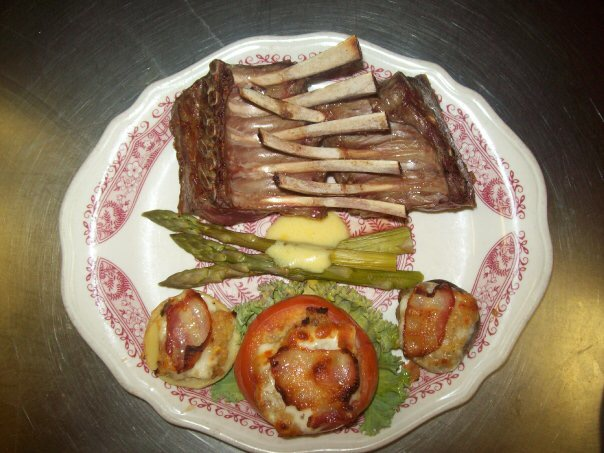 979 Route 9, Ganesvoort | 518-793-3350
From 1 pm to close, Chez Pierre is offering full-course dinner specials with salad or soup included. Choose from the salmon princess with asparagus and hollandaise for $29, roast prime rib for $30 or a rack of lamb for $38. The regular dinner menu will also be available.
The Diamond Club
86 Congress Street, Saratoga Springs | 518-290-9090
The Diamond Club is hosting an Easter brunch from 10-2 pm for $35 a person. See the full menu here.
Hall of Springs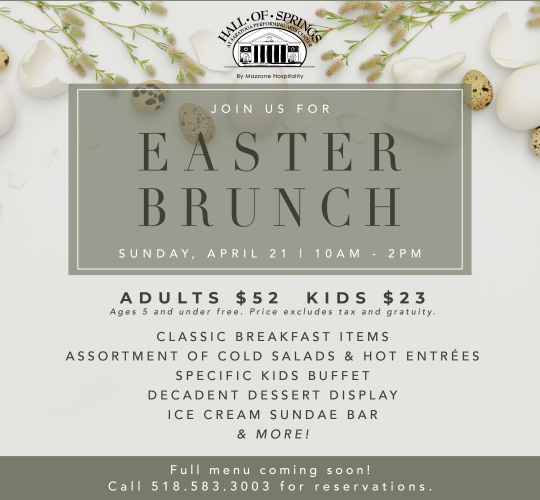 108 Avenue of the Pines, Saratoga Springs | 518-583-3003
Imagine having your Easter brunch under the Hall of Spring's 38-foot ceiling and crystal chandeliers. Plus your group can hang out in Saratoga Spa State Park together after a delicious meal. Stay tuned for the full menu. Make a reservation at 518-583-3003.
Jacob & Anthony's American Grille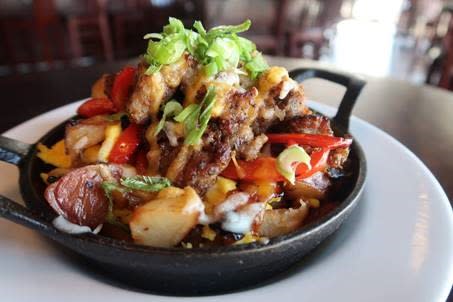 38 High Rock Ave., Saratoga Springs | 518-871-1600
Get the brunch of your dreams at Jacob & Anthony's American Grille—serving up a variety of Mexican-inspired dishes, classic twists and mouth-watering cocktails. See the full menu here. Pictured is the country style Farrier's skillet. Make your reservation here.
Mallozzi's
257 Washington Ave. Ext., Albany | 518-456-0292
Head south toward Albany for Mallozzi's Treviso who's offering an Italian inspired Easter meal for $39.95 each (children 11 and under for $12.95). Reservations are required. Make yours at 518-456-0292.
PJ's BAR-B-QSA
1 Kaydeross Ave West, Saratoga Springs | 518-583-CHIK (2445) or 518-583-RIBS (7427)
So maybe you do have to host Easter Sunday at your house. We have the solution to make the day a bit easier! PJ's BAR-B-QSA is now offering Smithfield spiral sliced ham prepared in their smokers and cooked with their signature ham glaze. The average size is about 7-10 lbs. (serving 10-15 people) and costs $8.45 per lb. Side dishes are also available!
Advance notice required by Wednesday, April 17. Pick up on Friday, April 19 after 4 pm or any time Saturday April 20. The restaurant is closed on Easter Sunday.
The Wishing Well
745 Route 9, Gansevoort | 518-584-7640
Known for live Maine lobsters, prime steaks and hand-cut veal, The Wishing Well is your seafood haven this Easter. Choose from a variety of lamb, salmon, duck and more from their special menu offered from 12 to 7 pm. Make a reservation online or call 518-584-7640.
Find more restaurants in Saratoga
See the full list of Saratoga county restaurants for more options and ideas for your next visit!
Didn't see your restaurant included in this list? Email talia@discoversaratoga.org to be added.
Stay informed with Discover Saratoga! No spam—just information about Saratoga you want to read. Sign up for our Discover Saratoga newsletter for all latest events and things to do in Saratoga, NY.