2023 Saratoga Foliage Ride
Event Date: Saturday, October 7, 2023- Sunday, October 8, 2023
Event Location: Saratoga Regional YMCA, 290 West Avenue, Saratoga Springs, NY 12866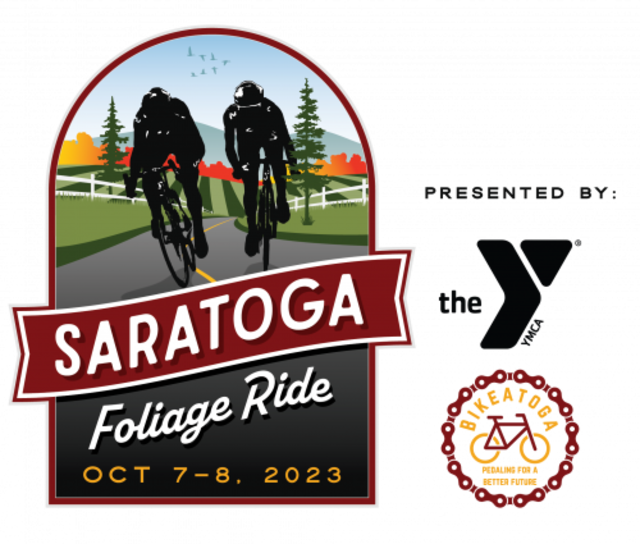 Join us at the 1st annual Saratoga Foliage Ride presented by the Saratoga Regional YMCA and Bikeatoga!
Get on your bike and enjoy peak foliage, riding some of our most scenic routes at the most beautiful time of the year. Along the way you'll see history and horse farms, pumpkins, cider donuts and more! 
Saratoga Foliage Ride Online Registration (bikereg.com)
October 7-8, 2023
Saratoga Regional YMCA
290 West Avenue, Saratoga Springs, NY 12866

Two Days and Six Routes! 
Start your morning with our buffet breakfast and head out to ride one of three routes each day – 30, 50, and 75 miles – with full SAG support. 
Saturday's rides will honor the 246th anniversary of the Battle of Saratoga.  Ride the back roads through the very fields where American forces first defeated the British army – the turning point of the American Revolution. 
Sunday's rides will follow beautiful routes through fields, farmlands and gorgeous Fall foliage. 
After the ride, relax, shop and dine in downtown Saratoga Springs. And all participants will get a day pass to the Saratoga YMCA facility – unwind with a swim, sauna, HydroMassage (addt'l fee) or afternoon yoga class after the ride! 
"Saratoga Springs is one of those special getaway spots where everything is just, well, pretty close to perfect.  The only drawback is you may never want to leave." -- Tripadvisor
Discounted Rate: 
SGL: $180.00, feature One King Bed
DBL: $250.00, feature Two Full XL Beds
15% Discount 
Located on Broadway offering 1st class amenities such as indoor pool and local shuttle service.
Discounted Rate: 
Cut Off Date: 9/3/23
Single King Studio Suite $279.00 
Double Queen Studio Suite $279.00 
(2-Night Minimum Length of Stay)
Discount Code: BIK
Discounted Rate: 
SGL $249
DBL $249
TRPL $259
QUAD $269
• The Hotel Saratoga is only located 5 miles from the hockey venue – 12 minutes.
• We offer Hot Breakfast Buffet Daily
• Great lobby space for teams to gather and enjoy time together.
• Our rooms are spacious and provide great rest and relaxation for our guests.
• Beer & Wine Bar Nightly with Food Offerings
• Only 3 Miles from Downtown Saratoga Springs
• Complimentary Parking
Discounted Rate: $135.00
Discount Code: FALLF
Rates include Daily Breakfast
Hotel is convenientely located right off Exit 12 of the Northway
12% Discount Off Best Available Rate
Rates include a full hot buffet breakfast. Minimum 2-night stay. 
Explore Saratoga Springs!
Let us be your guide to everything Saratoga Springs during your stay! No need to be stuck in a hotel room. Our walkable, friendly city is a year-round destination perfectly located in Upstate New York. Discover phenomenal dining, entertainment and unique shopping after your meeting for a true Saratoga experience. We recommend making your dining reservations in advance!
Make your stay even more exciting with a self-guided tour of our historical mineral springs, or visit one of our many cultural attractions. For even more resources and information, stop by the Saratoga Springs Heritage Area Visitor Center, which is located directly across from local favorite Congress Park!