Celebrate St. Patrick's Day in Saratoga Springs, NY! The city comes alive for this festive holiday. You can always find Irish music, great food and drink specials, and fun activities around every corner.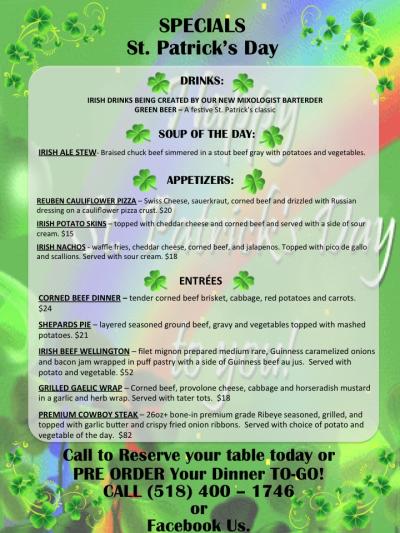 Celebrate St. Patrick's Day at 13 North Restaurant! There will be plenty of corned beef and Guinness on draft. Please call (518) 400-1746 for reservations. Takeout also available. You must order 24 hours in advance.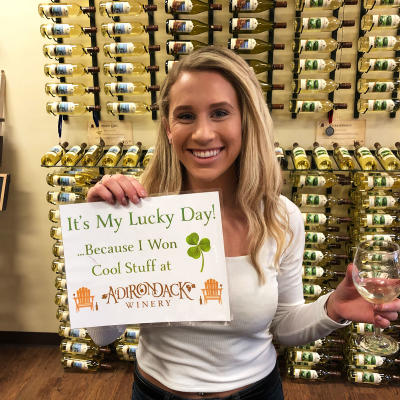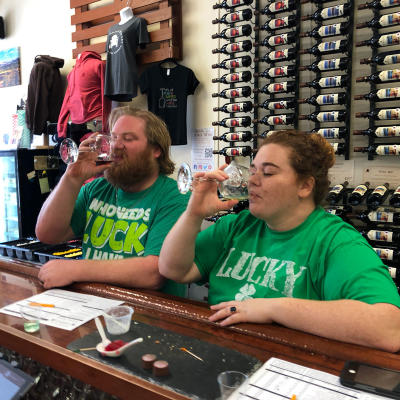 Test your luck this St. Patrick's Day with Adirondack Winery's Pot of Gold Weekend! From Thursday, March 17 to Sunday, March 20 wine tasters will get to pull from the Pot of Gold for a chance to win a special prize! Want to guarantee you walk away with an awesome freebie? Everybody who wears green will get a FREE gold bottle stopper! Reservations are not required, but recommended. Visit adkwinery.com/book to reserve your spot!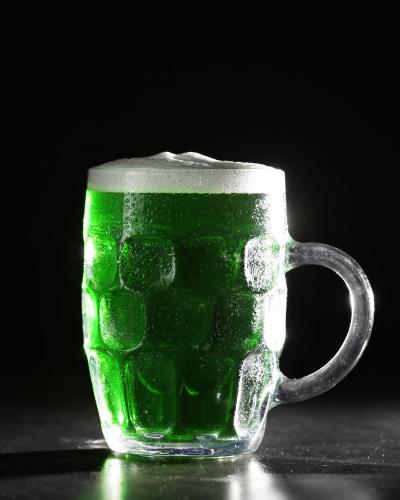 Mark your calendar! St. Patrick's Day shenanigans are coming to the Artisanal Brew Works Taproom! Visit them on Thursday, March 17th from 3-9 PM for live music from 5-8 PM by Rich Clements Trio, Irish Cream Multiple Infinities on Nitro, and $5 beer specials all day long! Don't forget to grab your NY State Brewer's Association St. Paddy's Day t-shirt at the taproom! They're only $23 and part of the proceeds go towards NYSBA.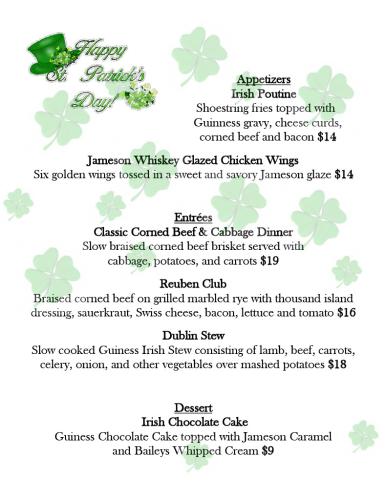 Bookmakers Lounge, located inside the Holiday Inn in Saratoga Springs, is offering this incredible St. Patrick's Day menu!
Caffe Lena has an excellent concert coming up on St. Patrick's Day Eve and St. Patrick's Day! St. Patrick's Day Eve 3/16 at 8pm: Kevin McKrell with Arlin Greene and St. Patrick's Day 3/17 at 7pm: Teada who is one of Ireland's leading traditional bands for over 20 years. Get your tickets at www.caffelena.org/live-events.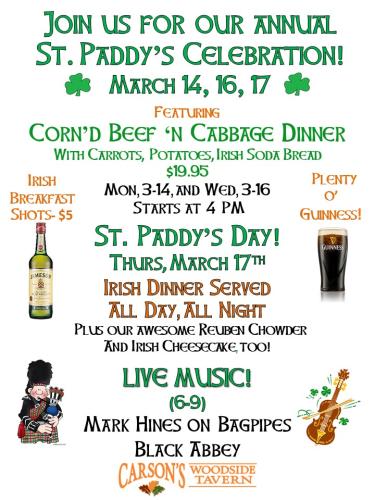 Don't miss Carson's Woodside Tavern's Annual St. Paddy's Celebration March 14, 16 and 17! There will be corned beef and cabbage, Guinness pints and Irish whiskey specials, live music, and more!
Circa '21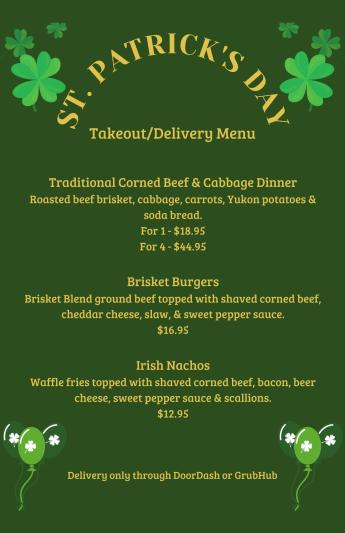 Check out these St. Patrick's Day specials for takeout and delivery (through DoorDash or Grubhub)! Call (518) 450-7941 or email info@circa21atmcgregor.com to place your order now.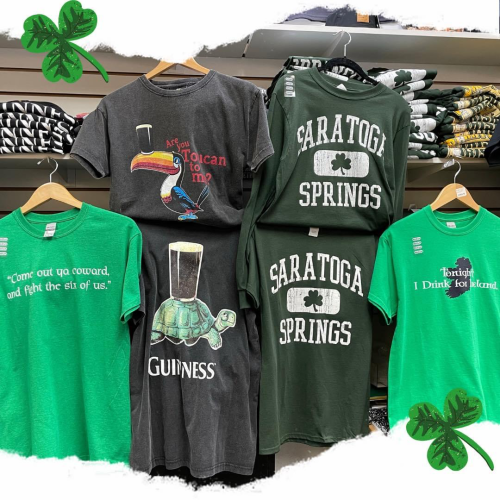 Get all your St. Patrick's Day gear at Celtic Treasures located at 456 Broadway. The official birthday weekend is Friday, March 11 through Sunday, March 13, and all three weekend days offer something for everyone to enjoy. On Friday, the Celtic group Mad for Trad will be performing from 4-7pm while shoppers enjoy 20% off crystal, china, and pottery. On Saturday, it's Kevin McKrell at Celtic Treasures from 12-3pm, telling stories of his unique-style art. Kevin's artwork will be featured on display throughout the store through March 31. That afternoon there will also be an artist reception with Covid-safe food offerings. In combination with the art reception, Celtic Treasures will be offering shoppers 20% off all sweaters. On Sunday, visitors will enjoy the Irish music trio, Six Penny Bit, from 1 to 4pm, while taking advantage of celebratory savings of 30% off all jewelry.
Complexions Spa Saratoga Springs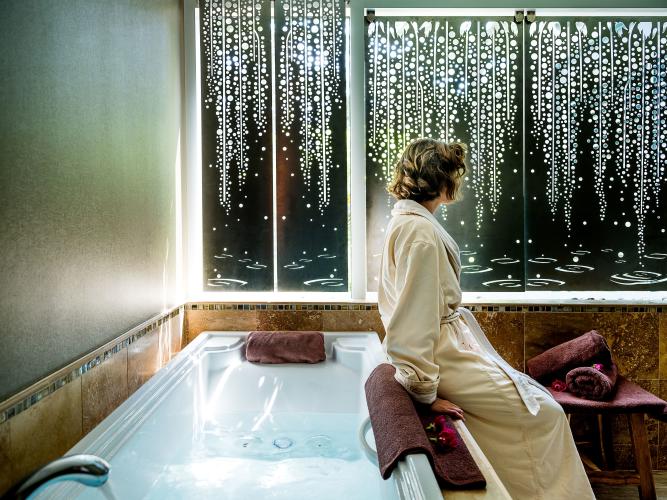 Complexions Spa in Saratoga Springs is currently offering these March specials:
CBD Massage
A custom massage therapy created specifically for pain management and soothing overall muscle & joint discomfort. Combining powerful CBD oil, anti-inflammatory Arnica and LED phototherapy, this treatment is ideal for anyone that suffers from chronic pain related to a variety of health conditions. Your body will go into a deep state of relaxation and you'll feel an immediate alleviation of pain and muscle tension. Your treatment ends with a cup of Naturopathica tea! You'll also leave with the remainder of your CBD oil for home use and a FREE CBD Salve to continue your results at home. a $20.00 value. 90-min, $220.00
Therapeutic Percussion Massage
A relaxing and effective 90-minute, deep tissue massage using deep vibration that reaches places hands can't. Ideal for sports recovery, soft tissue and muscle pain, aching ligaments and tendons to help relieve tension and discomfort.. It rapidly stimulates blood flow to a specific area which allows muscles to let go of their tension so you can relax and heal. Receive a FREE CBD Salve to continue your results at home! a $20.00 value. 90-min/$200.00
Wrinkle Repair Intensive Facial
Experience this exceptional regenerating treatment that combats signs of aging using the latest and most effective active ingredients; Argan Plant Stem Cells, Matrixyl Synth'6 and a Tri-Retinol blend combined with the benefits of microcurrent technology.  A non irritating refining peel is included in this skin smoothing treatment to reduce fine lines and wrinkles while improving skin tone and firmness. For March only, take home a FREE Cosmedix Restore Mask to maintain your results at home! a $20.00 value. $154.00
To reserve your massage, visit www.complexions.com or call (518) 306-5502.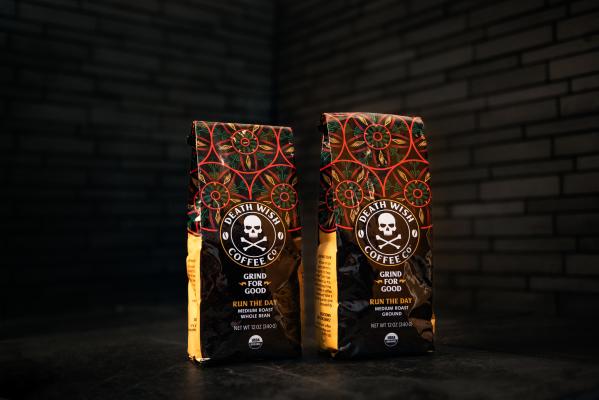 Death Wish Coffee Company, the makers of the World's Strongest Coffee, launched a new limited-edition blend called, "Run the Day," that combines Ethiopian Yirgacheffe coffee beans with Indian Robusta to create a first-of-its-kind, bold, complex, medium roast coffee. This marks the launch of the first-ever Grind for Good blend, which will support the Girls Gotta Run Foundation, a nonprofit organization that empowers Ethiopian girls through the sport of running. Our Ethiopian Yirgacheffee Coffee Blend will be releasing on March 8, International Women's Day. It will be available for purchase on our website and in our retail shop. Stop by 260 Broadway in Saratoga Springs, NY to be the first to sample this limited-edition blend. For more information, visit www.deathwishcoffee.com/pages/run-the-day-ethiopian-blend.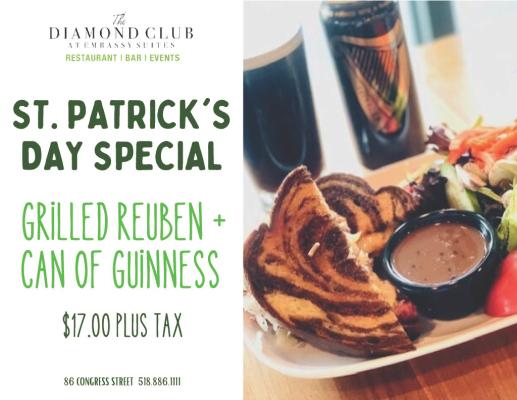 This St. Patrick's Day, get a grilled Reuben and a can of Guinness for only $17 (plus tax) at Diamond Club Restaurant!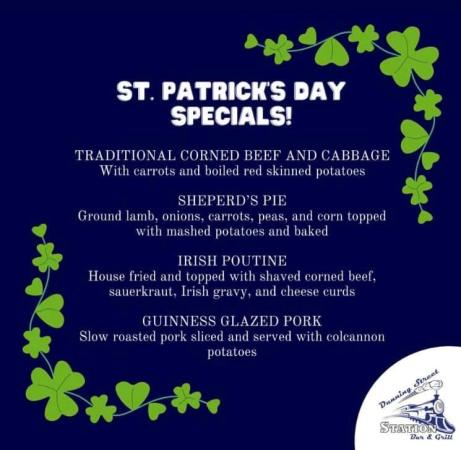 Check out these delicious St. Patrick's Day specials at Dunning Street Station! Call (518) 587-2000 for reservations.
Fitzgerald's Irish Sports Bar & Steakhouse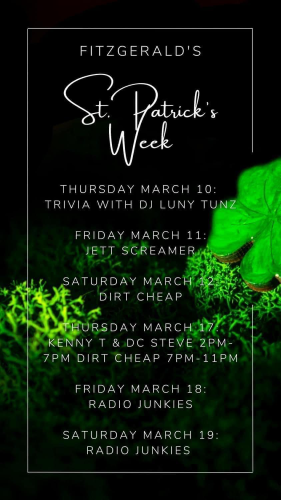 Fitzgerald's Irish Sports Bar is celebrating St. Patrick's Day all weekend long with live music and entertainment Thursday, March 17th through Saturday, March 19th. Get all your favorite dishes: Corned beef & cabbage, shepherd's pie, bangers and mashed, and beer battered fish and chips. Available for dine-in, takeout or delivery. Call (518) 793-0177 to place your order.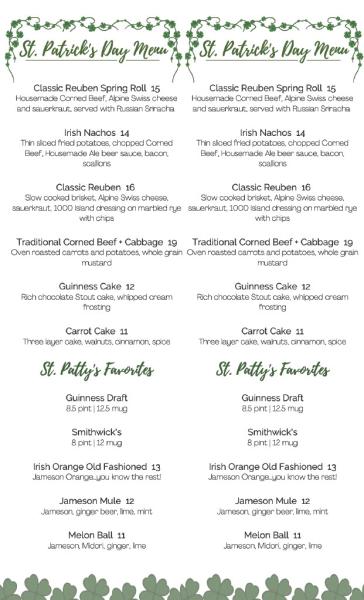 Jacob & Anthony's American Grille is serving up this incredible St. Patrick's Day menu, Tuesday through Saturday starting at 4pm, with the exception of St. Patrick's Day (Thursday, March 17th) they will open at noon for lunch and dinner service. They will also be having a Jameson tasting starting at 6pm.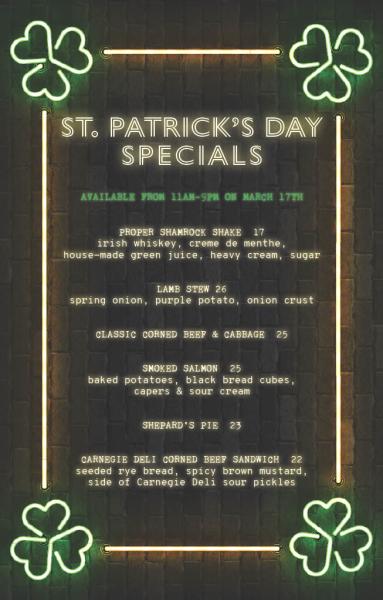 Check out these delicious St. Patrick's Day specials at Morrissey's Lounge! Available on Thursday, March 17th from 11am-9pm.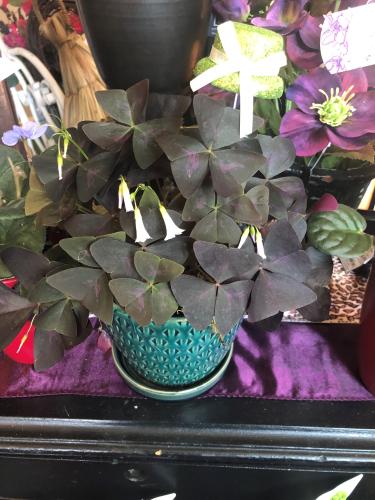 This St. Patrick's Day, purchase your shamrock plants, single stem flowers and bouquets at The Posie Peddler! Call (518) 587-8273 for more information.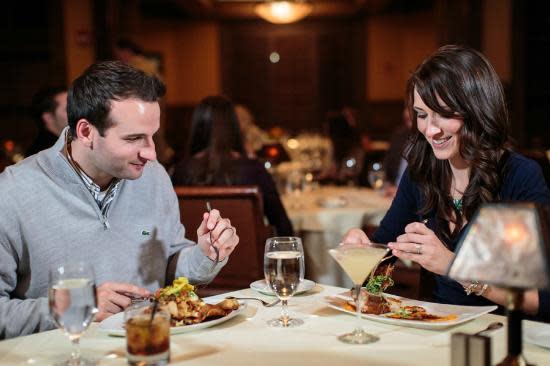 This St. Patrick's Day, enjoy live music from Jay Yager and Chris Dollard Duo from 6-9pm at Prime at Saratoga National.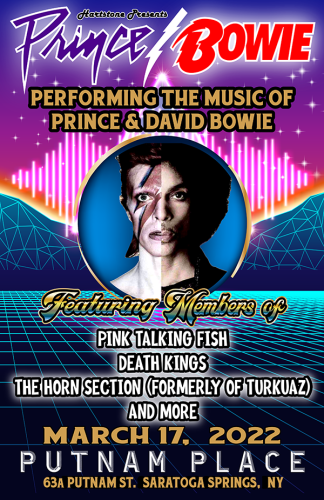 Get ready for an epic St. Paddy's Day concert at Putnam Place featuring Prince/Bowie, an all-star tribute to Prince and David Bowie. Performers include members of Pink Talking Fish, TAUK, The Horn Section (formerly of Turkuaz), Death Kings, and more. They will be joined by Midnight Sun, performing the music of Led Zeppelin, featuring Vinnie Amico (moe), Shannon Lynch (Conehead Buddha) and more. Doors open at 7pm. For tickets and more information, visit: www.putnamplace.com.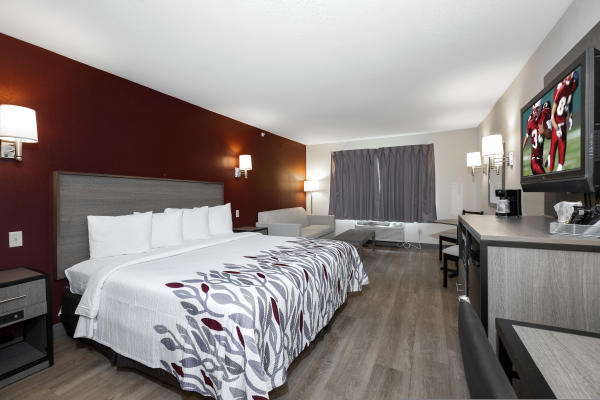 This St. Patrick's Day, enjoy 20% off the best available rate at Red Roof Inn in Clifton Park! This promotion is valid 3/11-3/21. Call (518) 373-0222 to book now!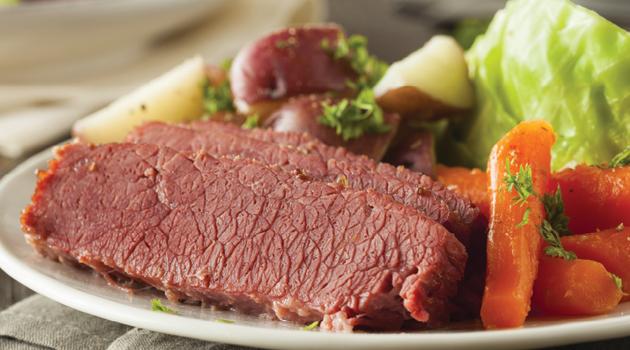 The Ribbon Cafe is offering corned beef, cabbage, carrots, potatoes, and homemade sourdough bread for $14.99! They will also have Irish cream hot chocolate cocoa bombs and Irish cream cupcakes! Call (518) 288-3040 to place your order for pickup.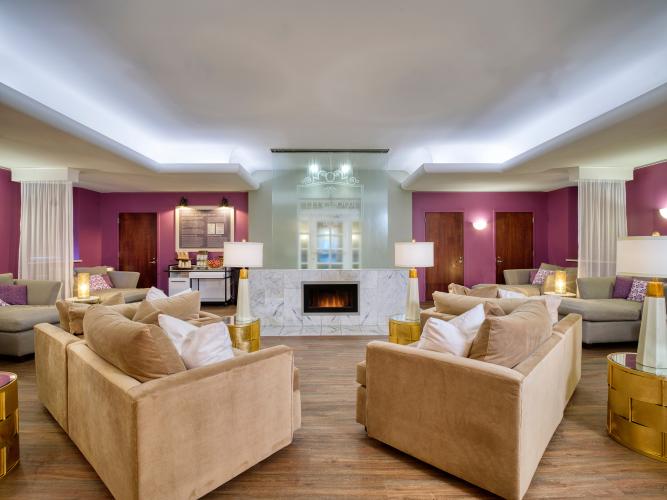 Enjoy these March specials at Roosevelt Baths & Spa! Mention this post for $20 off your treatment. Call 1 (800)-452-7275 ext. 1 or visit www.gideonputnam.com/roosevelt-baths-and-spa to book.
Good Karma Massage
Enjoy a full body massage with our "Good Karmic" aromatic blend of chamomile, lemon, orange, rose, clove, ylang ylang, lavender, cedarwood & sandalwood for a feeling of wellbeing. For extra "Good Karma" we include a full back heat pack and a peppermint foot massage. (60 minutes)

Detox Seaweed Wrap
This healing wrap draws out toxins and impurities, reduces excess water, and leaves the skin refreshed. (50 minutes)

Super "C" Facial
Illuminate your skin with our tingling Arctic Berry Peel System using 25% multifruit acids to reveal brighter skin with loads of high vitamin C boosting collagen levels in the skin. (50 minutes)
Saratoga Paint & Sip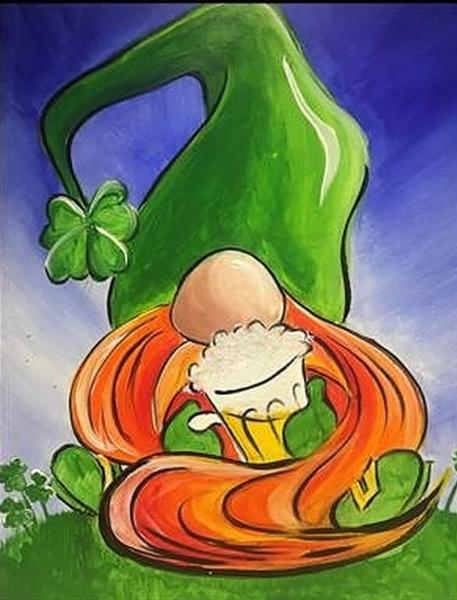 Shake your shamrocks and join Saratoga Paint & Sip on Thursday, March 17th for this gnome paint and sip event! Not artistically inclined? That's ok! A local artist will instruct you step by step, making it easy to complete this piece of art! At the end of the night, you'll take home a one-of-a-kind painting and hopefully a newfound talent! Tickets are $39 per person. Book your seat now: https://bit.ly/3HZmryb.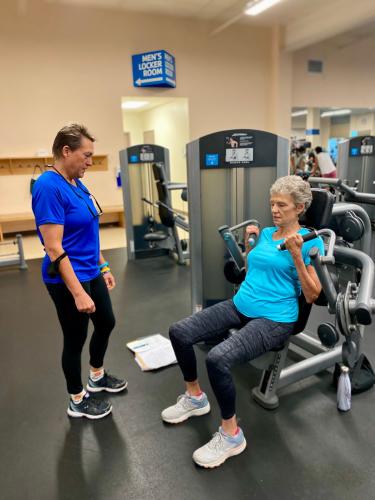 If you're looking for a place to find community and focus on your health and wellness goals, then today is your luck day! The Saratoga Regional YMCA invites you to join on St. Patrick's Day and pay only $25! That's a savings of up to $114.
*Offer valid March 17, 2022 – March 20, 2022. 
*Regular monthly payments will begin in April. 
*Financial assistance is available!
For more information, please visit SRYMCA.org or call 518-583-9622.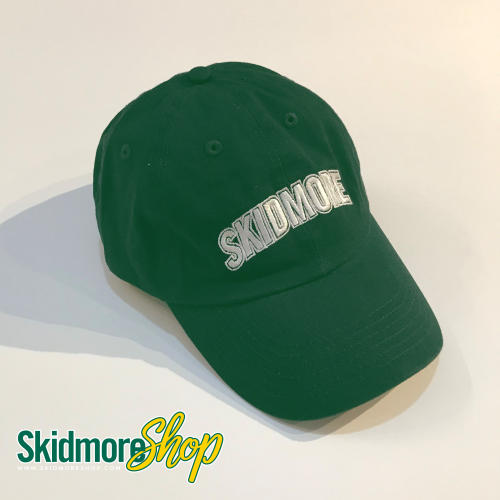 Mark your calendars, Thursday, March 17th is your lucky day! For this day only with your purchase of $50 or more at skidmoreshop.com, you'll receive this green Skidmore cap for FREE!
Hours of operation are Monday – Friday 8:30 a.m. – 4 p.m., Saturday noon – 3:30 p.m.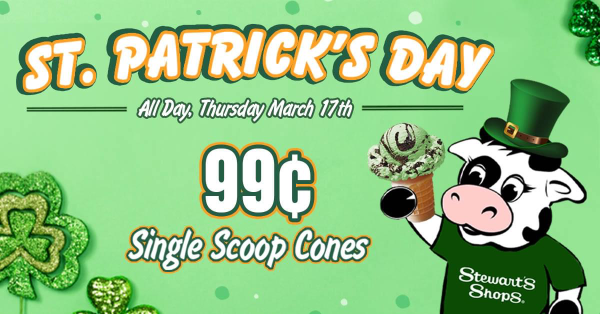 Single scoop cones for .99 cents on St. Patrick's Day at all Stewart's Shops locations!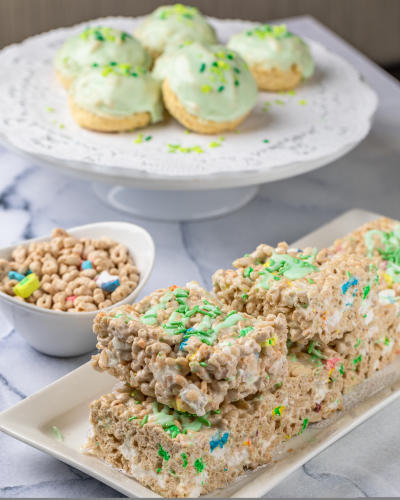 Sweet Mimi's will be serving up some sweet treats on St. Patrick's Day from 8am-2pm! Come and enjoy Bailey's cheesecake, decorated lemon drop cookies, cupcakes, and lucky charms krispy treats! They will also be offering a "Croque of The Irish" brunch dish until it runs out.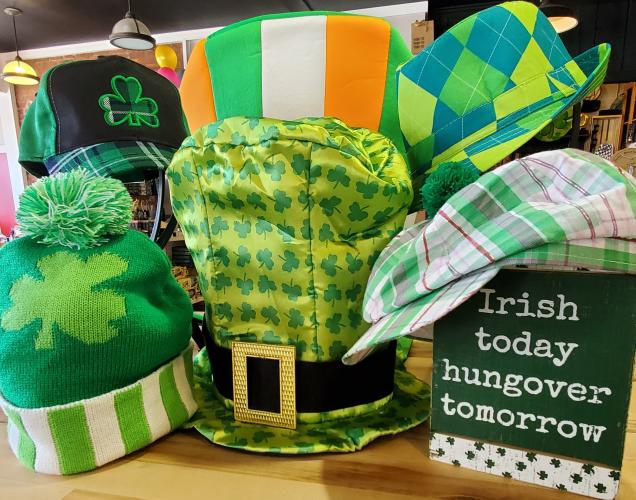 Come to Tailgate and Party Shop and get your Irish On! Party supplies, balloons, and crazy hats for your St. Paddy occasions! Go green because everyone is a wee bit Irish! Open daily. 33 Phila Street – diagonal to Ben and Jerry's.
The Cellar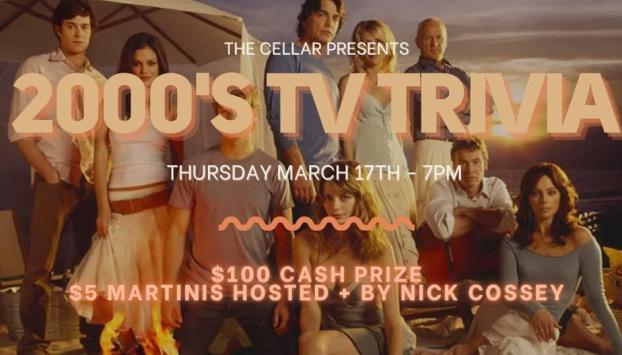 Join The Cellar for 2000's TV Trivia hosted by Nick Cossey on Thursday, March 17th at 7pm! There will be a $100 cash prize. Enjoy $5 martinis.
The Children's Museum at Saratoga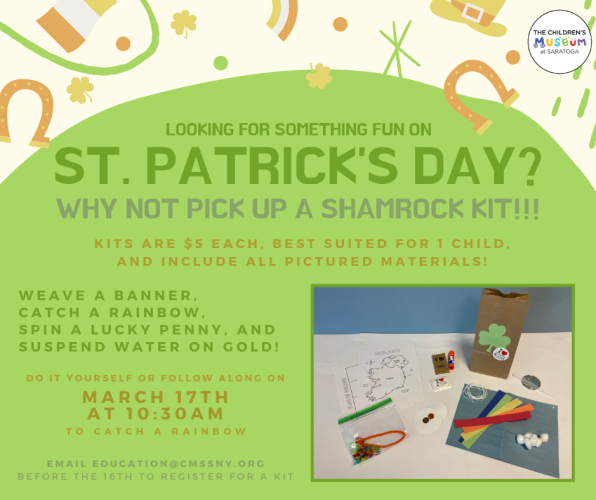 Help make St. Patrick's Day special for the little ones in your life with a Shamrock Kit from The Children's Museum at Saratoga! Kits are $5 per child and should be picked up on Wednesday, March 16 at the museum. Email education@cmssny.org to register for a kit now! And make sure to follow along on Facebook Live on Thursday, March 17 for a special Catching Rainbows Activity.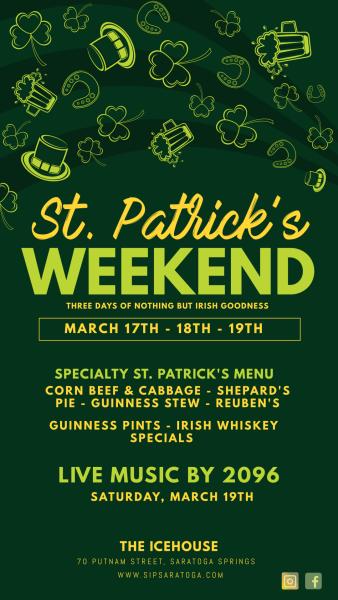 Celebrate St. Patrick's Day Weekend (March 17-19th) at The Ice House! There will be a special St. Patrick's Day menu, Guinness pints and Irish whiskey specials, live music, and more!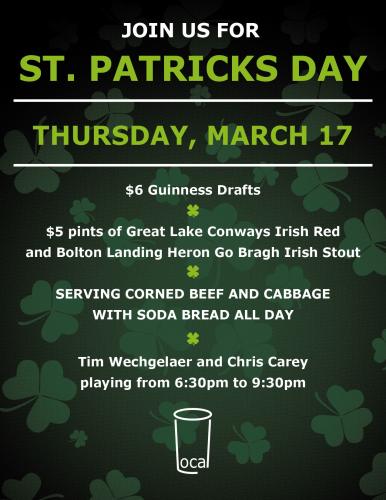 The Local Pub is celebrating St. Paddy's Day with great beer specials, corned beef and cabbage, and live music from Tim Wechgelaer and Chris Carey from 6:30-9:30pm!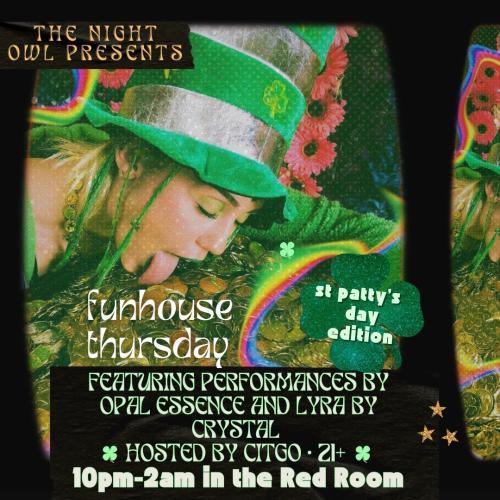 Not sure what you have going on St. Paddy's Day? Come have fun at The Night Owl with their host Citgo late night. Doors at 9pm. Performances starting at 10:30pm. Sounds by DJ Tomb.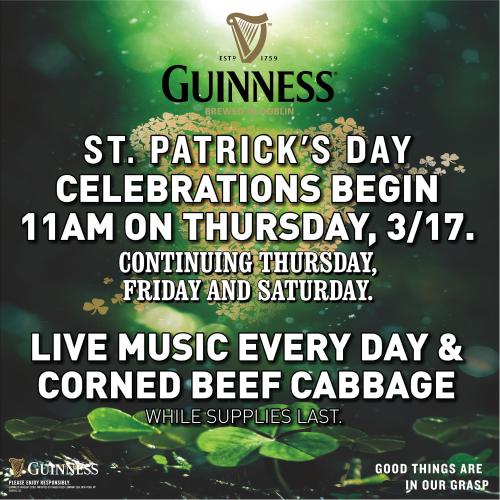 The Parting Glass Pub is your St. Patrick's Day headquarters! Celebrations will begin at 11am on Thursday, 3/17. Keg trailer will be staffed Thursday, Friday and Saturday. Live music every day and corned beef cabbage while supplies last!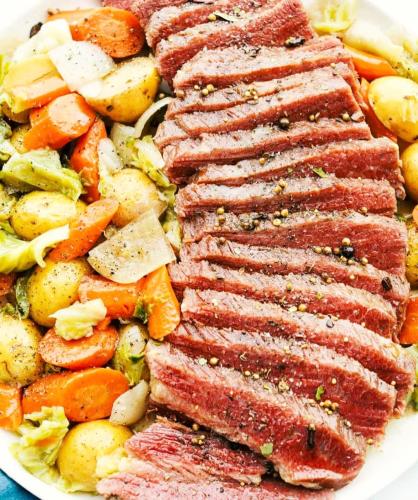 The Wine Bar is offering corned beef and cabbage with whipped potatoes and Irish soda bread for $22.00! Call (518) 584-8777 for reservations.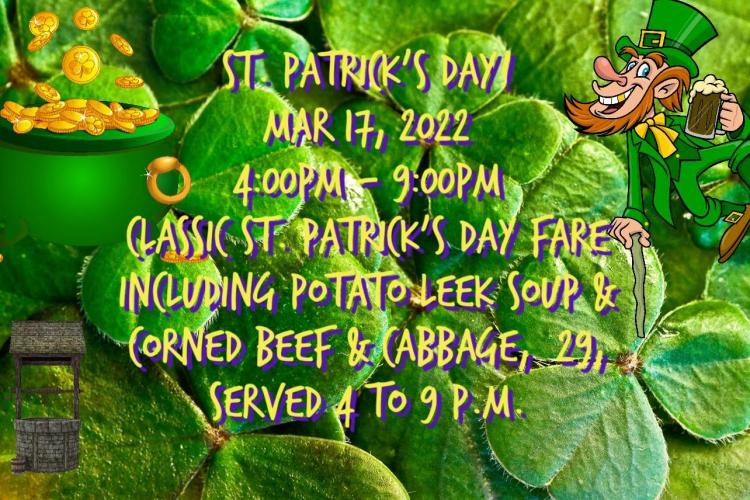 Enjoy classic Irish fare at The Wishing Well this St. Patrick's Day! Call (518) 584-7640 for reservations.