The Ultimate Guide to Holiday Shopping in Saratoga Springs, New York!
Snow is falling, Christmas classics are playing on repeat and festive decorations are everywhere you turn. It is indeed the holiday season in Saratoga Springs! With all the excitement of the holidays comes the inevitable stress of gift giving.  Between numerous holiday parties, decorating and traveling around this time of year, finding the perfect presents for all the special people on your list can seem daunting to say the least.
There's good news—you can get all your holiday shopping done right in Saratoga, New York! Whether you're in town for a meeting or are traveling for leisure, Spa City's boutique shops and unique products offer endless opportunities to wow your friends and family. Plus—who doesn't prefer to #shoplocal and support small businesses?
We've created a guide to the best gifts in Saratoga for every type of person on your list.
Gifts for horse lovers
Nothing says Saratoga like thoroughbred horse racing—so naturally you'll find the best horse-themed gifts in the heart of Saratoga Springs. From clothing and jewelry to collectables and gag gifts, there's no shortage of horse-inspired offerings.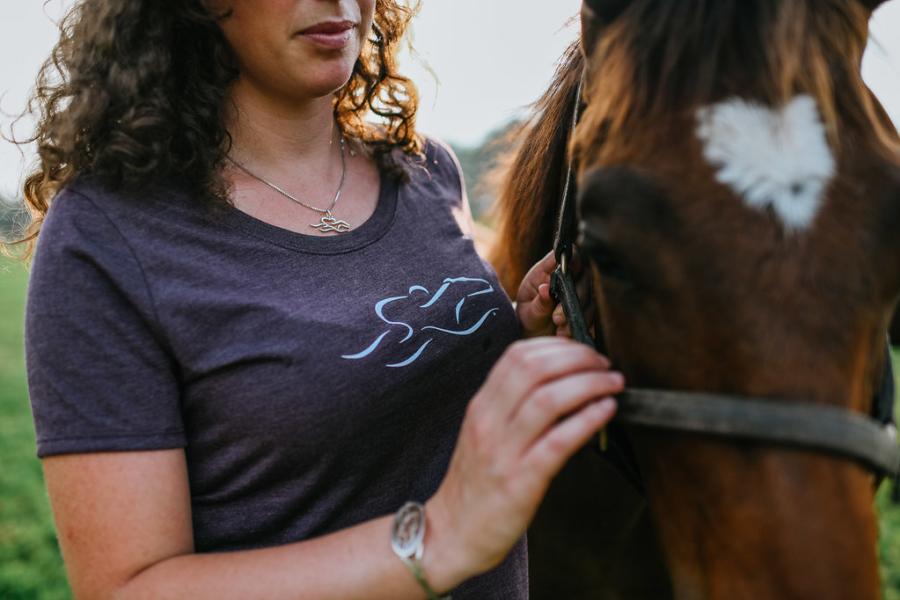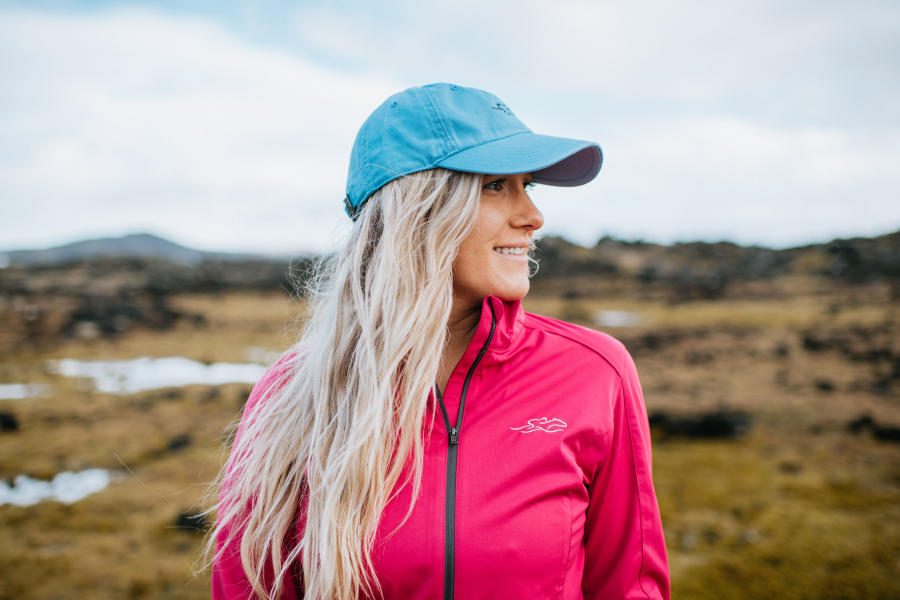 Whether the person you're shopping for is a horseback rider or just a fan of the Saratoga Race Course, EMBRACE THE RACE ® offers equestrian themed clothing and accessories that can be used for any occasion. Their universal symbol embodies the magical connection between the power, speed and majesty of equine athletes and the humans who celebrate them. We recommend their unique, horse-inspired necklace or branded hat for a gift! See their full online shop.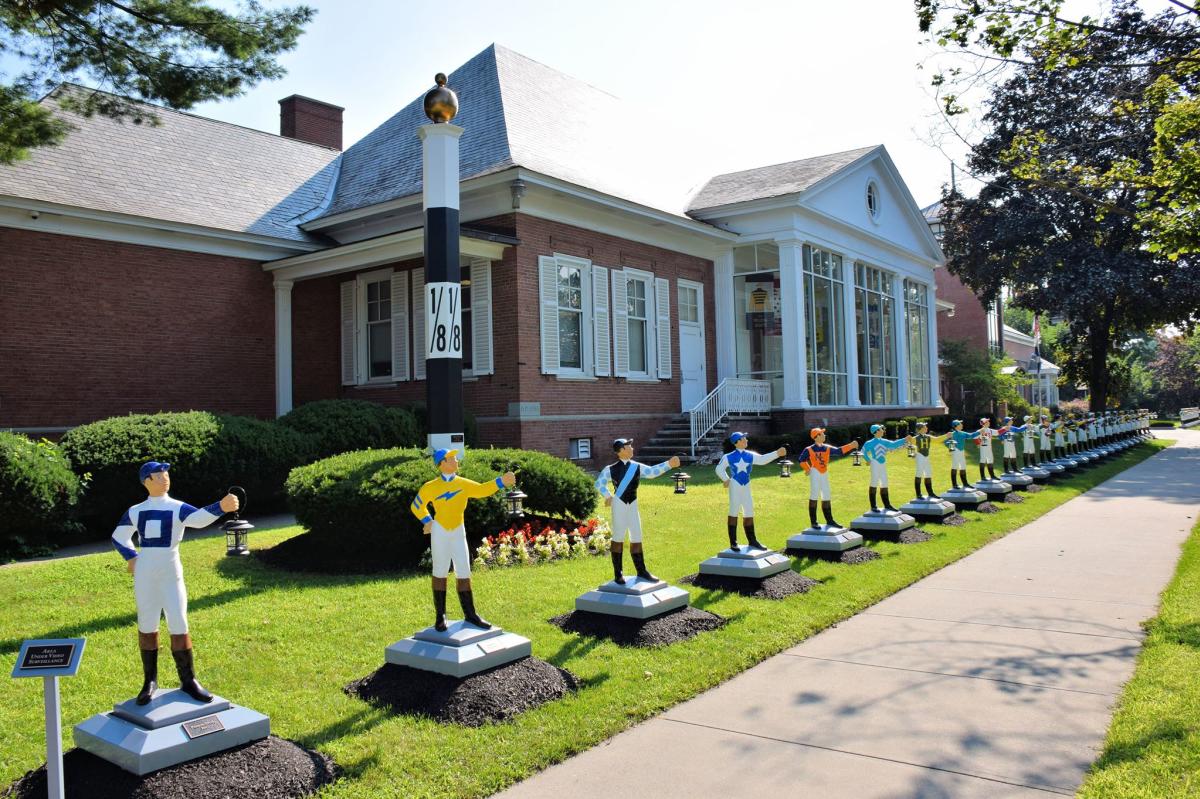 The culture and history behind horse racing runs deep in Saratoga. A gift for a horse lover wouldn't be complete without the opportunity to learn this history first-hand at The National Museum of Racing and Hall of Fame. Admission is only $10, and gets you access to all exhibits plus the Hall of Fame. Stop in their gift shop for even more present ideas, or browse on their website.
Impressions of Saratoga, located right in the heart of downtown Saratoga Springs, sells anything from decorative home goods, horse imprinted pajamas and scarves to Saratoga Race Course memorabilia. Not to mention Impressions is the perfect place to pick up horse-themed gag gifts for your friends with a sense of humor. Anyone on your list also loves dogs? Get it all at Impressions! 
Gifts for the chef in your life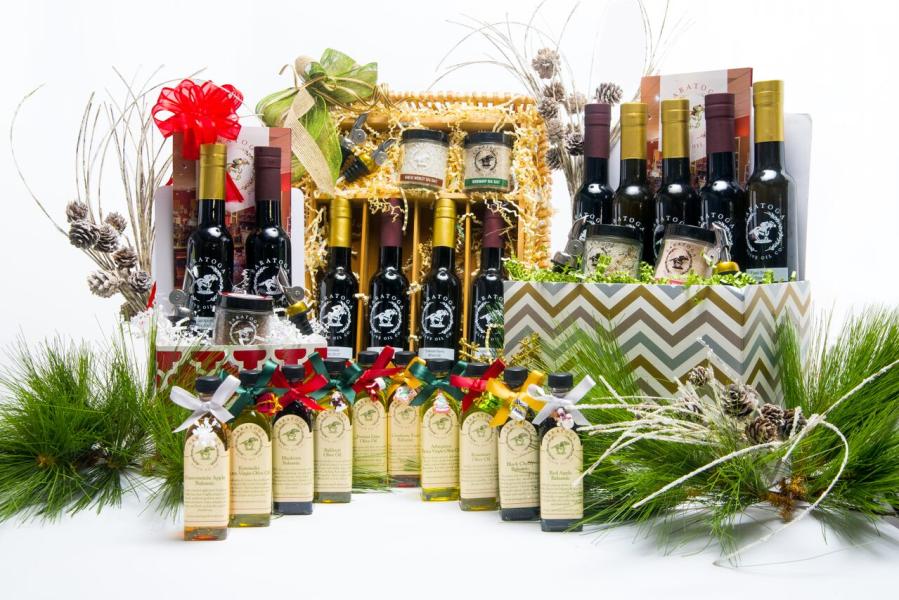 Who couldn't use more things to cook with? Whether it's cooking utensils, unique spices or cook books—we've got you covered. Saratoga Olive Oil sells over 60 flavors of olive oil and balsamic vinegar to sample. Gift baskets, variety packs, stocking stuffers and several new gift options are available to choose from. Shop at their store at 484 Broadway or online at SaratogaOliveOil.com
 Find anything from specialty food products and spices to cocktail-making kits at The Savory Pantry. (Keep reading for additional craft beverage-themed gifts!) Stop in their store for samples, or visit their gift guide for more ideas.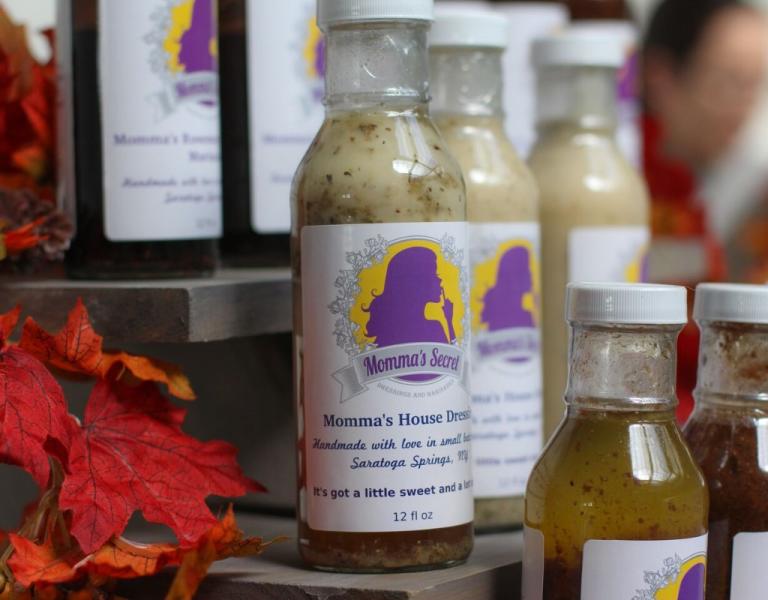 Looking for locally grown products or hand-made crafts? Stop by the Saratoga Farmers' Market on the 2nd floor of Lincoln Baths for their annual Holiday Market open Saturdays from 9 am to 1 pm through December 29. You'll find a wide selection of locally made jewelry, clothing, home decor, pet supplies, and, of course, specialty foods such as chocolate and spices. Saratoga Farmers' Market makes holiday shopping fun with live music, activities for children and community guests.
Sometimes it's better to treat someone to a night out instead. Lucky for you DZ Restaurants is offering a special holiday deal for gift cards! For every $50 in DZ Restaurants gift cards purchased, you'll receive a $25 Holiday Bonus Card to use in January 2019. The promotion applies to all DZ Restaurants including Boca Bistro, Forno Bistro and Chianti Il Ristorante.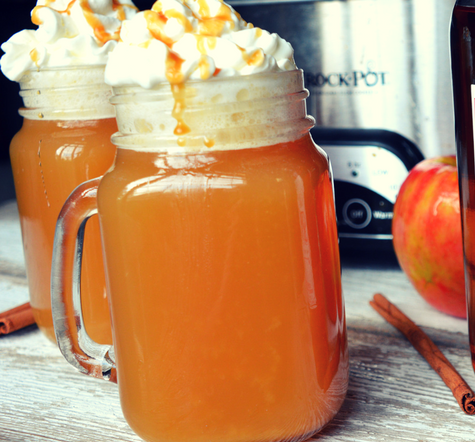 Nostalgia Ale House & Wine Bar in Malta is also offering a holiday promotion for their gift cards. Spend $20 get $25, spend $40 get $50, spend $60 get $75, and spend $80 get $100. Purchase gift cards on their website or directly onsite. If you do decide to purchase gift cards at the restaurant, be sure to try their Wassailing cocktail (pictured above) for just $5!
Satisfy someone's sweet tooth or tea craving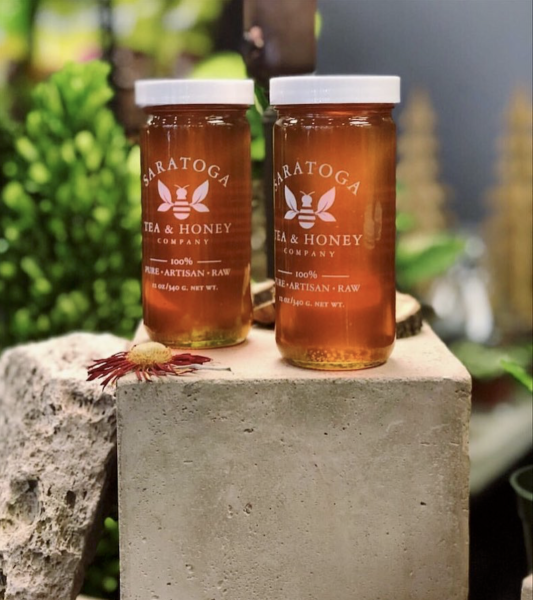 There's one thing for sure-- people in Saratoga love tea and honey. Why not give the gift of both all from one place? We love Saratoga Tea & Honey Company's honey variety packs and wako gift set for hot matcha. You can go above and beyond and go for a gift set with tea and honey. Be sure to look on their online shop or go in store for their impressive selection of gourmet teas.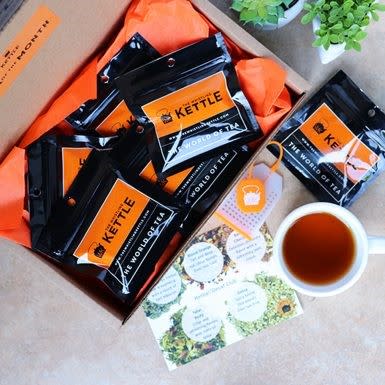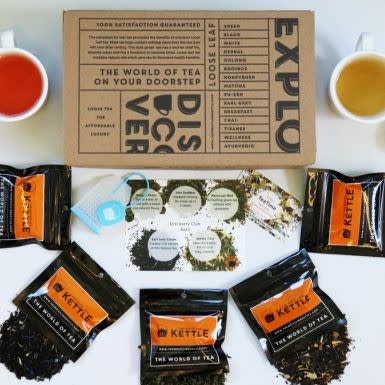 What's more relaxing than good company, food and a cup of tea? Treat someone to a dining experience at Whistling Kettle in Ballston Spa. Not only do they have a great brunch, but you'll love their variety of teas that they sell in packs. Not sure what they like? Grab a tea of the month club box! Visit their store and restaurant or shop online for the best deals!
Find additional treats and gourmet confections at Saratoga Sweets Candy Company (which is home of the famous Peppermint Pig!) and Kilwins Saratoga Springs. WARNING: you might be tempted to bring something home for yourself! 
Pro tip: Bring baked goods from Putnam Market, Mrs. London's or Bread Basket Bakery to your next holiday party. You and your party host will not be disappointed!
Pamper someone special
Whether you're shopping for your significant other or someone that just deserves a break, spa packages are always a good idea. What better place to relax in than the city known for its natural mineral springs and healing properties?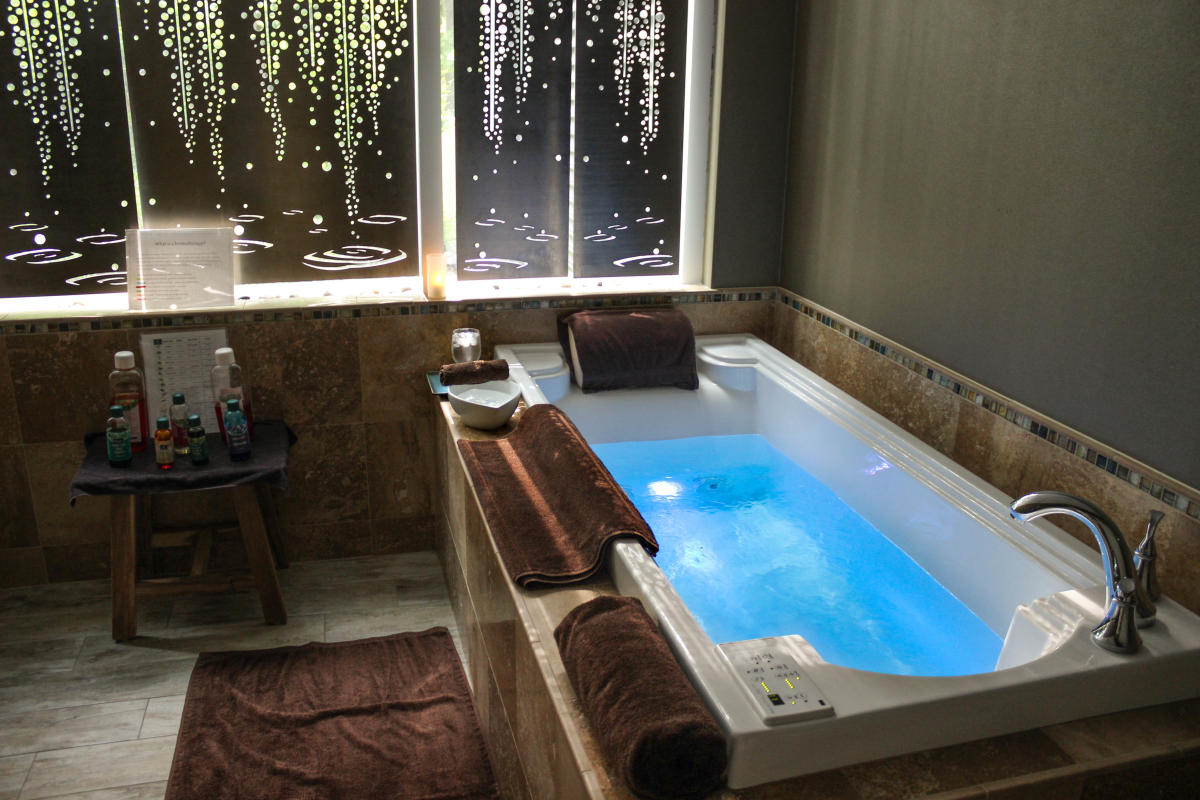 Photo via Sarah Funky 
Complexions Spa for Beauty and Wellness, located on 268 Broadway, offers a range of treatments from massages and rejuvenating facials to manicures, pedicures and more. This year when you give the gift of wellness you'll receive $20 in Spa Dollars, an at-home spa set or a luxurious spa robe. PLUS with each gift card level you'll gain entries to win their Pamper with Purpose package– one massage or facial each month for an entire year! Check out their full list of winter holiday specials.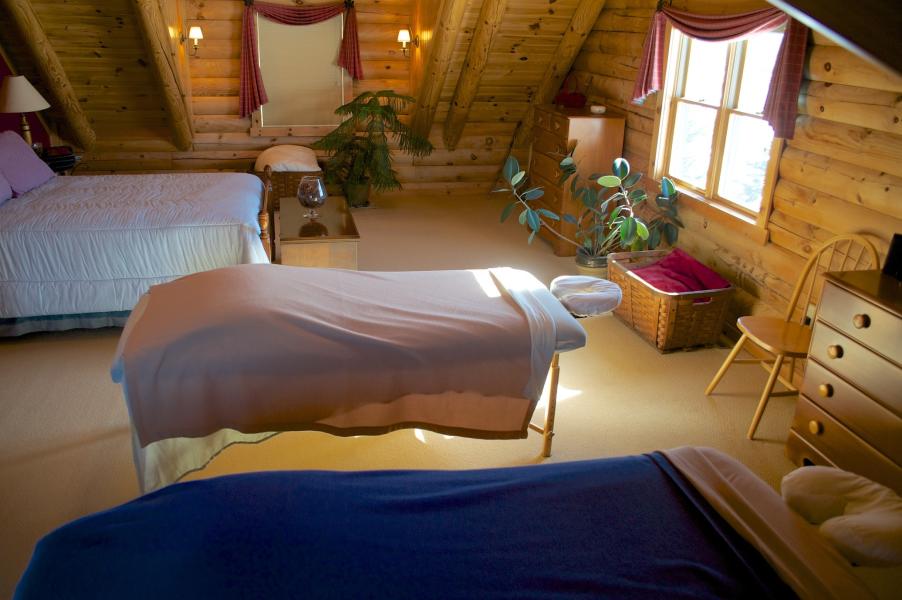 Who said you can't treat yourself at home? Give your special someone an in-house couple's massage from Massage Delivered. Provide the luxury of having a therapeutic massage in the privacy of your own home. The best part is you can head straight to the couch after it's done.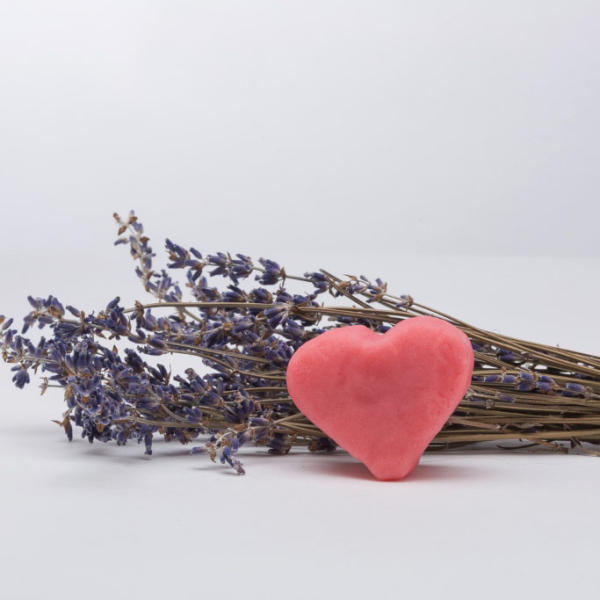 Calling all lavender lovers! Whether you enjoy the calming scent of lavender or its flavor, Lavenlair Farm has you covered! For the foodie on your list: culinary lavender, lavender honey, lavender maple syrup, lavender tea and more! For relaxation and aromatherapy: lavender oil, soap, bath salts, lotion and more. All locally grown and produced. Now offering FREE SHIPPING on all orders $40 or more. Use code SARATOGALAVENDER on their online shop.
Get crafty with a loved one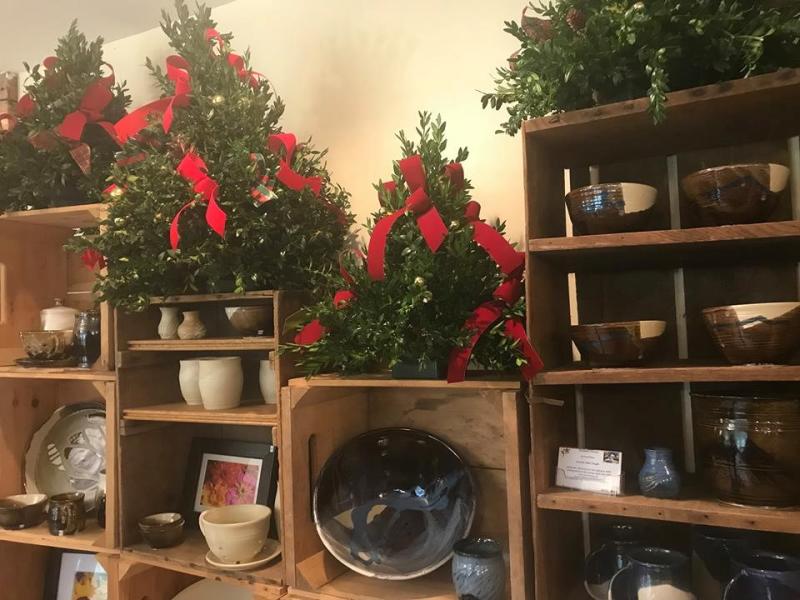 Balet Flowers & Design will offer special holiday hours at its greenhouse on Fridays and Saturdays through December 15 from 10 am to 3 pm with additional hours by appointment. Select from beautiful handmade wreaths ($20 to $55), holiday kissing balls, swags and centerpieces mixing abundant greenery, bows, and accessories. If you're looking for a creative holiday experience to share with your friends, Balet Flowers & Design is also offering custom classes to create a holiday arrangement, centerpiece or wreath. Cost is $45 per person with 8 or more people. Call 518-584-8555 for details.
Plan a girl's night out as a holiday gift for the gang at Saratoga Paint & Sip Studio.No painting experience required. Just grab a drink, throw on an apron and take a seat. The instructor will help with the rest!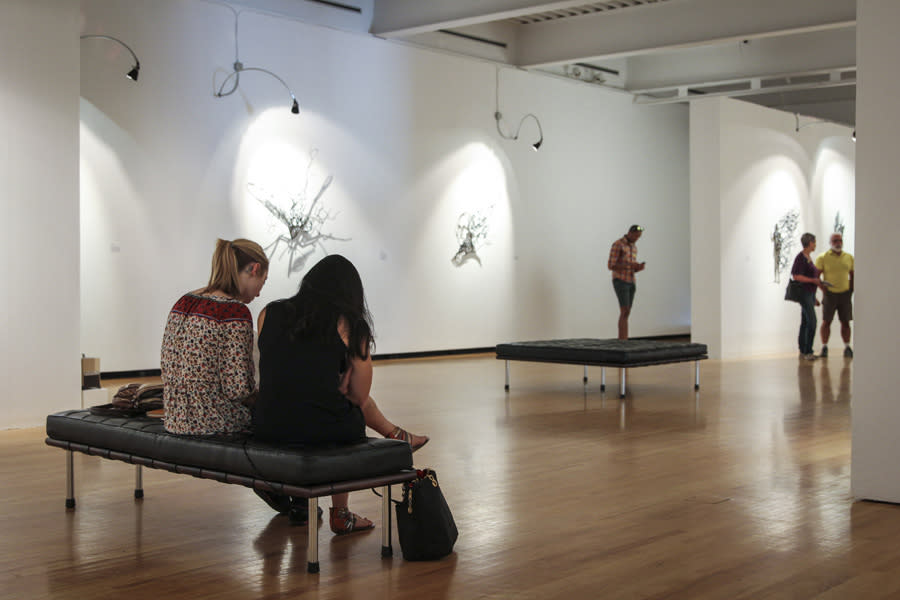 Art lovers will enjoy time spent at local museums and galleries! Throughout the month of December, Hyde Collection, Art Museum and Historic House will waive admission fees as part of Pay as You Wish. Attend free of charge then offer feedback on the museum experience. In addition, Hyde is offering half off membership to anyone living in the 12801 zip code. And, all memberships (no matter your zip code) are buy one, get one half-off. Buy a membership starting at just $60 a year, and get half-off a second to give as a gift to the art lover on your list! Plus, members receive a discount in the museum shop, so you can wrap it all up with an incredible book, stationery, or collectable. And to top it all off, Hyde hosts numerous workshops and events to keep your creativity flowing.
Gifts for adventure-seekers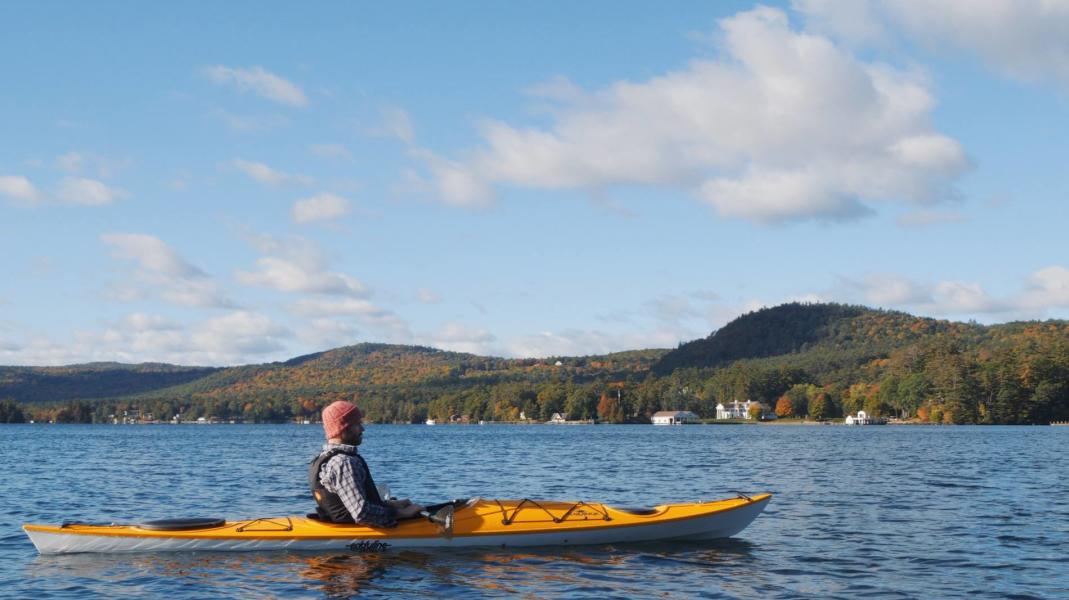 Give the gift of adventure and exploration! Lake excursions are perfect for anyone who's difficult to shop for. Lake George Kayak Co not only offers kayak rentals, but sells them in their paddle shop in Bolton Landing. You can purchase your gift and have them hold the item until the holidays!
If kayaking isn't their thing, try lake cruises instead!  Adirondack Cruise & Charter Co. is selling gift certificates and custom-made gift baskets on request, which you can find on their website. Additional boat cruises can be conducted by Lake George Steamboat Co. and Lake George Shoreline Cruise.  
Gifts for craft beverage and wine enthusiasts 
Cheers to cold nights, warm friends and a good drink to give them! Racing City Crewing Co. with Olivia Winery is offering A Cheers to the Holidays tasting certificate which includes a beer flight or a wine tasting, a glass of beer or wine and a soft pretzel snack...all for $20! Or give a gift that gives back. "One for You, $2 for Me" gift card promotion offers $2 off your beer or wine purchase at the bar for every $25 in gift cards you buy. Hey, we like the sound of that! Purchase them online or in the tasting room at 250 Excelsior Ave.
Find more breweries, wineries and pubs here >>
More of a wino? You could take your special someone to a wine tasting at one of Saratoga's local wineries. Even better—bring them to wine dinner at Prime at Saratoga National Golf Club.  Holiday Wine Dinner packages are now available at Prime, and include reservations for 3 different wine dinners in 2019. You and a guest will enjoy a delectable 5-course dinner paired with wines on January 24,February 21 and March 21. You'll also receive a bonus $100 Prime/Saratoga National gift card with your purchase!
Give the gift of live entertainment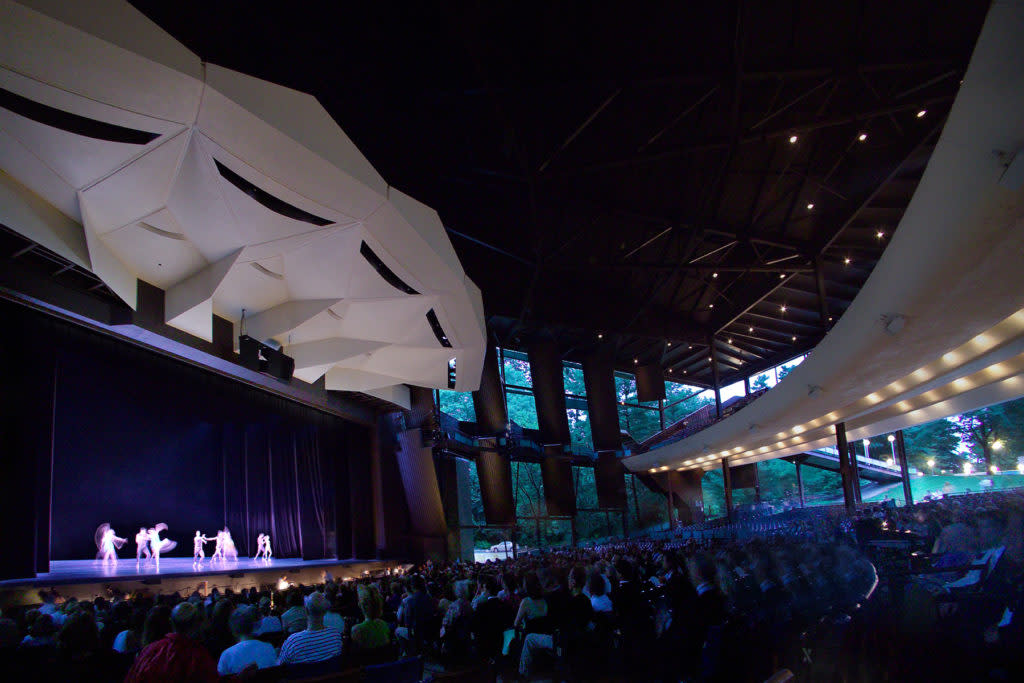 Saratoga Performing Arts Center is offering 4 special holiday offers for every classical music connoisseur, pop diva, or rock n' roll fan on your list. Choose from a variety of discounted passes to performances and events like New York City Ballet, Freihofer's Saratoga Jazz Festival and Chamber Music Society. Gift certificates are also available. Purchase the holiday collection on SPAC's website.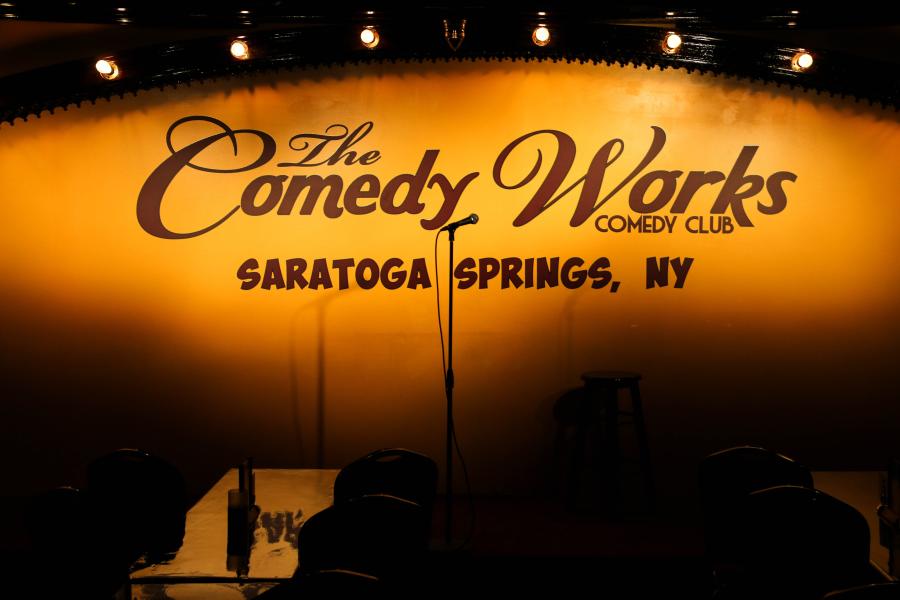 Who doesn't love a good laugh? The Comedy Works gift certificates never expire and are the perfect gift someone can hold on to and use when they really need a laugh, or when their favorite comedian comes to town. Gift certificates come in $25 increments and can be purchased online. Make sure to check out their calendar of events as well!
There's nothing more thoughtful than giving someone a truly remarkable experience. The gift of live music provides just that. Caffè Lena, which is recognized as the oldest continuously operating folk music venue in the United States, is hosting a handful of holiday shows throughout December, including their Annual Holiday Folk Show, a performance by Josh White Jr and Let's Be Leonard. Folk lovers will appreciate Caffè Lena memorabilia like live CD sets, posters, books and more. Find them here.
Gifts for avid readers
Not only can you find specific books from Northshire Bookstore's large selection, but you can also choose from a variety gifts inspired by famous literature. Their store even has a small vinyl collection, so you can knock multiple people off your shopping list. 
Local author, Ray O'Conor, is exclusively selling signed copies of She Called Him Raymond at Northshire. When ordering, include the name of the gift recipient and the message you'd like inscribed. Another local author, Greg Veitch, also sells signed copies of his book All the Law in the World Won't Stop at Northshire or online. This fascinating story is about gambling, crime and corruption in Saratoga. 
Lyrical Ballad Bookstore is also a great option for your reading needs. Find a full list of book and gift stores here >>
Saratoga-inspired gifts
Bring Saratoga home with you (or your dog) with these gifts inspired by the scenery and culture of our beautiful city. TOGA HERITAGE, a Saratoga Springs lifestyle company and purveyor of accessories and fine goods, now has a new shop at 398 Broadway. We love their heirloom quality keepsakes for home, office and more!
If you're seeking an assortment of products that are produced locally, Saratoga In a Box can create a gift box for you. You can build your own box on their website.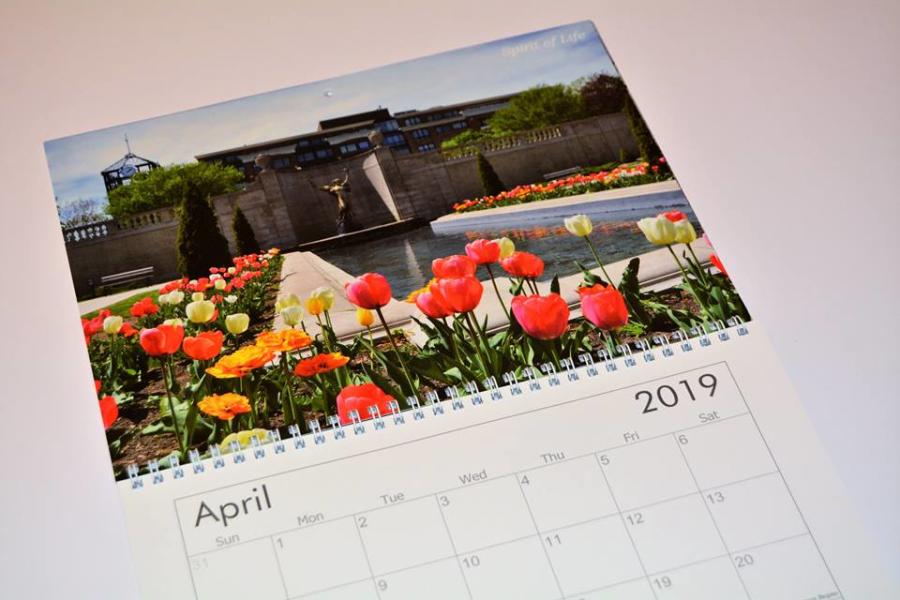 Christmas is the perfect time to give friends yearly calendars for their home or office. Saratoga-based photographer from Frozen Moments in and Around Saratoga is selling 2019 calendars filled with photos of iconic Saratoga landscapes, attractions and more. Get one now at Impressions of Saratoga or by directly contacting her.
Satisfy the foodie on your list with a Taste of Saratoga Holiday Basket from On The Go Concierge. Each basket carries quality Saratoga products with an array of festive holiday goodies. Baskets are made to order, and can be delivered locally!
Find more Saratoga-themed clothing, trinkets and souvenirs at shops such as Crafters Gallery, Impressions of Saratoga and more. Or find a shop in our business directory.
Give them a getaway to remember
Treat your loved one with an overnight stay at one of our historic bed and breakfasts! The Inn At Five Points will be one of your new favorite Saratoga destinations for relaxation and pampering. Gift certificates are available in any denomination by calling 518-584-1648. And in case you were wondering, the illustration above is of the owner's adorable dog, Beverly, by the inn's fireplace.
Find a full list of Saratoga hotels & lodging >>
Speaking of a getaway to remember, how about throwing a holiday party or event to remember? Your friends and family will love a group excursion to Saratoga! The area has so many options for group transportation so you don't have to worry about driving. Tech Valley Hospitality Shuttle is even offering a 10% off discount for services booked this holiday season. Call 518-203-8748 for details.
And, of course, Wilton Mall is always a great option to get all your shopping done in one place. Check out their website for a complete list of stores. 
Want to learn more about Saratoga?
Sign up for our Discover Saratoga newsletter for all latest events and things to do in Saratoga, NY.