If you haven't already heard, the thoroughbreds are taking a few extra days off this year. And, no, that doesn't mean we're getting less track days—just an earlier season with the same 40 days of live racing. This year's Saratoga Race Course season begins on Thursday, July 11 and will run through Labor Day, Monday, September 2.
As you plan out your summer activities, consider using dark days to explore the Saratoga region. Our destination experts put together this insiders list of their favorite ways to spend a dark day in Saratoga.
Saratoga history class 101
Tour the Saratoga Battlefield
In 1777, during the American War for Independence, American troops battled & beat a British invasion force, marking the first time in world history that a British Army ever surrendered. This crucial victory secured essential foreign recognition & support, instigated world-wide wars, affirmed United States independence, and changed the face of the world.  Relive the battles & tour the 10-mile tour road at the Saratoga National Historical Park.
Take a walking tour of downtown Saratoga Springs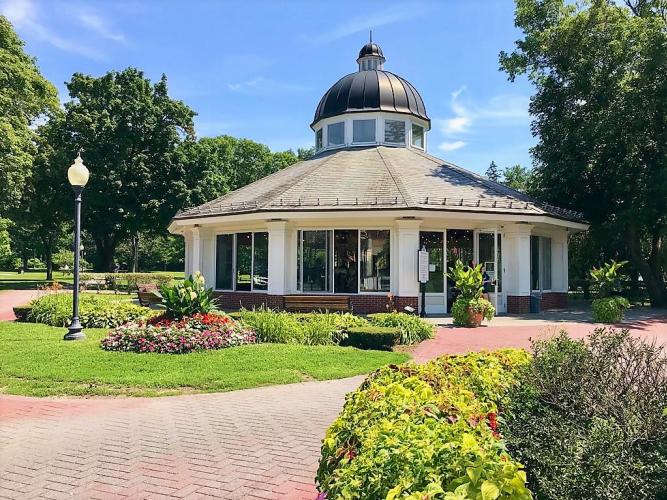 History, Legends, Lore & More is a 90-minute guided walking tour that weaves through historic Congress Park. This legends and lore stroll will introduce you to Saratoga's colorful characters and history while sipping the famous mineral waters.
Enjoy air conditioning in a trolley tour of Saratoga
Save your steps for downtown and ride along on this 2-hour guided trolley tour of Saratoga Springs.  Mansions, mineral springs, Morrissey and more; see it all from the comfort of a climate controlled historic trolley.
Shop til you drop in Saratoga (figuratively, of course)
Downtown Saratoga is overflowing with unique, locally owned shops and boutiques filled with one of a kind items and local artisan products.  Our award-winning walkable downtown is waiting for you!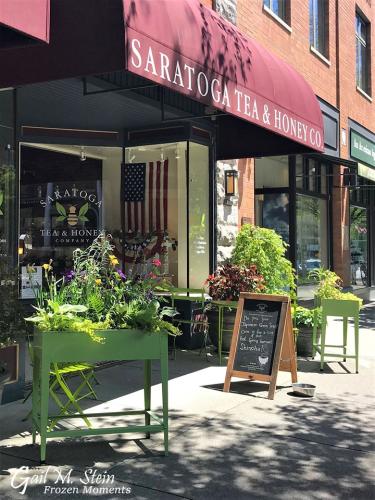 Wilton Mall is renowned for its great selection, value & diverse store offerings. Well-known retailers & fun local boutiques, eclectic restaurants, and a state-of-the-art cinema means fun for the entire family. 
There's something in the water
While early visitors believed the waters could cure all that ailed them, we know that the waters are just what the doctor ordered for an afternoon adventure. Stop by the Saratoga Visitors Center for a self-guided tour of Saratoga natural mineral springs or hop on a guided walking tour at the Saratoga Spa State Park. 
A little rest and relaxation are always in order, and no visit to Saratoga would be complete without an authentic mineral bath.  Visit the historic Roosevelt Baths and Spa for a sumptuous soak, and maybe a massage too?  Or visit the luxurious Complexions Spa for a day of pampering & a mineral balneotherapy treatment. Additional spas in Saratoga County include Swedish Hill Farm & Spa, Saratoga Botanicals and Esthetiques Skin Care Clinique and Therapeutic Spa. While these spas don't have mineral water treatments, they offer just as many services to really treat yourself.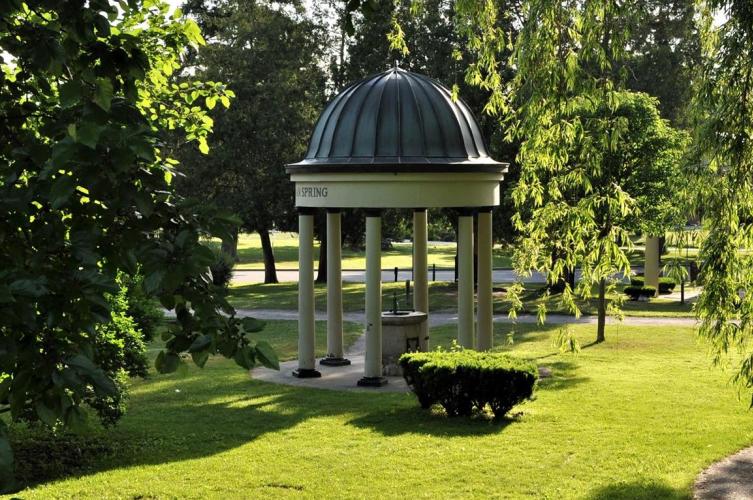 Immerse yourself in live music
The New York City Ballet, Philadelphia Orchestra, the Chamber Music Society of Lincoln Center and Live Nation call the Saratoga Performing Arts Center their summer home, so why wouldn't you?  This award-winning outdoor amphitheater brings world class performers, and acts under the starry sky. See the special events section for Monday and Tuesday performances.  
Caffè Lena presents extraordinary music in an intimate setting steeped in history. It is widely recognized as the longest continuously operating folk music venue in the United States. Over the years, artists like Don McClean, Arlo Guthrie, Bob Dylan and Emmylou Harris graced the storied stage as up-and-coming artists. 
Nothing says summer to us like live music in the open air. The Saratoga Summer Concert Series returns on Tuesdays in August, bringing the best local artists to our Congress Park "stage". Bring a blanket for the grass, a picnic to share with friends, and of course, your dancing shoes. The full schedule is available here.
Additional performance art venues include Putnam Place, The Comedy Works and Opera Saratoga. Check out our events calendar for live music at local restaurants and bars.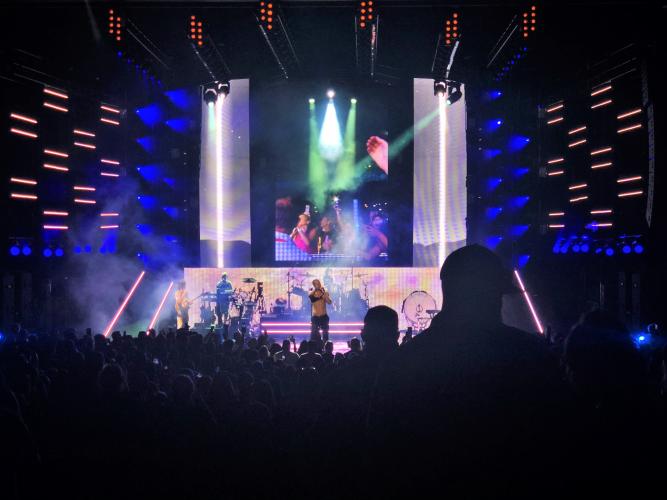 Photo Credit: Saratoga County Chamber of Commerce
Wander through Saratoga's art galleries
Whether you are looking for a small conversation piece or the painting that is going to look fabulous over your mantel—you'll find that perfect piece in Saratoga!
The Arts District on Beekman Street is a part of Saratoga Springs' historic west side. The three-block mixed-use neighborhood is a relaxed but vibrant community of working artists, shopkeepers, restauranteurs, health professionals and residents. The area embodies the creative spirit of Saratoga while honoring the local heritage and is a meeting place where neighbors & visitors can come together to view & purchase artwork, meet artists, dine at some of the city's best restaurants, visit specialty shops & services, or just stroll down the flower-lined street.
While Saratoga Arts boasts a wonderful gallery of their own, we really love exploring their Arts in Public Places program.  Find local artists' work all over Saratoga, displayed in seven Saratoga County locations—a great scavenger hunt way to spend a day.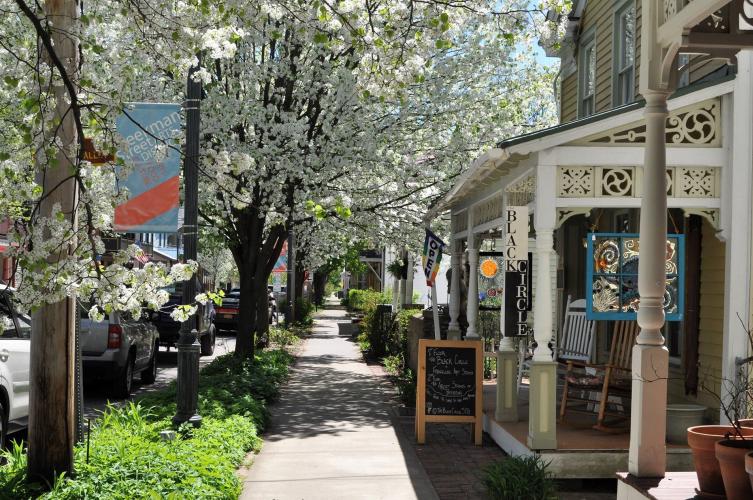 Or make your own art
Ever been interested in glass blowing? For this summer only, you can take a glass blowing class with artist, Gregory Tomb at The Gideon Putnam. Classes are offered from July 4 to September 3, running Thursdays through Tuesdays. See the classes offered here.
Become an artist during a painting class at Saratoga Paint & Sip Studio. And yes, you read that right—it's a painting class and wine and beverage bar. Look through their calendar to choose what painting classes you're interested in.
Feed your creative soul at Creative Sparks art studio to paint pottery, build mosaics or fuse glass. Just a few miles outside of Saratoga, Saratoga Clay Arts Center offers hand-building clay classes for youth and adults.
Come hungry: dining in Saratoga
With over 100 restaurants in Saratoga County, you may want to set aside a day to spoil your taste buds.  Lakeside, parkside, or outside - our restaurant scene is on your side.  Farm-to-table or international? Classic pub or Fusion cuisine? Fine steakhouse dining or a no frills classic American diner?  Endless options are what we are known for, so why stop at one?  Grab a cocktail and appetizer, then make your way down the street for a spot-on dinner, before hopping in your car for that perfect dessert.  Our walkable downtown makes progressive dining a delight, and that perfect nightcap is just steps (or a cab ride) away.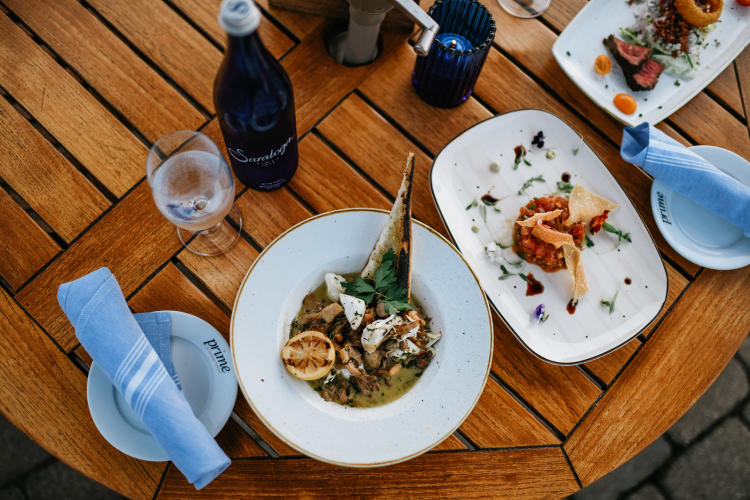 Create your own craft beverage trail
While we love our mineral springs, sometimes we crave a little more flavor.  Our wineries, breweries, pubs, taverns and tasting rooms have perfected the beverage craft for your sampling pleasure.  High-end hand-crafted cocktails, locally made wine spirts, and brews are ready to be sipped on the outdoor patios and rooftop bars. You can quite literally create your own craft beverage trail without having to worry about transportation with Brew Bus. 
Family-friendly activities in Saratoga
The kid in all of us - and all of our kids - love spending an afternoon at the bowling alley. Try not to act your age at Saratoga Strike Zone and have a blast with the full arcade, ballocity, indoor bumper cars, bowling lanes and restaurant. 
What do you want to be when you grow up?  A teacher? A banker? How about a rocket scientist? Maybe a veterinarian? Ohhh - how about a star of the stage? If you visit The Children's Museum at Saratoga, why not try them all? (Tuesdays only)
You will find the Creekside Classroom, a four-season environmental education center, nestled among the springs and Geyser Creek in the Saratoga State Park. Pack for a waterside picnic, burn some energy on the playground, get your wayfinding skills honed with the Geocache Challenge, and then jump into the classroom for an educational program. 
Get some more outside time at the Albany Pine Bush Preserve and Discovery Center (approximately a 40-minute drive from downtown Saratoga Springs). This extraordinary ecosystem is home to the endangered Karner blue butterfly and 75 other at risk species. Walk the discovery trail and then learn more about what you saw at the Discovery Center.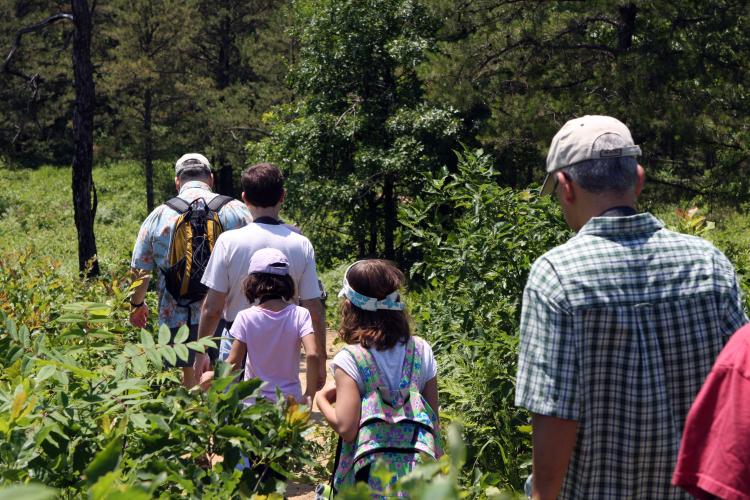 Photo provided by Albany Pine Bush Preserve
Thrill seekers can travel a bit north to our premiere Six Flags theme park.  Great Escape and Hurricane Harbor will get your blood pumping on the crazy coasters before cooling you off in the water park.          
Get outside and enjoy summer in Saratoga
Check out Saratoga's parks
Did you know that bread is bad for ducks?  We were sure you would like to know, though, as a stop at Congress Park to visit the ducks needs to be part of your day.  You can also say hello to Spit -n- Spat, the Spirit of Life, Native Dancer, Pan and Meneads.  Pick up a self-guided walking tour map of the park at the Visitor Center.
If you are strolling the park on a Monday, we suggest you stop by the beautiful Canfield Casino and Saratoga History Museum for a Ghost Tour.  Is the Canfield Casino haunted?  The Sci-Fi channel's Ghost Hunters certainly thought so.                  
Golf in Saratoga
If golf is your game, then you want to play here. Want a lake view?  You got it.  Looking for gentle hills and rolling green? Done.  Need a challenge on an award-winning course? Coming right up! Do you need to fly your light aircraft in for a round?  We have that. And don't forget a visit to the spectacular clubhouses after your round- you've earned it!
Take the waters
We think there is no better way to spend a day than on the water. Saratoga Lake may be just outside of downtown, but you will feel like you are a world away kayaking or paddle boarding on the water.  If you want someone else to do the work for you, reserve a spot on a lake cruise, or charter a private tour for up to 30 people with companies like Adirondack Cruise & Charter Co.  Grab a bite at a lakeside spot and enjoy our stunning sunsets.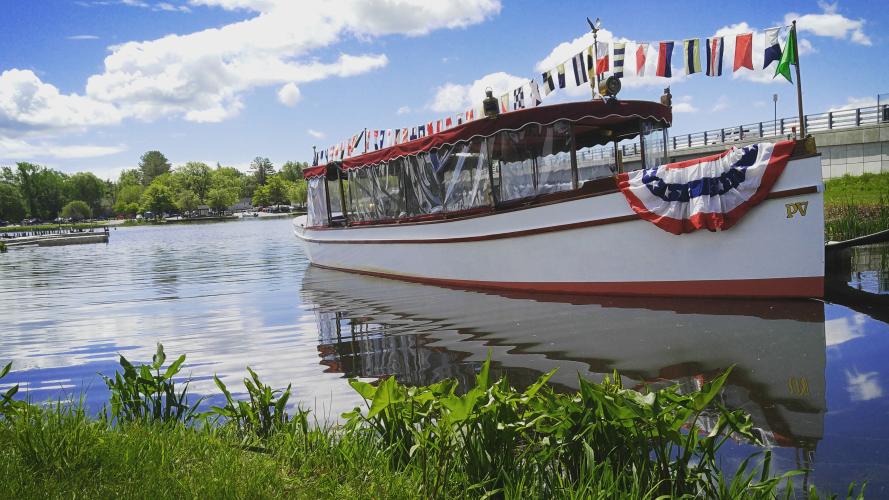 Photo provided by Adirondack Cruise and Charter
Get your fix of the track
While the Race Course is quiet, you can still get your equine time. Take a backstretch tour of the Oklahoma Training Track with the National Museum of Racing (reservations required) or visit Old Friends at Cabin Creek to meet 15 retired thoroughbreds - the horses will literally be eating out of your hands! (Tuesdays only)
Indulge in Saratoga's nightlife scene
What's your game?  Slots? Poker? Roulette? The trotters? Find it all at the Saratoga Casino Hotel. Stop in Tuesday night for world class Harness Racing, grab a bite or a sit-down dinner at one of the four onsite restaurants, and test your luck at the slot machines and electronic table games. Vapor Nightclub will have you dancing into the wee hours—good thing there is a hotel onsite.
Get lost in one of the many museums in Saratoga
Automobile enthusiasts will want to make a pit stop at the Saratoga Automobile Museum in the historic Spa State Park. Dance your day away at the National Museum of Dance, twirling through the decades of authentic film, theater and professional performance costumes and dance memorabilia. (Tuesdays only)
Do you want to get to know Saratoga a bit better? Learn the Saratoga story at the Saratoga Springs History Museum, where the third floor is a replica of the grand Ellen Hardin Walworth mansion. The National Museum of Racing & Hall of Fame is home to everything equine - test your skills on the mechanical thoroughbred, trace the bloodlines of your favorite filly, or take in a film in the Hall of Fame.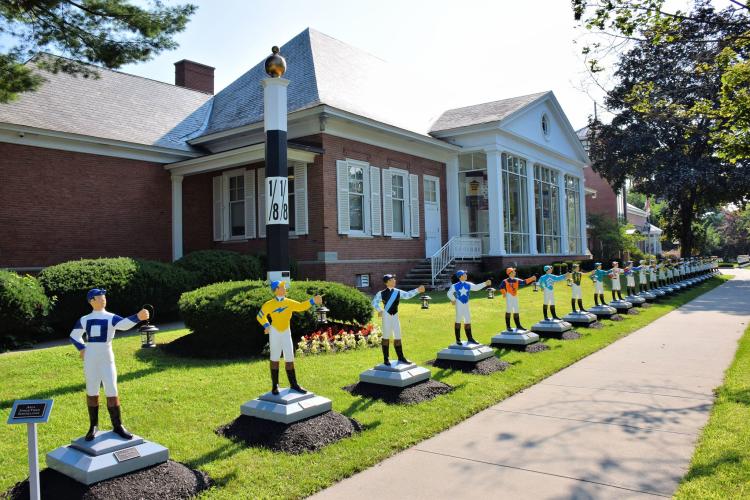 The Tang Museum & Art Gallery invites curiosity & collaborative learning through active engagement with the richness and diversity of the human experience through art. (Tuesdays only) The New York State Military Museum preserves, interprets and disseminates the story, history & records of New York State's military forces and veterans. The Hyde Collection Art Museum & Historic House: spend an afternoon with the masters: Botticelli, El Greco, Rembrandt, and Rubens. This gem of the art world boasts a 4,000-piece collection.           
Planning a trip to Saratoga?
Download the official Saratoga Destination Guide for information on shops, restaurants, things to do in Saratoga and more! Browse our website for travel tips and events you won't want to miss.
Stay informed with Discover Saratoga! No spam—just information about Saratoga you want to read. Sign up for our Discover Saratoga newsletter for all latest events and things to do in Saratoga, NY.