Saratoga Springs has plenty of food choices thanks to the city's flourishing restaurant scene. Here in Saratoga, we understand that food is an important part of culture, and we're proud to offer a diverse culinary experience. By embracing (and enjoying) various cuisines, we become more informed about different races and ethnicities. This allows us to live happier, healthier, and more connected lives. So, whether you're taking a stroll down Broadway or making your way up Phila Street, there are several unique places to whet your palette. Looking for a specific type of food/cuisine in Saratoga? Find the dining experience you want with this cultural food guide:
 
ASIAN CUISINE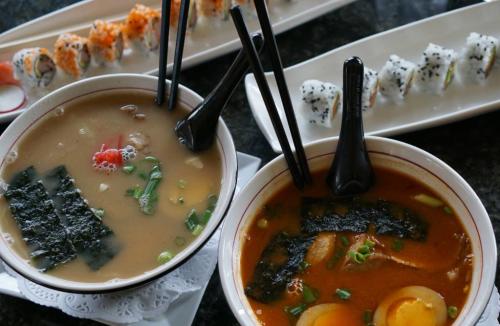 54 Phila Street
Saratoga Springs, NY 12866
(518) 226-0400
Phila Fusion Noodle Bar offers a casual, elegant dining experience. Their chefs serve the finest Asian food by taking ingredients from across cultural boundaries to create dishes that interpret classic Asian flavors from China, Japan, Korea, Thailand, and Vietnam with contemporary ingenuity. Open daily for lunch and dinner. Take-out available.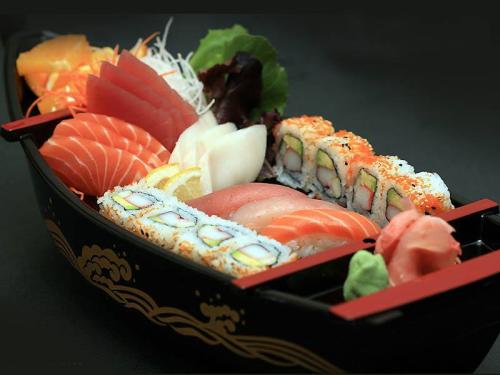 44-46 Phila Street
Saratoga Springs, NY 12866
(518) 580-0900
Just a few steps from Broadway…step into the Far East! Sushi Thai Garden serves the finest Thai cuisine along with the taste of Japanese cuisine. Open daily for lunch and dinner. Take-out available.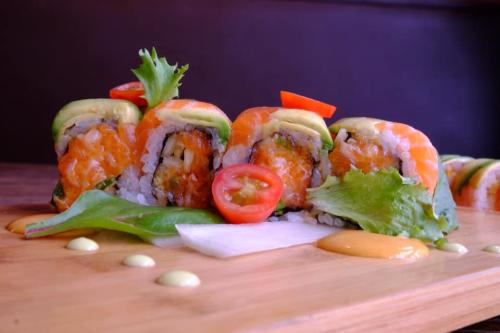 63 Putnam Street
Saratoga Springs, NY 12866
(518) 450-1092
Wasabi Restaurant offers unlimited fresh sushi, sashimi and delectable innovative maki rolls, hot and crispy shrimp and vegetable tempura, various Japanese appetizers and salads, fresh grilled teriyaki, tasty udon noodle, scrumptious desserts, and much more! Open daily for lunch and dinner. Take-out available.
CARIBBEAN CUISINE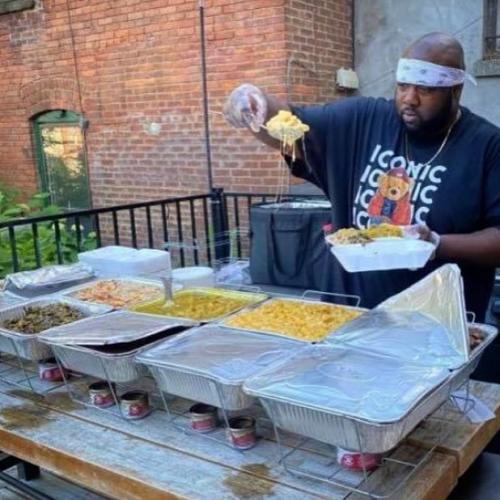 17 Maple Ave., 1st Floor
Saratoga Springs, NY 12866
(518) 319-2300
The Night Owl is a trendy cocktail bar located in the heart of Saratoga just around the corner from Caroline Street. The bar offers a full dinner menu of Jamaican food, dreamed up by Chef Bjorn Burke. A first generation American with two Jamaican immigrant parents, Burke learned how to cook island inspired fare from his grandmother while living in Jamaica. He also earned a culinary arts degree from Monroe College. You can find everything from Jamaican sticky wings and oxtail poutine to specialty seasoned crab and jerk chicken skewers at The Night Owl.
EUROPEAN CUISINE
390 Broadway
Saratoga Springs, NY 12866
(518) 682-6950
Brasserie Benelux is a casual, European-inspired neighborhood restaurant located on Broadway in Saratoga Springs. Chef Armand Vanderstigchel (USA born), the son of a Dutch immigrant, who also lived in the Netherlands for 17 years, has turned his focus on Benelux Cuisine, or more specifically, regional Belgian and Dutch food culture, expanding into German, Austrian, Polish, Belarusian, Alsatian, Czech, Scandinavian, and local American intonations stemming from the Hudson Valley and Adirondacks. Featured dishes as Belgium Mussels, Beer braised Short Ribs, Belgian Waffle/Crepes, Wiener Schnitzels and Sausage Platters await you.
FRENCH CUISINE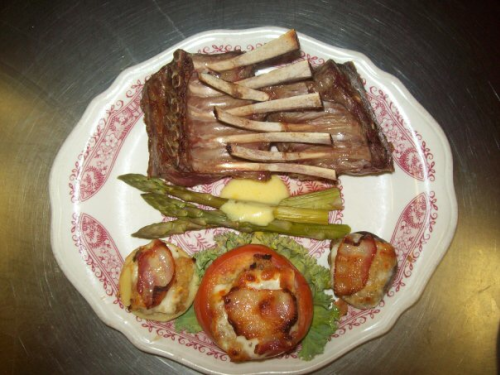 979 Rt 9 (Saratoga Road)
Gansevoort, NY 12831
(518) 793-3350
French fine dining at it's finest! Chez Pierre's doors opened in April of 1964 by E. Joseph and Pierrette Baldwin. While serving in the U.S. Army right after WWII, Joe met Pierrette in a small town called Nancy, France. Upon returning the states, the couple found an abandoned restaurant in a rural part of upstate New York. 51 years later, along with Joe and Pierrette's four children and the children's spouses, Chez Pierre has become one of the longest family operated restaurants in the area. Entree favorites include Veal Oscar, Steak au Poivre, Lobster Newburg, and Beef Wellington.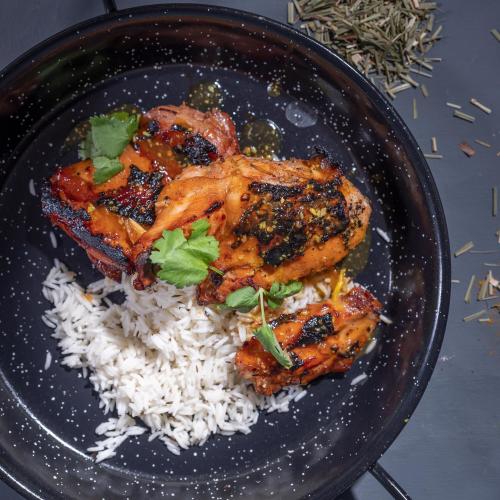 1 York Street
Saratoga Springs, NY 12866
(518) 226-0014
Fine dining in a restored 1800's home overlooking High Rock Park. Highlighting true French Quarter cuisine, fresh from local organic farms, featuring an extensive wine list, private dining rooms, rooftop, and outdoor garden seating as well. Mouzon House offers happy hour from 4-5 p.m. every day during the summer season, paired with live music on the patio. Live music seven nights a week.
INDIAN CUISINE
Karavalli Regional Cuisine of India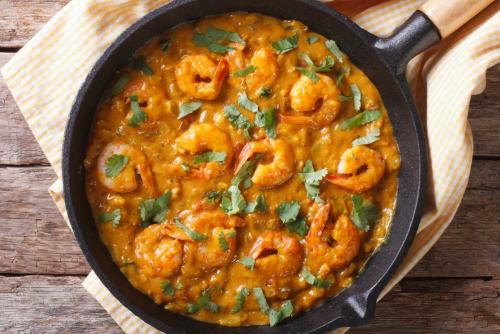 47 Caroline Street
Saratoga Springs, NY 12866
(518) 580-1144
Karavalli Regional Cuisine of India offers creative dishes from various regions of India. The joy of good food is something Mr. Santosh Kochuparambil has been spreading since 2007. Mr. Santosh believes in the power of spices and herbs. With a strong background of cooking in his native country and trained at India's equivalent to the Culinary Institute of America, Mr. Santosh specializes in seafood and South Indian recipes, everything from rack of lamb to chicken tandoori. Open daily for lunch and dinner. Take-out available.
IRISH CUISINE
Fitzgerald's Irish Sports Bar & Steakhouse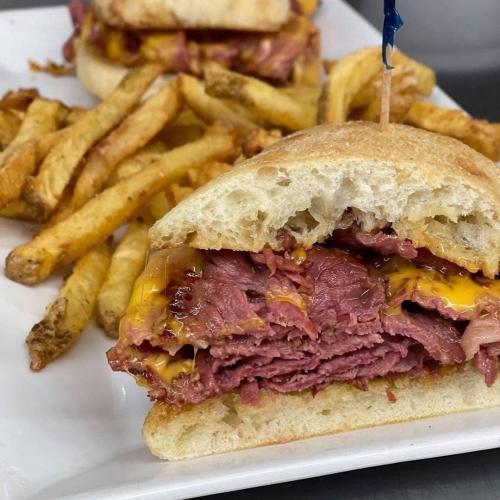 1393 State Route 9
Fort Edward, NY 12828
(518) 793-0177
From steaks and chops to outstanding salads and sandwiches, Fitzgerald's Irish Sports Bar & Steakhouse has something for everyone. Dine in, takeout and curbside pickup available.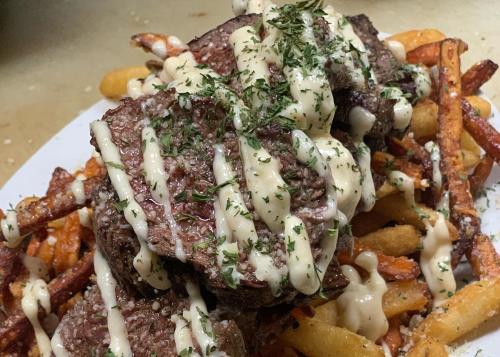 14 Phila Street
Saratoga Springs, NY 12866
(518) 583-0003
Harvey's Restaurant & Bar embodies the spirit of Ireland located in the heart of Saratoga Springs, NY. Harvey's kitchen offers a variety of traditional Irish dishes and gastro pub cuisine, while their bar has the friendly service and regular live music to delight.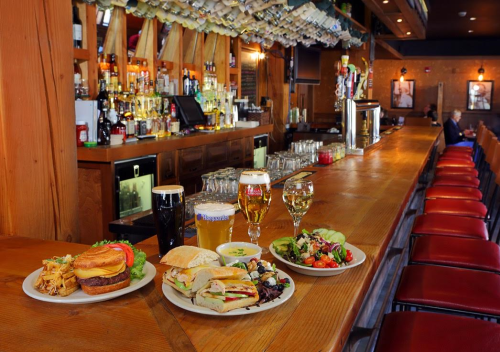 142 Grand Avenue
Saratoga Springs, NY 12866
(518) 587-7256
With bench-style seating for up to 101 patrons, televisions, two dart boards, and a long natural-wood bar, the Local Pub & Teahouse is a true and authentic pub. The Local offers rotating beer, wine, and spirits. They also offer pub specialties such as bangers and mash and fish & chips.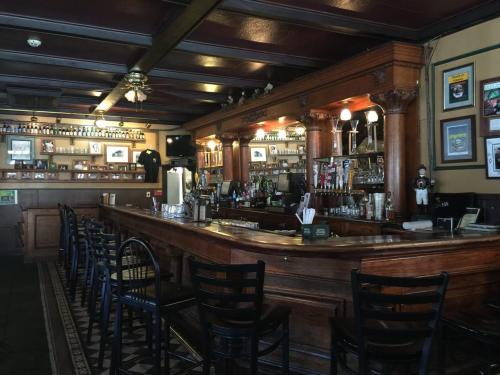 40-42 Lake Avenue
Saratoga Springs, NY 12866
(518) 583-1916
The Parting Glass opened on Saint Patrick's Day in 1981 and is said to be the oldest continuously run bar and restaurant in Saratoga Springs. A local favorite, this Irish pub features 150 beers, great food, English darts, live music, and a full menu till closing.
ITALIAN CUISINE
Augie's Family Style Restaurant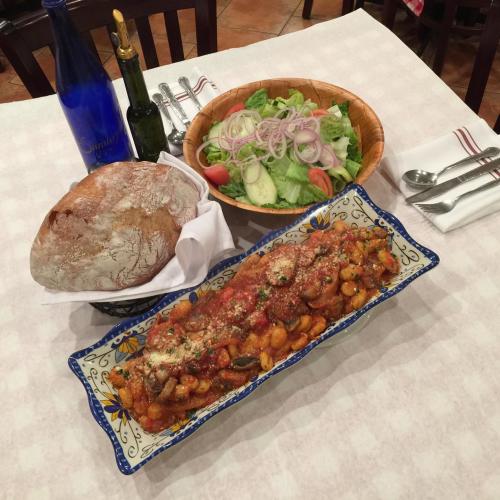 17 Low Street
Ballston Spa, NY 12020
(518) 884-8600
At Augie's Family Style Italian Restaurant in Ballston Spa, Augie and his friendly, efficient staff are dedicated to bringing their guests the best Italian cooking made with the finest and freshest ingredients. That includes supporting local farms by purchasing fresh ingredients such as produce whenever available. Everyone at Augie's considers it a privilege to serve guests delectable dinners in their festive setting, where every visit feels like a party.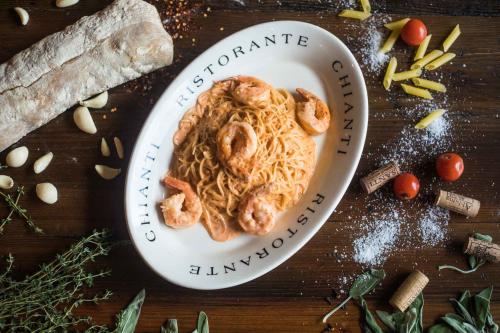 The Lofts @ 18 Division St.
Saratoga Springs, NY 12866
(518) 580-0025
Situated in the heart of beautiful downtown Saratoga Springs, Chianti Il Ristorante serves sophisticated, authentic Northern Italian fare in an elegant setting. Combining seasonal food, an award-winning wine selection, a welcoming and knowledgeable staff, and a detailed, inviting ambiance Chianti provides every guest with a superb and unforgettable dining experience.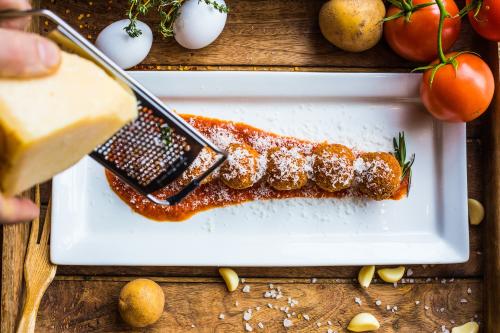 541 Broadway
Saratoga Springs, NY 12866
(518) 581-2401
Forno Bistro's rustic, Tuscan-style food is hearty and unpretentious with sophisticated flavors rooted in tradition. Forno has the feel of an inviting home in the winter months; with the wood burning pizza oven surrounded by a stone hearth and always the three essentials of Tuscan-style cuisine: homemade bread, olive oil and fine wine.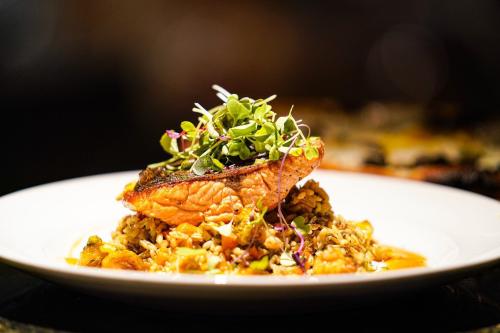 466 Broadway
Saratoga Springs, NY 12866
(518) 587-0505
Max London's offers contemporary woven black chairs, mirrored walls, and a Napa chic ambiance. The dinner menu is divided into small plates, pizzas, pasta, and salads. Max London's also offers over 20 different beers and a wonderful variety of wines, along with your "sure to please" seasonal cocktails! Don't forget to ask about the nightly specials.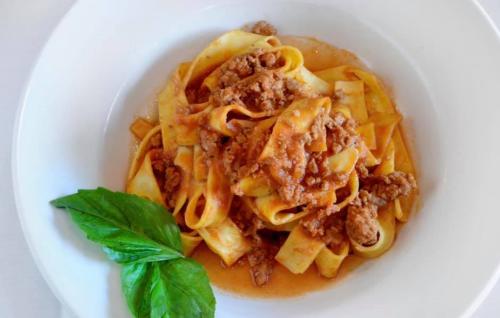 707 Rt. 9
Wilton, NY 12831
(518) 583-8877
Nove Italian Restaurant is a fine dining restaurant that specializes in Italian dishes prepared with exquisite attention to detail and made with only the freshest ingredients. Nove specialties include their Margherita brick oven pizza, Veal Parmigiana, Eggplant Parmigiana, Filet Mignon Pepe Berde, and more! Open for lunch and dinner. Nove delivers 7 days a week!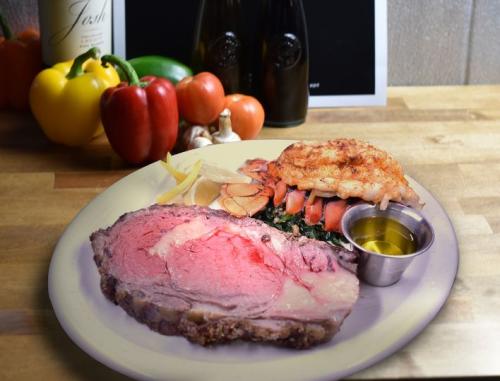 129 South Broadway
Saratoga Springs, NY 12866
(518) 584-6882
In a city steeped with tradition horses, there is only one family-owned Italian restaurant that has endured for over 80 incredible years. Panza's Restaurant has been providing upscale, authentic Italian cuisine and unique cocktails since 1938. The restaurant moved from its original location on Saratoga Lake to 129 South Broadway at the entrance of Saratoga Springs. With plenty of parking, the restaurant has a warm ambiance created with wood beams and unique stone throughout. With live weekend entertainment and impeccable service, Panza's is your destination for an evening out.
18 Park Ave.
Clifton Park, NY 12065
(518) 371-5762
Pasta Pane is a beautiful, raw, and rustic environment; one in which guests feel not only welcome, but immediately at home. The menu is simple, yet delicious; approachable and comforting with simple, rustic food of the freshest and highest quality. It is from this uncomplicated and straight-forward style that Pasta Pane derives its name, which translates to Pasta and Bread.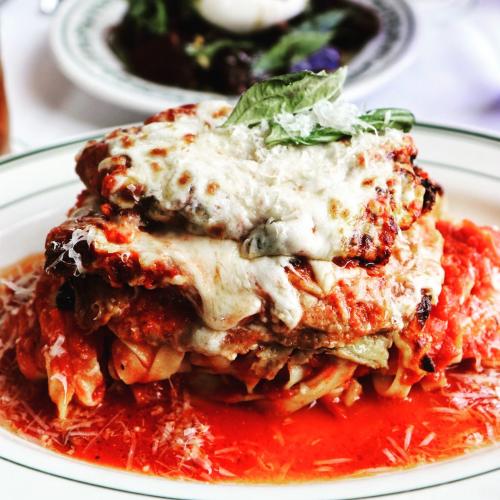 55 Phila Street
Saratoga Springs, NY 12866
(518) 450-7094
Located on the corner of Phila and Henry Streets in Downtown Saratoga Springs, Solevo Kitchen + Social's menu pays homage to the recipes passed down through the Solevo Family's generations of southern Italian chefs. The Kitchen practices scratch cooking and the menu changes to reflect the availability of quality ingredients.
62 Beekman Street
Saratoga Springs, NY 12866
(518) 886-1680
Authentic Italian cuisine in the heart of the Beekman Street Arts District. Taverna Novo's philosophy is simple...use the very highest quality ingredients available. They believe in incorporating organic and sustainably produced ingredients, both in their food and in many of their wine selections. Their gluten-free selections come from a dedicated gluten-free bakery, which ensures a superior gluten-free product...from their door to your plate. And their custom-built oven is 100% wood fired.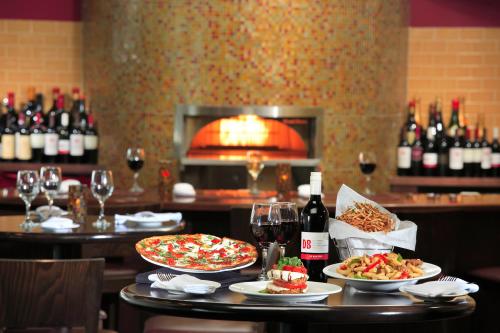 54 Crossing Boulevard
Clifton Park, NY 12065
(518) 383-4444
Opened in the fall of 2009, this second restaurant concept by Wheatfields features bistro fare and wood stone pizzas made at the gorgeous bar where guests are encouraged to sit and unwind. Using only the finest fresh ingredients, homemade pasta is made daily bringing the Saratoga favorites to Clifton Park. Fresh from local fields to your plate.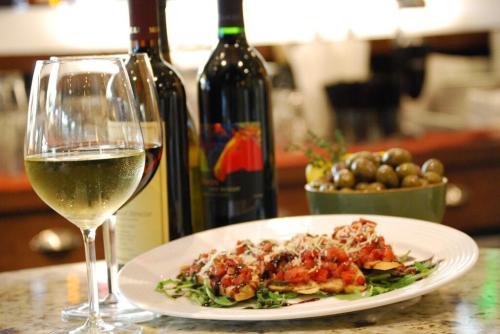 440 Broadway
Saratoga Springs, NY 12866
(518) 587-0534
Using only the finest ingredients, this downtown Saratoga restaurant has been producing handmade pastas daily since 1988. A huge mahogany bar welcomes you to the best Happy Hour in town, and dining room guests are offered specials seven nights a week. Fresh from local fields to your plate.
MEXICAN/SPANISH CUISINE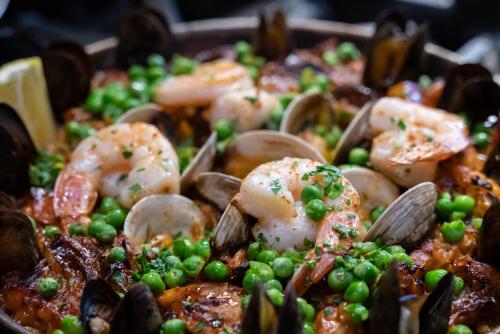 384 Broadway
Saratoga Springs, NY 12866
(518) 682-2800
Boca Bistro is a Spanish Tapas Restaurant and Bar located in Saratoga Springs. Combining earthen and distressed textures with stylistic accents and a touch of Mediterranean influence Boca Bistro embodies the charismatic old-world essence of an authentic Spanish restaurant. A diverse menu of authentic Spanish cuisine and tapas matched by superb interior design results in a dining experience to rival any to be found on the cobbled streets of Spain.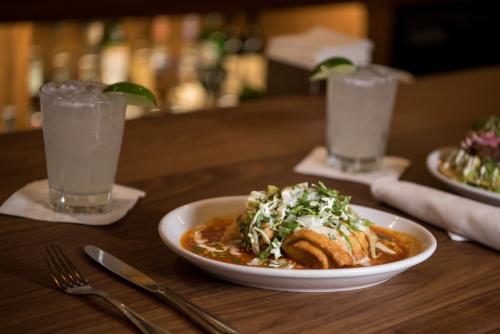 408 Broadway
Saratoga Springs, NY 12866
(518) 587-5577
Cantina is committed to serving fresh, delicious Mexican cuisine and festive drinks in a relaxing atmosphere. Their dedicated staff takes great pride in their authentic Mexican dishes made from the freshest local ingredients. Stop by for their famous margaritas or bring the whole family for dinner. NEW: Cantina now has a rooftop bar! Sip on your favorite classic and craft cocktails and enjoy the summer sunshine high above the bustle of Broadway.
Taquero Tacos and Donuts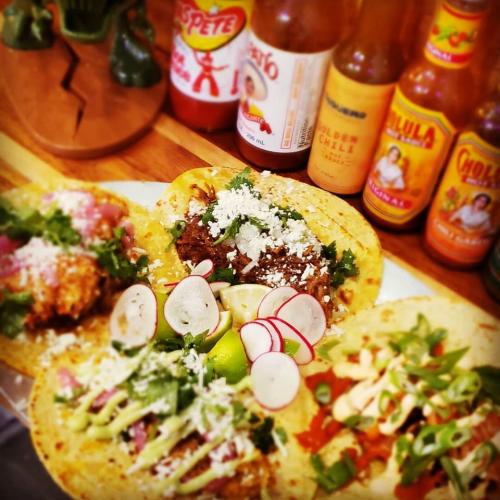 68 Putnam Street
Saratoga Springs, NY 12866
(518) 886-1217
Taquero Tacos and Donuts is proudly serving tacos, rice bowls, salads, and donuts in Saratoga Springs using only the freshest ingredients available. Open 7 days a week.
Tatu Tacos & Tequila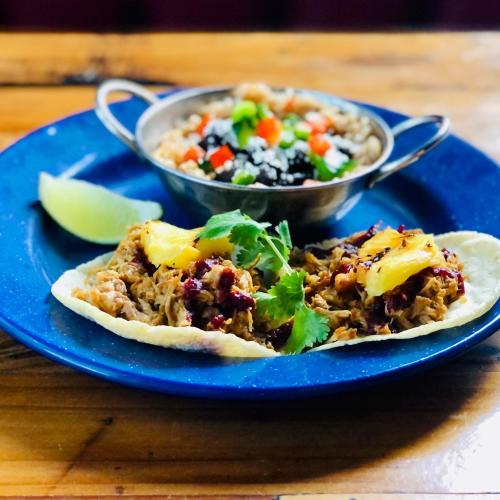 17 Maple Avenue, 2nd Floor
Saratoga Springs, NY 12866
(518) 450-1959
Tatu Tacos & Tequila's menu features food from the Yucatan Peninsula region of Mexico, home to the ancient Mayan civilization. The food that developed in the region has its own style, different from traditional Mexican fare. It was heavily influenced by the Mayan, Caribbean, Spanish, African and Middle Eastern cultures. The restaurant's decor is vintage tattoo parlor including floor-to-ceiling original art. The glass enclosed tequila and mezcal library houses and extensive selection and is used for tastings and private events.
SOUTHERN CUISINE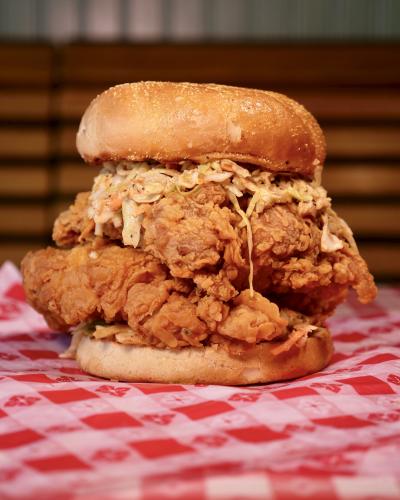 3057 Route 50, Wilton Plaza
Saratoga Springs, NY 12866
(518) 226-0000
Hattie's Chicken Shack is a chef driven quick service restaurant. The idea stemmed from the Hattie's Track Shack at Saratoga Race Course. Chef Jasper Alexander created a concept and menu with emphasis on food quality. Hattie's Chicken Shack offers Hattie's Famous Fried Chicken and the Fried Chicken Sandwich along with new menu items. Whether you're looking to dine in or take out, Hattie's Chicken Shack provides a unique experience for both!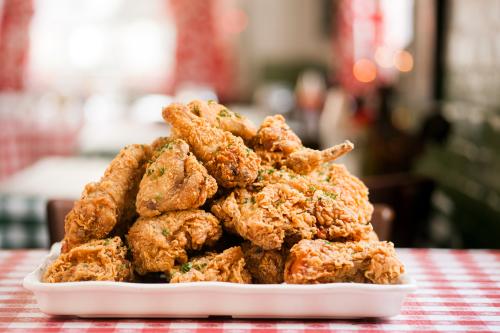 45 Phila Street
Saratoga Springs, NY 12866
(518) 584-4790
Since it opened in 1938, "Hattie's" and "Saratoga Springs" are often mentioned in the same breath. Hattie's has served fine Southern and Louisiana cuisine in a friendly, down-home atmosphere for close to 80 years and has earned legions of fans. Over its long history, the restaurant has provided consistent commitment to its staff, its customers and the community and the original storefront Chicken Shack™ has grown from a beloved neighborhood restaurant to a national institution. Chef Jasper was the winner of the Fried Chicken Throwdown with Bobby Flay as seen on the Food Network!