The days are longer, the birds are returning, and the trees are beginning to bud...it's time to start thinking Spring! With the gradual return of the nicer weather and warmer temps, we begin to focus our attention on all that Saratoga has to offer, allowing us to fully enjoy the spring season. 
Outdoor Activities
If you're looking for outdoor activities offering fresh air and exercise, Saratoga has no shortage of options. Before heading out, be sure you have the right gear by checking out Mountainman Outdoor Supply Company, Saratoga's premier outdoor clothing and footwear store. Or, if you're a runner, you'll want to stop by iRun Local where their expert team will recommend the best footwear, apparel, and gear to help you achieve your goals.  Then head on over to the Saratoga Spa State Park where you'll find miles of nature trails that are ideal for walking, running, and biking, as well as various mineral springs and picnic areas. The Saratoga Regional YMCA offers an exciting Outdoor Center, featuring a low and high ropes course, a climbing wall, zipline and more. Refer to their website to learn when the Outdoor Center is open to the public. If you're a history buff, the Saratoga National Historical Park offers both walking and driving tours, allowing visitors to learn about the Battle of Saratoga during the American Revolution. Check out their website for additional information and hours of operation. Spend an afternoon at Pitney Meadows Farm, a community farm offering gardening and composting classes for adults and a "Wondering, Wandering Program" which provides garden-based inquiry, mindfulness & STEAM activities for all ages & family members to enjoy together. They additionally offer nature trails for walking, biking and birding. The Saratoga Farmers' Market takes place on Saturdays in the Wilton Mall Food Court throughout April. Beginning in May, they move to their outdoor location on High Rock Avenue (Saturdays and Wednesdays), offering a variety of locally grown produce, plants, crafts and live music!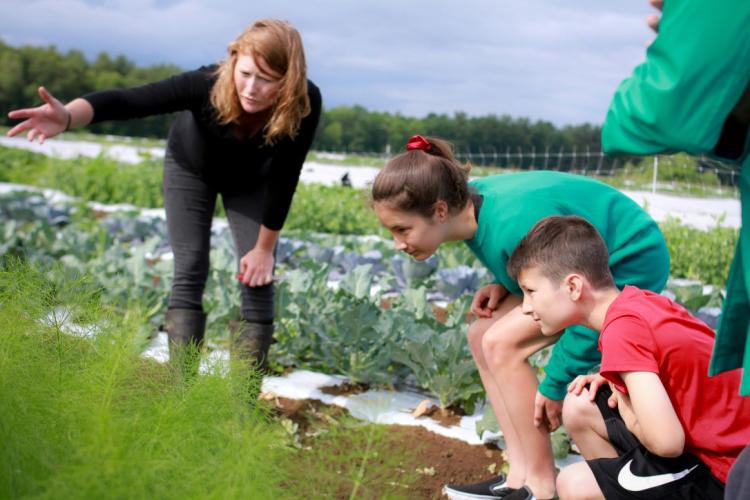 Photo courtesy of Pitney Meadows Farm
Golfers are always especially eager for the snow to disappear, and Saratoga is proud to boast a plethora of beautiful, award-winning golf courses that provide challenging and beautifully maintained fairways for every level of ability. Check out Airway Meadows Golf Club, Fairways of Halfmoon, Saratoga Golf and Polo Club, Saratoga Lake Golf Club, Saratoga National Golf Club, Saratoga Spa Golf Course and the VanPatten Golf Club. 
If you're looking to head to the water, the Kayak Shak rents kayaks and paddleboards, allowing you to enjoy the beauty of Fish Creek. Or contact Adirondack Cruise and Charter and charter a private cruise around beautiful Saratoga Lake beginning in April. In May, book a spot on one of their leisurely afternoon, sunset or coffee cruises! Check their calendar for availability. Looking to feel a little bit tropical? Tiki Tours Saratoga offers 75-minute BYOB tours of Saratoga Lake on their thatch-covered floating tiki boat. Tours begin mid to late May, but you can reserve your spot now on their website.
If you're interested in heading a little bit north, hop aboard the Saratoga, Corinth and Hudson Railway, and enjoy a 90-minute vintage train ride as you view the beauty of spring in the Southern Adirondacks.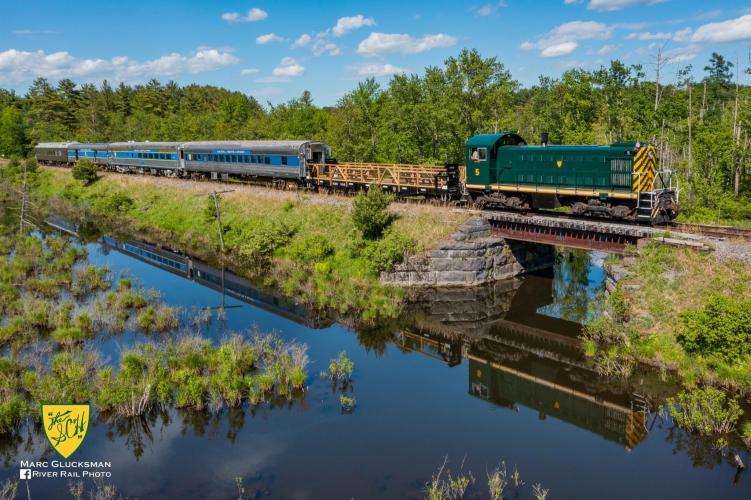 Saratoga, Corinth and Hudson Railway
The Arts Scene
Spend a beautiful springtime afternoon walking around our downtown and exploring the thriving Saratoga arts scene. Be sure to stroll through the Beekman Street Arts District which includes the Eden Compton Studio, Green Tree Fiber Arts, and The Cottage of Art and Design, along with numerous other galleries, studios and restaurants. Two additional must-see galleries include Saratoga Arts located right on Broadway and the Tang Teaching Museum and Art Gallery at Skidmore College. 
Rainy Day Ideas and Indoor Activities
As much as we would love never-ending sunshine, it is spring and with the spring comes the rain. No worries. Saratoga has you covered! We have several interesting and informative museums. To learn about our local history, head to the Saratoga Springs History Museum, located in the beautiful Canfield Casino. Or check out the National Museum of Racing and Hall of Fame and experience all aspects of the thrilling sport of thoroughbred horse racing. The Saratoga Automobile Museum is currently featuring the exhibit "Bond in Motion," the official collection of James Bond 007 vehicles. Looking for something fun and educational for the kids? You won't want to miss a visit to the Children's Museum of Saratoga. If you're feeling creative, head on over to Saratoga Clay Arts Center for their wheel throwing and hand-building clay classes for youth and adults or check out the creative cookie decorating classes at LadyLily's Place with classes for everyone, ages 6 to adult. Do you enjoy bowling? If so, the Saratoga Strike Zone is where you want to be. The Saratoga Casino Hotel is the place for fun! With jackpots hitting every day, your next big win could be just a spin away, Or, if you just want to relax over a drink with friends, Saratoga has plenty of great options! Stop by the tasting room at the Saratoga Winery, Thirsty Owl Bistro, Artisanal Brew Works, Walt and Whitman Brewing Company, Druthers and Bocage Champagne Bar and enjoy handcrafted wines, local beers and delicious cocktails. 
Saratoga Automobile Museum
Events 
There's no shortage of events to check out during the spring in Saratoga. Here are just a few; be sure to check out our events calendar for many more! 
Carnival - Ring in spring at the hottest party of 2023 at Vapor on April 1, proceeds benefit AIM Services.
The Lizards: Performing the Music of Phish - Don't miss out on this band whose main goal is to recreate the Phish Experience! April 7 from 9:00pm-12:30am at Putnam Place.
Mind, Body, Soul Expo - Explore health, wellness and holistic products and services! At the Saratoga Springs City Center, April 8 from 10am-6pm.
Cottontail Express Easter Event - Join Saratoga, Corinth and Hudson Railroad for a 60 min ride. Kids will be able to see the Easter Bunny onboard and look for hidden eggs at the station! April 8 at 12:00pm.
2023 Saratoga Tattoo Expo - Come and browse or get tattooed or pierced from artists all over the US. At the Saratoga Springs City Center April 14-16.
Night at the Brewseum - The Saratoga Lions Club is hosting their 10th annual Night at the Brewseum at the Canfield Casino. Sample craft beers, wines and spirits. April 21 from 6:30pm-9:30pm.
Mystic Bowies Talking Dreads - Talking Heads cover band featuring "shimmering one-drop reggae jewels," at Universal Preservation Hall on April 22 at 8:00pm.
Dirt Grass Players - Performing at Caffe Lena on May 5 at 8:00pm. A new-grass band from Baltimore that pushes the boundaries of traditional bluegress with their blazing musicianship.
2023 Kentucky Derby Party - Celebrate the Derby in style! Held at the National Museum of Racing and Hall of Fame. May 6 from 4:00pm-7:30pm.
2023 Spring Auto Show - Saratoga Automobile Museum's annual event held in the Saratoga Spa State Park on May 13 from 9am-2pm.
The Wesley Foundation Gala: Golden Gala - "An Enchanted Evening" presented by the Adirondack Trust Company at The Lodge at Saratoga Casino Hotel on May 13 from 6:00pm-10:00pm, supporting the Life Enrichment Program at Wesley Healthcare Center.
2023 Historic Homes Tour - Presented by the Saratoga Springs Preservation Foundation on Saturday, May 13, from 10am-4pm. This event offers the rare opportunity to see the interiors of private historic homes throughout Saratoga.
11th Annual Kelly's Angels Mother-Lovin' 5K Run/Walk - held at the Orenda Pavilion at the Saratoga Spa State Park on May 14 from 7:30am-10:30am.
Shaken & Stirred: Celebrity Bartender Party - Annual fundraiser for Universal Preservation Hall (UPH) held at Saratoga National Golf Course on May 18 from 5:30pm-9:30pm. Local business teams compete against each, bartending for the most tips, all of which benefit UPH.
Summer SPACtacular - Celebrate the kick-off of Saratoga Performing Arts Center's summer season with the first-ever Summer SPACtacular, held at SPAC on June 2 from 5:00pm-11:00pm.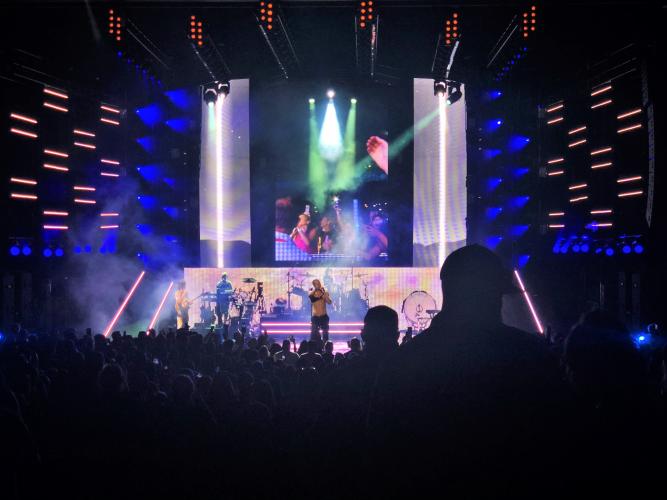 Photo Courtesy of Saratoga Performing Arts Center